Hello everyone! It's been quite some time since I last wrote here! I always kick myself for not jotting down a thought once in a while or a recap of the important moments of my life, so I figure it's better late than never despite the fact that it's been EXACTLY two months since this momentous day. What happened on May 27, 2015? I finally met my niece! She was actually born the day before a little after 5pm, but my parents were the only ones in my family who were at the hospital all day.
If you've been reading for a while, you know that last August I was completely in love when I
met my nephew Toby
. Obviously a baby changes the life the parents, but I have to say that becoming an aunt was definitely one of the highlights of 2014. It's incredibly fun to get to experience the joys of having a baby in the family without actually having to deal with waking up in the middle of the night and poop explosions. All of you people out there who aren't parents yet but are aunts or uncles probably understand what I'm talking about because as a relative, you can just pass the baby back to the parents! We also get to go home and sleep well that night!
Toby was the one who made me an aunt for the first time, and nothing will ever replace that. However, there was something extra special about the birth of my niece. It might be because it was my own brother's baby instead of Howard's sister. Of course, I grew up with my brother and experienced so many of life's adventures with him since he's only two years older than I am. It made me melt to think that he was going to be a father when we first found out that my sister-in-law was pregnant. All the things that he loved as a little boy were sure to come out when he had a kid of his own. I love my in-laws, but I don't have all the memories with them that I have with my own family.
The arrival of the baby might have also been extra special because she was a girl. When I imagine having my own kids, it's so much easier for me to picture having a little girl! Also, I've written about it before, but I am addicted to clearance shopping. I can be completely starved and so desperate for food (as I was during our recent road trip to Lancaster!), but the one thing that can quell the hunger other than actually eating is clearance shopping. The baby girl clothing racks are always rather full compared to the ones for baby boys. Plus, they're completely adorable! I get so excited when I find items that match the new mommy's own style that would be so cute on her new baby daughter!
As an aunt, I definitely get the best of both worlds since now I have a nephew and a niece! Now let's rewind to that wonderful day in May!
When my family arrived at the hospital, I was already jumping up and down with excitement. Literally. I was ecstatic to finally meet her! It did take some time getting used to the idea of her having a name since my brother and sis-in-law didn't reveal it until she was born. All along, we were calling her "Baby L." Even at the baby shower, the banner that my sis-in-law's friends strung up said that! Since my parents were at the hospital the day before when she was in labor, they knew where the room was. We walked down the hallway and used some Purell that the hospital had placed on the hallway wall. Alas, the timing wasn't exactly right as my sister-in-law was feeding, so we went to the waiting room until they were ready.
During that time, one of my sister-in-law's friends and her fiance arrived. My mom and I met her already at the bridal shower and baby shower, so the time passed by somewhat quickly with good conversation and some Cartoon Network playing on the television. After a bit, my brother told us we could go back to the room! Howard had his camera in hand, ready to snap the pictures of this wonderful occasion.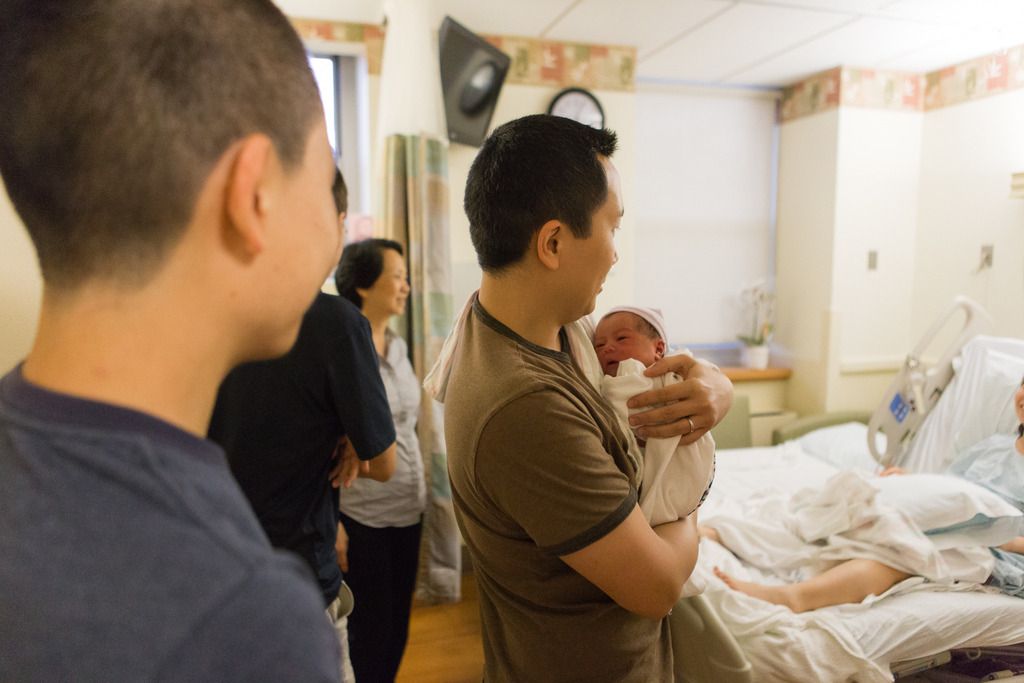 My mom carried her before handing her off to me. I admit I was a bit hesitant because she was unbelievably tiny. I remember being nervous about holding Toby, but my niece was even tinier because she was under 6 pounds. There was no way I was passing up this opportunity though. When we each had our turn, we sat in the chair that was in the room just to be on the safe side.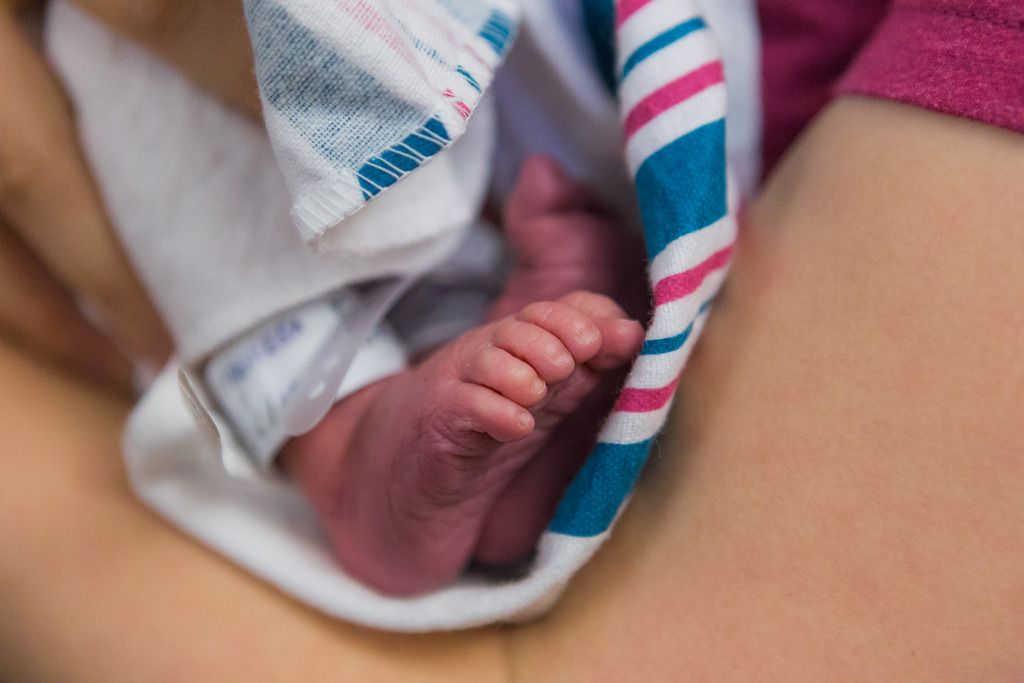 I could have stared at her all night. The best part was that we were all discussing whether or not she had a dimple, and then she showed it to me. Even better was Howard capturing it with his camera! I cropped her face from the following picture and made it my lock screen on my phone. Even though she's already two months at this point and adorably round with squishy cheeks, I still have that picture on my phone just because it was such a special memory!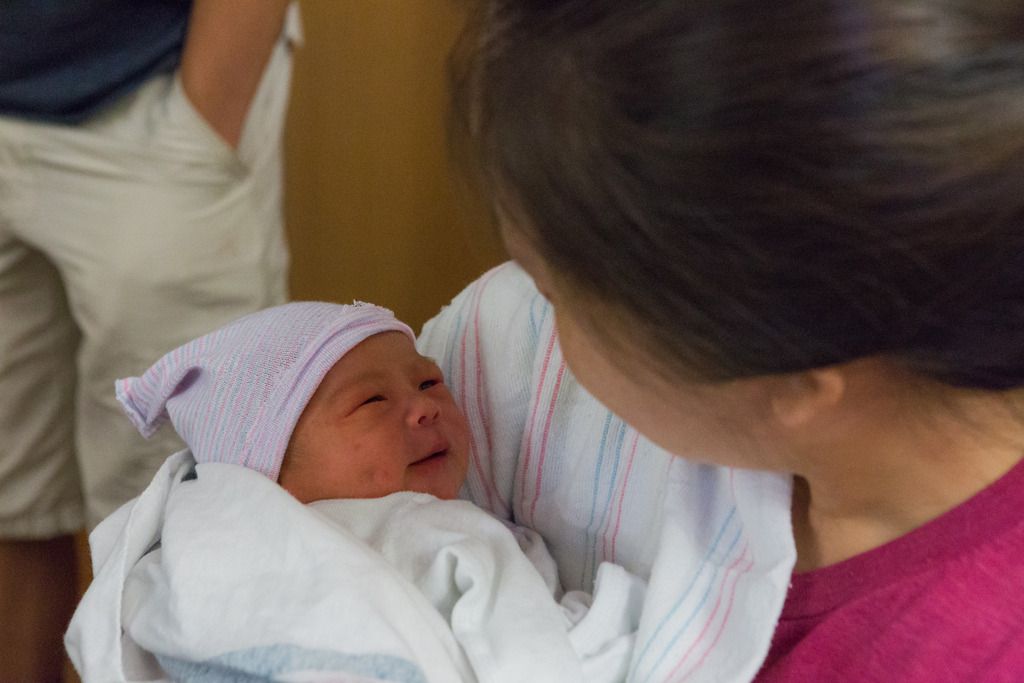 Talking about how my lock screen is a picture of my niece reminds me of this Buzzfeed video though!
My younger brother also had a chance to carry her, and that was definitely something that had to be recorded since it was the first baby-baby that he ever held. I don't remember the last time my siblings and I took a picture together, but the birth of the next generation is definitely cause for one!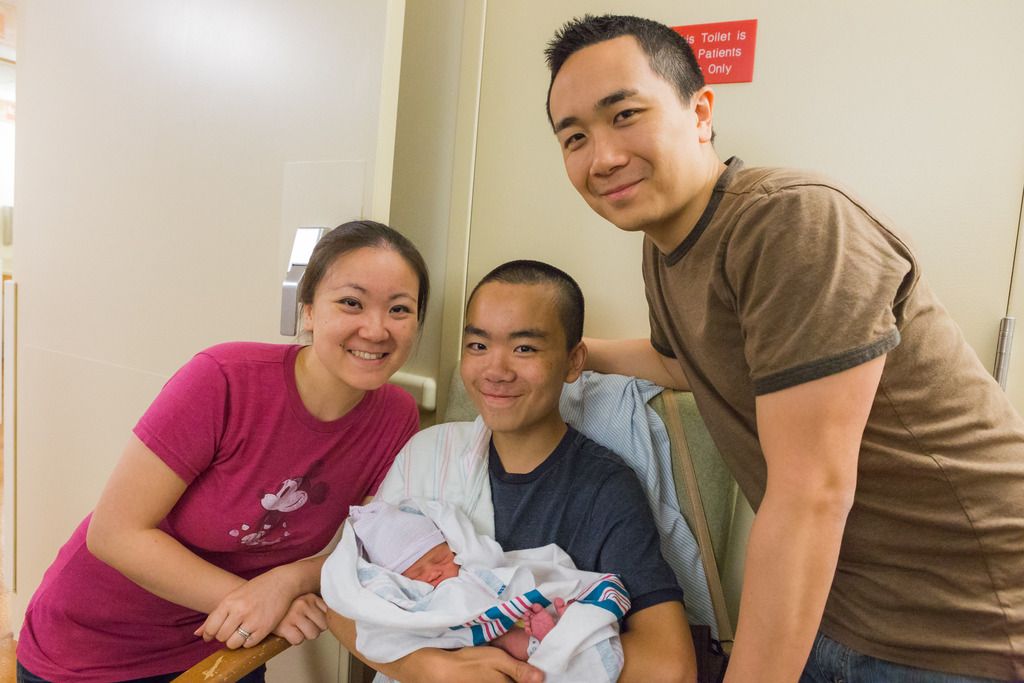 My parents are now grandparents! Even though she is still really young, I know exactly how they're going to be as she gets older. When my brother and I were kids, we knew not to ask my dad for the special treats that other kids got. We didn't ride on the carousel or the train at the mall or get ice cream from the ice cream truck. However, I know that my dad's going to be the kind of grandfather who buys his granddaughter a Mickey bar in Disney World even though he never bought it for us kids! Haha, he says he won't be like that, but we know it'll be true. My mom, on the other hand, will spoil her with activities by playing games with her and taking her to the zoo.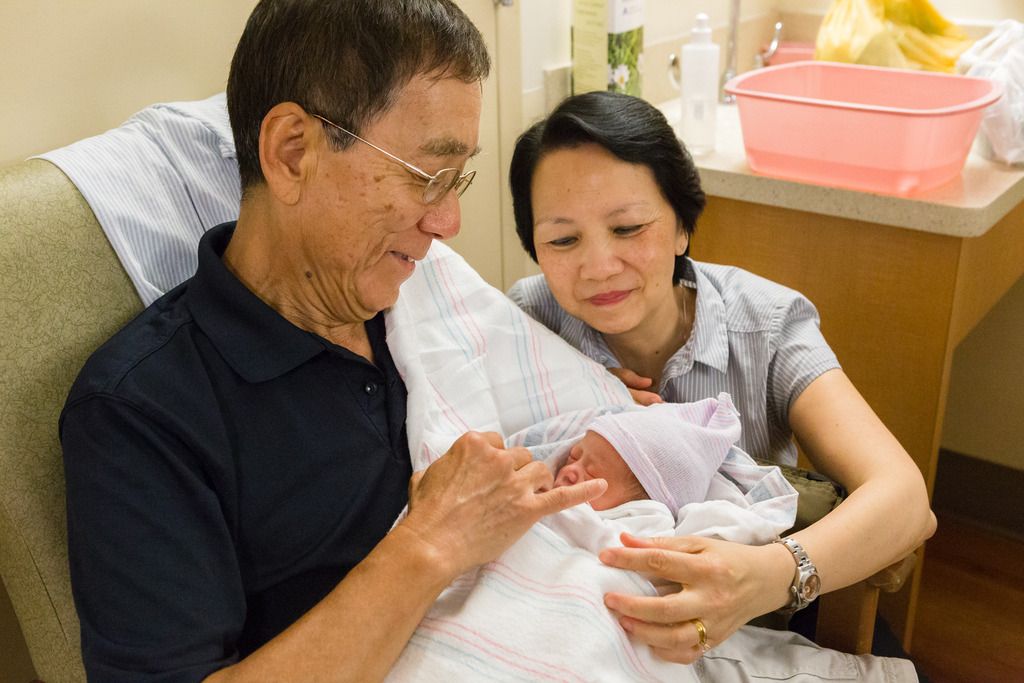 Unfortunately, we did have to eventually go home. Although the visiting hours were over, we did get to stay a little bit longer than when we should have left. It was time for the little baby to get some rest from all the extra attention and stay with the new mommy and daddy! I personally love this shot that Howard captured of my brother holding her as we left. Hubs did also take a picture of the new family of three, but as I've said to them before, it's more for the sake of documenting it even if it's just for them. I didn't want to post a picture here just because I don't know that I'd necessarily want people posting pictures of me after being in the hospital for almost two days!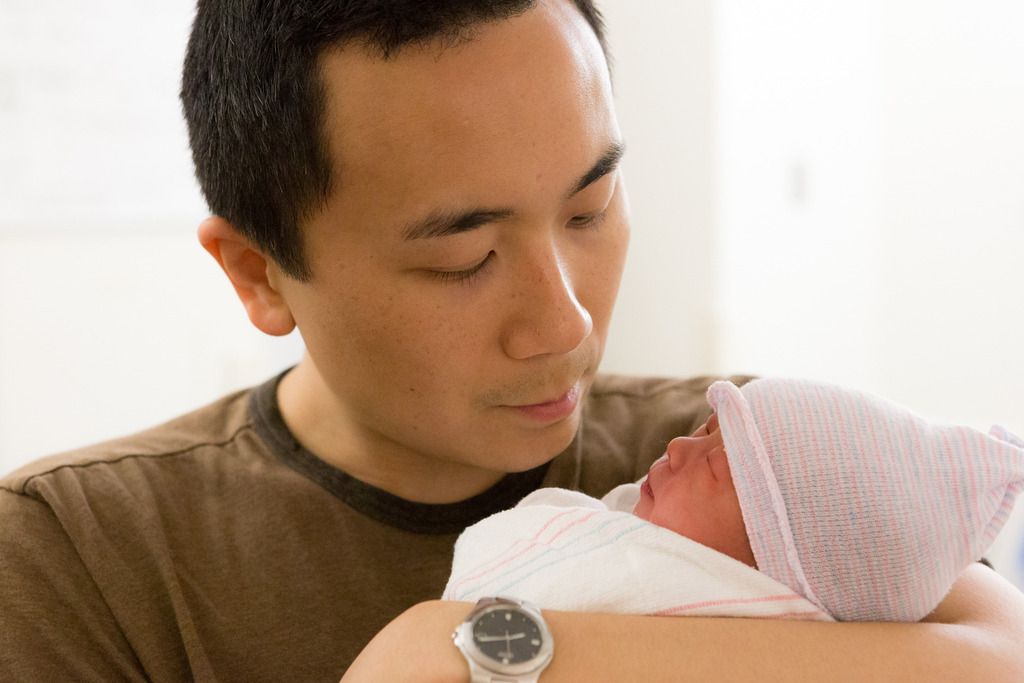 The moment we walked out of the room, I was already missing her. My mom and I say it every time we leave from visiting her even now! I can't wait to see her again and again!