I follow a page on Facebook called "B&BW Sistas" because sometimes it's easier to get BBW news from them than the main page where people spend a lot of time complaining. One of the things they do on this fan page is showcase their "empties" of products at the end of each month to show what items were finished. With all the goodies that consumers buy, it's easy to feel more like a hoarder! I know I won't be finishing many of my BBW products quickly because as I've mentioned before, I switch scents pretty much every single day. What can I say? I really like variety! But I figured this would be a good opportunity to show what we finished and maybe give my opinion on the products too.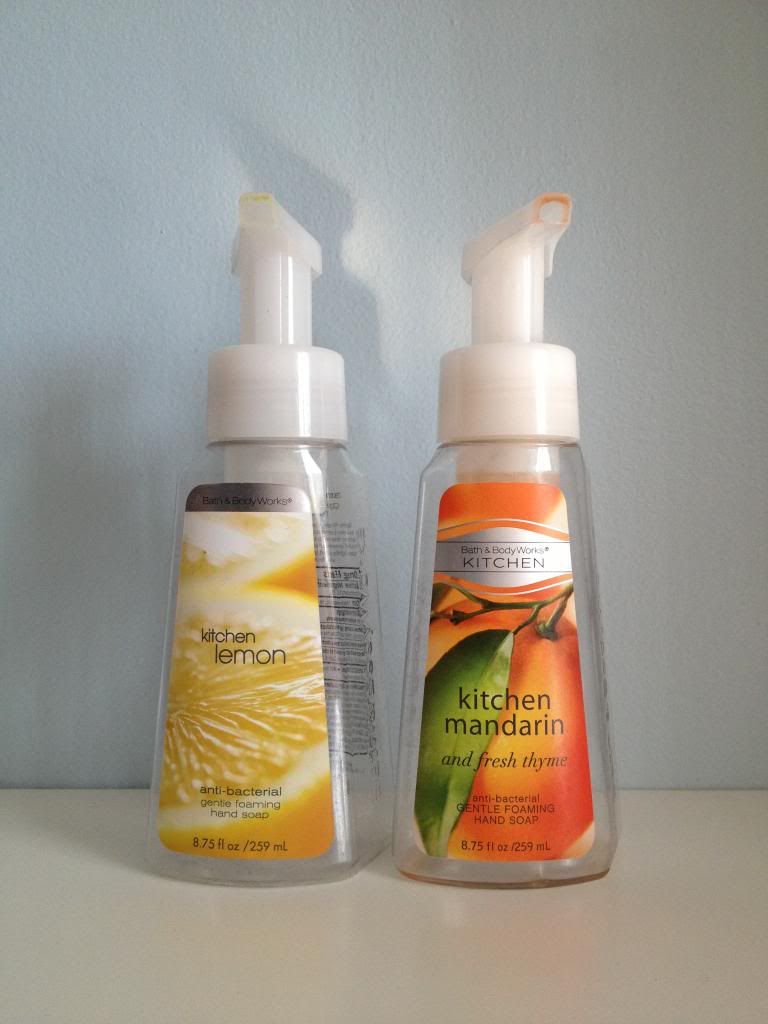 Bath & Body Works Gentle Foaming Hand Soap in Kitchen Lemon
I purchased this one a LONG time ago when I exchanged a Christmas gift from a student for merchandise credit. Howard and I highly enjoyed this one in the kitchen. The scent is just purely lemon, so it smells clean and fresh and doesn't clash with whatever you're cooking. There are other scents that I really would not want to smell when I'm cooking or eating food. There are some on the fan page who dislike it because it's "boring," but I was upset when it was finished. However, now that we've tried Sicilian Lemon, I'd much rather have that one as it has the fresh lemon scent but smells like it's a fizzy drink. Both Howard and I love using it to wash our hands.
Bath & Body Works Gentle Foaming Hand Soap in Kitchen Mandarin
I was expecting this to be similar to the lemon, but I didn't enjoy it as much. I would still suggest using it in the kitchen because it worked with the regular food scents. However, there were times that I thought it was a little bit strong. Maybe it was the thyme that I wasn't a fan of smelling. I wouldn't discourage anyone from purchasing it, but I personally wouldn't get it again when there are others that are much more pleasant.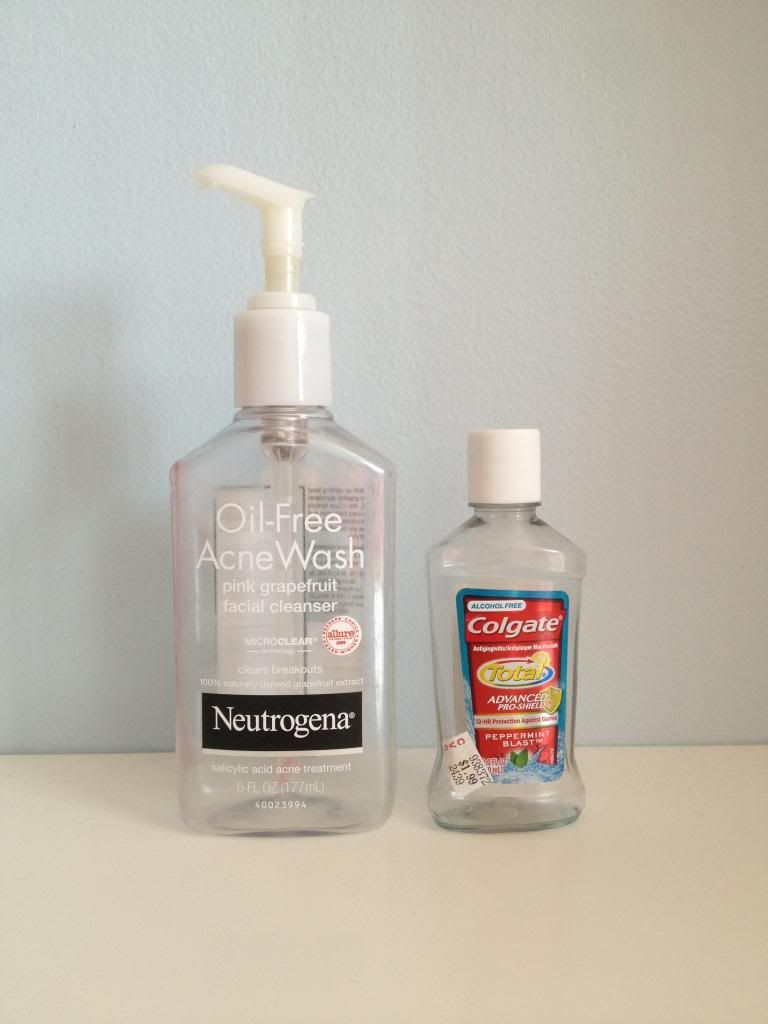 Neutrogena Oil-Free Acne Wash Pink Grapefruit Facial Cleanser
I've been using Neutrogena facial cleanser for many years now. The orange one was actually my regular, but when I took advantage of a CVS Neutrogena deal, I decided to get the grapefruit scented one after using the scrub at my cousin's house and liking the scent. After using this one bottle though, I'm ready to switch back to the orange one. Near the end, my face started drying out too much. If I didn't put lotion on right after, my skin would feel too tight and would start peeling after a while. I also have to say that it stinks that this bottle is smaller than the orange ones I purchased recently yet costs more. At least it does last a good amount of time. Just be sure you use that lotion!
Colgate Total Advanced Pro-Shield Mouthwash in Peppermint Blast
I didn't use mouthwash too often years ago because Listerine always made my mouth burn. I learned to like it, but at times when I wasn't feeling the greatest, I didn't really want such a strong flavor. Then my parents started purchasing Crest, but I'm not too big of a fan of that either. I got this small bottle of Colgate as a free sample in the mail and actually enjoyed the fact that it didn't burn but still made my breath feel fresher for longer. Thankfully, I had couponed for the big bottles and the medium bottles at CVS and got them close to free if not entirely free thanks to ExtraBucks. I personally would highly recommend Colgate mouthwash over Listerine and Crest.
I wonder what we'll finish in the month of February!