You thought I was done with the 12 challenges, right? Nope, not at all! There was one more live challenge that was explained during the Ustream. A sketch was posted on the PBD blog, but it didn't have to be followed. The main part of the challenge was to go into your junk drawer to find things to use in the project. The other option was to go in your purse, which I had to do because we don't have junk drawers. At this point, we don't really have much junk since we just moved in a little over 2 months ago! Since we're in a teeny-tiny studio apartment, every drawer is being used (or will be used) for something important. That meant it was time to dig into my purse!
Well, that proved to be a bit difficult too because I JUST cleaned out my bag when I switched from my crossbody bag to my huge Mickey "bowling-ish" bag. BUT I did find plenty of gift cards and their paper/cardboard holders! I picked 3 that might be easily figured out based on the parts I cut out - Macy's, B&N (nook!), and Bed Bath & Beyond (we have have been there so many times in the last year!).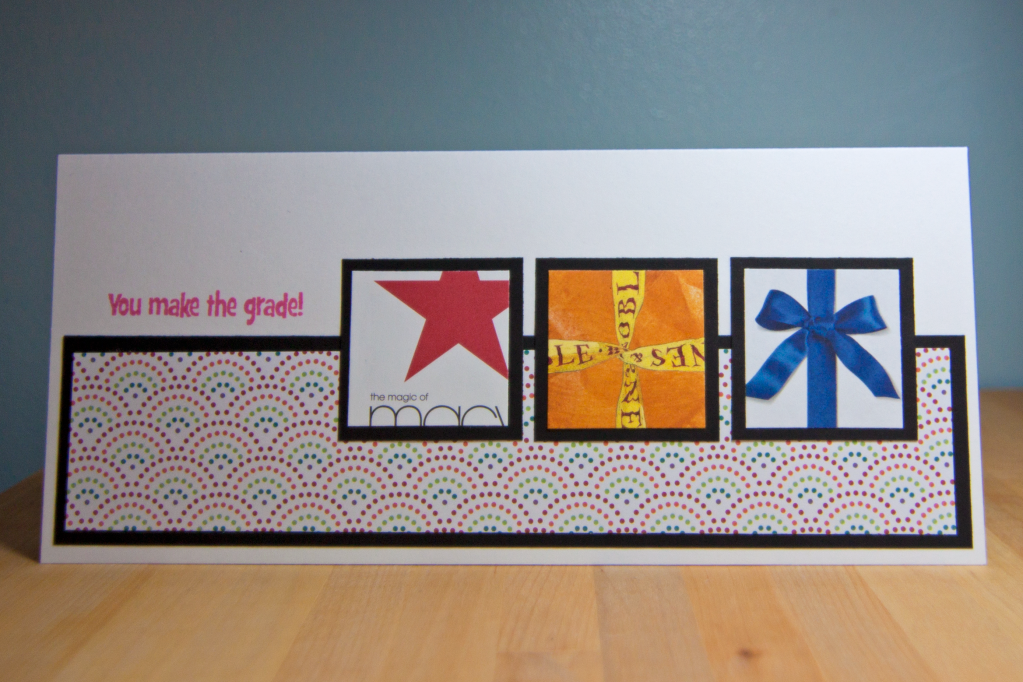 I DID follow the sketch, so I cut the gift card holders down into squares and matted them. The sentiment was taken from "Simply Everything." I thought it was funny because all those gift cards were from students! I know; it doesn't make THAT much sense, but it's late, and I have literally been crafting since 9 in the morning! Just know that it all makes sense in my mind!
PHEW! Now I am officially done! I have never made that many different projects in one day before! The time constraints were really challenging, but it really made me move faster and not dwell on one project. I think I'll sleep well tonight ...