The hubs and I finally had some time to take pictures of two cards that were made a while back. I love when I finally have cards to post on my blog and in my Facebook store. If you take a look there, I'm selling these at $2 a piece to raise some money for Plumpy'nut! Due to having donated money in the past, World Vision keeps me up to date with the latest ways to help. One of the recent mailings has been about Plumpy'nut, which is a packet composed primarily of peanuts along with vitamins and minerals. A child who's suffering from malnutrition can have just 2 packets a day for 2 weeks to be rehabilitated! It's also something that parents can give to their kids so that they don't have to stay in the hospital, which frees up medical staff and space for others. The packages have a long shelf life and are easy to distribute. It just sounds especially intriguing because I know just how much longer I can last at work until lunch when I have peanut butter with breakfast, so I'm excited to hopefully have a small part in ending child malnutrition!
This airplane card features an image cut from the Cricut cartride "Boys Will Be Boys" and a sentiment from Pink by Design's "Spring Has Sprung." Clouds were dry embossed for a bit of dimension. Gotta love that Cuttlebug folder "D'Vine Swirls" that seems to be used quite often in my stuff!
I actually made this card a little over two years ago and posted about it on my blog! If you take a look back at that
post
, you can actually see a huge difference between the photography. That yellow lighting is so difficult for me to look at now, but back then, I thought they were decent! Thanks to the hubby Howard for helping me out with the pictures and the editing! What a difference, right?
This skunk card features an image cut from the Cricut cartride "Create a Critter" and a sentiment from Pink by Design's "Woodland Critters." I absolutely love that little tuft of fur on top of the skunk.
These are pretty simple and didn't require TOO much work, but I think the adorable cuts can really stand on their own. Create a Critter still proves to be one of my favorite cartridges.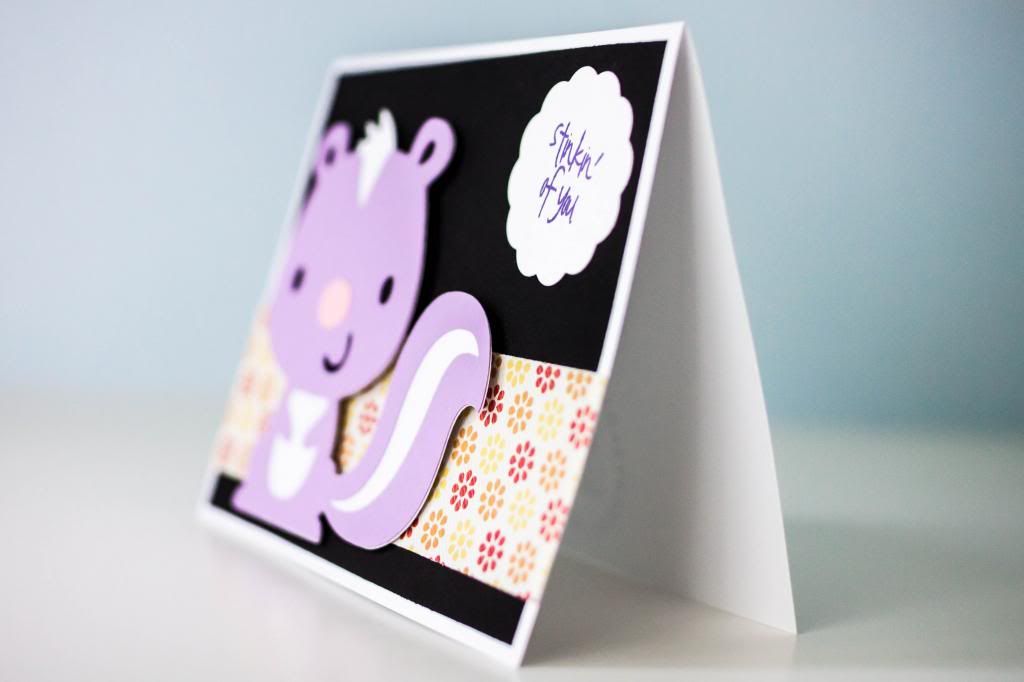 Hope you enjoyed this brief post!