HRIt's been almost one month since Howard and I have been engaged! It seems like the time has passed so quickly, yet it also feels as if a month seems so short! I think the reason for the latter is that we've been talking about getting married for the longest time that the fact that we know we'll be together for the rest of our lives isn't really a new thought!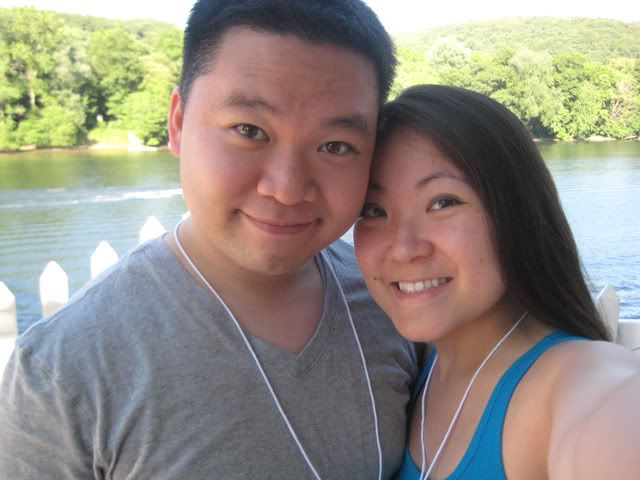 I wanted to have a description of our proposal here before I started writing about any wedding planning, so here goes:
Howard proposed to me in a place that's very special to the both of us: Tuscarora Inn & Conference Center. It is the place of many church retreats in the summer and winter. In short, the location is the place that we got to spend a bit of time joking around together when we first became friends, where we were together when we first started dating in 2005, and where we made the decision to start a relationship again in 2008 (we broke up for 2 years before that). On the way home on the bus from a retreat, Howard also told me that he loved me. With the 2010 summer retreat approaching and the knowledge that my boyfriend had the ring in his possession, I was anticipating the trip as I was hoping that he would propose!
Thursday and Friday passed without a proposal. I later learned that Howard had considered Friday night, but I was too tired to fully appreciate the moment. Saturday morning was also a consideration since we would meet in the Hillside Lounge before breakfast since we stayed in different areas. However, there was a guy from another church in the lounge at the time, so we didn't have the privacy. At the time, I trusted that he would propose at the right time. Before that, I was still constantly asking him for a time frame since I didn't know whether or not he had talked to his parents yet!
Well, that Saturday was the proposal day! After breakfast, morning session, group discussion, lunch, and workshop (phew!), we headed to the lounge to play Bananagrams. Another friend joined us soon after, and we all played for about an hour. During one of the rounds, Howard had spelled out "will you marry me" within his game, but since someone else was with us, I chalked it up to a joke.
After another hour of playing, we decided to stop since our brains were overworked and I was getting a little chilly sitting by the AC. Howard asked if I wanted to go for a walk, and I agreed. We ended up sitting by the deck overlooking the Delaware River. I was nervously chatting about Disney World since I had a feeling something was going to happen. I mean, it's not every day that we're sitting on a deck overlooking the beautiful "lake" with a gorgeous view of the mountains!
Howard then said, "You didn't answer my question." I replied, "What question?" even though I obviously knew what question it was! He asked once again, "Will you marry me?" I had waited for this moment for so long and eagerly anticipated it. Yet with the moment right in front of me, I got so overwhelmed with the weight of everything that I pulled my hand out of his and said, "No. No! No!!!" It wasn't a "no" that meant, "No, I don't want to marry you." Trust me, for quite a while, we knew we wanted to marry each other! It was just so much to handle, especially since I was already nervous!
He was kind, however, and laughed when he said, "No? Your answer's no?" I then said, "No! I mean, YES!" He had taken the ring (in the big box!) out of his pocket, so he then put it on my finger. It was such a sweet moment because it finally meant something! When we had gone ring shopping a month or two earlier, the women at the store would give the ring to Howard to put on my finger because they didn't know that we weren't engaged yet. This time he was able to do it for the last time because no way was he ever getting that ring back!
What made the engagement even better was that it was just about time for dinner! We were able to go to the dining hall to see my mom, some of my extended family, and the rest of our church family. There were a ton of hugs and congratulations as well as a few shed tears. Though Howard knew that I didn't want a proposal in front of people, it worked out this way that we could celebrate with our brothers and sisters in Christ after we were officially engaged!
It was the perfect proposal! I can't wait to marry my fiancé.