Last Saturday, my mom and I went to my future sister-in-law's bridal shower! It was thrown by her maid of honor and bridesmaids at Cafe Petisco in the city. Mom and I got there super early closer to 4:15, if I'm remembering correctly, and it didn't start until 5pm. We just didn't want to risk dealing with any potential traffic driving in.
The restaurant was so small, but it was extremely cozy with its wood tables and candle decorations. It seems like one of those places that people would go to over and over again if they live in the area just because it's their local go to eateries. I had peeked at the menu online earlier and read some reviews on Yelp, so I was eager to try some new things!
When the bridesmaids arrived, they set up one side of the cafe with decorations. They also set up the table with little gems, the games, and the favors, which were the cutest containers filled with hot chocolate mix.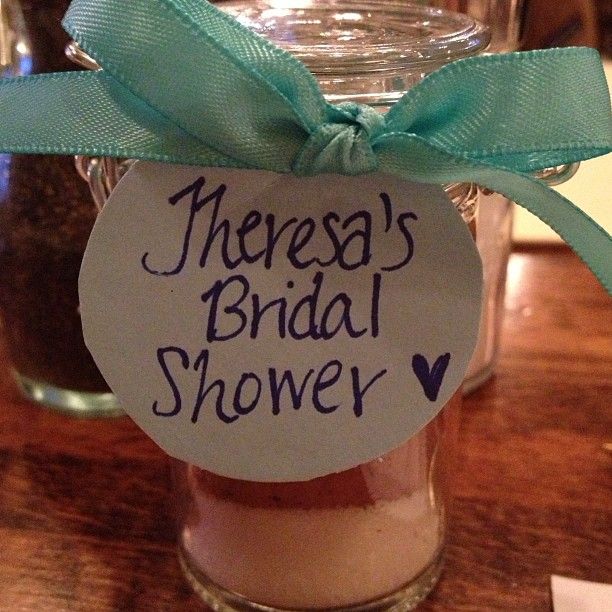 Theresa, the bride-to-be, arrived so we all sat around this long stretch of tables. The food was delicious! It was Mediterranean with the beets, hummus, tzatziki, cauliflower, pita, and foccacia. I was enjoying all the little shared appetizer dishes so much. I would definitely be willing to go back to enjoy all of those things. Mom and I especially loved the beets, which was great because the girls around us didn't so we got to "nom" the whole thing by ourselves!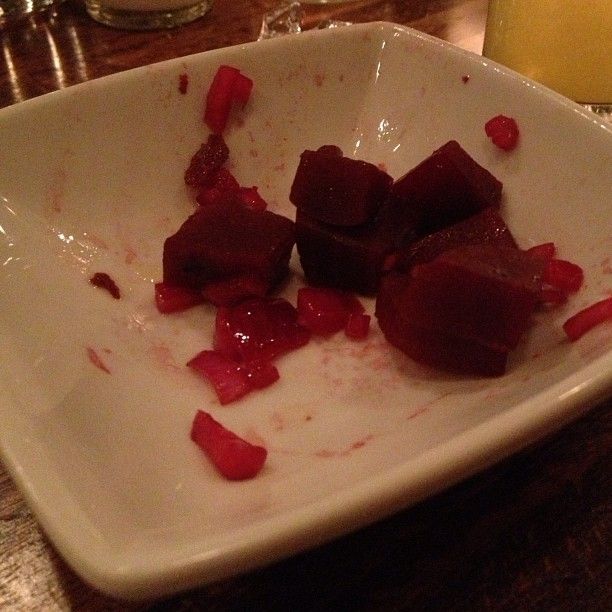 We had 3 entree choices: a pasta dish, a chicken skewers dish, and a salmon dish. The majority of us ordered the salmon, and it was absolutely delicious! It was moist and tender, and I really enjoyed the pistachio stuff on top with it. The menu description says the following: "Herb Crusted Salmon Filet with pistachio gremolata, white rice, radicchio, endive & arugula." I'm always thinking about how restaurants sometimes serve dry salmon, but this definitely was not dry at all.
After food, Theresa opened up her gifts. I got the remaining 3 things that were on her registry at Bed Bath & Beyond, so it was kind of an odd combination of 2 cutting boards (when I saw them, I kind of wanted them too but we already have two at home) and a vanity mirror. We took photos individually and as groups. Here we are, almost sisters but already "twins"! We were both born on September 15th in the same exact year! Isn't that wacky? Plus, we're both teachers as well!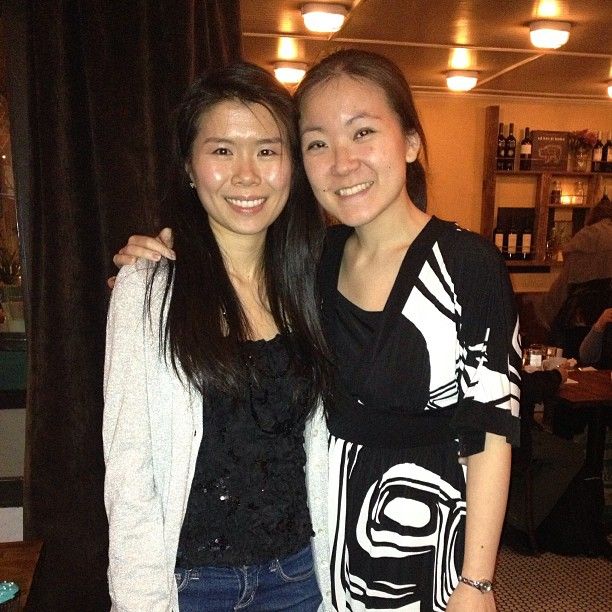 Of course, I had to make the bridal shower cards for her myself! I don't remember the last time I bought a card or a box of cards from the store. It's so much fun to be able to make things so specific for the recipient. The following card was the one I made for my mom to use. The wedding dress image was cut from the Sweethearts cartridge. Since there were two separate layers for the dress, I decided to use the Cuttlebug D'vine Swirls folder to give it some texture. I put the veil over the hanger and then used the smallest adhesive foam squares I have to pop up only that part of the card. The sentiment "LOVE" is from Pink by Design's set entitled "Big Thoughts." I embossed it with white powder. I chose the blue background and dress sash because it's actually almost identical to the blue ribbon that was on the wedding invitation.
I really liked the dress card, but I wasn't as happy about the card I made for her because it seemed too basic. I couldn't figure out what to do to layer it because I cut it so big to ensure the letters would come out right. I do very much like the cut though also from the Sweethearts cartridge. I just think it's adorable how when you're married, your towels live next to each other on the bar, hehe. I added the stitching to it just to give it a little extra something.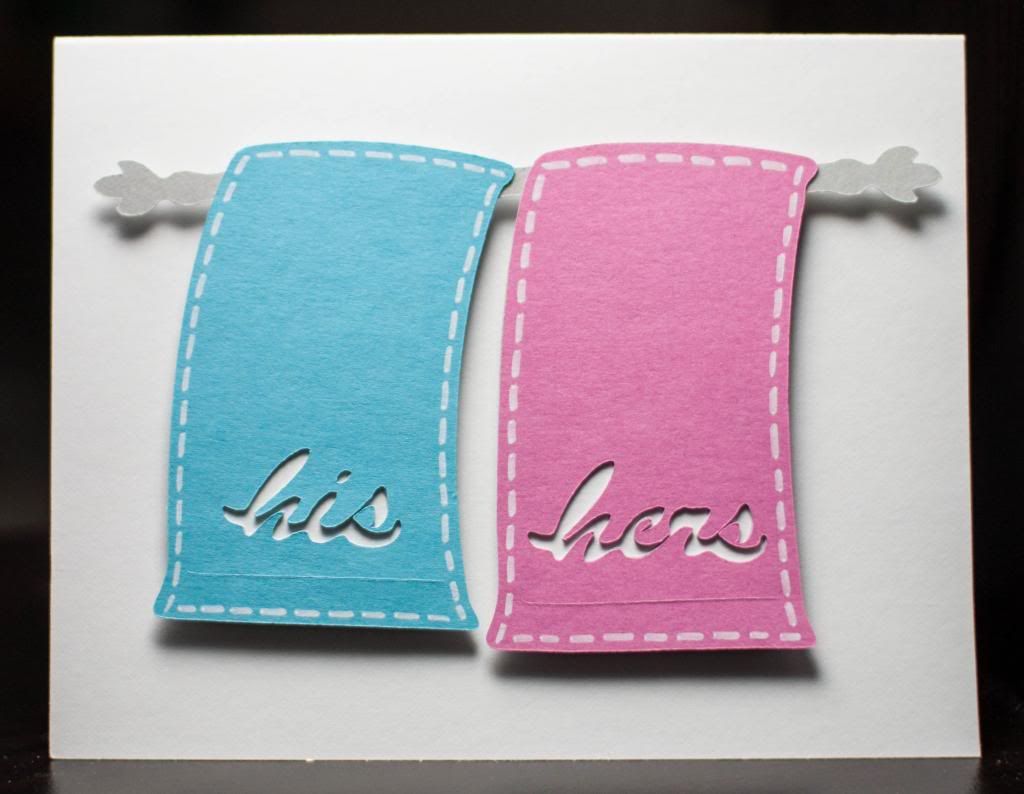 I spent my Saturday morning making the cards, and it was definitely a much needed break from the usual work I do on Saturdays! I should set some crafting time aside tomorrow today or tomorrow since we have a snow day today due to the impending blizzard. Yay for being at home!