The last update that I wrote on my blog was about the giveaway Jennifer was having for the Cricut Collectible over at her blog,
The Country Life
. I was so happy to see that I had won it! And the mailing was super quick, as I got it today! Jennifer packaged it up so cute.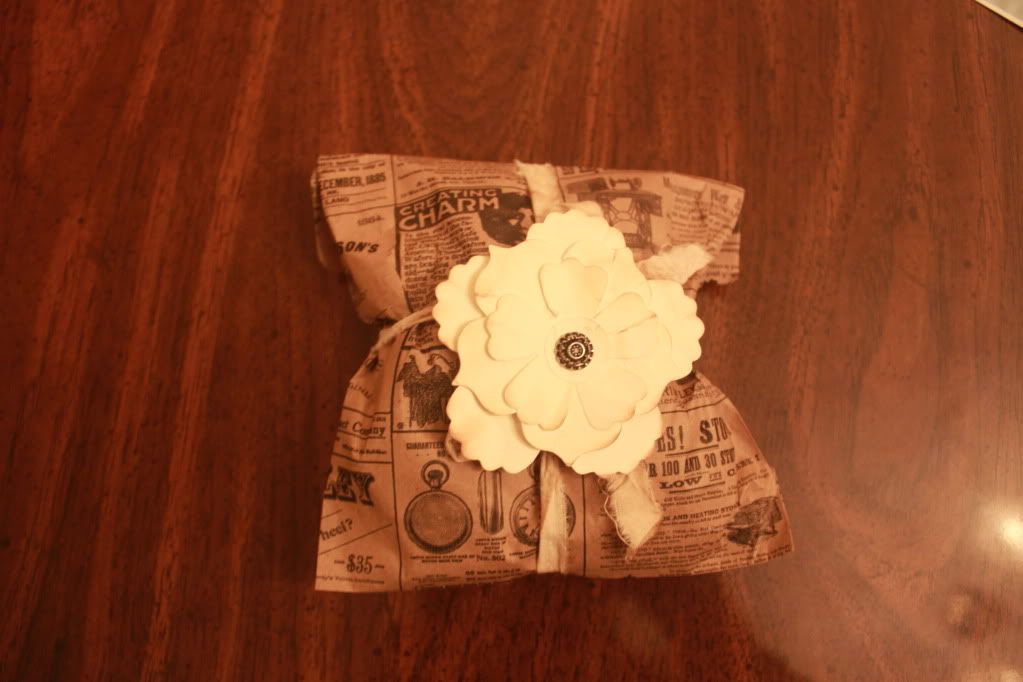 It was such a fun thing to get coming home today as I was so exhausted from work. I was frustrated as there were a handful of kids in the 7th grade who still did not understand how to make a table of values or write an expression based on a table of values. I don't think I was speaking in Martian or any other foreign language that they couldn't understand because the majority of them did understand. I just couldn't spend any more time on the subject because I had already devoted 2 whole class periods and part of another to the topic (and I've never had trouble teaching it in the past, and this is my 4th year teaching 7th grade math). That was just one of the many interesting things from my day, so finding a package in the mail for me lifted my spirits.
I plan on taking this little pink cutie around with me so I can take pictures out in the "real world." My fiance, Howard, has a few Disney Vinylmation characters, but I didn't get into it because I didn't want to spend on that (during the last trip, I just kept thinking about the cartridges I could buy instead of Disney souvenirs, haha). Then the Cricut figurines came out, and I knew for sure that there was a reason I didn't get into Disney Vinylmation! Of course, I couldn't justify spending the $10 because of the costs of the wedding and apartment. That's why I was even happier that I won this one!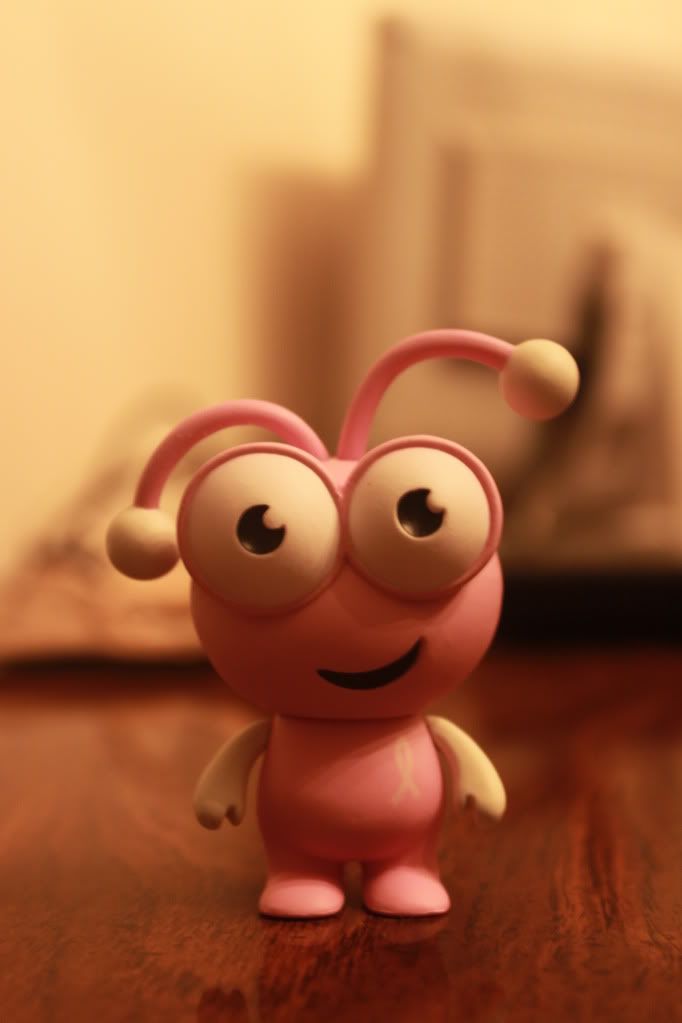 Although most of my plushies are boys, this little one is a girl because she's pink! I named her Quorra (pronounced Cora). I'm curious if anyone knows where the name originates! Well, in the summer, Howard finally got me to watch Tron: Legacy (he LOVES Tron, even the original; and yes, I sat through that one too). I actually really liked the movie as well, and I liked the girl character in it named Quorra. I was fascinated by the weird spelling of it, and since then, we have been saying our future daughter's name will be Quorra. Of course, that probably won't happen considering our family members will think we're a bit wackadoo (and relatives might pronounce it as "Quarter"!). We're only partially serious when we say it (we've had other names that we've gone through and chosen; we just rotate often!). Well, that's why this little pink Cricut will be Quorra so that that name will be used!
Thank you so much, Jennifer! I'm going to have so much fun! I hope to get a picture taken tomorrow!
I also have to give a huge thank you to Jo from
JoBoogie Stamping
. She sent me a package full of goodies for a belated birthday present after she read that my 27th birthday back in September really wasn't that special (I guess it comes with getting older?). I also received that package today as well! I'm so excited about my goodies!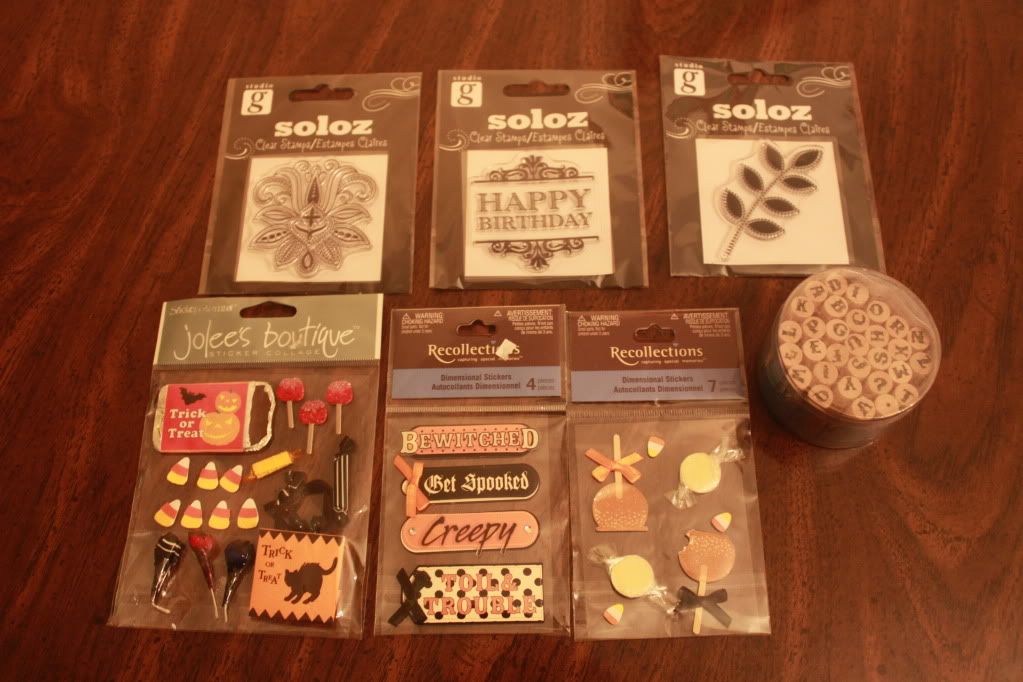 I don't know if it's because I Just don't see them or something, but I don't often see the big Studio G stamps around, so I'm really excited to have those now. I like the "Happy Birthday" one because I can use that for cards where I want the background to be the main focus. I also really really really like the leaf one; I've been really liking leaves and trees lately on other people's blogs! The little stickers are also awesome; the apples are the BEST! Reminds me of my cousin's chocolate-covered caramel apple from Goofy's Candy Co in Downtown Disney that we all tried during our last trip!
Jo also included an adorable card in pink and green, which is absolutely fantastic because those are the colors that represent my fiance and me!!!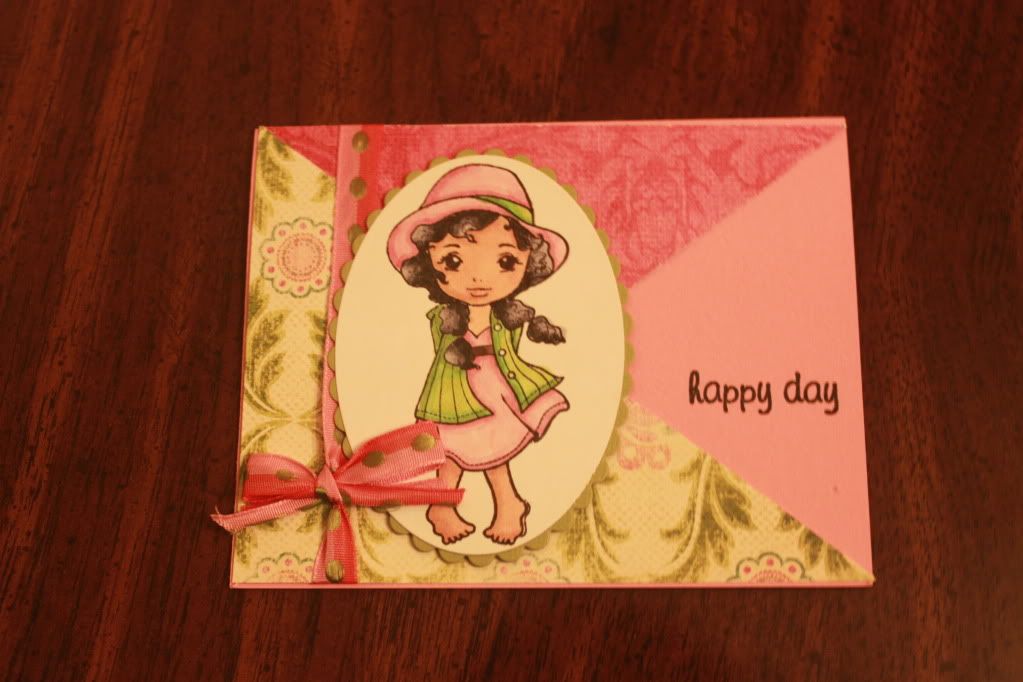 I'm just so grateful for the kindness and generosity of my fellow crafting buddies. There have been other lovely ladies out there who have been very generous with me as well, but I didn't take pictures and post them yet. I will definitely start getting back to updating my blog; I miss being here!
I haven't been posting any cards because the things I'm working on right now are for my church's bake sale on November 6th. We have a bake sale to raise money for a mission fund, so all the money from the sales of my cards will go directly to that. I didn't want to give anyone a sneak peek just yet, so that's why I haven't posted much. I just hope I have enough time to get a bunch more done! I'm seriously lacking in variety! Haha. Anyway, thanks for being patient with me; I'll hopefully be updating more regularly even if it's just a pic of Quorra enjoying life!