Due to the Anniversary Amore Blog Hop, I gained some new followers! Yay! Welcome to all of my new crafty friends! In celebration of surpassing 100 followers (I really didn't think that would happen), Howard and I went out to our local sushi place. In reality, we had just been craving it since we don't eat it as often anymore, so this was a good reason to splurge.
It was crowded, but then again, it was a Saturday night. I wasn't so fond of the people sitting to one side of us. It was a group of 3 guys who were clearly having fun with the drinks and the sake. They didn't do anything bothersome, but I just felt uncomfortable. When I'm out having dinner, I want it as calm as possible without worrying about people around me. To start, we shared a miso soup that came with one of our orders. Then we also had spring rolls. The menu said 4, but we actually got 5 (haha, i already have one on my plate). I think this is the first time we ever ordered anything that was hot from the menu!
We didn't get any sashimi this time. We just a variety of rolls. A lot of it was actually spicy for me. I guess the chefs added more sriracha when mixing. It was good though. I just needed a lot of that green tea!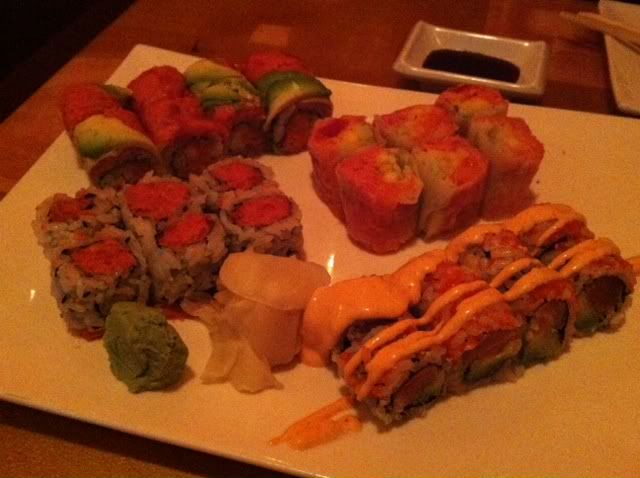 This was one of the the maki combination. It had a salmon roll, a shrimp tempura roll, and a California roll. Howard and I both have a weak spot for Cali rolls. Even though we love love LOVE the raw stuff, there's something about the simplicity of a California roll that just hits the spot. It's a good palate cleanser. Plus, there's avocado in it! Delish! On days when we're kind of craving sushi but decide not to have raw, we get 3 Cali rolls each with a soup or salad from a place closer to Howard's house. He'll bring it over on a Saturday, and we just sit and relax while watching something like Harry Potter or Lie to Me or Burn Notice!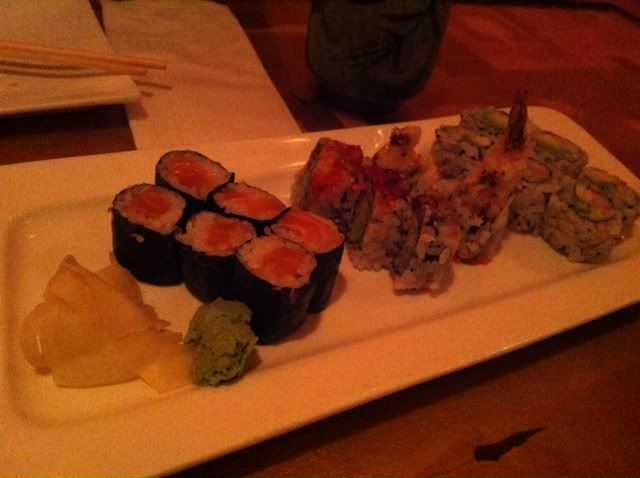 I love all my Saturday dates with my guy! I can't wait until we're married when I don't have to wait for that one day a week to spend time with him!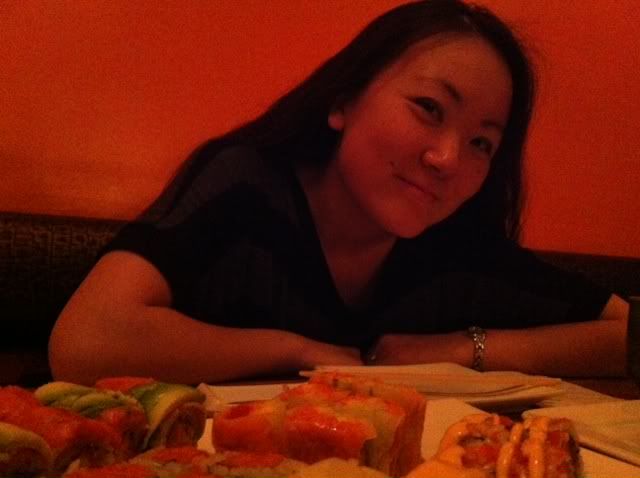 Anyway, thank you to all of my followers, new and old! I know I don't post as much as I used to, but that'll hopefully change when wedding planning and lesson planning are done for the year! Thanks for sticking with me!