The current
Ink It Pink challenge at Pink by Design
to use birds on a card ended up coming at the perfect time! Last Saturday my husband's sister had us over for a barbecue at her fiance's house. It was the first time that the immediate family was able to get together to sit and have a meal since Howard and I got married. It was just the 6 of us (Howard's parents, his sister Sharon, her fiance Keith, Howard, and me), yet there was food for an entire army! There was a TON to eat, and I had intentions of recording it all through Instagram, but once I got my hands on that shrimp, there was no way I was going to stop and wash my hands to use my phone (H took the pics on his phone). It was all SO GOOD!
The shrimp had a nice kick to it, and so I asked what marinade they used. They found some recipe online that included hot sauce in it! Haha, that was the kick! I typically stay away from spicy foods because of my esophagus issues and reflux. Plus, I don't really like hot sauce. But in that marinade? I totally changed my mind! I think I ate practically 2 skewers of shrimp by myself.
Their dad also made these little fish in the smoker. They're not quite anchovies, but I guess they're somewhat similar? I had a bite and wasn't that big of a fan ... at least not with all that shrimp there!
The picture of the chicken was the last thing Howard took because we were just so intent on eating. Sharon and Keith also made ribs, sausage, Chinese style beef short ribs, red/yellow peppers and onions (I LOVE grilled peppers; they just taste extra sweet!), corn on the cob, and salad. It was seriously such a feast!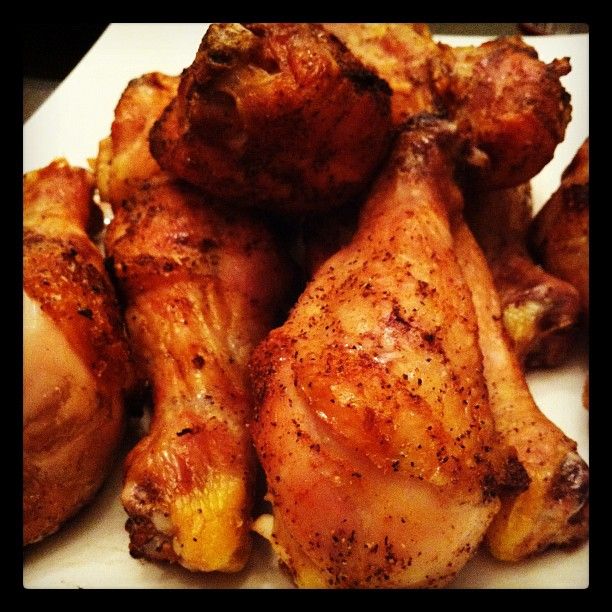 I admit I was a little worried about the day because there's a slight language barrier between his parents and me. I can usually understand the basics of what's going on in a conversation, but for some reason, I find it difficult to understand Chinese when I'm with them! I think I get too nervous. My mom said that I should have Howard speak Chinese to me more often. I do know more than I used to since there were days I'd have him do that while we were dating, but it's not enough to get through an entire conversation. Thankfully, Howard was a great translator when necessary! I really enjoyed the entire night! I think it was a nice cozy group to have just the 6 of us there.
Once we left, I immediately thought about the image on the 3 Birds on Parade cartridge. It just seemed so appropriate to have the little birdie making food on the grill!
It's not really a complex card in terms of the layout, but I think it lets the little bird shine! And gosh darn it, I had trouble cutting and putting that bird together because my Cricut mat isn't as sticky, so the paper kept moving and tearing, then I cut things in the wrong size, and then I couldn't get things lined up to assemble! Haha, I think the cartridge is so cute, but it's a tad difficult to work with when you cut it out small. That's why I'm excited about the Teddy Bear Parade cartridge, which looks much easier to assemble! But I digress ... as always ...
The sentiment is from Pink by Design's set called "
Big Thoughts
." I love the set because sometimes you just don't need a cutesy sentiment or something with a lot of word. Sometimes you just want a bold word to stand out, and in this case, it was exactly what I wanted.
I'm happy with how the card turned out just because it's so specific to the occasion. I think it's such a benefit to be able to make your own cards for a certain person or certain event. That's a good reason to have a ton of cartridges, right? Right.
Oh, and the fun barbecue night was extended into the next night as we took home a ton of leftovers and had a feast on Sunday as well! Yay for not having to cook dinner AND for getting to have more of that SHRIMP!