Married life and teaching life don't leave me much time to have a crafting life. However, back at the end of August, Sarah Hamer of Pink by Design announced a fun challenge to determine who would be a Master Crafter! The morning of the announcement 99 people and I ordered a Master Crafter box filled with mystery items. Once we received our boxes, we had a good amount of time to make a project that would be linked up on October 4th for voting until October 11.
I was a little bit nervous to receive the box because I'm not necessarily the most creative when it comes to challenges. However, I was also extremely excited because challenges force me to do different things that I normally wouldn't do. I thought back on Pink by Design's 2-year anniversary celebration with the entire day full of challenges that I absolutely enjoyed as it stretched my crafting skills. I knew this would be another opportunity to think outside of the box (or think ... IN the box? OF a box? Haha ...)
These were the items inside the boxes:
- Scissor Mouse sponsored by Westcott
- DCWV Rockstar mat stack sponsored by DCWV Deals
- Cotton Bag Sponsored by State line Bag Co.
- 1/2 sheet of Rhinestones sponsored by Queen & Co.
- Sentiment stamp sponsored by Pink by Design
- 2 assorted buttons
I struggled with what to make because I was actually thrown off by the Rockstar mat stack. The patterns and colors in the stack are not the typical colors I use. But, of course, that made it so much fun because it was definitely something I never would have bought and used on my own! It had to be a challenge, right? With only about 10 hours until the linking time, I still hadn't figured out what I was going to do. I did know that I wanted to do a 3-D project since I don't do those often. I was going to do a card set in a box, but I didn't know how to incorporate all the elements. Finally I decided on trying something I had never done before - an exploding box (thanks to Anso at Glitter Adventure for the
directions
and sizes)!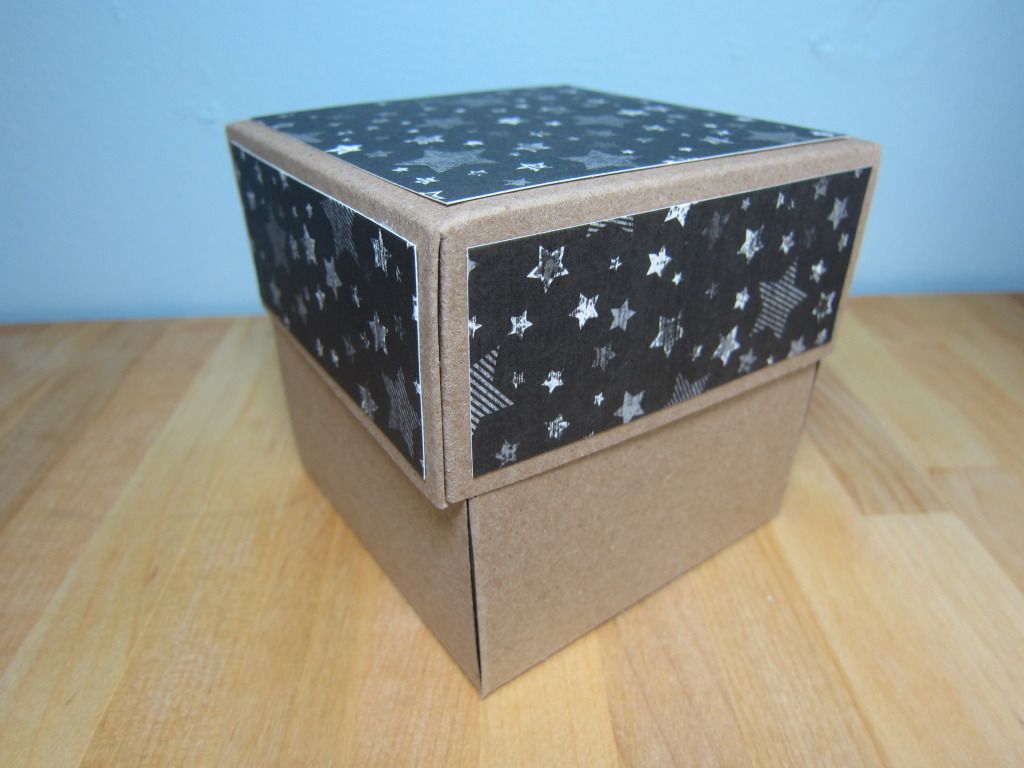 As with many of my challenge projects, I made it with my husband in mind. I kept the outside simple with the kraft cardstock because I wanted a neutral base so that the patterned paper could be seen. I also chose it because Howard says it's interesting that I actually have kraft cardstock. It's one of my favorite things to work with!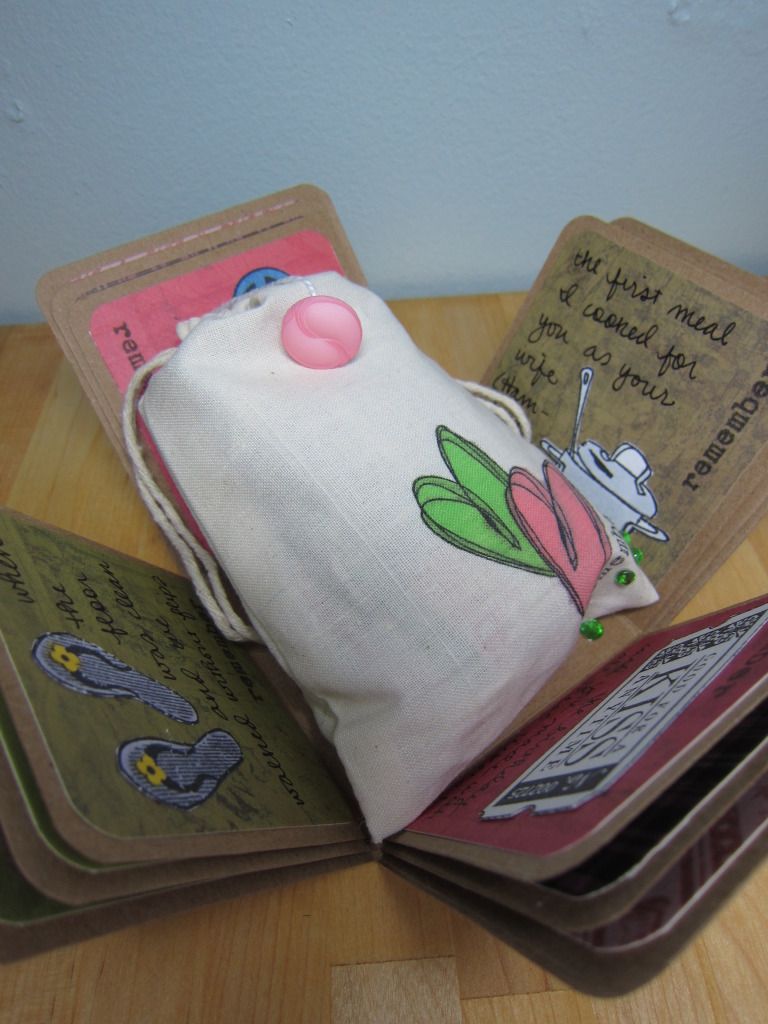 The little cotton bag actually fit inside the box, so it was a perfect way to incorporate all the items together. Before this idea came to my mind, I had no idea what I was going to do with the little bag. But before I get into the bag, I'll explain the exploding box.
I figured it was the perfect thing to do because I could use many different patterns from the stack. I admit I avoided the ones with the skulls on them. Haha, I did not know how to deal with
that
challenge. I used 10 different papers, and I purposely chose the ones that had a pinkish and greenish tone to it since those were my wedding colors. Since my sentiment was "remember," I wanted it to be an exploding box of memories that Howard and I have already made since we got married. You can see that in the center of the box, I wrote the following: "Just a few small reminders of all the memories we have made so far! I love you!"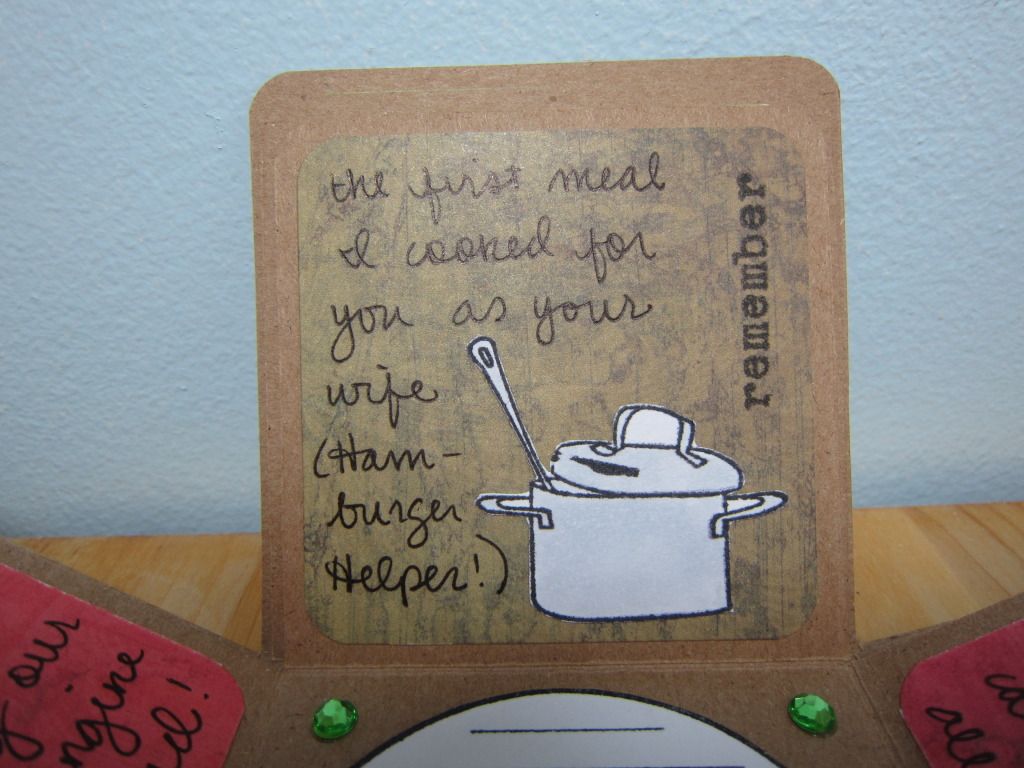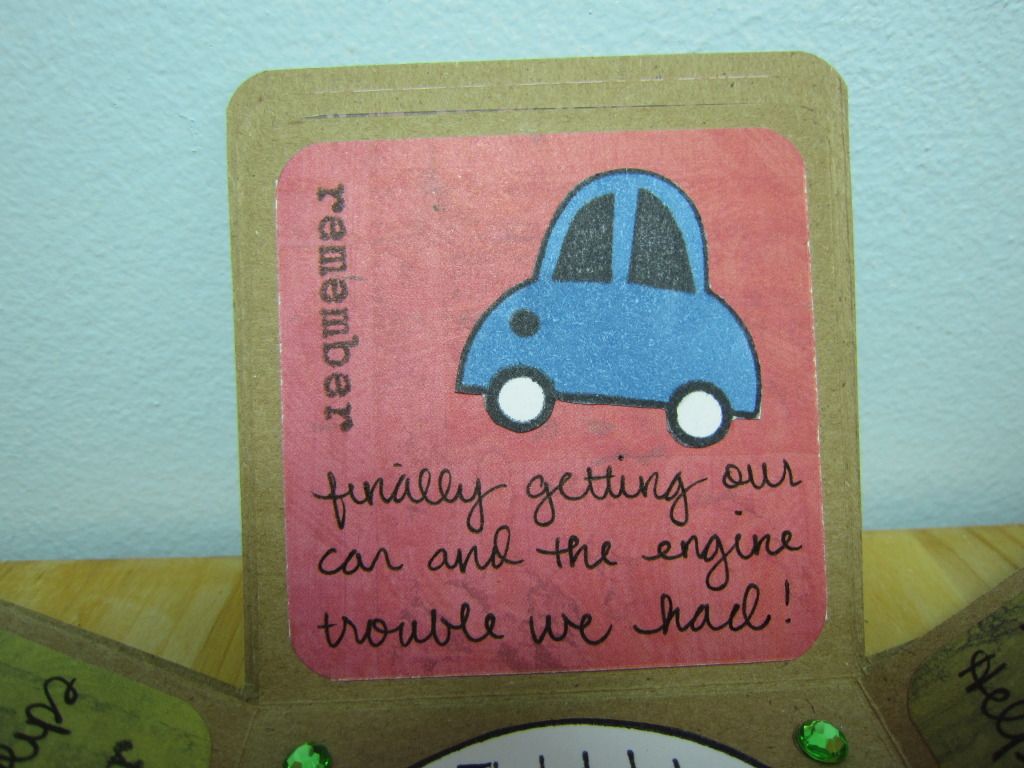 You can see a few of the memories and the stamped images that go along with them (the car is from Sandy Lion, and the rest are from Inkadinkado sets). What I like about these memories is that they all happened within the past 4-5 months since our wedding so they're very recent.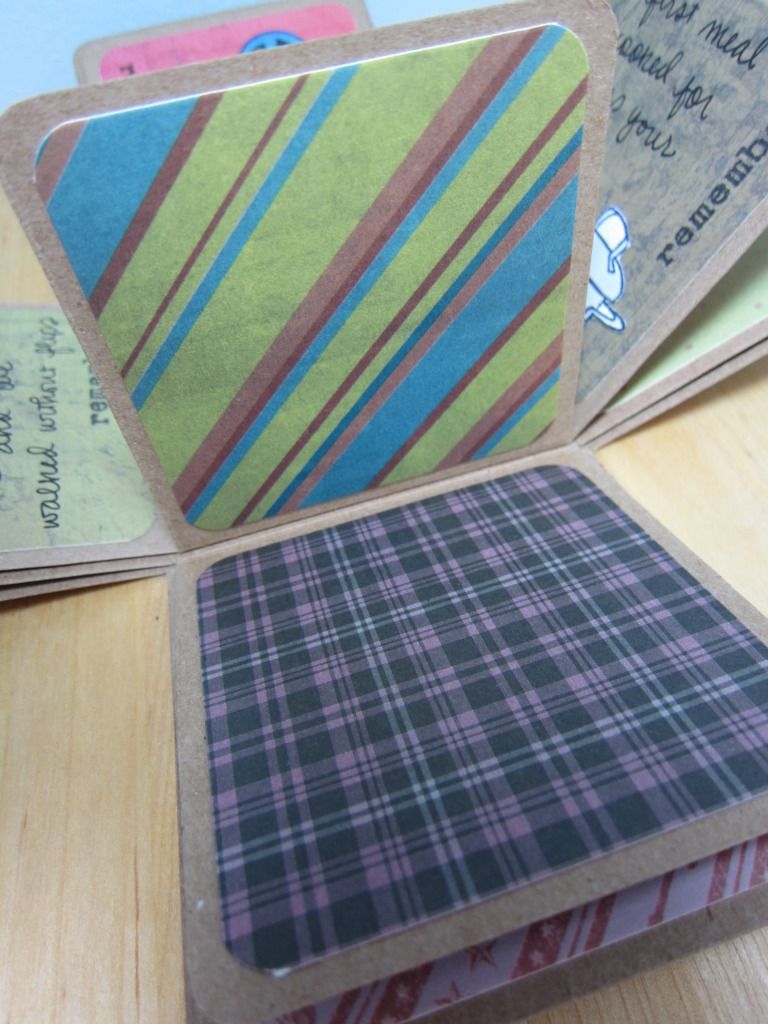 In the picture above and below, you can see some more of the patterns from the stack. I have plenty more pages to fill with the memories that we will continue to make!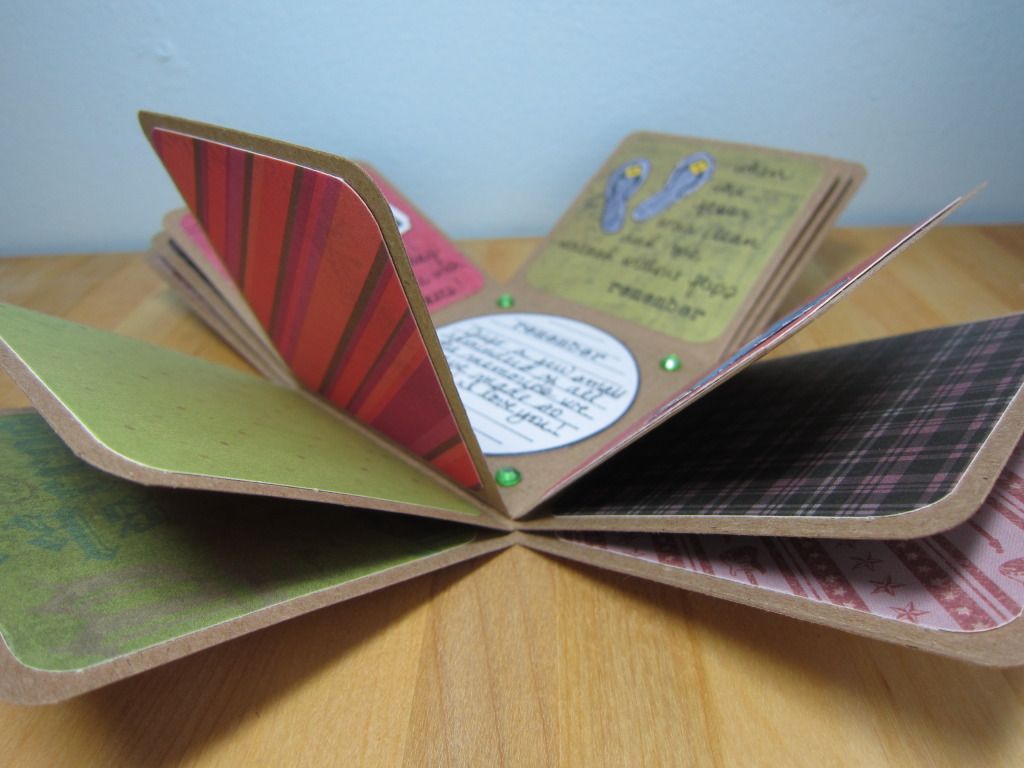 Okay, so that's the box part of it. Now what's in the bag? Well, the outside of the bag is pretty cool too, I think. Sarah recently posted on her blog what she did with the bags, and apparently, you can stamp on them! I was excited to try it, and it was super easy. I used Stazon ink for the hearts, and I did some masking so that one heart was behind the other. I used Copics to color it in, which bled a little bit, but because of the sketchy design of the hearts, I actually don't mind at all! Haha, normally I would've freaked out about it. I also added the sentiment "remember" once again and added some of the bling.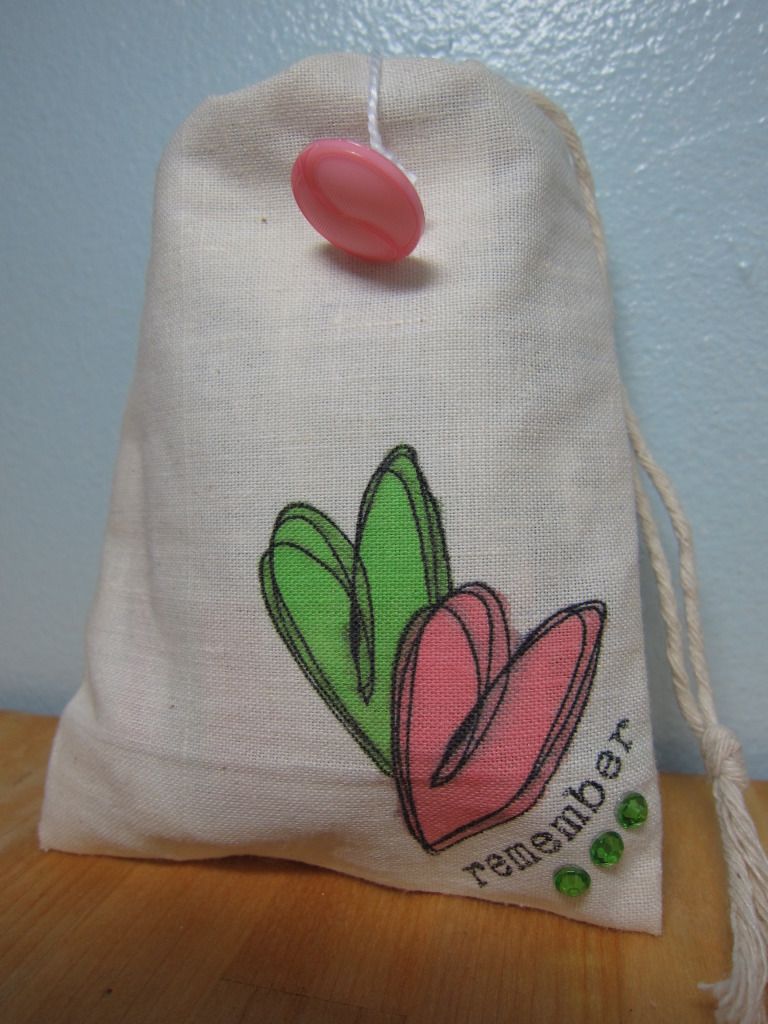 The last 2 pieces of the puzzle were the buttons. I had no idea what to do with them, so I took a break and went to brush my teeth and dry my hair. Then suddenly I thought of how I could use it to secure the ends of a long piece of embroidery floss where I would tape the actual memorable items that I had initially planned on just putting in the bag. As you can see, the pink button is hanging out of the bag so that Howard will know to pull the embroidery floss out to see the string of memories.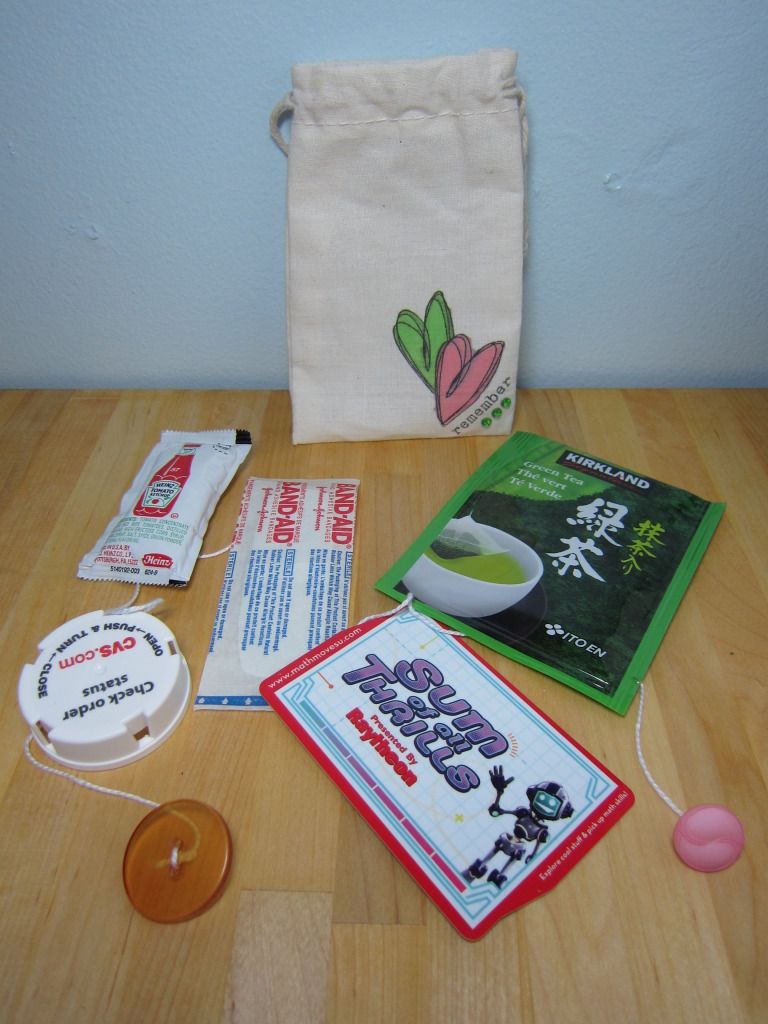 The tea bag for green tea is from Costco, and it's what we drink when we get sushi delivered to our apartment as a treat! It isn't sushi if you don't have super hot green tea! The card for Sum of All Thrills is from Epcot. We designed our own mild rollercoaster when we were on our honeymoon and rode it (and I didn't even have to push the emergency stop button!). The Band-Aid is a reminder of when I got a deep cut in my finger from opening a plastic bleu cheese container. It scared me so much because it wouldn't stop bleeding, so I was crying and being hysterical while Howard took care of me. The ketchup packet is to remember the long wait we had for Heinz ketchup to go on sale (yay for Labor Day sales!). I don't know how to eat burgers and such without it (or when I made cheeseburger pie, YUM). Lastly, the CVS prescription bottle cap is a wonderful memory of how I was finally able to switch to Howard's insurance in September, which meant I could fill my 2 prescriptions and pay a LOT less for them!
Phew, what a fun challenge! I'll be waking up tomorrow morning (well, technically it's today already) and posting this on PinkCricut.com. Please head on over there (blog post
here
) to take a look at the projects made by my fellow crafters and to VOTE (edited: voting will begin on October 7th so that others can have some time to link up their projects first)! I'm so excited to see what everyone else has done with the goodies. Plus, I'm eager to see who will be the Master Crafter!