Because of my recent love of Bath & Body Works products, I've come across a bunch of posts and videos (okay, so it's not really coming across them when I looked for them) and the term "smell goods" came up to describe the items quite a few times. It stuck in my head, and I'm now VERY into smell goods! It really actually started when CVS had a great deal on Renuzit Cones. I bought a bunch of them with coupons just so that we could use them in our bathroom. They look really pretty on the shelf after you take off all the paper it's wrapped in, and it does provide a nice, light scent in the small space. I didn't think scents could totally change the atmosphere. I guess I was so used to the idea of strong and sometimes offensive scents because people I knew growing up used things like potpourri. Let me tell you, these things are SO much better than potpourri.
On Cyber Monday, I placed a small order on the BBW website. At a certain time of the day, they had online exclusive scents for only $5 each. It took a while because they got pretty backed up, but I finally got my package in the mail yesterday! The box was a little torn in some places, but I wasn't too concerned since I didn't order candles or anything that could have been broken. But look at the design! It's an awesome advertisement for their own company!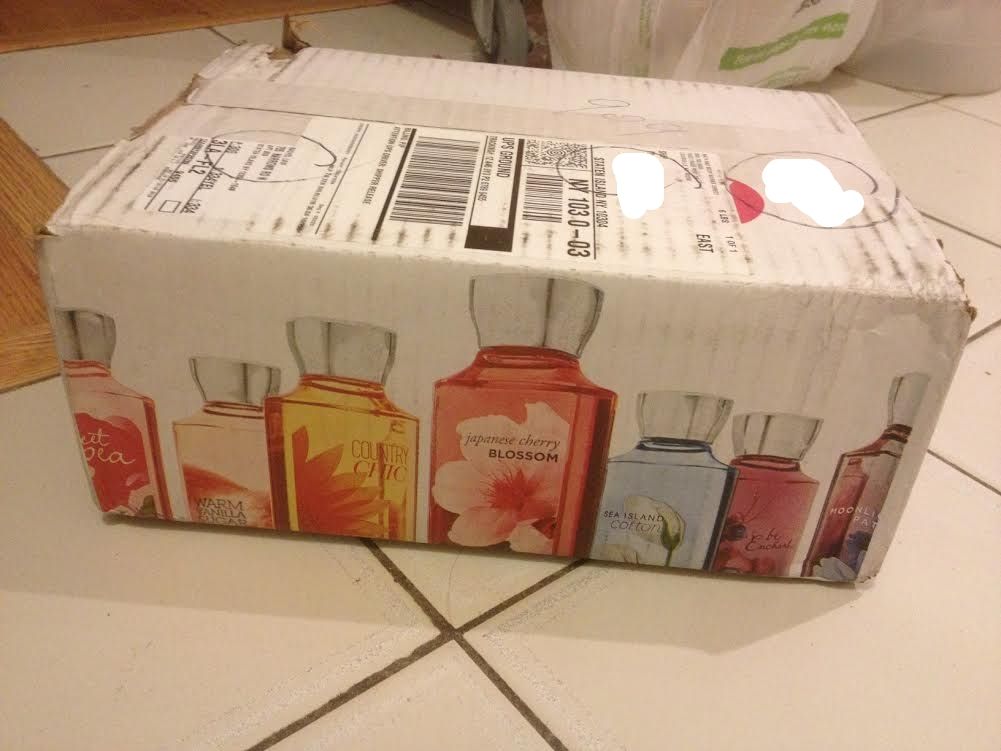 I ordered 2 Dancing Waters shower gels, 2 Rainkissed Leaves shower gels, and 1 Wild Honeysuckle shower gel. I also chose to get a triple moisture body cream in Rainkissed Leaves as well. Wild Honeysuckle was the only one I took a "risk" on because I had never smelled it before, but it got great reviews on the site and is considered a top rated scent. They also provide the fragrance notes so I can see what I like and don't like to help me make my decisions. I still wouldn't suggest doing this for options that they have in the store because it's much easier to just test out scents in person. But thankfully, I didn't have an issue with this new one. I can't pick up all the "notes," but it has a light, honey scent that would seem very refreshing in the shower.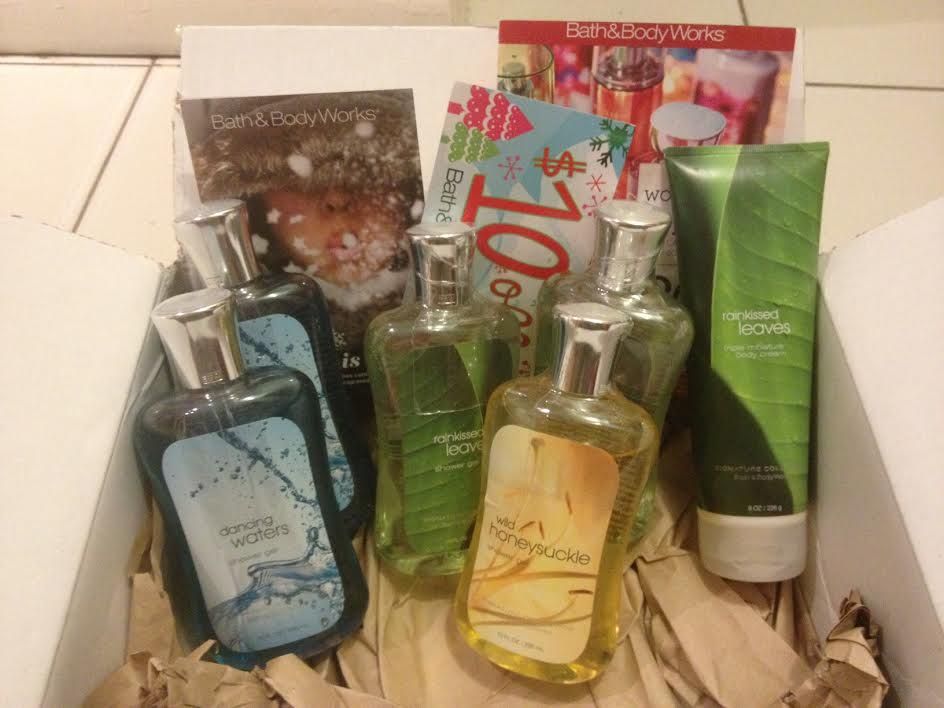 The other two I knew I loved because I had picked up foaming soaps when these scents were still available in the stores years ago. The only reason I had the opportunity to get them was because I had gotten lotions from students that I exchanged for soaps because I wasn't into their lotions yet. Dancing Waters and Rainkissed Leaves are good because they're not girly scents, and I think that even Howard could use them if he wanted to. I had read that Rainkissed Leaves is similar to the scent of some Disney World resorts (I've seen it linked to the Polynesian or Beach Club, so even though I didn't know that beforehand, I think it's pretty cool to have a little bit of WDW at home too). I didn't use any of them yet though because I was still feeling girly last night and chose to stick with Paris Amour.
I did test out the triple moisture body cream, and it is great! I love just how smooth my hands get with the BBW lotions. They seem to work better than Nivea does when it comes to dry skin (versus slightly damp skin after coming out of the shower), which is funny because I stocked up on a LOT of Nivea by paying next to nothing at CVS. Don't worry though! It ends up that a lot of my family members needed lotion too, so I recently gave a bottle to my brother and his wife and then we have two others ready to give to my in-laws and my sister-in-law and her husband. I don't really know long-term which is the better one, but really at this point, all I can suggest to you is to stay moisturized with something whether you want it to be scent-free or not! Haha.
As long as I continue to use these products, I don't feel bad about purchases. I also know that I'm getting the best deals with sales and coupons, and the items really do last a long time! Because I have the six 3-wick candles, I can rotate a scent each day, so I don't burn through one of them too quickly and feel that I need to buy more. I love how cozy it makes the apartment feel, and it actually encourages me to clean, haha. I know that's strange, but the calming scents are with me whether I'm washing dishes or doing laundry. Don't worry; I don't leave the candles unattended. With our small space, there really is no way to actually do that anyway!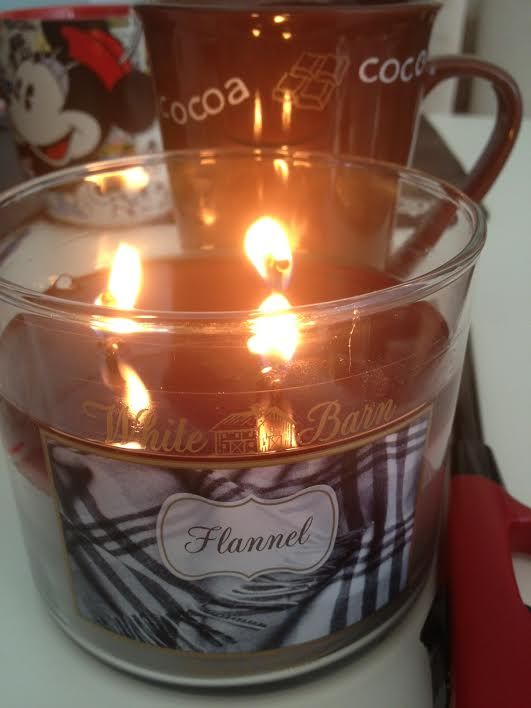 I still get excited every morning when I have to decide what candle to burn that day, and I get excited each night as I decide what shower gel and what lotion to use! I am eager for the semi annual sale that starts after Christmas, but I won't be spending money out of pocket for that. I had just about 5,000 credit card reward points expiring at the end of the year, so I exchanged it for a BBW gift card!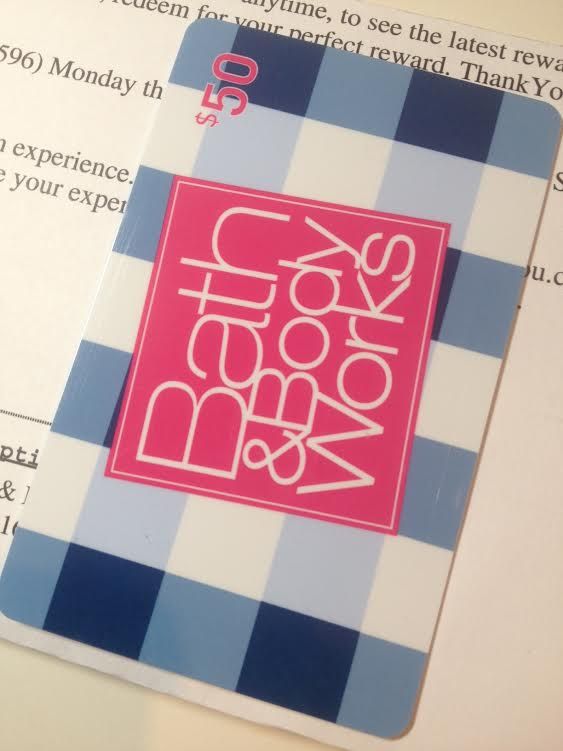 In the past, I only used reward points on craft purchases (it's how I got my Cricut and Cuttlebug machines), but now I've got a new interest. I still craft, but it's just in an apartment that now has "smell goods"!