There are a bunch of songs that Howard and I often sing in the midst of whatever household chore we're doing at the moment, and one of the songs that comes into rotation for me is "Light My Candle" from Rent. Other than singing about candles, however, the only time I considered their usefulness was during blackouts. We utilized a small-sized candle during Hurricane Sandy when we were without power for a good amount of time. The flickering light was enough to help us see in our studio apartment at night, but once the electricity was restored, the candle never needed to be used again and was put away in the cabinet.
Recently, there has been a drastic change in how I feel about candles! One of my DIS friends, Alicia, posted a picture on Instagram after she went to Bath & Body Works and stocked up on her favorite scent called "Flannel." It intrigued me because it just seemed like it'd be such a warm and cozy scent during these cold months.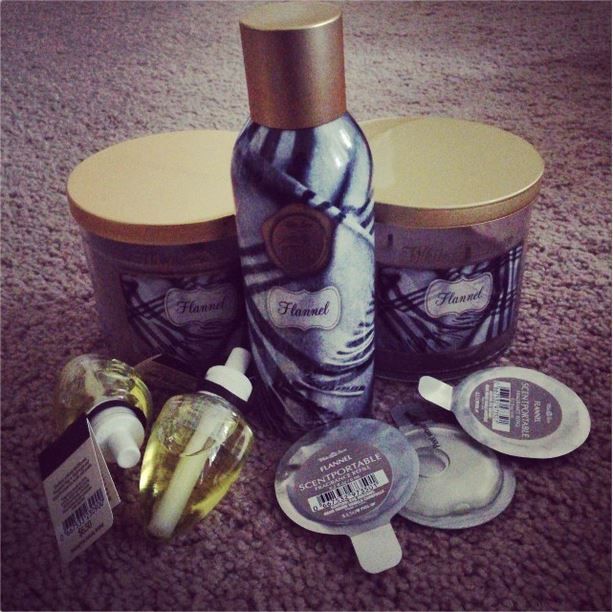 (Photo courtesy of Alicia, @leasha_burns)
When Howard and I went to the mall to return some items from my online orders, I asked if we could stop by the store so I could check out the scent. We couldn't find it at first, so Howard asked a very nice employee. He asked, "Do you have something called flannel?" and she said, "What is that?" Haha, she was able to find the candles for us as you can see below.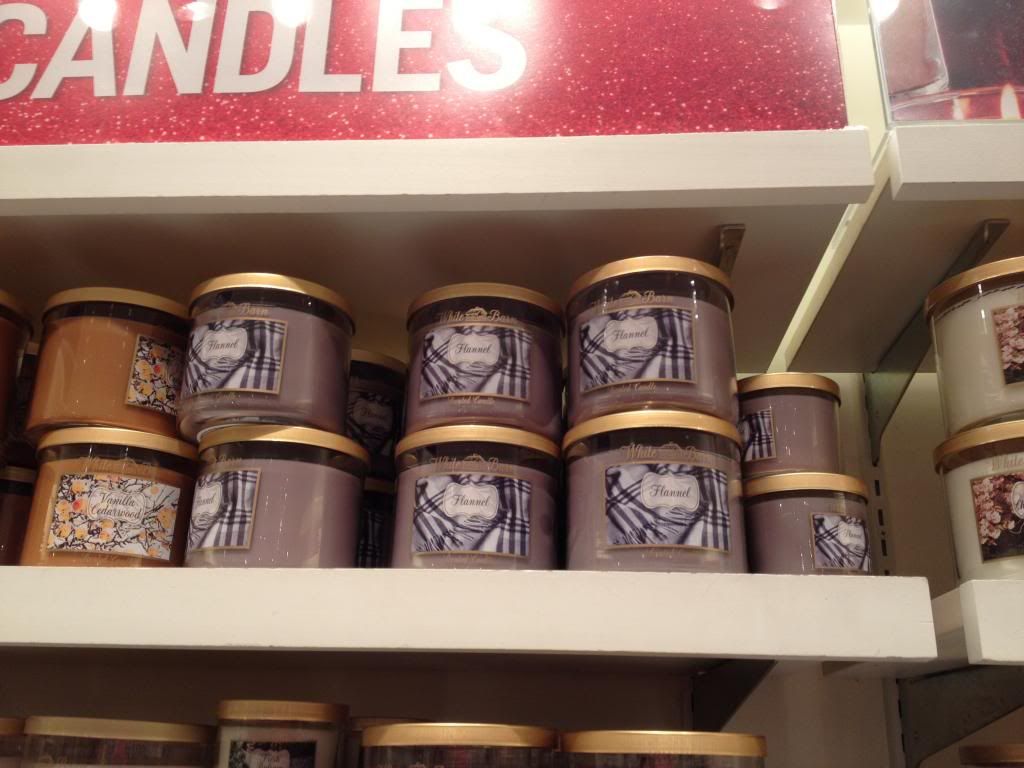 There was no sale on the big 3-wick candles, so paying $20 was completely out of the question! I also didn't have any coupons either. Despite that, I still decided to purchase mini candles because they were 3 for $10. It was so strange that I was willing to part with my money, but I had subbed for three days in a row that week, so I felt that it was okay for me to splurge!
The mini candles were perfect in that they gave me an option to choose different scents and to also see if I really would love burning them at home. I chose Flannel, Mahogany Teakwood, and Sparkling Icicles. I'm really not the right person to describe scents, but basically I really dislike sweet scents and am not that big of a fan of florals either. Fruity would be okay depending on its strength. These candles, however, are not sweet or floral. The Flannel and Mahogany Teakwood actually smell like men's cologne or something like that. They have deeper scents, which work perfectly for winter seasons and because I'm married and have a guy with me too! I have read that Mahogany Teakwood smells like the A&F store, but I'm not a good judge of that because I've never been to one. Well, scratch that ... I think I went in there once because my mom had to get a gift card.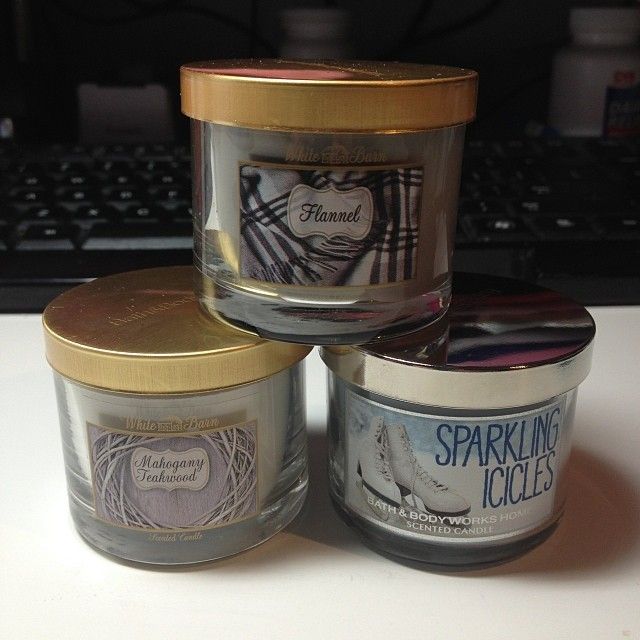 At home, I immediately began using one of them. I took this picture and now realize why one of them is tunneling badly! I didn't let the top layer of wax melt completely before blowing it out, so it hardened unevenly and keeps burning that way now. I took a paperclip and tried to even it out, but it does look a bit messy now. I just don't want to waste any wax. Oh well, that was my fault for not reading about it earlier! I have had more success since then!
A few days later, we were back in the mall area again to do some grocery shopping. When we have the time and the energy, we like to stop by the mall to trade Vinylmation at the Disney Store. We've gotten some really good ones by stopping by every once in a while! It also happened to be the same day that they had Room Perfume on sale at Bath & Body Works! I saw it on Instagram because one of the couponing girls I follow posted it. Even though I have submitted my email address in the store and on the website, I'm still not getting emails! At least there's still plenty of other ways to find out news like this via social media!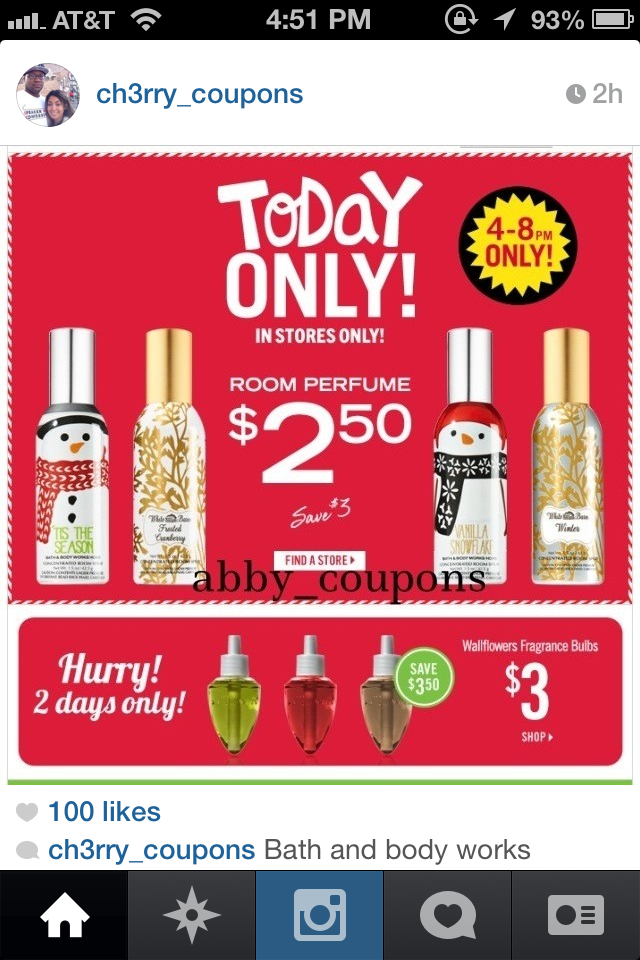 I figured it'd be nice to have room sprays for the times when lighting a candle isn't possible. I want to be completely safe, of course, so if it's not in sight, I don't want to light it. I did choose 2 of the room perfumes after testing a few out. Mahogany Teakwood just had to come home with me because it's that good. I also initially had a different scent in my hand for the second one, but then I saw they had a few Peach Bellini ones left in the corner of the shelf! Howard and I both LOVE this one because peach stuff is so yummy! This stuff is really strong and lasts, so the directions are completely right when they say just spray twice! With our studio apartment, I only have to spray once! This also seems like a nice thing to bring on vacation because sometimes rooms don't smell the greatest if the carpet is old. I have a travel-sized Febreeze for that purpose, but this seems like it'd work too! The only reason I wouldn't want to use it though is because of the people who stay in the room afterwards and any potential allergies.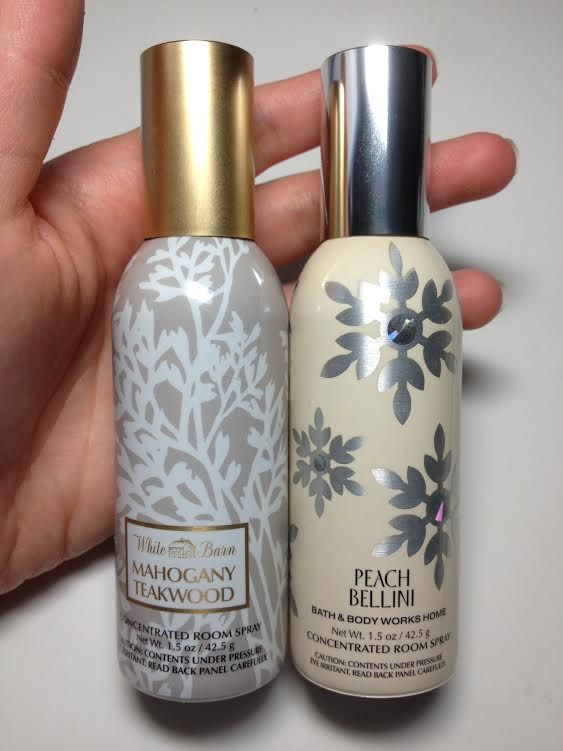 You'd think my purchases at Bath & Body Works would end there, right? I mean, how many updates have I posted about saving tons of money at CVS? Well, sorry to disappoint, but with Black Friday coming up, I just had to get some more! I was hoping the 3-wick candles would be on sale, and sure enough, Alicia let me know on Instagram that they were going to be 2 for $22! I also screen shot this page on IG to reassure myself that I had a few days to get the candles in case I couldn't make it out on Black Friday.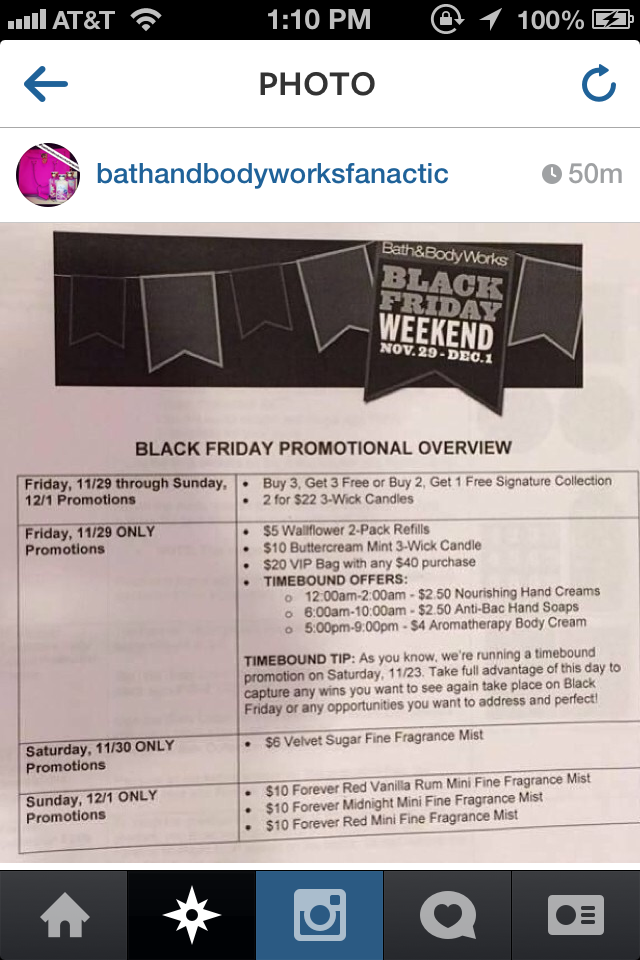 I was anticipating the visit to the store, but I also looked online to see if I could get some good deals that way and not be hassled by driving to the mall and making my way through the crowds. However, there was the cost of shipping and the fact that you could only use multiple coupons in the store, so it just didn't seem worth it to order online. One of my other DIS friends, Dani, is a BBW fanatic too and took a picture of her HUGE haul for only $127! That's some HUGE savings if you know the retail prices of the individual items. I got a ton of advice from her in terms of what I should do to stack coupons and how I could maximize my savings. It really did help SO much!
(Photo courtesy of Dani, @dmags)
I drove to the mall close to 2pm or so. I can't remember the exactly time, but I know that many of the big Black Friday deals were over at 1pm. I was hoping to avoid big crowds. Thankfully, finding parking wasn't a problem, and though the mall was crowded, I didn't have any issues maneuvering outside of the stores. Inside the stores was a different story, but I'm sure it was even worse just hours before! There were a few people who were "rude" in that they just didn't seem very self-aware. For example, a mom and daughter were smelling candles when I was there at the same time. Instead of going around me, they just kept reaching across me because they were just so intent on smelling all of them on the shelves regardless of the fact that I was standing right there. I backed away and let them go and moved back to my spot.
There were plenty of employees on the floor to help out with questions and suggestions. I also realized afterwards that they need a lot of people to make sure people aren't shoplifting especially when the store is so crowded. I liked having them around though because they had bags to fill with TONS of candles and to inform me of special prices. I really appreciated the one who let me know of their deals even though I was solely there for candles. She let me know about the special Buttercream Mint candle, which was a Limited Edition candle. I knew I wouldn't be interested in it though, but like I said, I was grateful for her assistance because she also answered my question about coupons on my phone. It made me feel more at ease with shopping there since I still felt out of my element in the store.
So what did I get? This is what $129 worth of candles looks like!
I chose 6 of the 3-wick candles (I actually contemplated getting 9!). The top row of candles is the same as my mini candles, which I loved so much that I knew I'd want them in the 3-wicks. The bottom row are also scents that I knew Howard liked because we had tested them during one of the earlier trips. Peach Bellini and Cranberry Pear Bellini are of course fruity, but the Black Tie one is another masculine scent. Those 6 candles should have been $66 altogether with the 2 for $22 sale.
BUT utilizing coupons on top of the sales, I was actually able to pay only $36 for ALL of it! The new cashier ringing up my purchase had an issue scanning my $10 off $30 coupons, so the seasoned cashier to her right told her to split it into two transactions instead. Later on, I realized she was probably forgetting to press a button between coupons, but the way she did it worked out to my benefit anyway.
Each transaction had 3 of the big candles and 1 mini candle. I used a $10 off $30 coupon that I got from my previous purchases, a free mini candle with purchase coupon that she scanned from my phone, and a 20% off coupon that was also scanned from my phone. I initially only had 1 mini candle (retails $4.50), but since she split it up, I asked her if I could go get another one and she was fine with it! I used the same coupons on the second set. For a moment, I was afraid it wouldn't go through again because the seasoned cashier said something quietly about how the 20% coupon wouldn't work but she said that my cashier could try it to see. I knew that it would go through because of the previous transaction with the same exact items! Each purchase was a little over $17, so I was SUPER happy. The smart me might have gone back to get more to do it one more time since each big candle was about $6, but I figured if I'm really going to get stuck on candles, I might want some of the spring/summer scents that come out when it gets warmer out!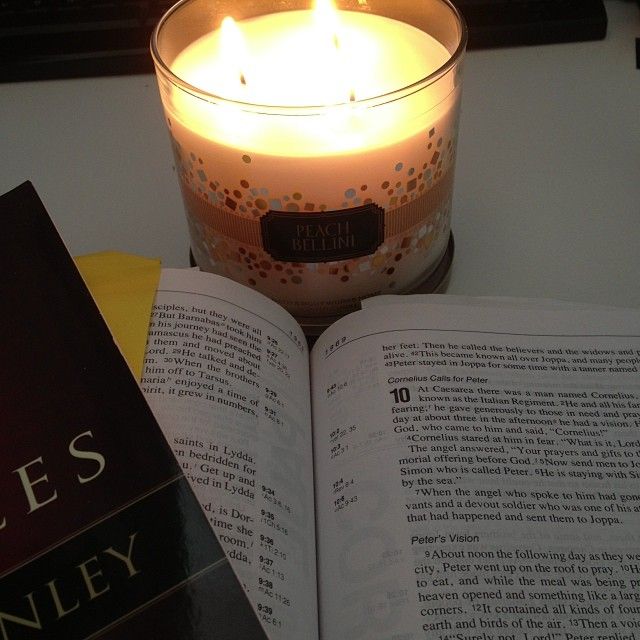 For the most part, I've been burning a candle EVERY SINGLE DAY I've been home since I purchased them. They really are so delightful because our apartment doesn't really feel like OUR apartment. You know how your house has a certain smell to it that you sometimes can't smell but others can? Our place doesn't have that. When we walk in the hallway, it can smell like whatever our neighbors are cooking. Then when we walk into our actual apartment, it just doesn't smell very good based on whatever scents have drifted in (our door doesn't fit very tightly; even at night we see the light from the hall coming in from the sides and bottom of the door). Having candles has made it so that there's a pleasant aroma! What's amazing is that the big candles have such an awesome throw so that it really does fill the entire room! Even after we've left for a few hours, we can return to have a faint smell in the air. It makes it so much more inviting.
Clearly, I have gotten hooked into the Bath & Body Works world, and I'm not sorry about it! I'll have to make sure I'm getting the BEST deals though, so the next time I purchase will be during the semi annual sale after Christmas! I'm already SUPER excited! I guess I can justify it by knowing that I save SO much at CVS, which gives me some spending money at BBW, right? Right.