This year was my first year crafting with a Cricut! I decided last December to purchase one, but it took a while to get my Walmart gift cards from credit card rewards points and then order it. I finally received it on January 15, 2011!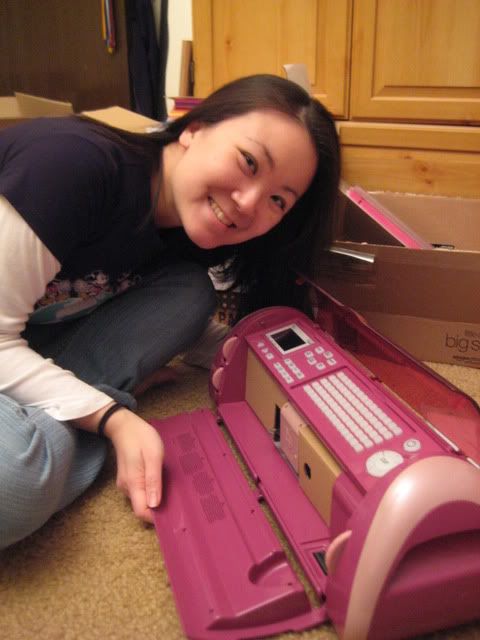 Since then, I've had a lot of fun making cards and dabbling with the idea of scrapbooking. Here are the most memorable cards for me!
(1) Warm Wishes (January)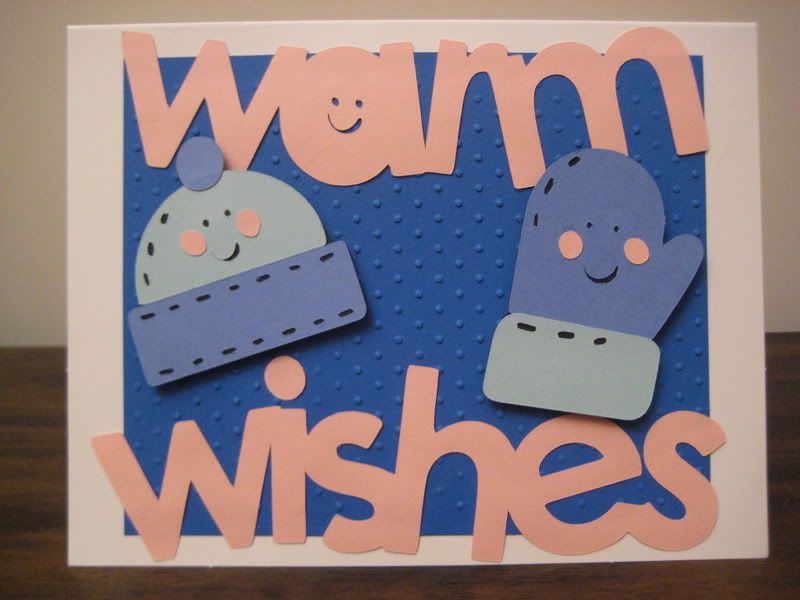 Looking back at this card, there are so many things I don't like about it, haha. But it's definitely one of the most memorable ones as it's my first ever! I was happy to use my Cuttlebug after reading about everyone having the Swiss Dots folder. I also loved the Simply Charmed images, but I probably should have started with a Doodlecharms card instead, haha. This was also the time before I had the right paper to cut, and I didn't know ANYTHING about properly sizing. But it's still fun to look at and remember my beginner status as a crafter (which I still am, but at least I have my Gypsy!).
(2) Glittered Turtle (February)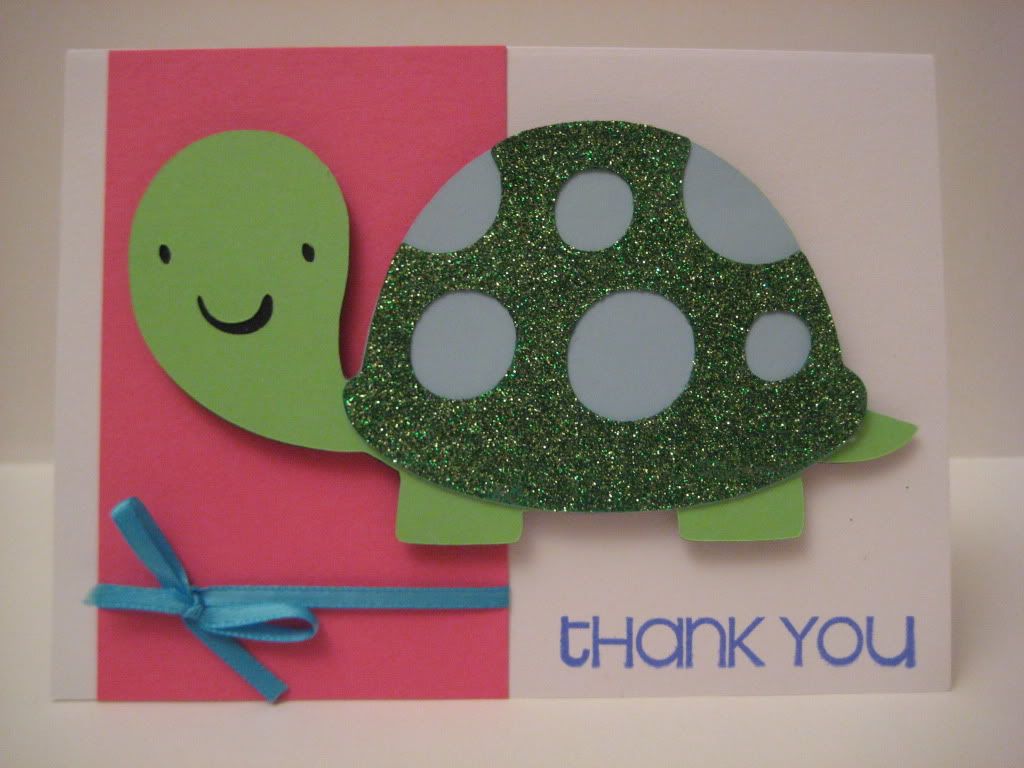 This was the first card I made since I started crafting that I was really proud of! I had used Mod Podge and Martha Stewart glitter, and I loved how it turned out. I also used a layer of Mod Podge to seal the glitter on. For a while, I kept this on the desk next to my bed so that I would see it every morning when I woke up. I kept touching the glittered part as well because I was amazed that it wasn't flaking off! This is still before I had a lot of paper choice, stamp choice, and ink! But I still love how this card turned out. Simple and basic - I don't think I'll ever really stray from that.
(3) Japanese Lanterns (May)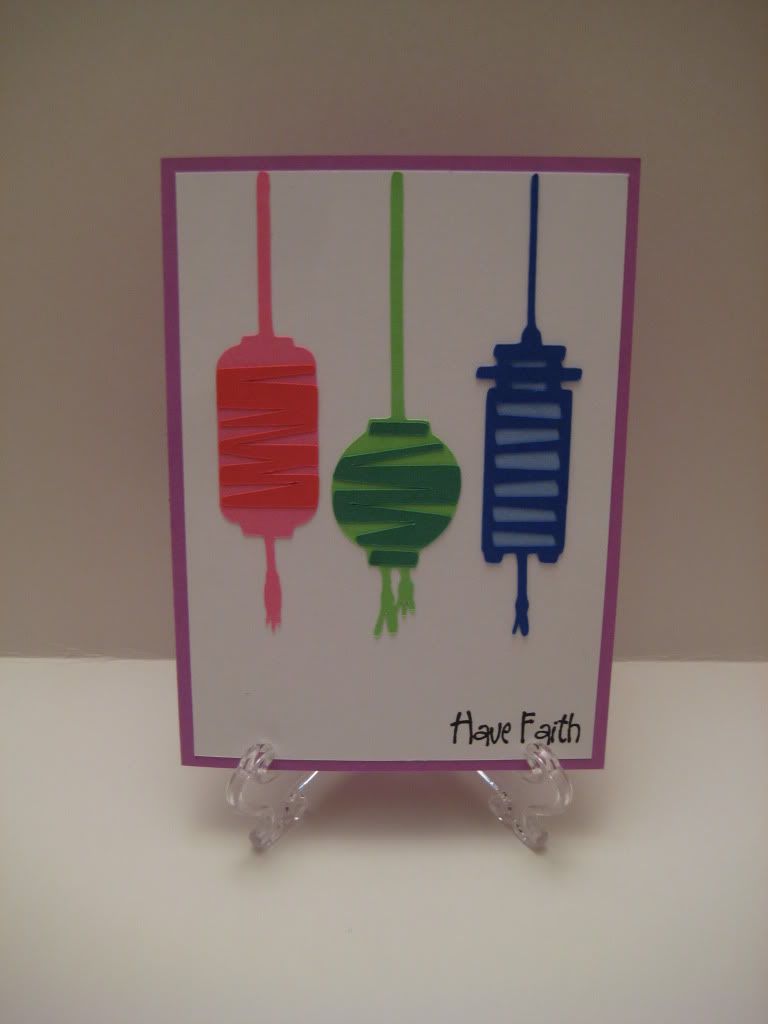 This is also not a fancy card, and the color combination is rather weird. However, it's still one of my most memorable cards of 2011 because it's one that I made specifically for my cousin. She was dealing with a lot of stress at the moment, and I wanted to send her a pick-me-up, so I made this with her in mind (she's been to Japan twice), and wrote what I hoped to be an encouraging note inside. This is why I love making cards so much, but I know I didn't do this nearly as often as I wanted to. Hopefully, in 2012, I will be more mindful of actually sending the cards that I make!
(4) Dustin Pike Dragon (June)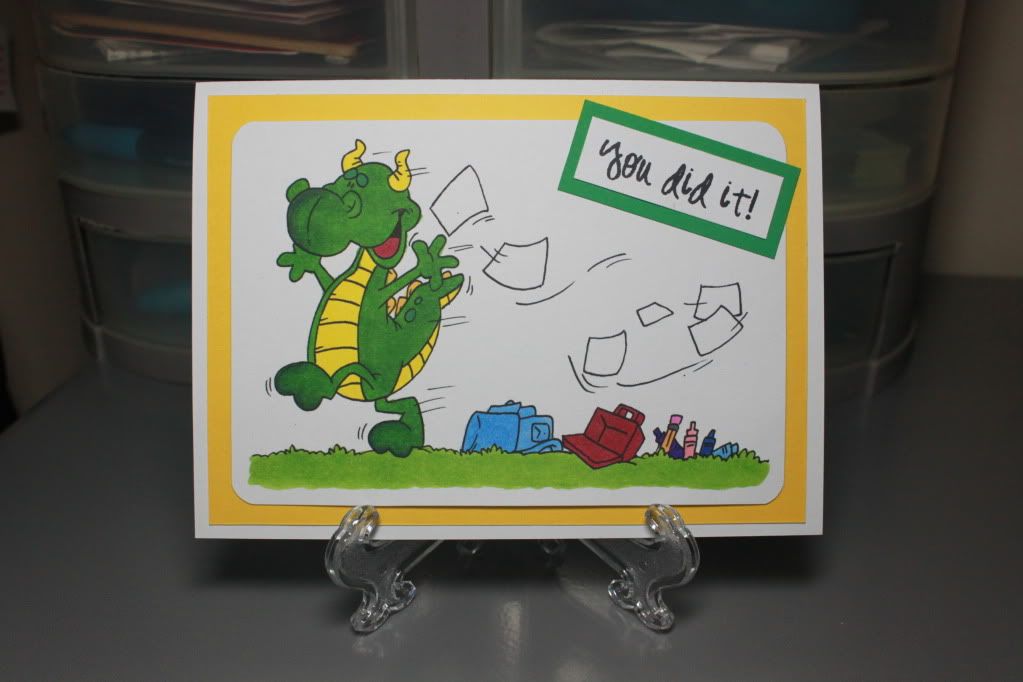 This was the first time I won a challenge EVER! It was on Pink by Design's message board, and the challenge was to make a card without using the Cricut. I had just started to learn about digi stamps, and this was one of the freebies I had saved from Dustin Pike. This is also the first time I had used my Bic Mark-It Markers (the time I was insistent that I wouldn't be buying Copics, but of course, I ended up buying some of those later on!). I was ecstatic when I saw that my card was chosen as the winning card. I was bouncing off the walls for the next couple of days!
(5) Karber Digital Leslie (June)
Here's another card that I made with a digital stamp from Karber. This was one of my favorites because I had learned to blend Crayola colored pencils with baby oil and Q-tips! I also broke away from my rectangles and made a circle card for that challenge that I won. It took me a while to plan this one, but I was very happy with the results. I also learned that I love the pink, green, and brown combo! And STICKLES!
(6) Pink Cat Studio Dinosaur (July)
As you can see, I went through a digi stamp phase. This was the first card that really required "fussy-cutting." I made this for my cousin's birthday, and I struggled with it because I don't quite know how to make a birthday card for a boy! I also used a sketch from Deconstructed Sketch that was out of my comfort zone (those circles again!). I used a bunch of different papers before settling on those that ended up on the card. Though this was took a while (as most of my cards have up to this point when I was trying to enter challenges), I love how it turned out. This was not just one of the most memorable; it was also one of my favorites.
(7) Glittered Popsicles (July)
This was my all-time favorite card of the ENTIRE year. It took a while despite its simplicity as each popsicle was carefully glittered, and I wanted everything to be exactly spaced. I was entering the challenge at CAS-ual Fridays (CAS stands for clean and simple), and I was so eagerly waiting the announcement of this winner. When I saw my card won and I was now in the TGIF Club (click
here
; haha, it's the one that's so badly photographed compared to all the others!), I was thrilled! I also won the huge prize package of the personalized stamp from PSA Essentials that I now use to stamp the backs of all my cards. This would definitely be my #1 of the entire year. It's also the card that made me realize that white space is a-okay! I love the CAS look, and a lot of the bloggers I enjoy are all about CAS.
(8) Mass Produced Sheep Card (August)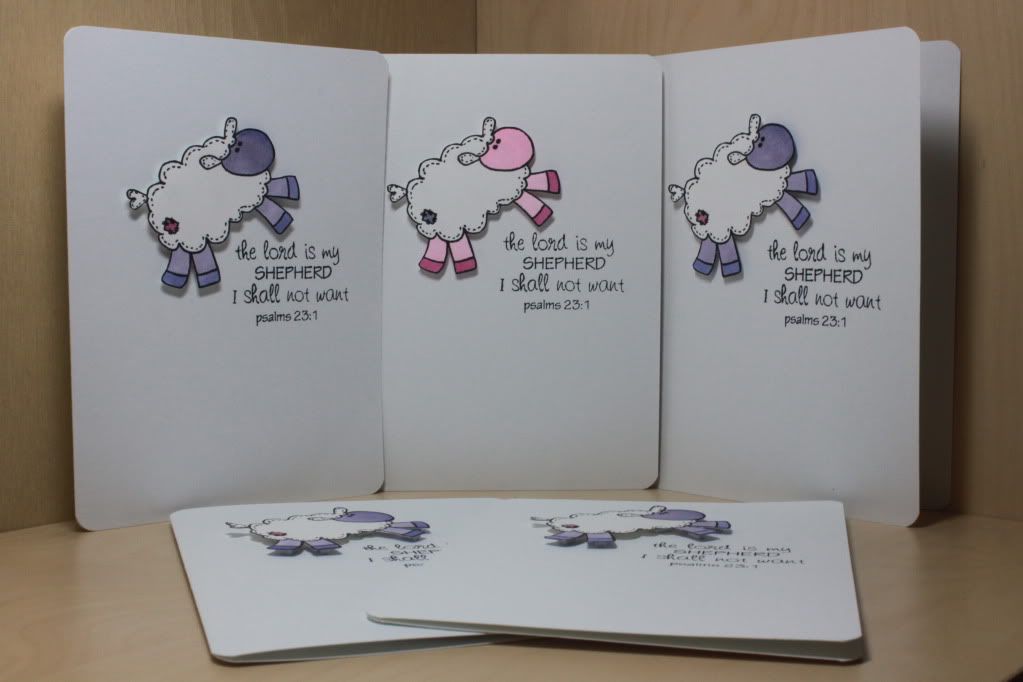 Many of my friends kept encouraging me to start an Etsy shop. I didn't want to deal with any fees, so I just started a Facebook page instead to start selling my cards. This sheep card was using the CAS technique that I loved, and it was also one of the first few cards that I mass produced to sell. "Fussy-cutting" all those sheep was rather annoying! I also had a few Copics at this point, and I practice shading on the sheep's head. This year really was all about learning and experimenting with a million different things!
(9) Custom Order Food Card (September)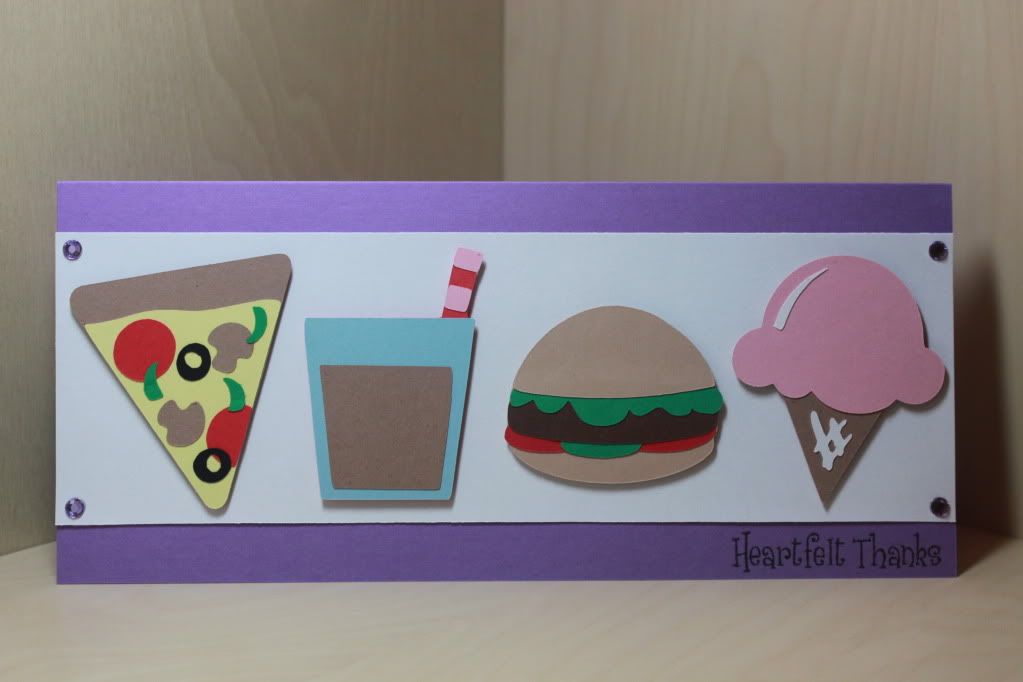 My cousin needed a specific thank you card for someone who had given her restaurant suggestions when she went away to California for a bit. I really enjoyed making this card because I was able to use cuts that I knew I probably wouldn't really be able to make any other time! There are a lot of images on the Cricut cartridges that are so perfect for scrapbooking, but sometimes they don't seem to fit in my world of card making
unless
there's a specific reason for it. This was one of them! Though it actually took a while to make this as opposed to the cards I was mass producing, I really like how it turned out!
(10) Mass Produced Birthday Card (November)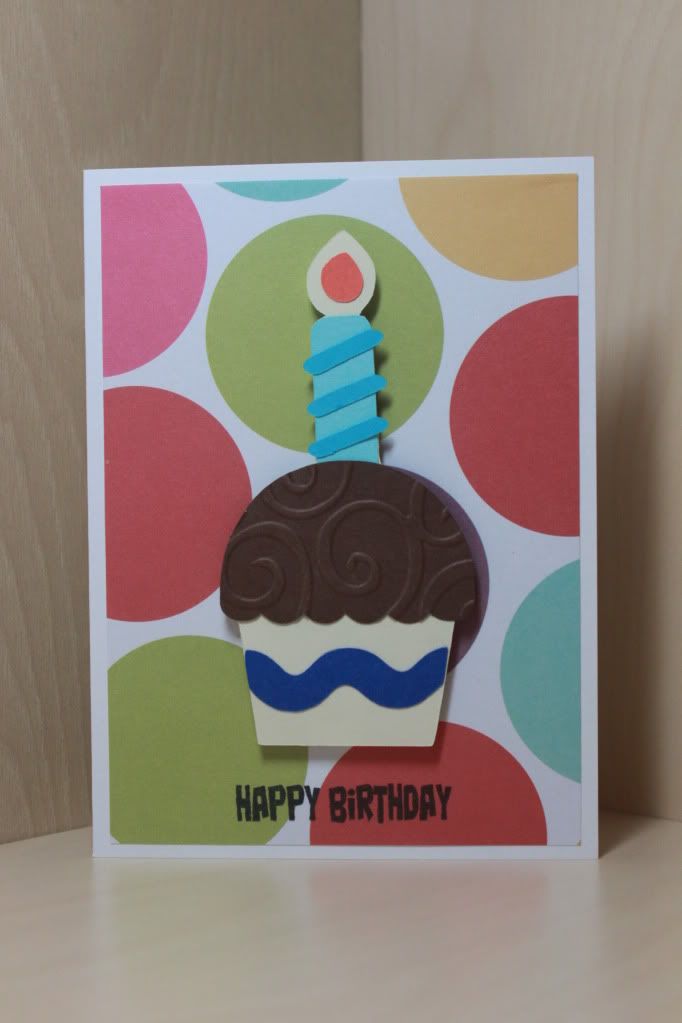 The night before my church's bake sale, I was scurrying to make some birthday cards as I had a ton of others to sell but not many for birthdays! I quickly made 6 of these cupcake cards. I hadn't really used much patterned paper in my other cards, so I really liked how this turned out being so bright without being too girly either. Well, I had one customer buy 1 card, and then someone else bought the remaining 5! I had a few people say that they had wanted birthday cupcake cards as well, so I actually went home and make some extras with the other piece of paper I had. This became one of the memorable cards of 2011 because I liked how I actually had to go back and make more because there were people disappointed in not getting it!
Well, that was my 2011 crafting year! It was filled with a TON of purchases (I probably put in $2000 or so into this hobby of mine!) and a ton of learning experiences. As you can see, I'm still a basic crafter in some regards, but I thin there's a huge jump from where I started in January to where I ended in November/December (I didn't craft that much in Dec). I hope that 2012 is filled with more opportunities to craft. I'm especially looking forward to joining my first blog hop and then scrapbooking my Disneymoon after my fiance and I get married in May! Great things ahead!