On Friday night, my cousin Danielle emailed me to ask if I had a birthday card for Chloe's Sweet 16. She said that if she was going to buy a card, she'd rather buy it from me. Yay for a sale! She specifically wanted an envelope that would fit her gift inside it. She took a picture of it, and I knew it wouldn't fit inside a regular envelope, so I decided to try making a 3-D envelope. I did a quick Google search and followed the instructions at
Paper Loves Glue
.
I was rather pleased with how it turned out and how it could easily fit cards with larger embellishments or anything else you might want to send that's thicker than a typical card. The blog where I got the directions did say it would require 2 stamps because of its thickness, but it's nice not having to go out and purchase an envelope like this. I ended up redoing it in kraft cardstock since the pink one was the tiniest bit crooked, and the kraft matched the birthday candle card that Danielle bought.
I used my
Papertrey Ink alphabet die
to cut out the letters for Chloe's name to affix to the envelope. I really like using dies or stamps to write names on envelopes so that I don't risk messing it up or not centering it properly. That stuff really bothers me!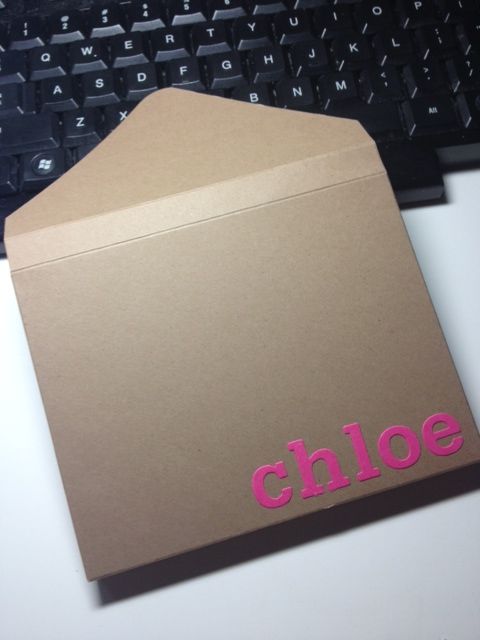 Since I had my Cuttlebug out to use my dies, I decided to cut out more letters so that I could use them on the envelope of the card Howard and I were giving to her. I just had to snap a picture of this because as I was getting the letters and arranging them on the table to see what I was missing, he got confused as to what I was spelling! It was for "cookadabee," which is the nickname I gave to Chloe many years ago because I call my other cousin Nicolette "Nikadabee."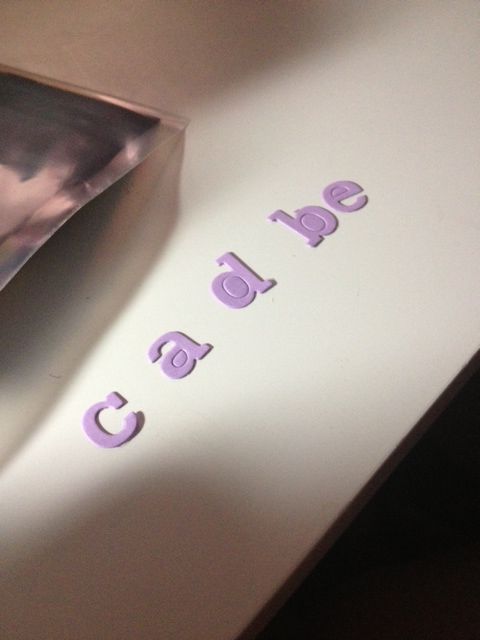 I'm glad I was able to find a way to make a thicker envelope! Man, what did people do before Google and Pinterest?