Last week I said that I wasn't going to be heading to CVS for two weeks. Then ... this week rolled around. But can you blame me? After two transactions, I got $115 worth of items for a combined $9.22 subtotal (boo to an extra $4.91 in taxes) along with $25 back in ExtraBucks. I was able to get things so low because CVS emailed me a 30% coupon last Thursday and my sister-in-law Sharon has been saving coupons for me! Yay for having 2 RedPlums yesterday so that I could snag those Pantene shampoos and Robitussin!
Howard went with me, and while I was sorting through the coupons we got from the redbox and clipping them to the proper transaction (yes, I have to binder clip coupons in groups and label otherwise I forget them ... and even then, I still have forgotten a coupon before!), he snapped this picture and posted it on Instagram. He captioned it, "Come get your coupons at CVS!" When I saw it in the car after we left, I laughed and he said it out loud in a creepy yet hilarious voice! I have such a silly hubs!
Okay, here's the breakdown of the purchases in my first transaction:
The Allegra is the easiest one to explain. I saw on Instagram that it was ringing up as clearance for some people from the original $8.49 cost. Some people had it ring up as $1.57, but you know how NYC is. Everything is more expensive! I scanned it at the redbox, and t was on clearance for $2.12. I specifically clipped the $1.50 coupon from what my sis-in-law gave me in case it was clearance. Paying only $0.62 (or only a little over 7% of the original price) makes me a happy camper. Hopefully, we won't need it now because of the weather change, but when those darn mosquitoes return next year and we inevitably get bites, it'll be nice to have.
The Robitussin is also another thing I only got because I had the coupons. The 4oz liquid bottles or 20 ct boxes are on sale for $4.95 this week, but there's was also a $3 coupon in the newspaper inserts. When you buy 2 of them, you get $3 back in ExtraBucks. That means you end up paying $3.90 out of pocket and getting $3 back. Each bottle is only $0.45, which is rather awesome considering they're typically $6.49-$7.99 each. Plus, who wants to spend money on medicine? Typically, I would rather purchase full-price medicine when it's needed instead of buying it to keep in a medicine cabinet just in case we get sick. Unfortunately, Howard and I have both needed cough/cold medicine (I needed it during our Christmas trip in Disney, and that cost an arm and a leg in the Pop Century gift shop!) during our first year of marriage, so this was too good of an opportunity to pass up.
The last deal combined the Pantene, Dawn, and M&M's. On the first page of this week's circular, it shows that if you spend $20 on particular products, you get $5 ExtraBucks. The big seller this week is the Tide detergent because there's a $2 coupon in this week's inserts. It's a high value coupon, and people have bought a ton of papers just to get the coupon. We don't use liquid Tide because our machine calls for high efficiency powder, so we use Gain. I have two of the coupons, but I don't need to use them (let me know if any of you need them!). So I decided to get Pantene, which was on sale 2 for $7. I used coupons for $3 off 2 from the paper, so that my out of pocket amount was $2 for each bottle of shampoo, which is normally $5. I know a lot of people had buy one, get one coupons to combine with the $3 coupons, but I didn't. I was okay with that because in the past, I got bottles of Garnier for $3.33 with no rewards back.
Because of the ECB deal though, I still needed $6 to reach the $20 (these ECB deals are attained BEFORE coupons, so that's why it makes it easy to lower your OOP and still get paid money to return). I grabbed some Dawn with the $1 off 2 bottles coupon. They were on sale for $0.99, so that was $1.96 for 4 of them. I still needed $2 more to reach the $20, so I grabbed the M&M's because they were on sale for $0.50 each, and I had buy 2 get 1 free coupons. Getting 6 packs of them helped me reach the amount I needed to get $5 back.
With coupons including a $5 off $15 CVS coupon, $5 in Beauty Bucks, and another $4 in ExtraBucks, my subtotal was $1.48 with another $1.58 in tax. My total was $3.06. Too bad the tax is more than my subtotal! If that weren't there, I could've paid all in coins. I put in $9 ECB and got $8 back to use in my next transaction.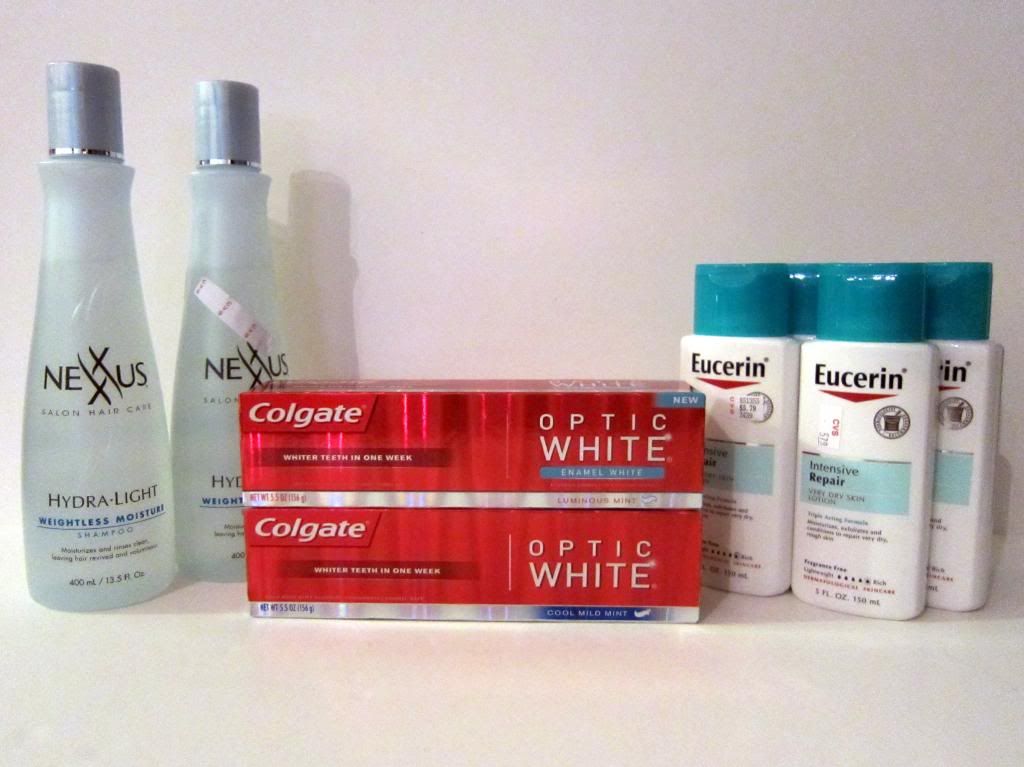 Although the second transaction looks like it's less stuff, the cost was actually much higher. The Eucerin deal was the one thing I knew I was going to get this week once I got the 30% off email. Since Howard has psoriasis on his hands, I wanted to get some intense lotion especially with the winter weather quickly approaching. The Nivea is the perfect thickness for me, but the Intensive Repair Eucerin is even thicker! Each 5 fl oz was $5.79, but when you buy 2, it was $5.25 each. I also printed out $2 coupons for each bottle. That means instead of paying $21 for all 4 bottles, it was $6.70. This was actually a "moneymaker" because purchasing $20 worth of Eucerin products meant that I could get $10 in ExtraBucks.
The Colgate deal was to spend $10 in Optic White products to get $5 back in ExtraBucks. I bought 2 tubes of toothpaste for $5.99 each and had a store coupon for $3 off 2 along with manufacturer coupons for $1.00 and $0.75. Instead of paying $11.98, I paid $3.64 and got $5 ECB back. Another moneymaker, yay!
Lastly, the Nexxus deal was to spend $20 in product and get back $10 ECB. Each bottle was $11.79. Yes, shampoo costs almost $12 a bottle! That must be some amazingly good shampoo! Two bottles cost $23.58, but I had the 30% off and two coupons for $3.00 off so it was $10.51 to get $10 back.
I basically do those quick calculations to make sure that it's a deal, but the actual CVS registers computers things differently. There are some types of coupons or ECB (ex. Beauty Bucks) that actually reduce the amount that gets the percentage off along with what is taxed. When there's a percent off coupon to use, I can't really predict the exact amount that I'll spend, but after I did the math at home, I told Howard it would be about $10 out of pocket. It was pretty close to that with a $7.74 subtotal and $3.33 tax for $11.07 out of pocket. I was pretty accurate considering I figured it out using prices from CVS online, which had cheaper costs compared to the NYC prices in the actual store. The great thing is that with the sales this week, it was a great way to easily build up ECB because in the second transaction, I used $14 and got back $25 ECB for next time.
What sweetened the CVS trip even more was that there's a Dunkin' Donuts in the same shopping center, so Howard and I both got a small iced coffee to celebrate National Coffee Day! I'm not crazy about iced coffee and have only gotten it a few times in my life, but when it's free, I love it! Doesn't that free flavor taste so good? I had the milk and sugar added in for me so that I don't have to feel bad adding in sugar by myself at home, but Howard got his black so that he could add Lactaid from home. What a great post-CVS treat!
Okay okay, I'm pretty sure I'm not going to CVS
next
week ...