This past Saturday was my cousin Chloe's Sweet 16! I just can't believe that she's already 16 because I remember being super excited when she was born because we had another baby girl on my mom's side of the family! Her party was at Elaine's Asian Bistro & Grill in Great Neck, so it was a bit of a drive for us. Howard and I doubled the actual amount of time that it would require to get there and gave ourselves an hour and a half even though it should've taken 45 minutes. Thankfully, we arrived there right on time despite traffic everywhere! Phew!
There were a lot of the high schoolers and college kids from church and a bunch of Chloe's friends from school. Howard and I sat down before the party officially started with my cousin and his fiance, and my uncle came over and said that we're still considered the same generation as Chloe and everyone that was there even though we're technically adults!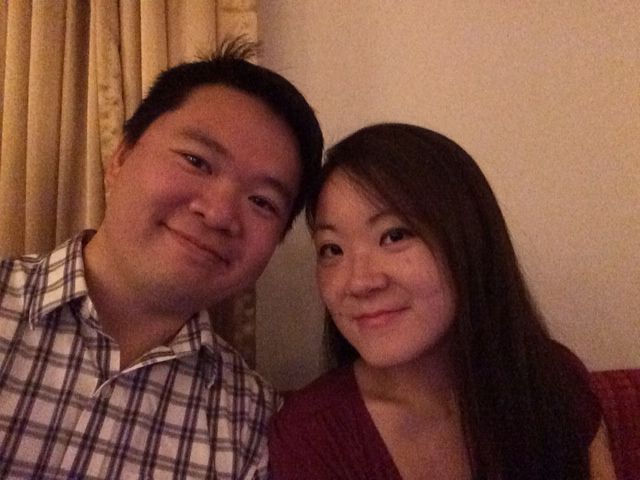 Once my aunt welcomed and thanked everyone for coming, she told us that we could help ourselves to some appetizers. We grabbed plates of food and sat down with my cousins and their significant others. It was fun because I don't get to see and talk to them very often anymore. It was hilarious that we were so strangely seated around the table because we weren't all necessarily next to our guys, haha.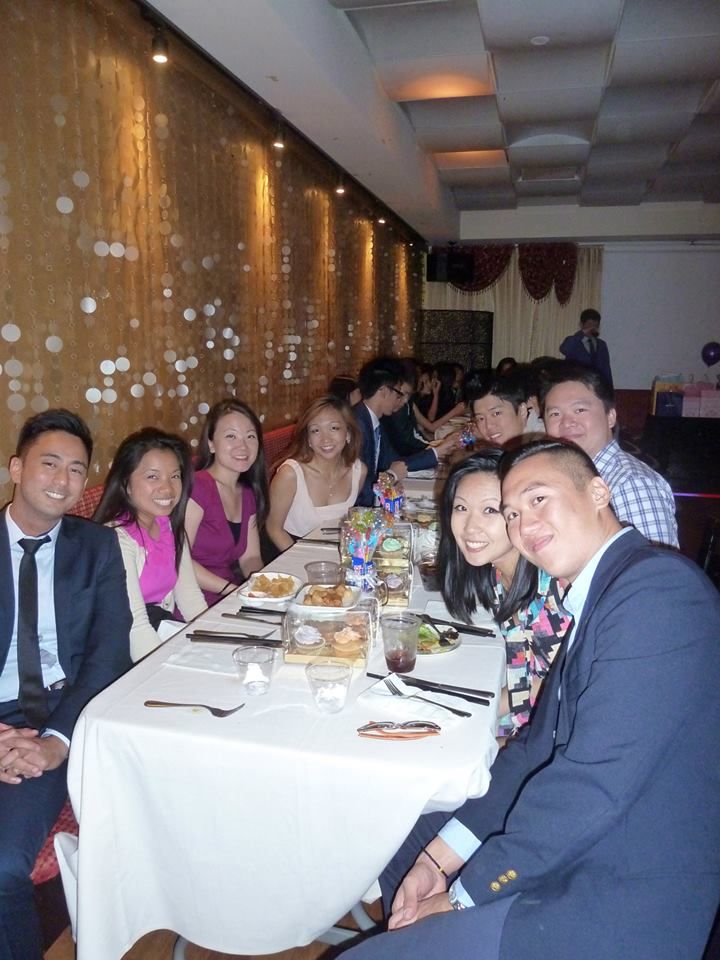 The centerpieces were these mason jar mugs filled with candy. We divided up the yummy candy at the end of the party, and then Howard actually "won" one of the mugs (post-it under his seat) and no one else wanted the other one, so we got both of them! Yay for new mugs! Haha, he actually tried seeing if anyone would trade because he saw pink and green ones, but we still ended up with the two orange ones from our table.
Each person also got to take home 2 of the cupcakes made by my
aunt
. She makes cupcakes from scratch with more unique flavors. Since we were 4 couples, we each got to take home one of EACH flavor! Edible favors and centerpieces are clearly the BEST.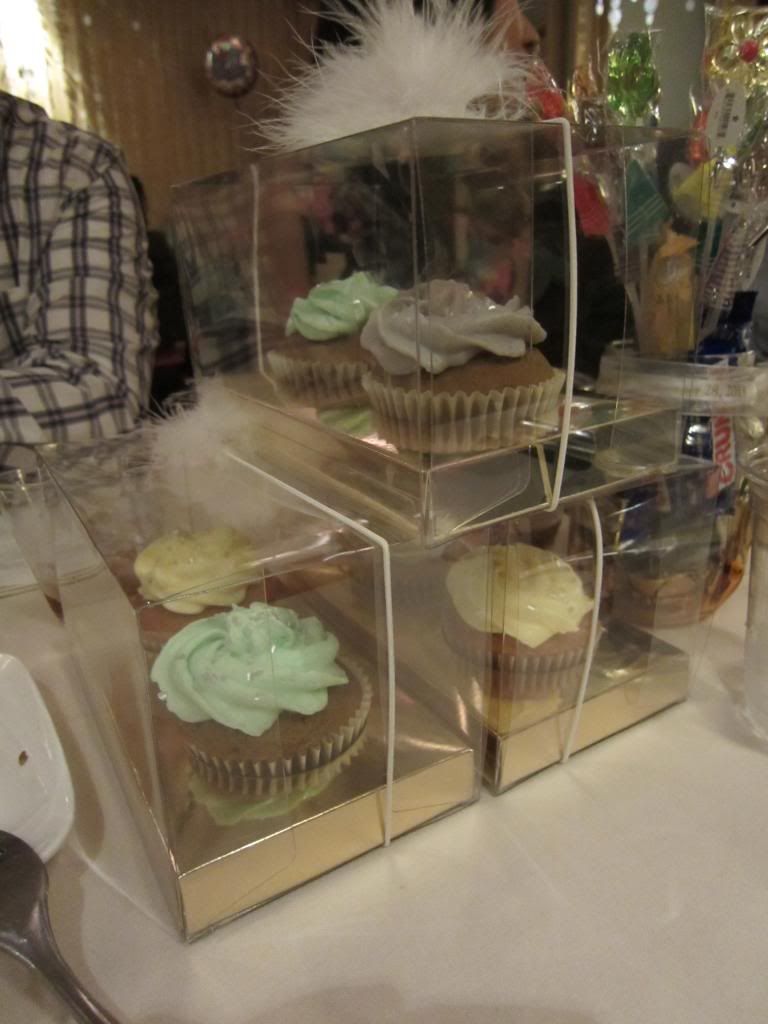 The food was really good. I had eaten a small breakfast, so I was very eager to eat! The appetizers included buffalo chicken eggrolls, fried shrimp, and scallion pancakes. After I had eaten my plate, I smiled at Howard, and he knew to get me some more, hehe. He was sitting on the outside so it was easier for him to get up and get food to feed his ravenous wife.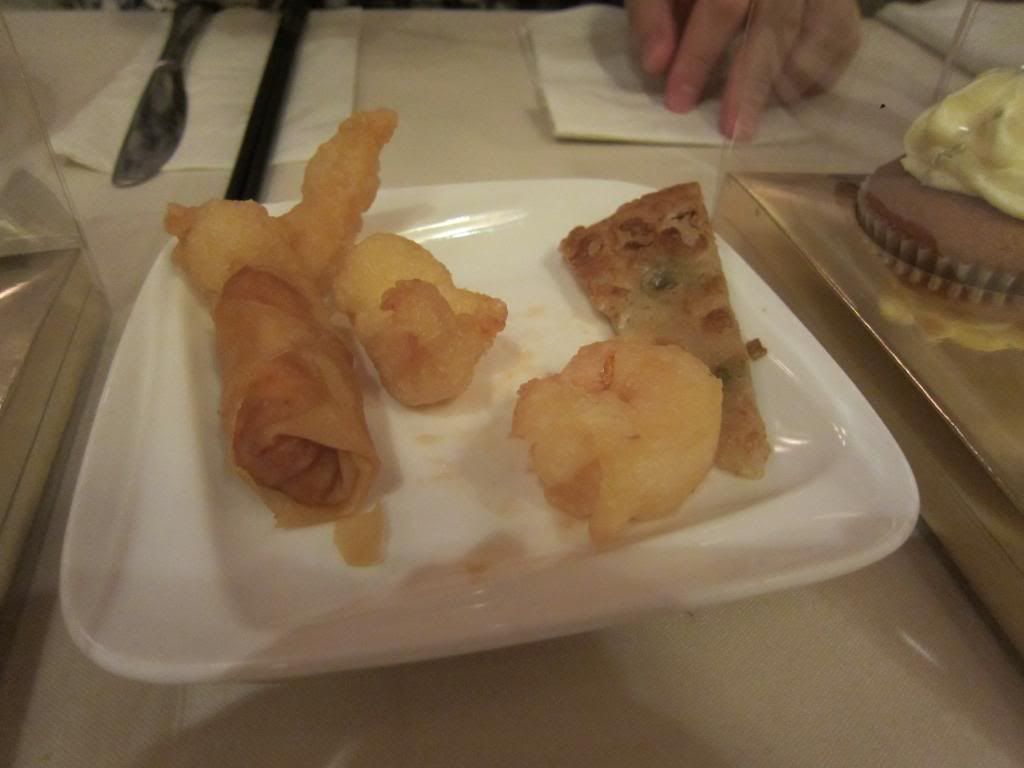 Then everyone got salad with the regular ginger dressing that you get from sushi places, but this was better than other salads because there were slices of avocado on the top! Yum! That definitely kicked it up a notch, and now when I have a salad like this, I'll wonder where the avocado is.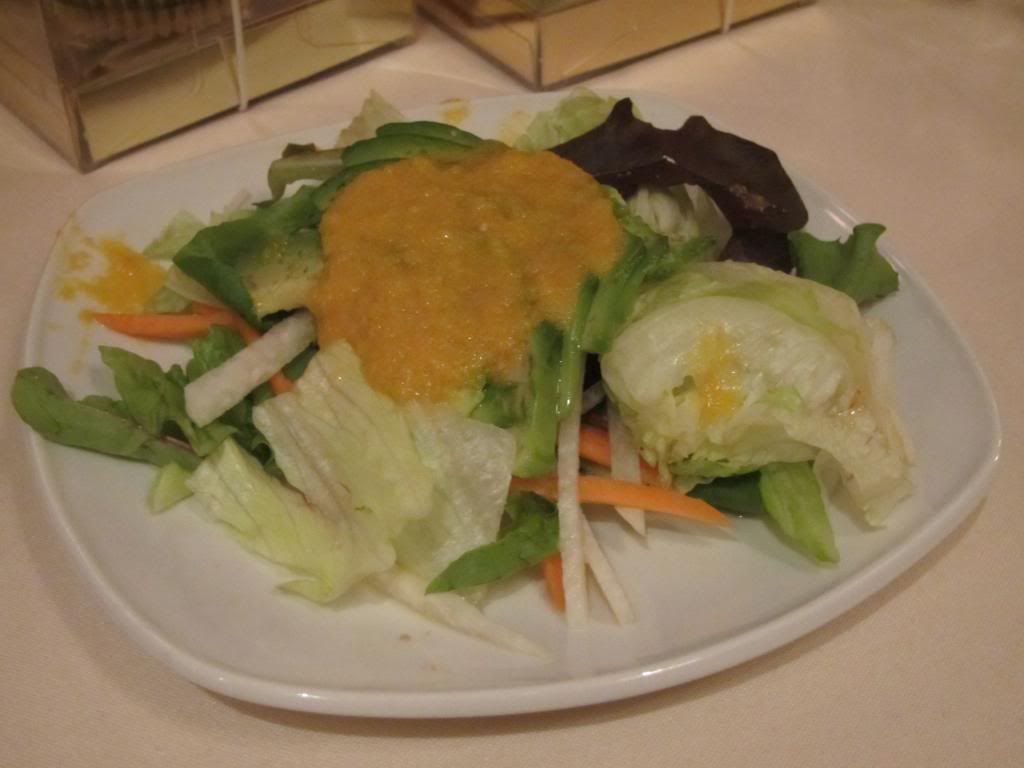 The main part of the meal was done buffet style just like the appetizers. I took a little bit of everything, and I thought it was very good. I was surprised that I liked the beef as I'm not always that big on cow, and the chicken was really tender. The noodles were also really good too! And I'm never one to say no to some spicy rolls!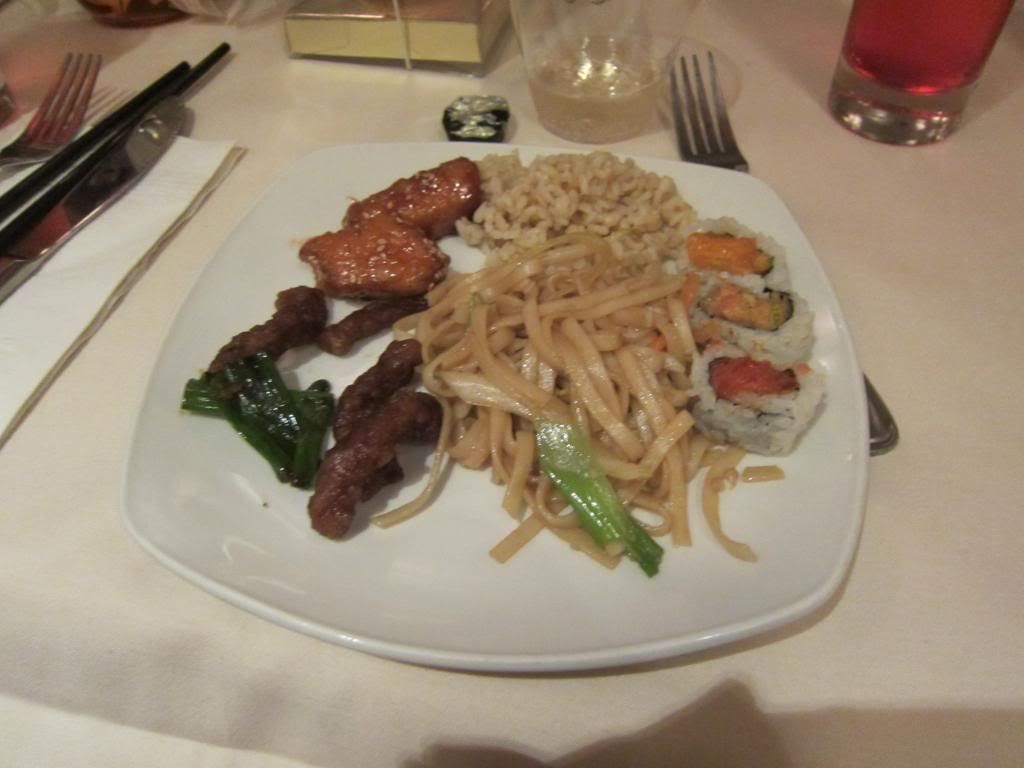 Here's another picture of my table.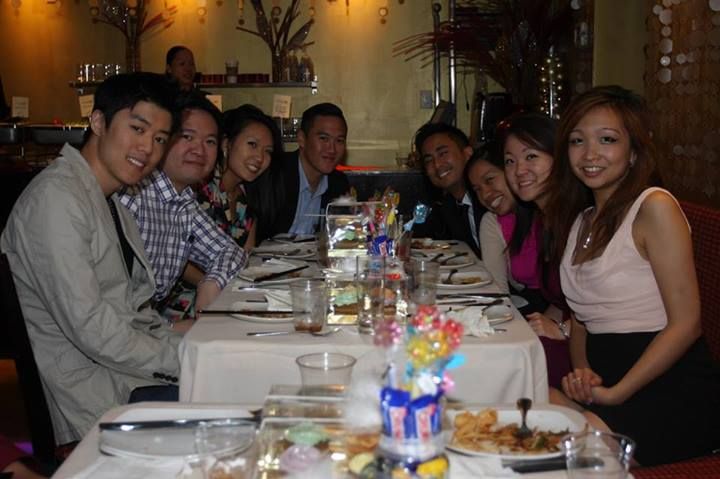 After the food, the lights were turned down and the fancy lights were turned on along with the dance music! We're not that big on dancing (at least not in public cuz we dance a lot in our kitchen!); we didn't even dance that much at our own wedding! But we had fun spending some time together and watching everyone else with all their energy! I, on the other hand, was ready for a nice nap due to all the yummy food I had just eaten.
Before Chloe cut into her cake, groups were called up for pictures. This is the group of girls from church.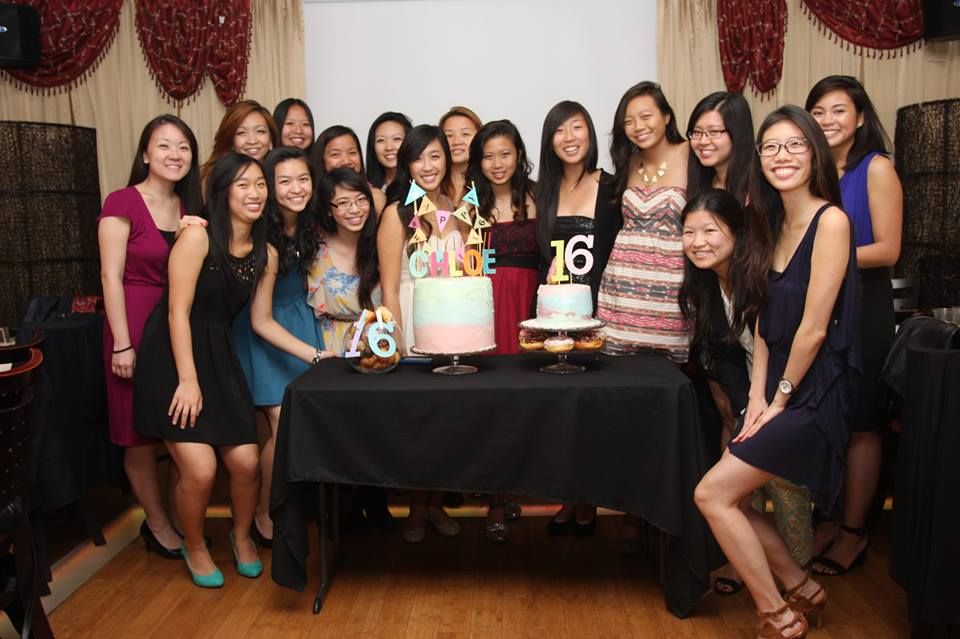 This was the cousins and aunts/uncles picture.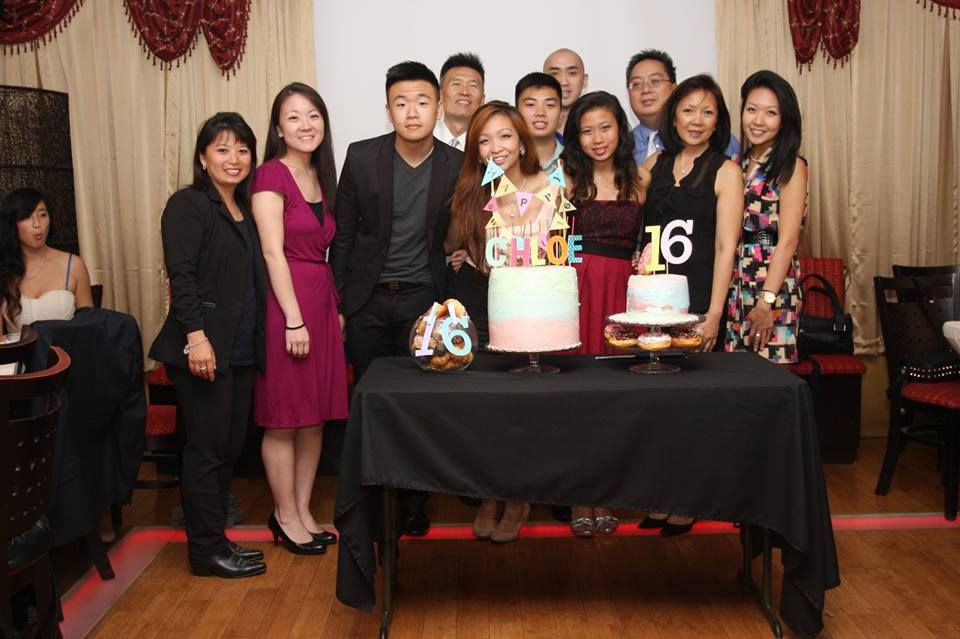 And then we had to make some room for cake! Doesn't funfetti look like Fruity Pebbles melted in the cake batter?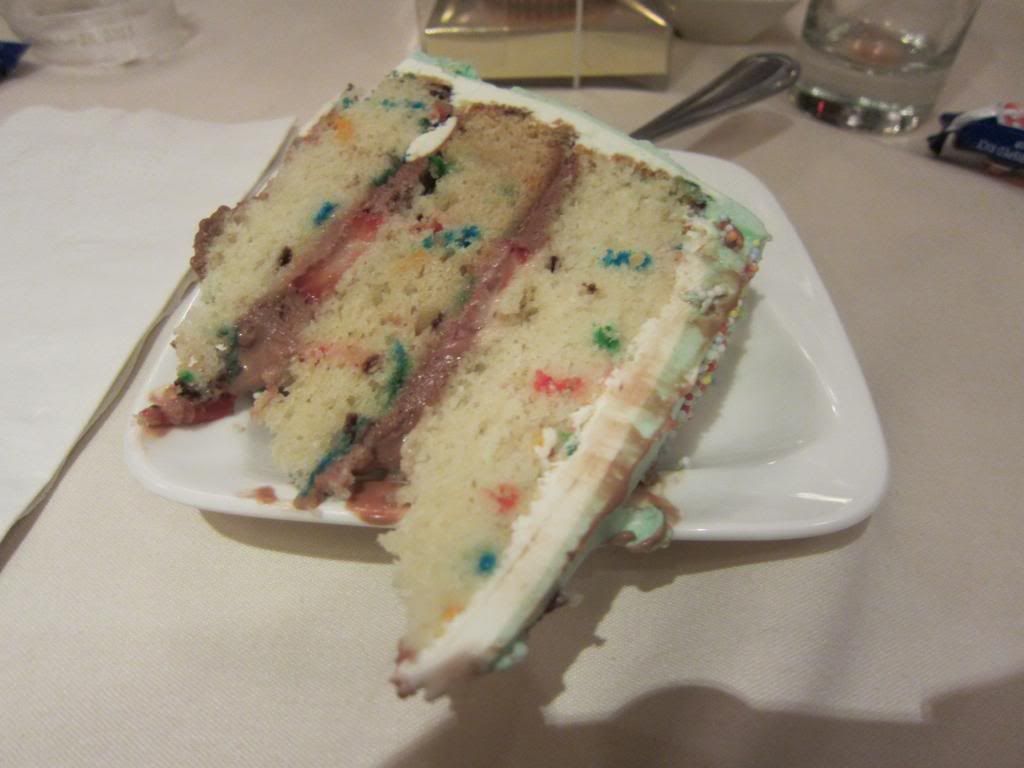 Lastly, one of the girls from church grabbed Chloe's camera and went around snapping photos and got this funky one of us, haha.
It was a fun day to celebrate with family and friends! We got home safely after some more traffic, and we slept soundly that night because we are old, and partying does that to us!