There's a part of me that loves it when people have some custom order requests, but then there's another part of me that kind of stresses out! I don't want to disappoint anyone, and it's not as easy to get things done when I'm in the midst of the semester and need to continue planning and grading papers. Sometimes I just want to craft for the sake of crafting, and this particular set of cards was made with that feeling instead of a anxious, rushed feeling.
A few weeks after the bake sale at church last November, my grandfather asked me for some birthday cards and get well cards. I didn't actually have much left over since I was using the cards myself to write some thank you notes to kids and parents during the first trimester of school. I told him that I could make him some, and I had some time during my Christmas break to make a few for him.
I knew that I wanted to use some of the free SVGs that I save almost every day from
Miss Kate Cuttables
. I love that a freebie is offered daily, so that's why most of my free SVGs are from that site. The
original image
had flowers in the basket as well as the little banner, but I omitted that to simplify the cut since these are incredibly detailed. Plus, these took a little bit longer to piece together because everything was so thin. It baffles me that the Silhouette Cameo can cut these things so cleanly because my Cricut Expression would not be able to handle it without tearing.
I kept the same colors because the blue could be used for a guy or a girl. Wanting the card to be cheerful, I used a polka dot yellow paper for the background. I added the extra step of having a black mat too just because it seems to make the card a little bit more put together.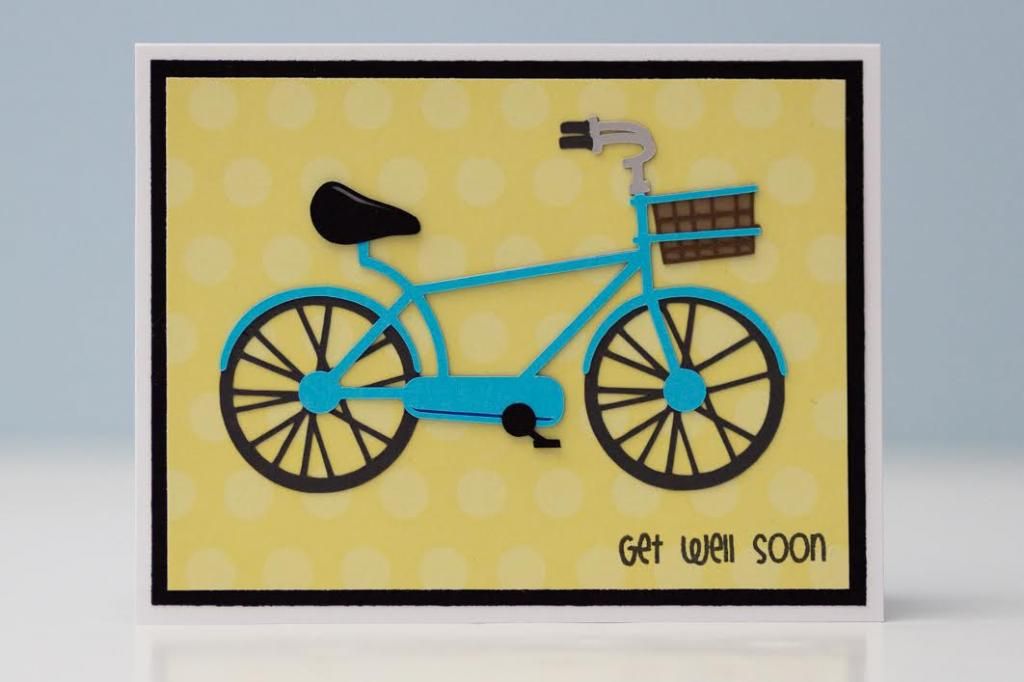 The sentiment is from Pink by Design's set called "Spring Has Sprung." I know it doesn't seem as if a bike could be related to the sentiment. Haha, it really doesn't, but I think it's difficult to make cards that aren't necessarily cutesy, so I figured anything nature-related or just general cuts would work.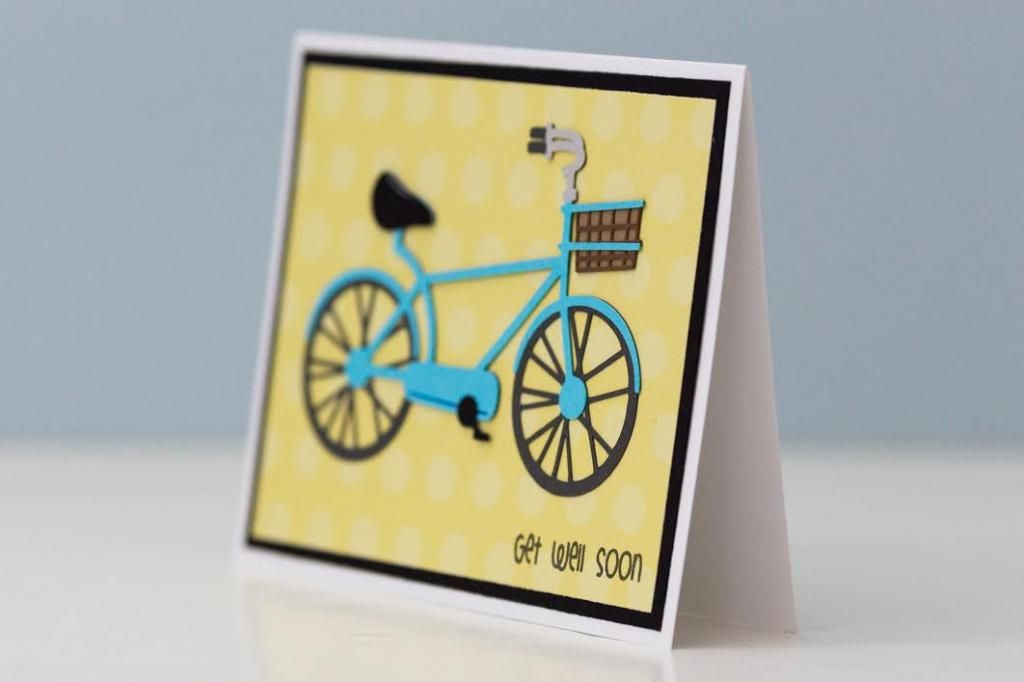 I love the side view of this card because you can get a better idea of all the layers involved in making this. I mean, there are layers that aren't even too visible. For example, there's a darker blue behind the part of the bike that the pedal is attached to, but only a thin strip is seen. However, it adds dimension so the cut isn't so flat.
Because of the complexity of the pieces, I only made 4 of these cards. This is definitely not something I'd want to mass produce! I think I need to go back to making just a few of each image so that I can enjoy the detailing without driving myself crazy.