While tidying up the apartment yesterday, I decided that I would put all the clearance baby and kid clothes inside one of our suitcases because the bags of merchandise were starting to pile up. I don't need any of it until months from now for a baby shower and first birthday, so there's no need to keep it out. I have definitely accumulated a bunch of adorable clothing from the Disney Store, Old Navy, and Target!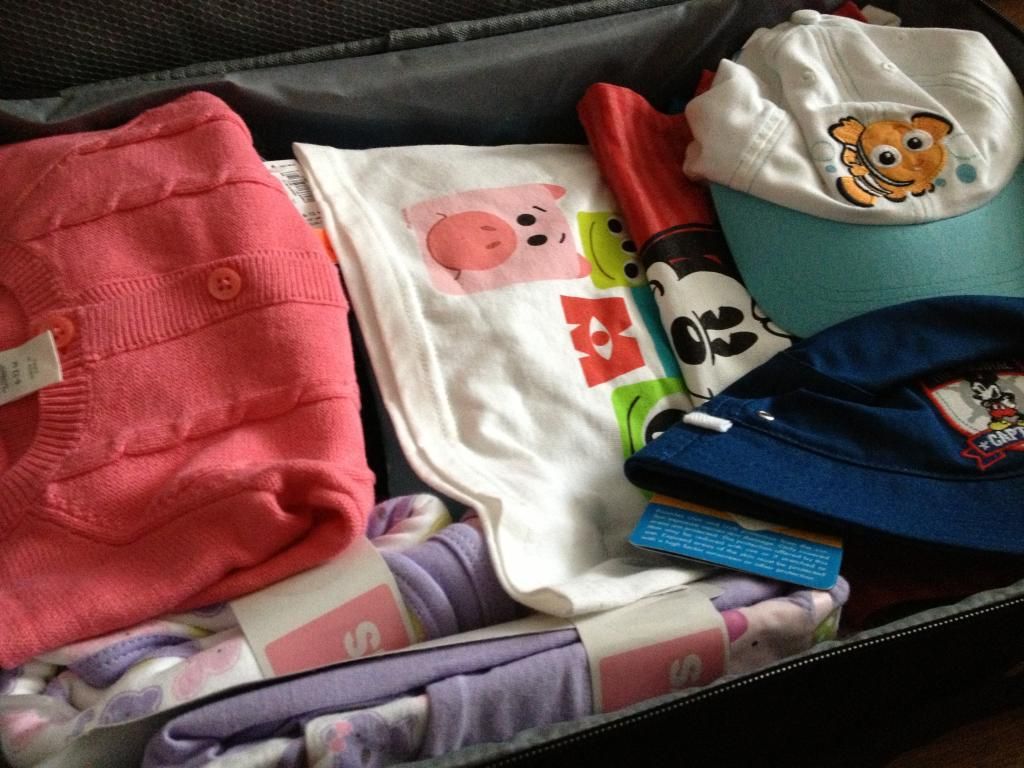 I've talked to a few moms or soon-to-be moms who said that stocking up on other items like diapers is more worthwhile because everyone gets clothing. I completely understand that, but some things are necessary, I think. I purchased some onesies, sleep 'n plays, burp cloths, and really nice bibs because the babies DO need those things, and I don't feel bad buying them because I got them 50%-70% off. I've found fleece tops for $0.97 and Disney items for $1.99. Other gift givers may still buy clothing items, but as an aunt, I find that it is my duty to bring any of my nieces and nephews into the Disney sphere, haha. That's why you can see some adorably cute Disney gear!
It seems weird spending the money on things now even when items might be too big in size, but I will continue doing it this way so that when the occasions come up, I don't have to go out to shop. I can just "shop" from this suitcase. I have about 4 toys too put away for the proper time. You know how difficult it can be to search for a gift when it's needed. It's the same as having to find a dress before a party or wedding; it's just so difficult and can get expensive! But because of my feelings of buying things on clearance, I haven't had to do any last minute shopping for either of those things, and in the long run, it saves me money.
Of course, there are some things that are just too cute and so incredibly inexpensive that it's worth saving for little Luke or Leia. I bought two of those Pixar shirts and gifted one of them already, but that other one you see is for me! I will save it for as long as I have to!