This past Friday, I went out to Michaels during the Black Friday sale! I wasn't going specifically for any major purchases. My goal was Christmas paper for cards! I have a lot of paper pads from Michaels already, but none of them worked with Christmas cards that I wanted to make. I initially found all the DCWV stacks, but I wasn't that crazy about them because there were only 48 sheets in each. Plus, they were oh-so-pretty that I knew I'd have trouble cutting into them! Those pages would work better with scrapbooks anyway, in my opinion. My mom was with me, and she found the huge 180 stack called "Jolly and Bright." It was perfect! Tons and tons of pages with different color schemes! Lots of variety for only $7! The paper pads were 50% off, and there was an extra 30% coupon that I used on top of it. Oh, how I love a good deal!
This was one of the cards I made during this Thanksgiving break using the new paper. The stocking was cut from Joys of the Season, which is a cartridge I had not yet used. I've been getting better at using the cartridges I haven't touched yet. Having the Gypsy makes that so much easier. In the past, I was too lazy to deal with cutting out so many pieces from a certain layer just to get all the right colors I needed. Gotta love that "hide" feature on the G! It also makes it so much easier to make multiples AND to use scrap paper. Even with Cricut Craft Room finally out and being free to use doesn't make me regret having my G at all. I'd much rather design on the whim instead of having to turn on my desktop and be online. Wow, talk about a digression ...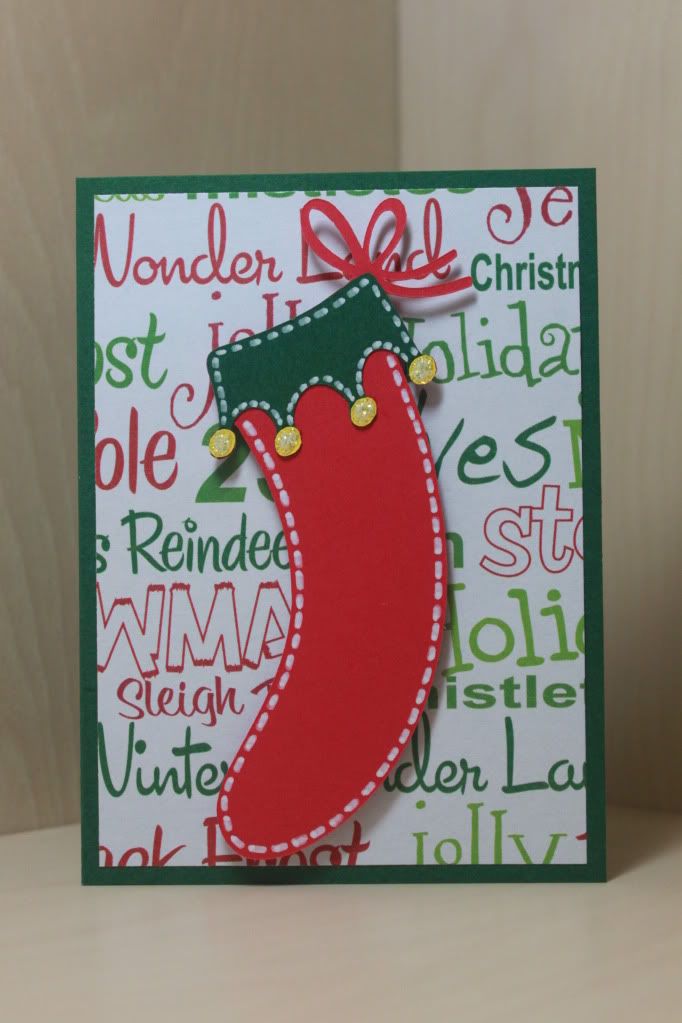 After I cut out the 6 stockings, I knew it needed a little extra something. That's why I added the faux stitching with my white Recollections marker. Then I added Stickles to the "bell" part of the stockings to add some shine. I think the background paper works really well with it because it has the same 3 colors. Plus, I love paper that has text!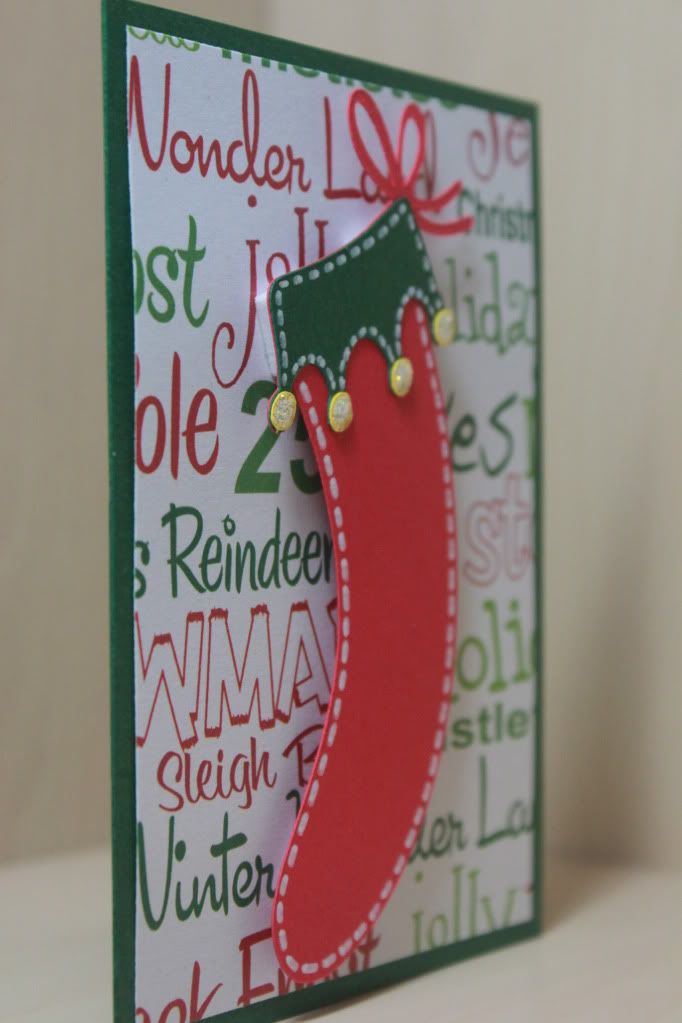 I'm actually really happy with how this card turned out. When I initially cut out the stocking, I thought it was kind of a lost cause. I'm glad I stuck with it instead of tossing them in my box of cut images!