This past holiday weekend was spent making 3 different Christmas cards (one was the stocking one I already posted), but after a while, I was kind of tired of Christmas images and paper. I wanted to do something fun! I think what inspired me to use different cartridges was the fact that they had carts on sale at Michaels, AC Moore, and Joann. I didn't buy any new ones even though I had plans to go out early (I'm watching the price of Campin' Critters, and I'm hoping Cricut.com has a sale so I can get some Lites because the Walmart by me doesn't have Lites anymore!). Instead of spending money, I really sat and examined the images on the carts I already have. I decided to use the ice cream sundae from the Just Because cartridge that I wanted so much and that my fiance Howard bought for me fairly recently as a surprise!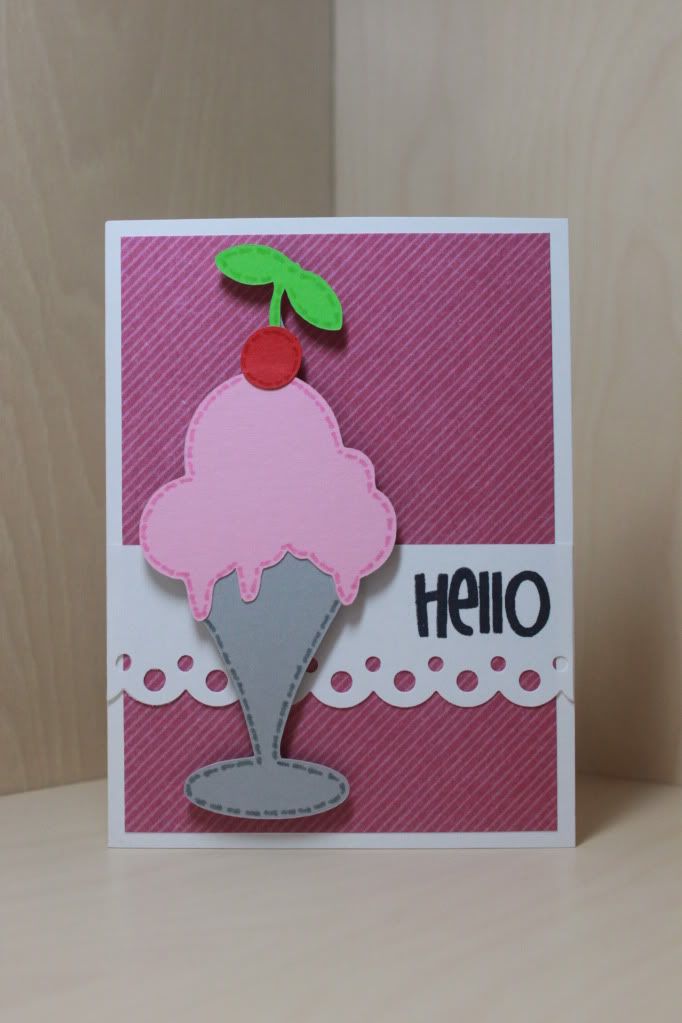 I love the idea of having an ice cream sundae in a metallic dish. It just reminds me of old-fashioned ice cream shoppes (haha, not that I've ever been to one!). There used to be this restaurant in the Poconos in Pennsylvania called Beaver House where we got parfaits at the end of our meal. From what I remember, they served them in these tall, metal dishes, and I loved it! That's why this image was really something I wanted to use. However, when I cut the pieces out, it seemed a little plain, so that's why I had such fun adding all the faux stitching in different colors using my ultra-fine Bic Mark-It markers. I really like the added lines.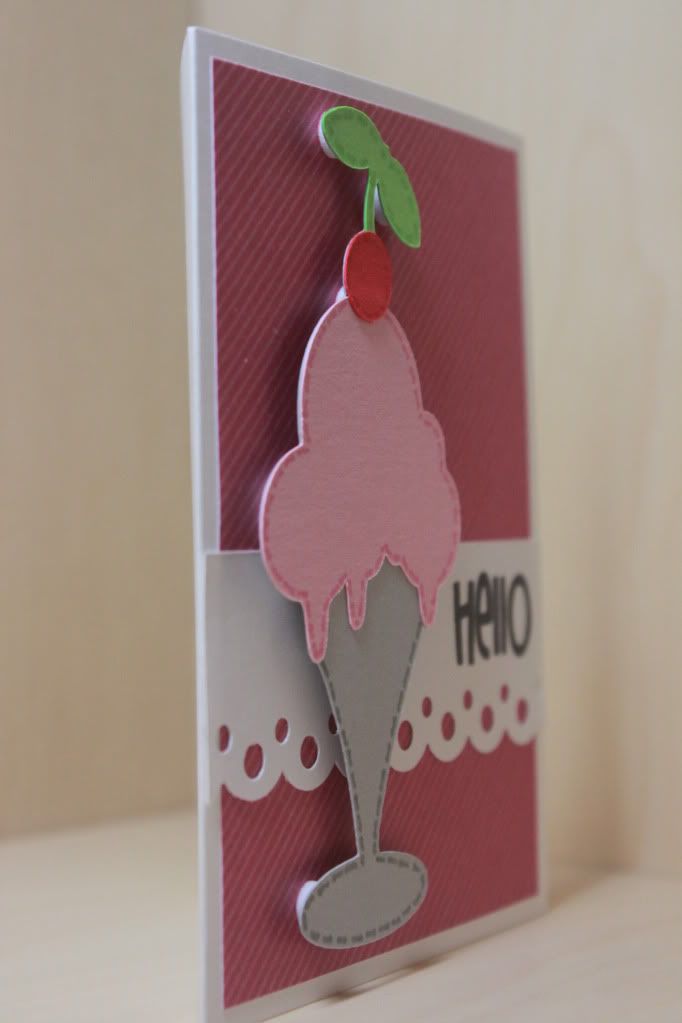 I used a Martha Stewart border punch to add a white strip of paper over the striped paper for 2 reasons: (1) I needed something on which I could stamp the sentiment [
Pink by Design's "Big Thoughts"
] and (2) I had a lot of extra strips of white cardstock since I keep having to trim it down to fit A1 envelopes (when I accidentally bought 1000 A1 envelopes instead of A2!)
Though my cards are typically really simple, I still have a ton of fun making them. My "real life" friends really like them too since they're still purchasing them from my Facebook store (
http://www.facebook.com/loveandsushi
). It makes me happy to make sales especially now as I'm hoping to eventually gift every type of animal available on World Vision (I've decided to set aside 50% of what I make for it). Right now the goal is the $50 for 4 chickens! Hopefully, the more cards I make, the faster I can reach that goal!