I had a really rough week at work last week, so I was glad to be enjoying a weekend of not that much to do. I did my lesson plans on Friday night (although not all were completed because I completely forgot the 8th grade math textbook at school, which is the only one I need to transport back and forth), and I also input grades into Engrade. I seriously cringe when I think about what I did during my first and second year of teaching
before
I knew about Engrade! There are a bunch of teachers at my school who use it now, and it saves so much time because no calculations have to be done. Yay for that!
On Saturday morning, I graded a few more tests and input those into Engrade when they were done. But I was ready to do some relaxing. Howard came over in the early afternoon, and when I answered the door, he was carrying something in a big, brown bag. I didn't know what it was, but apparently it was a surprise for me!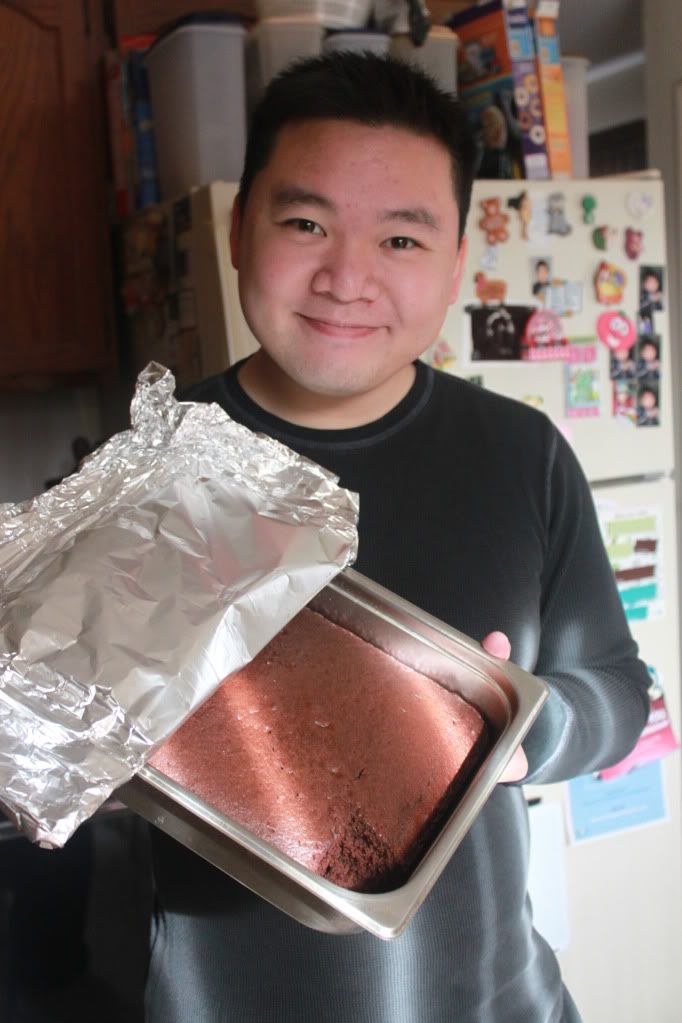 He made me "box cake"! That's what I call cake made from a boxed mix, haha. I have been wanting "box cake" since my birthday back in September, and he made it for me because of the rough week I had! How sweet is he? Hehe, and you can see that I had to eat some before taking this picture ... whoops! I thought it was so loving of him to do something to cheer me up.
That was clearly the cake part. The crafting part was relaxing too. My mom got flowers last week from the family of the little boy she works with at school (she's a para for him in kindergarten). She asked me to make him a thank you card, and she specified that the little boy loves horses. I was excited to finally use the horse cut from my Create a Critter cartridge. I didn't have 3 different shades of brown that went together, so the snout part of the horse was cut using white cardstock, and I colored it in using one of my Copic markers.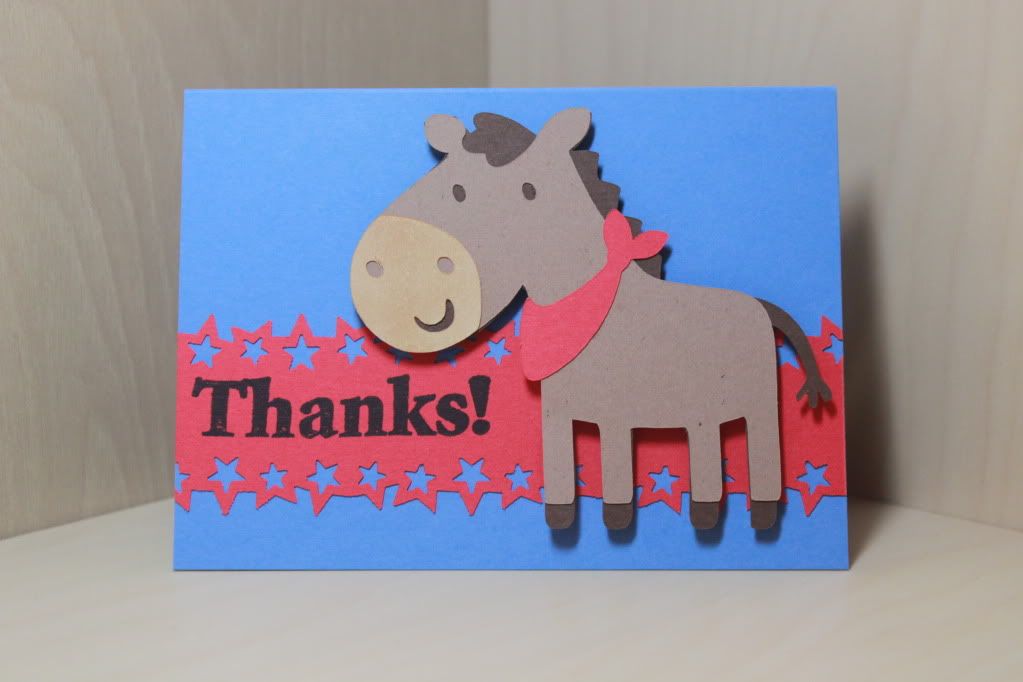 I used a Martha Stewart punch for the stars on the red cardstock, and the sentiment is from Inkadinkado. I did end up filling in the gaps in the word with my Zig Writer black marker, but I had it downstairs so that was after I took the picture. Simple card, but I like it! I thought about adding some faux stitching to the bandana or something, but I didn't want to ruin anything just in case I made a mistake.
Ahhh, good weekend, and thankfully, there are 2.5 days this week until THANKSGIVING, which is my all-time favorite holiday. Yay!