Last Friday was a very different Friday than the one I just had tonight. Tonight I watched the Pink by Design September release on Ustream! Last Friday, I was nervous about Hurricane Irene as I was rushing to clean my room. One of the things I did on Saturday as I continued to tidy up was say goodbye to my Cricut. To the left, you can see my Cuttlebug. And you can see that my Gypsy wire is always connected to my Cricut too! I <3 my Gypsy! And I'm totally going off topic here ...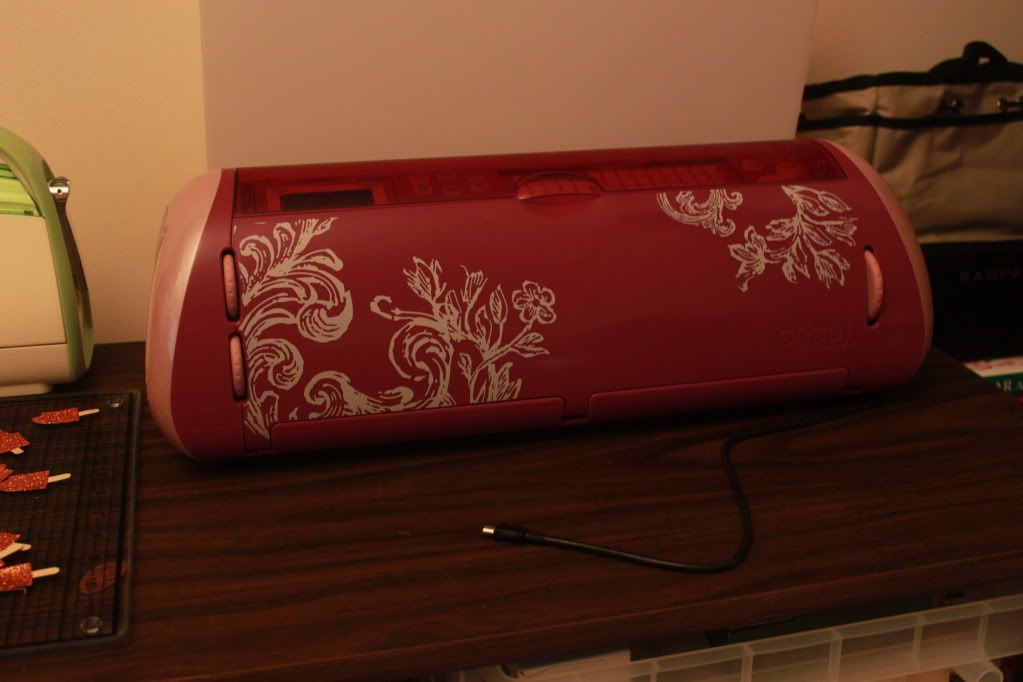 I have an air conditioner somewhat close to my Expression, so I wanted it packed in the box so that there'd be no possibility of water damage or anything like that if those worst case scenarios in my head actually occurred. The last time my E was in the box was when I brought it home!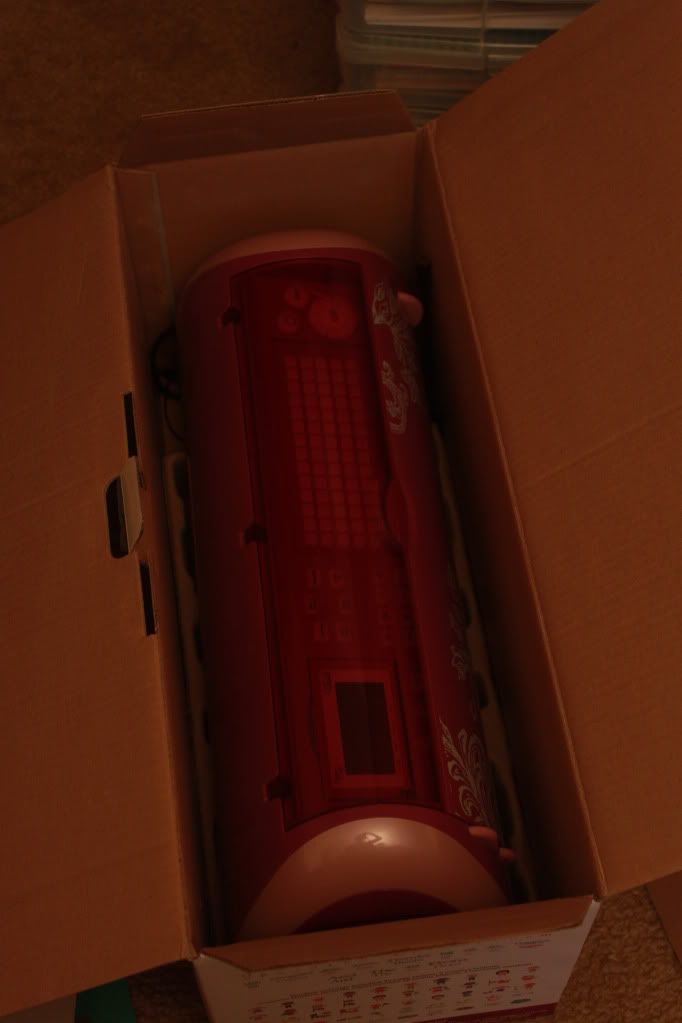 The rain began coming down on Saturday. It was like a regular rainy day.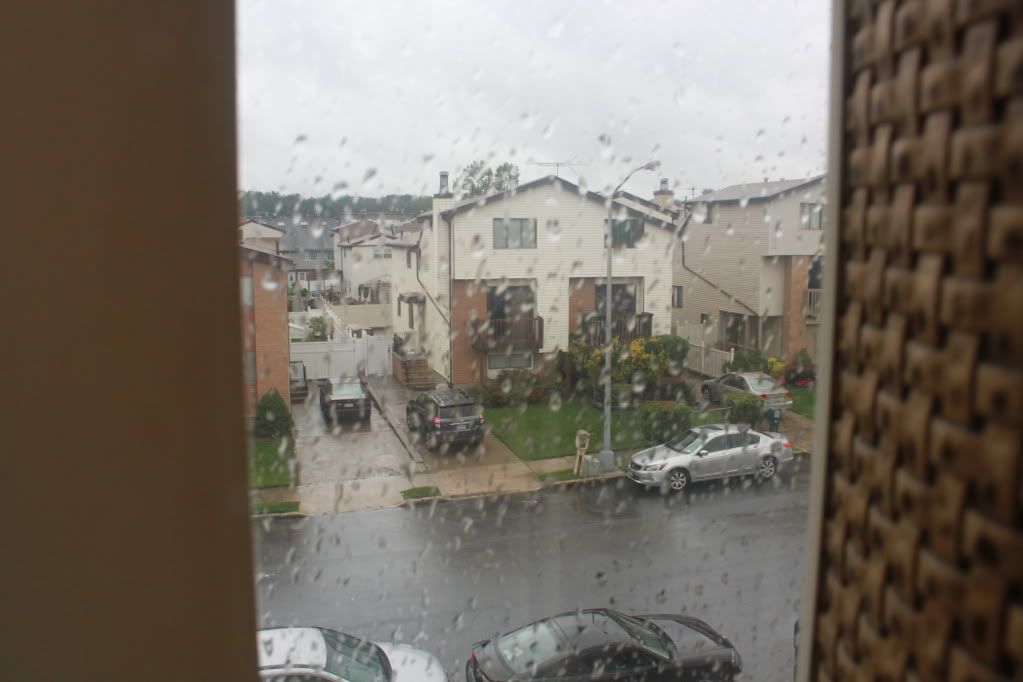 However, the nighttime was a totally different story with the intense winds and the tornado watch. I was awake from 3:30 to 6:30am before I finally fell back asleep. Around 11am, I woke up and all seemed so calm outside except for a little bit of wind! We had survived! Phew! Later that day around 5pm, the winds were really intense again, and we ended up losing power. I was exhausted from the crazy early morning, so I ended up napping before dinner. Silly me; I should have spent that time crafting when I still had daylight!
After dinner, my family was supposed to watch a movie on the little DVD player that was charged, but we couldn't agree on anything that we all wanted to watch. Haha, this is probably why we don't do the whole family movie night thing. With nothing to do to occupy my time and no desire to sleep EXTREMELY early, I decided to craft ... in the dark! I had a crank flashlight and a Sabbath candle (hehe, we're not Jewish). In this picture, you can see just how dark it was! No one had any lights at all. The red you see there is from an emergency vehicle that was just driving around the neighborhood. I took the opportunity to take the picture so that you could see the contrast. It was especially odd for me because there's a street lamp that shines into my window because I'm at the front of the house on the top floor. Strange!
Well, I decided to challenge myself and see if I could make a card in the dark. I was excited to have something to do! I couldn't craft at my little table though because I recently brought up the breakfast tray for crafting, and I had it set on top of my table so it'd be off the floor during the storm. I didn't want to deal with that so I actually crafted on the low table since my Cricut wasn't there. It was also easier to sit on the floor too and have much more room around me.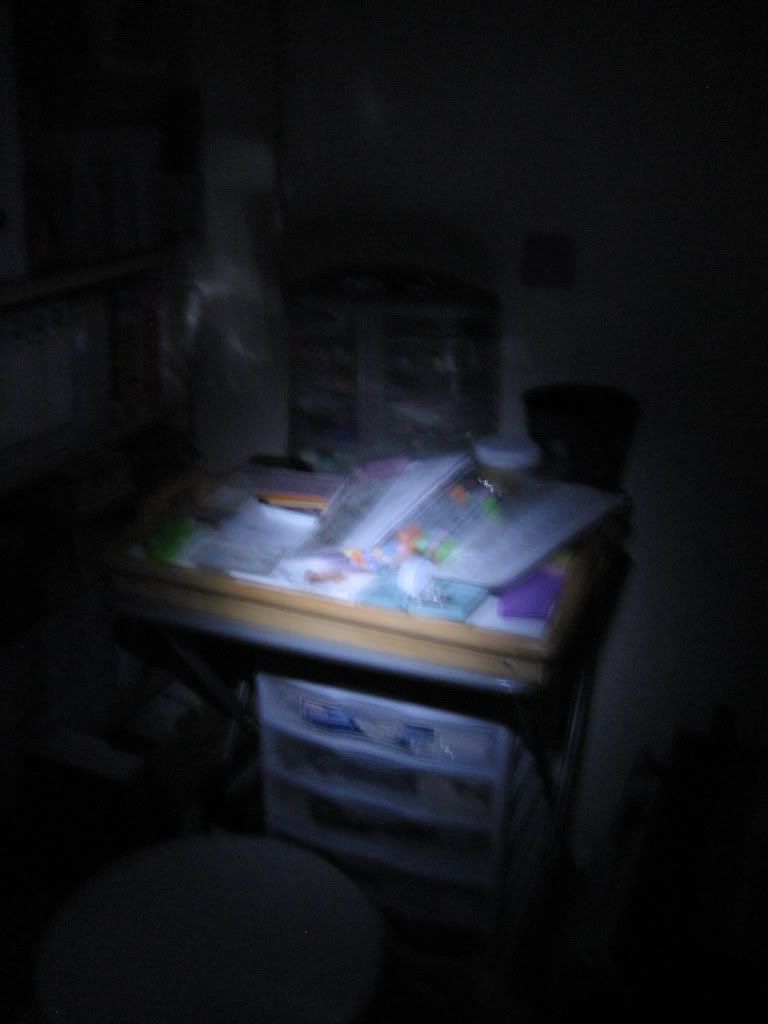 Obviously I could only stamp, and I wasn't about to deal with my Stamp-a-ma-jig in the dark since I often had to hold the flashlight in one hand to see, so I chose a clear stamp. I bought this Inkadinkado set just a week or so prior to the storm when AC Moore had their 50% off ALL clear and wood mounted stamps (I purchased a TON!). I went with the little chocolate covered strawberry!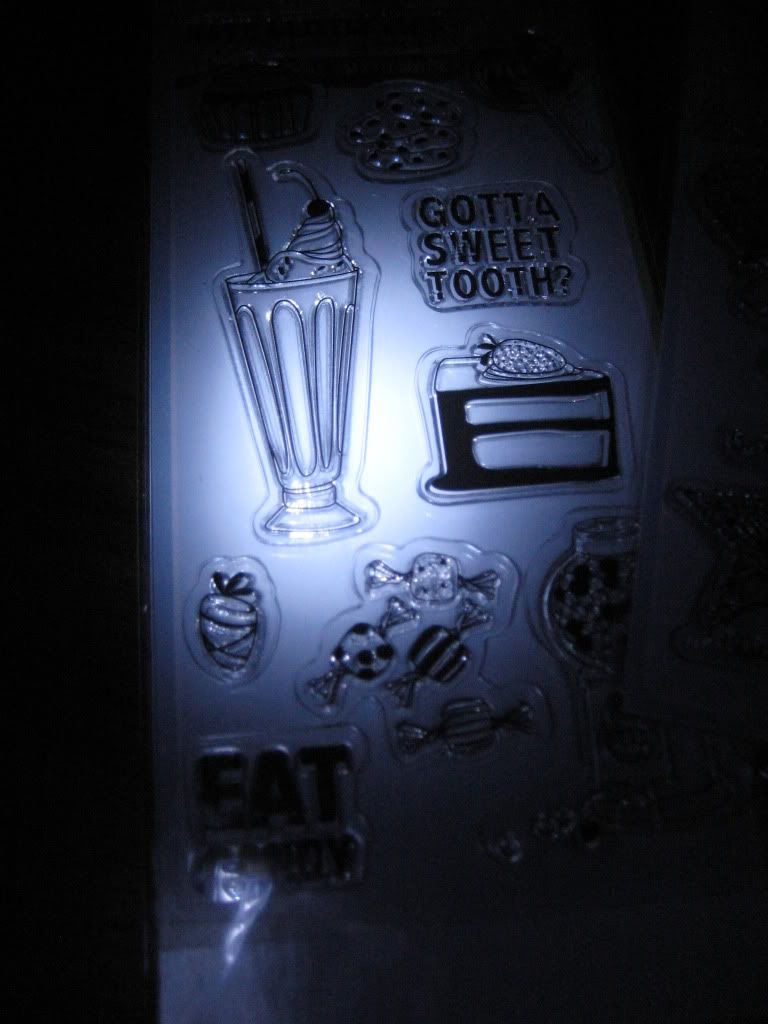 I then chose to use Pink by Design's "Big Thoughts" set since I figured it'd be a lot easier to stamp than thinner text. I wanted a longer word because I knew I wanted to stamp 3 strawberries. Once my stamp was chosen, I put it on my block and pulled out Memento ink. I just gotta say just how wonder Memento is! I read reviews before buying ink, and many suggested Memento and StazOn. I had been using StazOn all this time but needed Memento for Copics. I love both of them, and they both work better with certain stamps, but I really am happy that I can use a black ink sometimes and not have to worry about getting high on fumes, haha.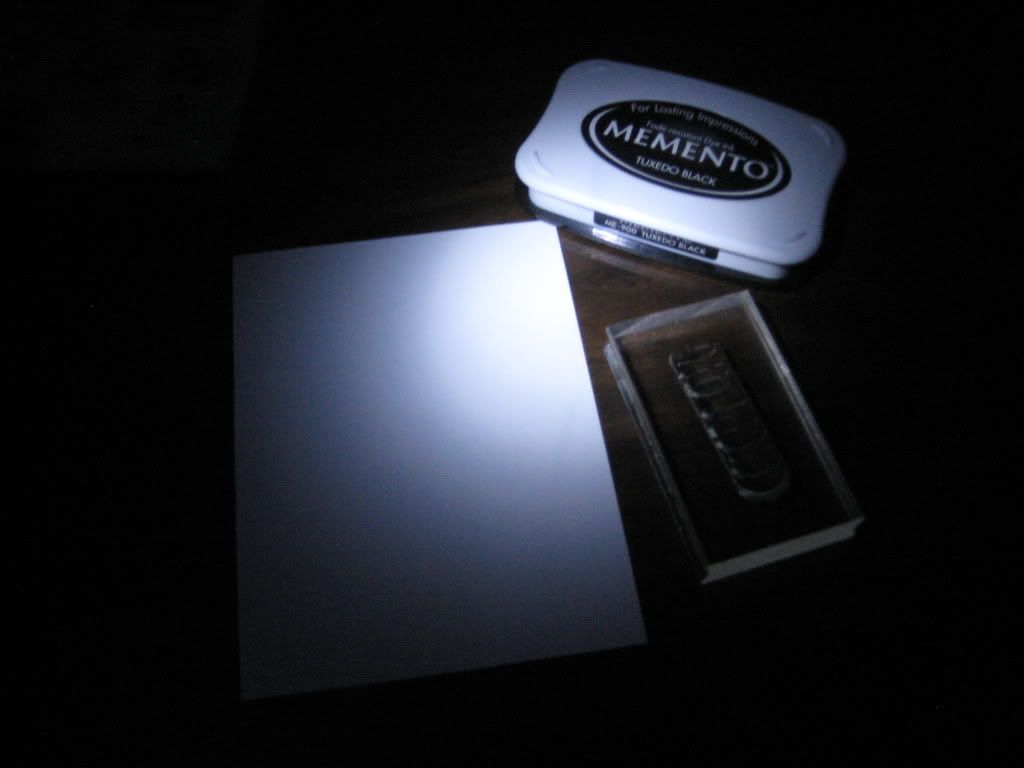 I chose "CELEBRATE" because who doesn't love celebrating birthdays, wedding, anniversaries, and days ending with "y" with chocolate covered strawberries?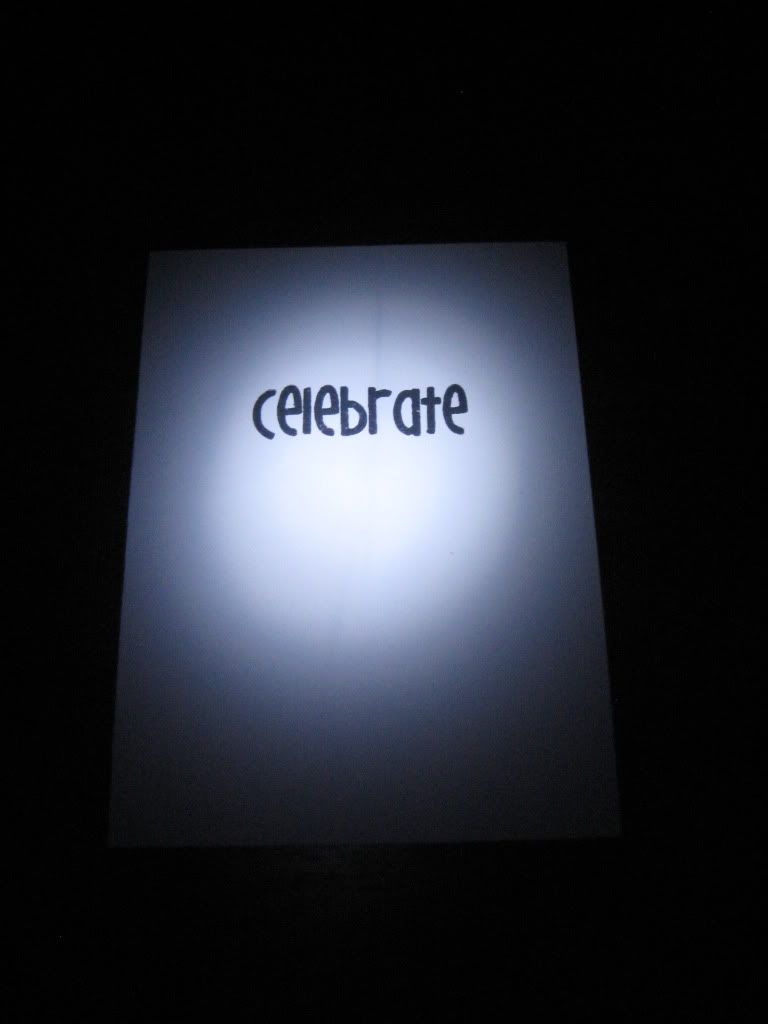 Then I stamped those 3 strawberries. One for me, two for you. I mean, two for me, one for you. I mean, three for me. Haha. In actuality, I don't like ALL chocolate covered strawberries. They're not all created equally. Sometimes the chocolate just doesn't meld well with the fruit. Ooo, chocolate covered pineapple, on the other hand, is just absolute yum!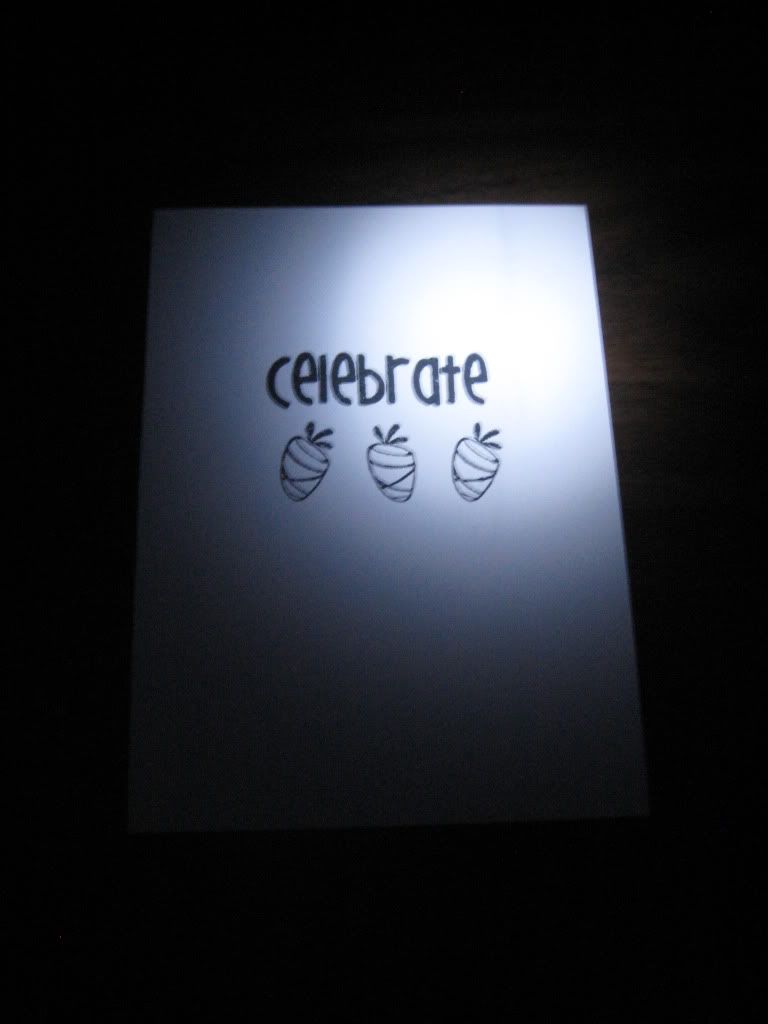 I colored the strawberries in with Bic Mark-It markers in ultra-fine because I was not about to deal with Copics bleeding all over the place. Plus, these were small, and I wanted to have more control over it. You can also see the candle in this picture. It didn't stay lit for long because I kept wanting to leave my room, and as we all know, we're not to leave candles unattended!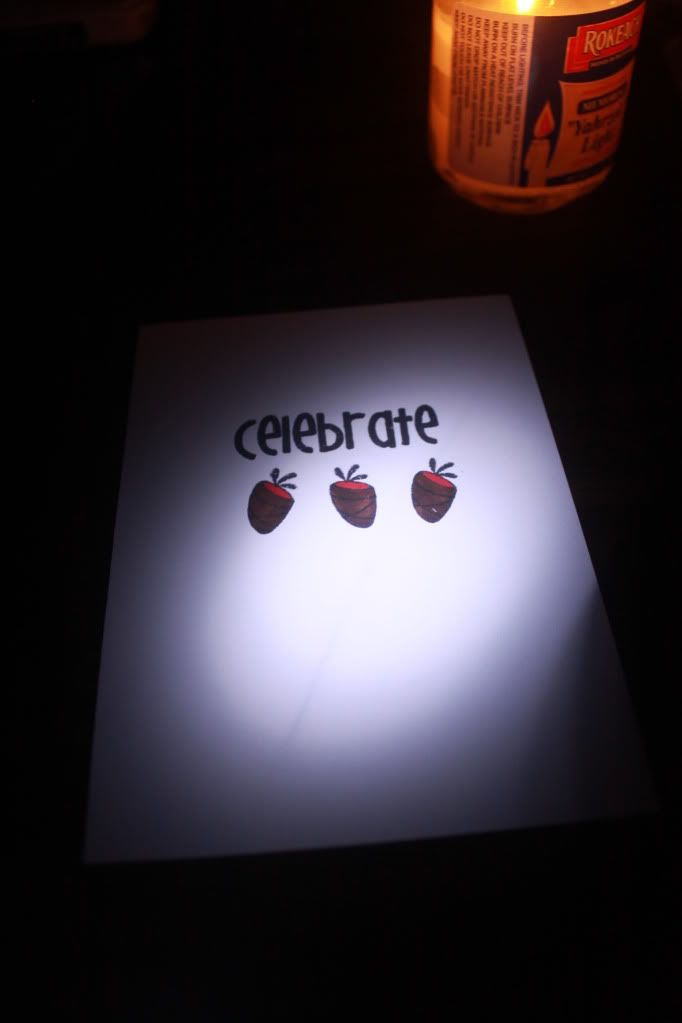 The card needed something more, so I used my Martha Stewart Ribbon Loop punch. I initially wanted the strips to go vertically, but in my trimming, I used the wrong measurement! Whoops! I wasn't about to dig for another paper in my scrap stash, so I just trimmed it to fit the top and bottom.
Here's the completed card! It's not as fancy as other cards, but at the same time, I really do like CAS (clean and simple) cards so maybe it kind of sort of is! The blackout gave me a reason to stick to my favorite CAS.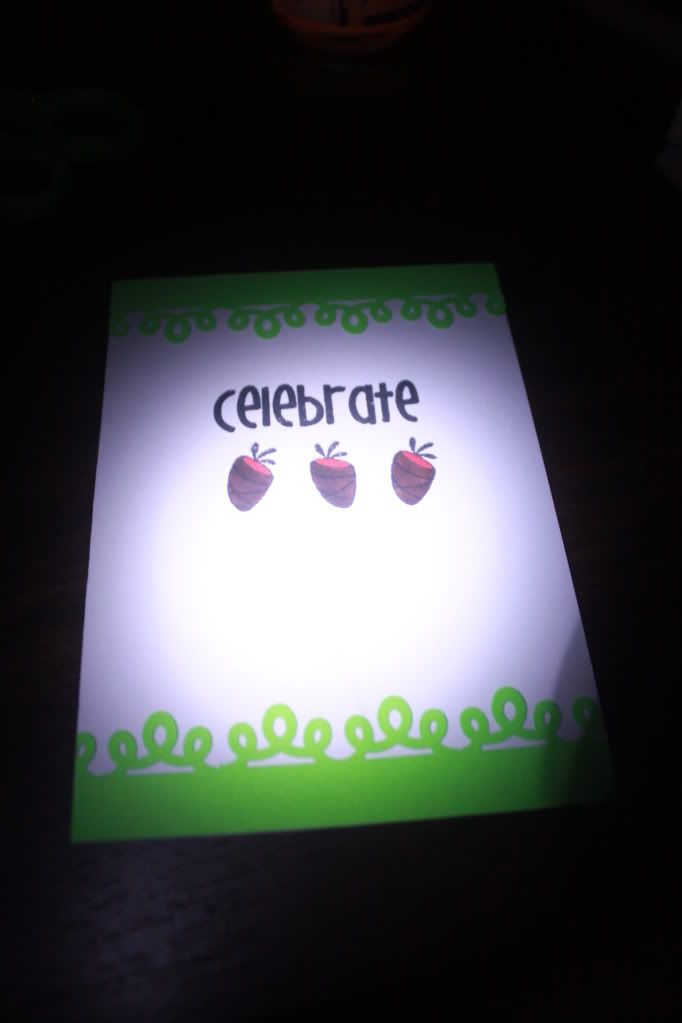 I lied. I wasn't done. It still needed something else, so I decided to put Glossy Accents on the chocolate part the next day in the light. Then I thought, "I can't say I did all of it during a blackout with a flashlight," so I pulled out that lovely glossy stuff and applied by flashlight! Silly me shook the bottle before I remembered that you're not supposed to shake it because of bubbles! I had one small bubble, but I was able to pop it.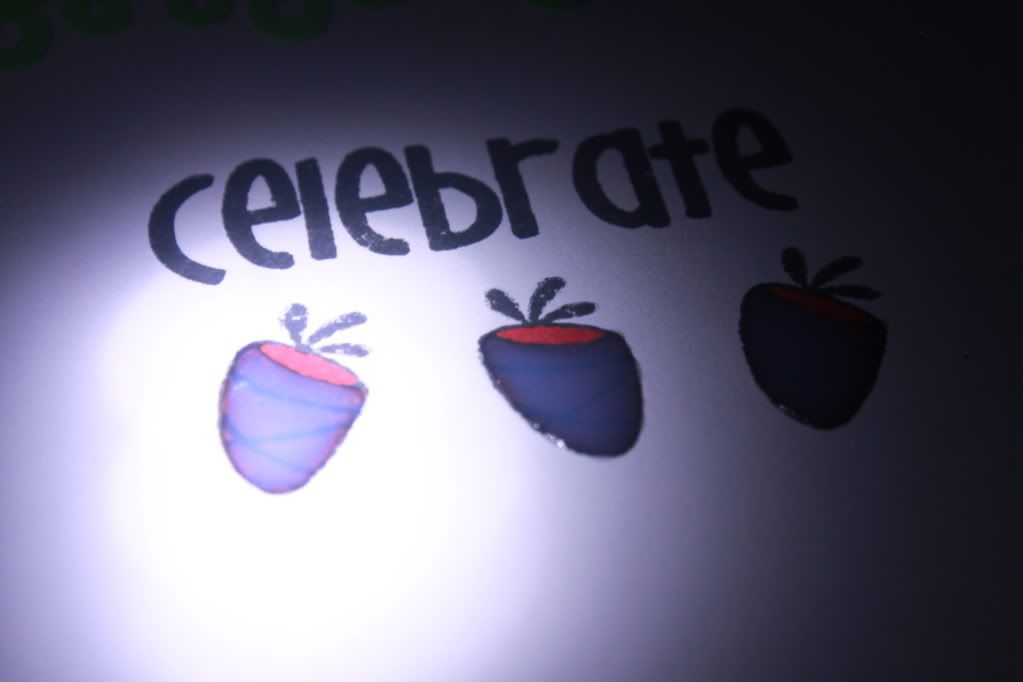 I still had time before heading to bed, so I put together another card. I don't quite know why it won't rotate because I fixed it in Photobucket. Oh, you can also see that I got tired of taking pictures of everything, so this is the final shot. Haha. The stamp was from the same Inkadinkado set, and the sentiment is from Pink by Design's "Simply Everything," if I'm not mistaken. I made the patterned paper with some Versamark ink and a stamp. Don't you just love Versamark? I didn't think I could make a tiny bow using the comb/fork method while it was that dark, so I just put the first piece of ribbon on and taped it to the back before taking another piece to tie a bow.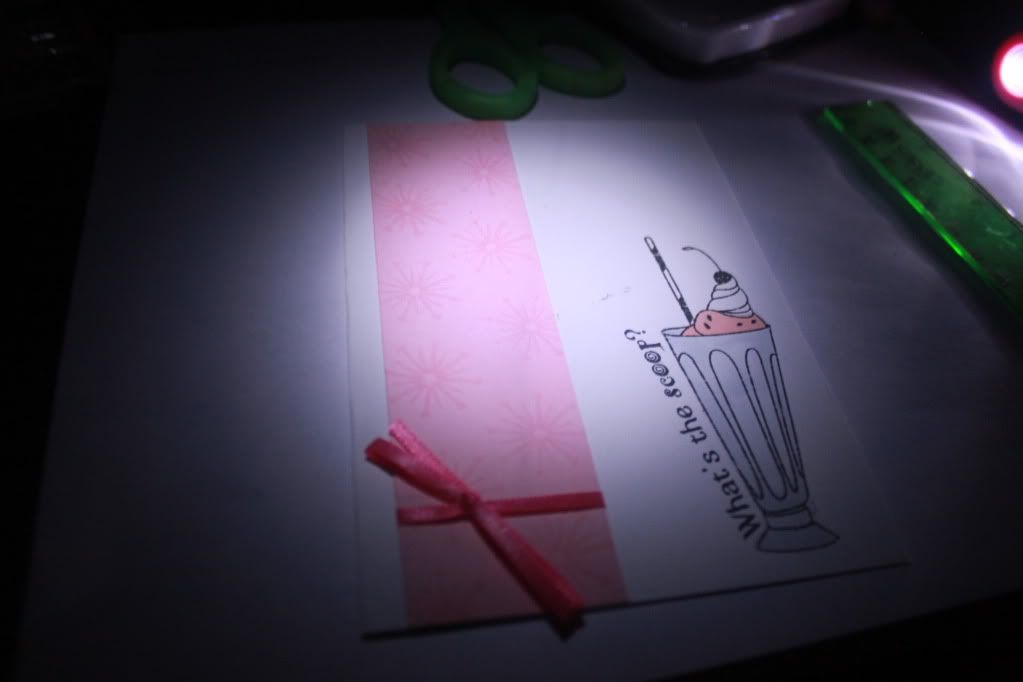 Alas, I STILL had some time to craft! I decided to stamp these pieces of candy and the "EAT CANDY" phrase on 2.75x2.75" cardstock for 3x3 mini cards. I colored them in quickly since I only did 5. At this point, I was done. I was happy with what I had done and thought it was quite the crafting adventure!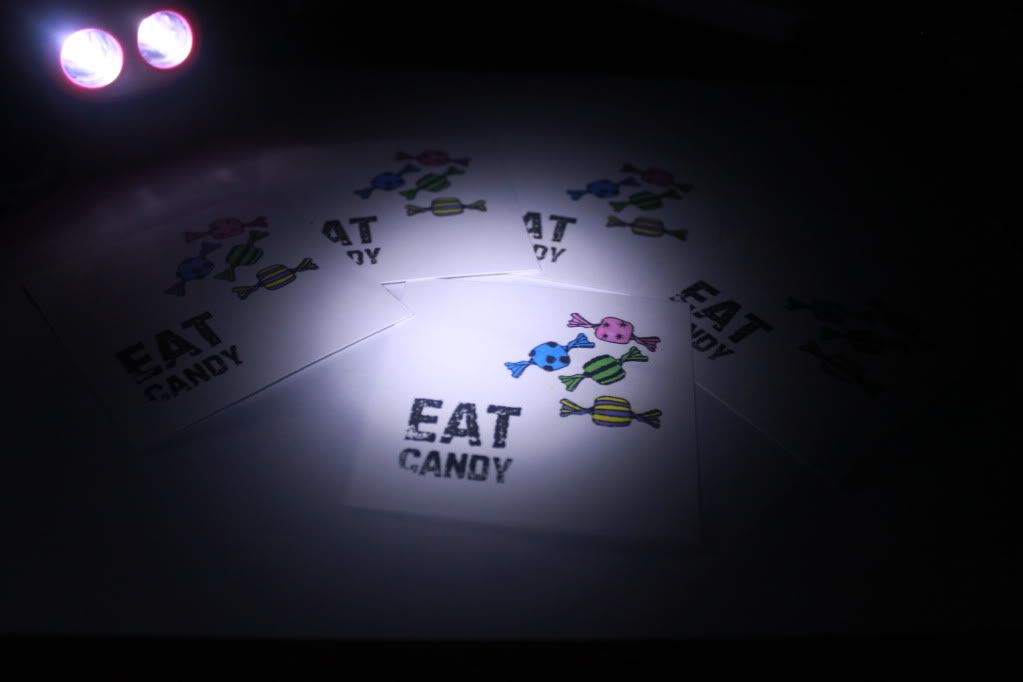 Special thanks goes to my pig rechargeable flashlight as seen in the picture above (the two lights come out of its snout). I couldn't have done it without you!