Today is my fiance's birthday. He's finally 25 years old! Haha, it's about time he officially got to the mid-20s. What makes our birthdays now really fun is that our families don't make such a big deal out of birthdays. It might be a Chinese thing. Well, now that we're together, birthdays have become an important event. We say it's "birthday week"! I can't wait to be married because then we can truly have birthday week!
Last week, I took him out for a sushi lunch at one of our favorite restaurants, Mitoushi. We've decided, for the most part, to only get sushi during lunch so that we don't eat that much. Don't want to give any reason for our stomachs to get upset! We had sushi deluxe, which was 3 pieces each of salmon, tuna, and yellowtail. That came with a wasabi roll, which is basically a California roll with salmon in it and different flavored fish eggs on the outside, from what I remember. Then we also ordered 2 regular California rolls because we really love it! It's so basic and simple, but it's perfect for in between bites of fish! We really should buy the stuff to make it ourselves! Then we also ordered a tiger roll, which has tempura crab stick on the inside and a slice of salmon on the outside with yummy sauce. It has a nice contrast of temperatures. And lastly, we ordered a regular tuna roll because I had been craving it for a while.
It's not just the food and the serve that we love about Mitoushi. We just love the atmosphere too. We sit there and just enjoy each other's company the entire time. We relax and take our time. We're never rushed out, so even when we're done with our food and the bill is paid, they still come and refill our tea if we're still there. I love being able to sit across from Howard and feel comfortable. When we started dating the first time, it was such an awkward thing to eat in front of each other! I distinctly remember worrying about every bite I put in my mouth and wiping. I didn't have much of an appetite then because I felt like I need to look ladylike. Ahhh, those nerves. We surely have come a long way!
Things have changed now because we also go out to eat with my mom! My younger brother comes along so my mom doesn't have to feel like a "third wheel." Yesterday when I went to get my Cricut in NJ, we stopped by Jose Tejas for lunch. It was Howard's birthday lunch from my mom. Even though we had to wait about 25 minutes for a table in the early afternoon, I was excited for Howard to finally try a place that I've been to since I was in elementary school.
My mom ordered Salmon San Sebastian, which is a 10 ounce piece of salmon served with mixed field greens, seasoned corn & black beans, and Chimi Verde sauce with fresh herbs. No, I didn't remember that. I just looked it up! My younger brother ordered the catfish bites from the appetizer menu and added on a side order of fries. He initially was going to order the fish tacos, but he wouldn't have eaten all the stuff that comes along with it.
I ordered the fish tacos, which is something I've ordered many times. It's two tortillas filled with catfish, Monterey Jack, pico de gallo, and red pepper sauce served on the side. I had jambalaya as my side.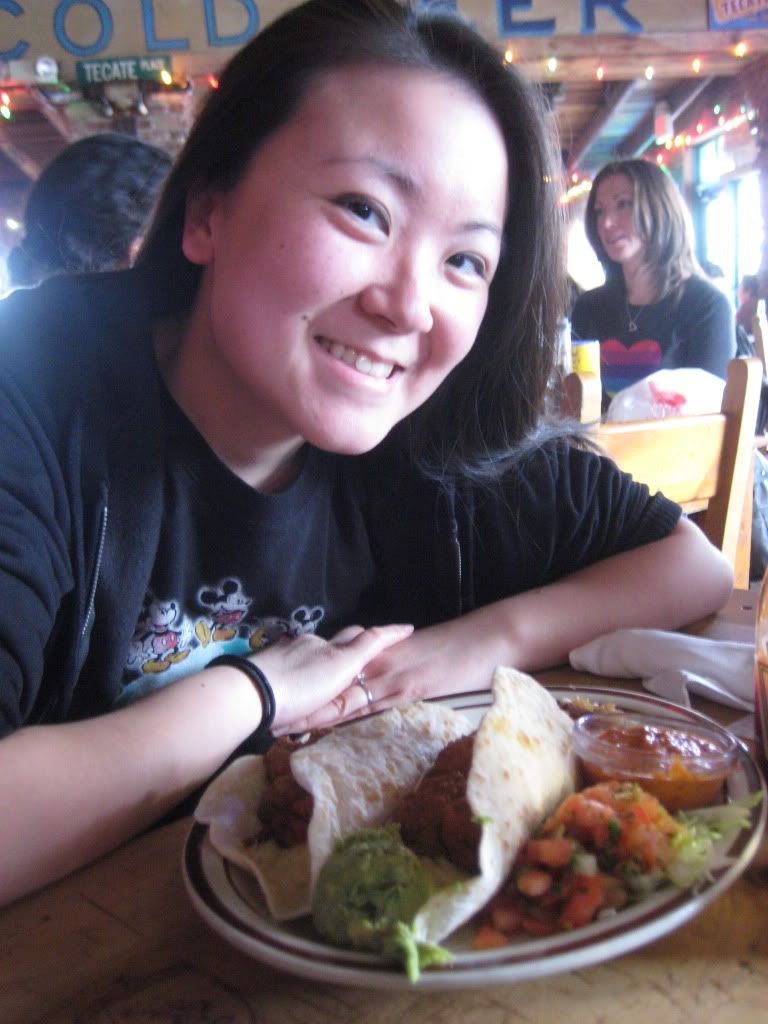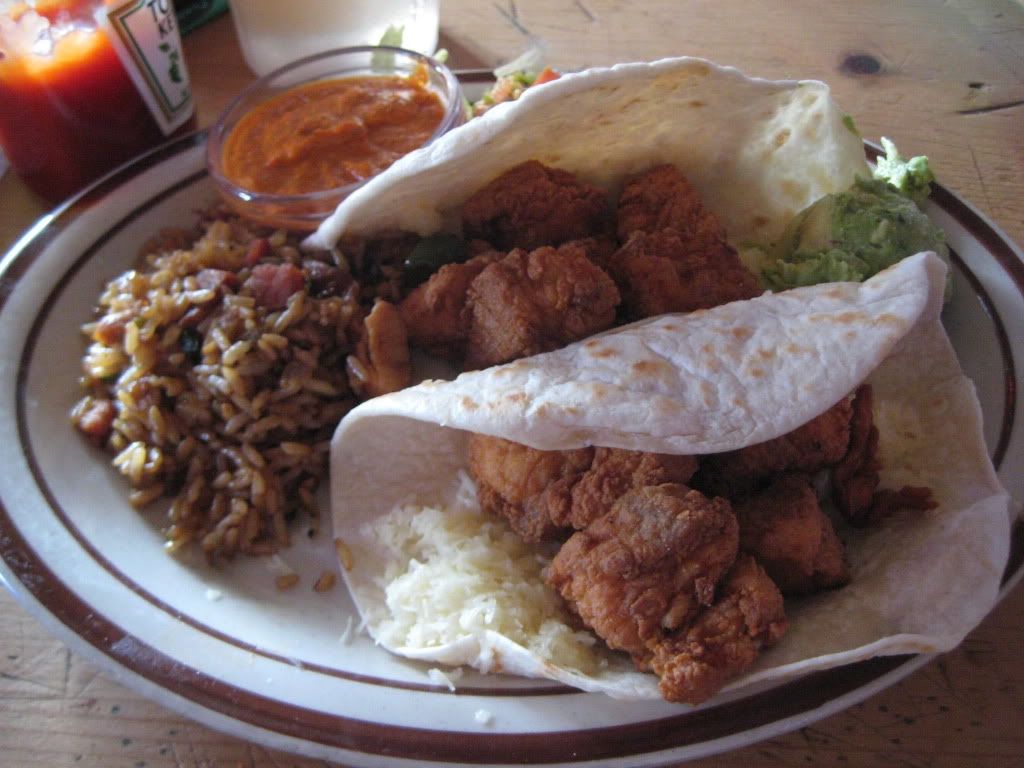 Howard ordered Catfish New Orleans, which was deep fried catfish with shrimp and basil cream sauce. He really enjoyed it because the fish was thick. When it's thin, it ends up being more batter (haha, which I like). I was so happy that he enjoyed his meal! Yay for that!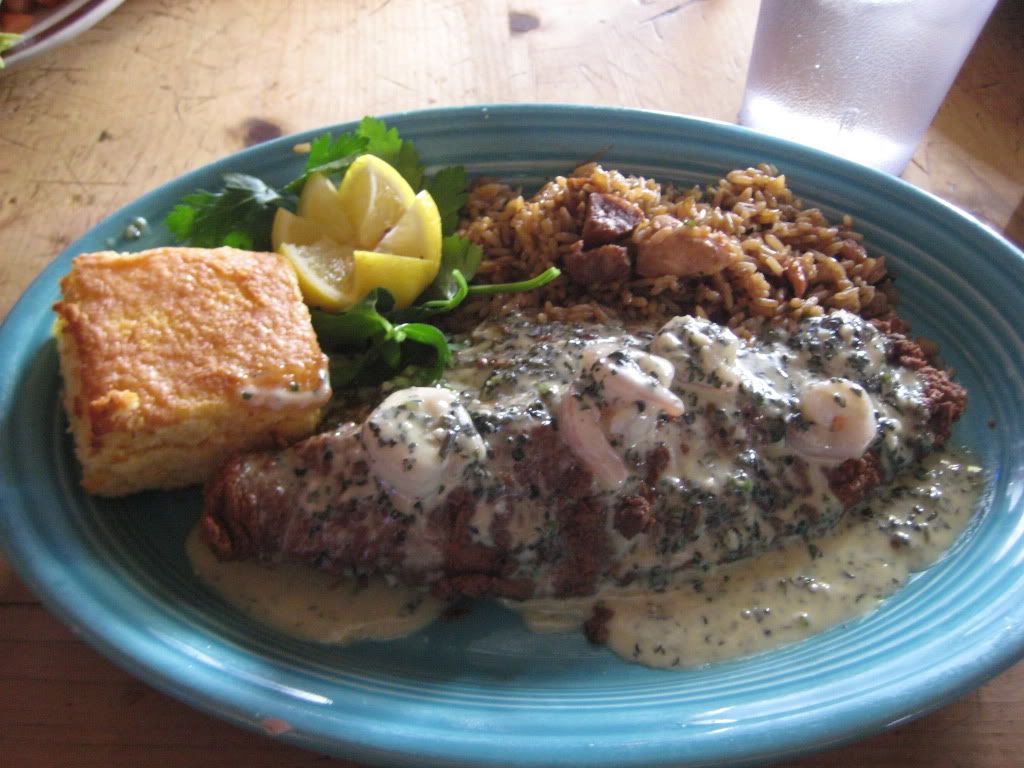 Well, we weren't quite done with birthday meal celebrations. That night, the two of us went to pick up food from Panera. It's a tad bit expensive, but we absolutely love the food there! I had a $10 gift card from a student's Christmas gift along with a free smoothie or espresso from the rewards card, so it was a rather inexpensive celebration meal. We both got You Pick Two. He had the BBQ Chopped Chicken and the Bacon Turkey Bravo sandwich, if I remember correctly. I ordered the Asian Sesame Chicken Salad and the Napa Almond Chicken Salad. Two different flavors, but they're oh-so-good!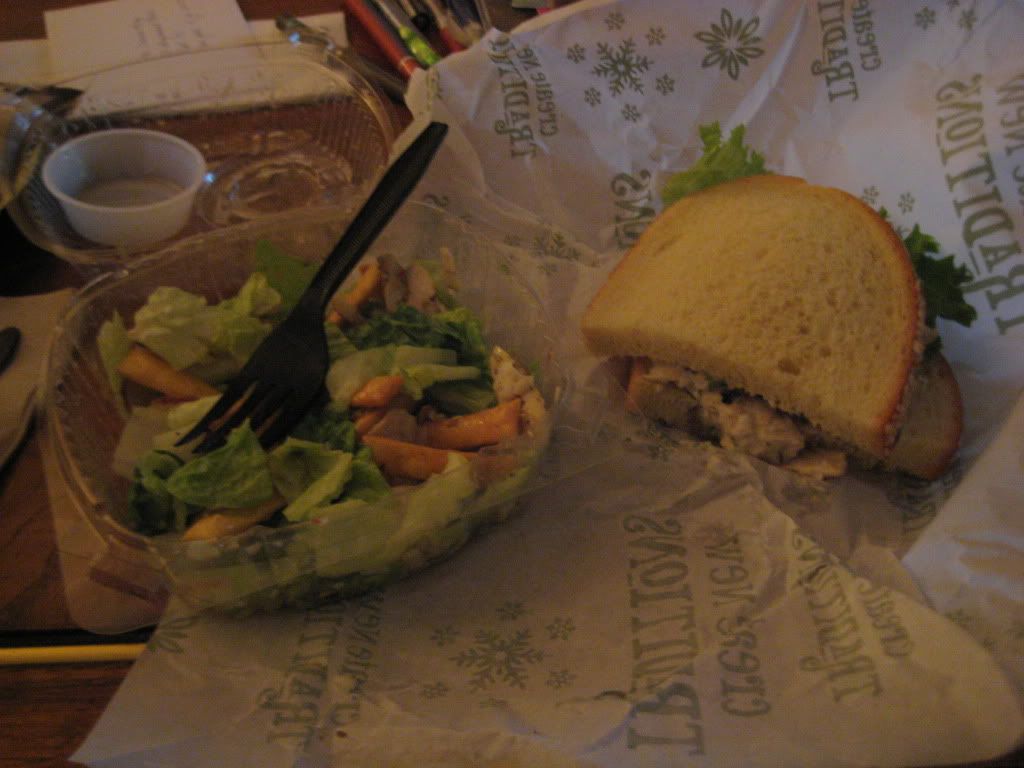 All of the meals that we had just really make me look forward to all the meals we'll share when we're married on our birthdays and on every "normal" day as well. Food can be really good, but what makes these things fantastic is the company!
I'm so in love with him. We can have our fun but expensive sushi meals, or we can just have peanut butter sandwiches. I know it'll be some of the best meals I've ever had in my life because I'm with him.