After completing this past Saturday's 13 challenges for Pink by Design, the apartment was definitely messier than before I started! With the time constraints, I ended up just piling all my materials behind me on my folding table so that I could move on to the next challenge once one was done. After over 12 hours of crafting (minus the time to eat breakfast, lunch, and dinner), I had crafting supplies everywhere!
This picture is a somewhat tidier version of what it looked like during the actual challenges because at least I pushed everything together. I worked at the computer table that I share with Howard, so I had stuff like ink to the left of me and scraps and stamps under my monitor stand and my ATG to the right. At some points, I even had materials in front of Howard! The table behind me held scraps, my trimmer, MORE PBD stamps, and other odds and ends that I kept losing when I needed them. I had a paper bag on the floor for scraps to recycle. I also had my little pail of Copics and a few assorted Bics mixed in there as well. Against the Expedit room divider, you can see my Cricut on the floor on the box. I haven't yet set up its permanent residence. On top of the DVDs on the top shelf, I put my Martha Stewart scoreboard as well as my box of buttons so that I'd have easy access to them as well.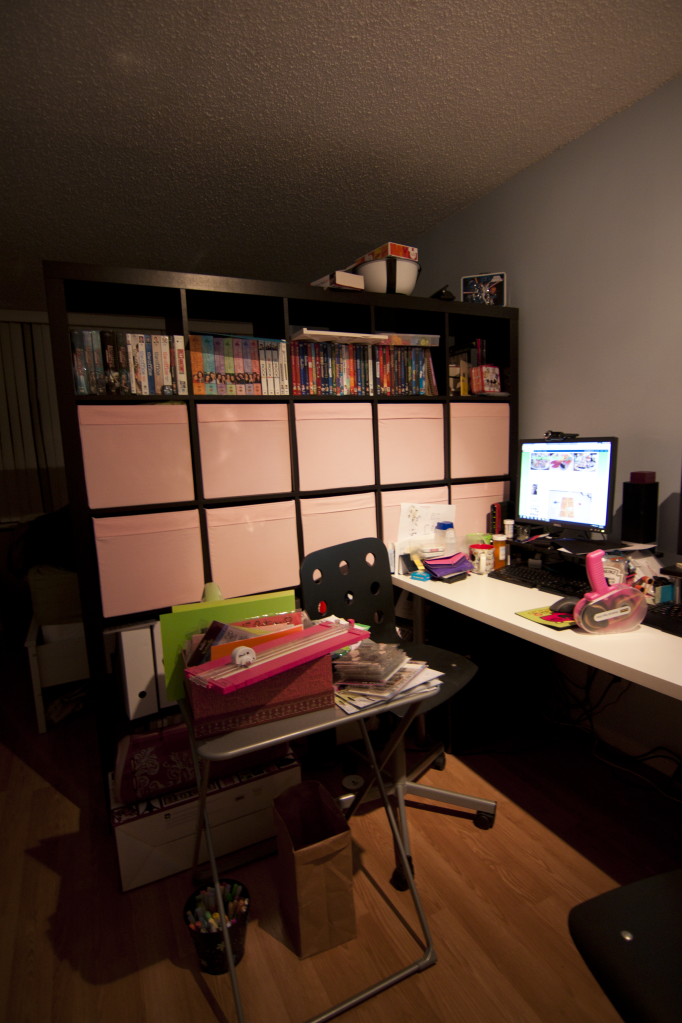 Here's a close-up of the
little table
. It's my intention to use this table to craft on directly as I did when I had it at my parents' house. I bought it from IKEA cuz you know how much I love that place!.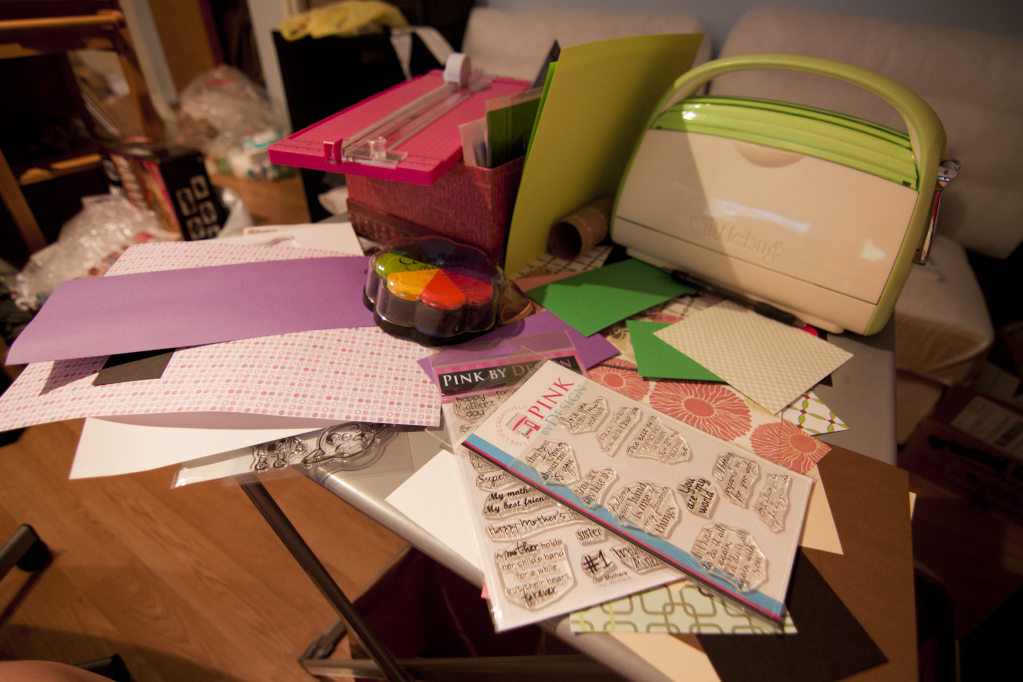 My dear Howard was kind enough to take the photos of the cards for me so that I didn't have to spend time doing that. I don't know how I would've been able to finish all of the cards
and
photograph as well! They would've come out poorly! We used the counter and the blue wall behind it. I set up my Ott Lite there as well. You can also see that as I took out paper stacks, I just plopped them down on one of our bar chairs since I didn't have time to put it away. By the way, the chairs do not have their covers on them yet. We're still in clean mode since finally got our washer/dryer recently, which means no more people in and out of our apartment! I didn't want our actual covers to be put on them until it was just us.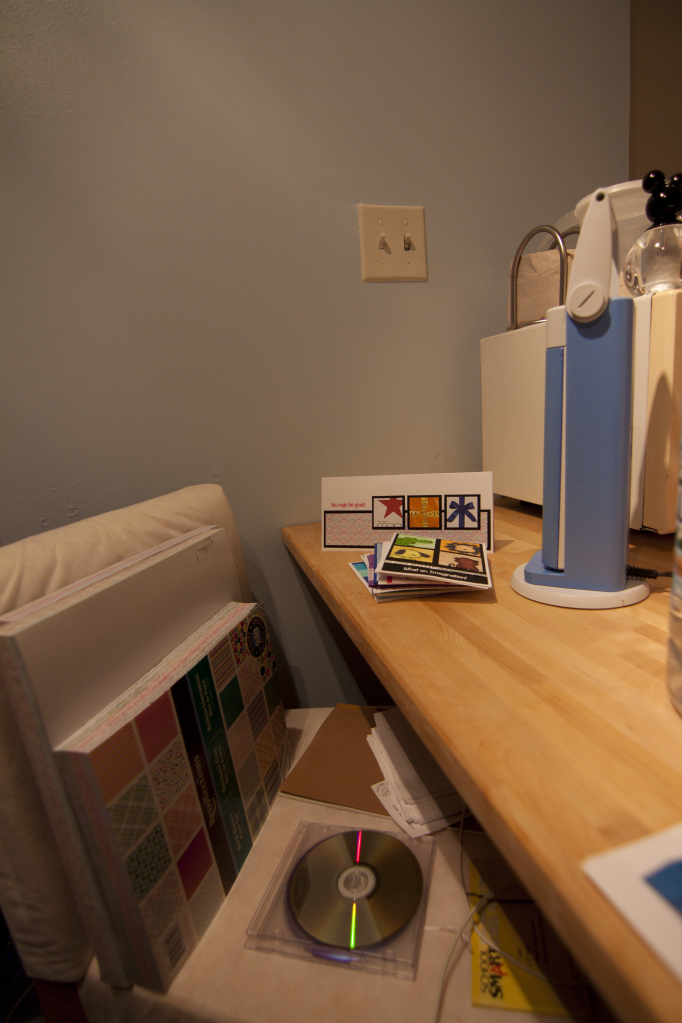 The next night, I began tidying up by trimming my scraps to keep the pieces that are still usable. There was one piece from my home decor project that I was going to toss, but Howard stopped me for a second. I joked that I would hang it up, so I took a piece of tape and stuck it to my monitor as we watched the musical episode of Grey's Anatomy (the one episode that I made H watch that got him interested). It's still on my monitor as we speak! Haha, just kidding.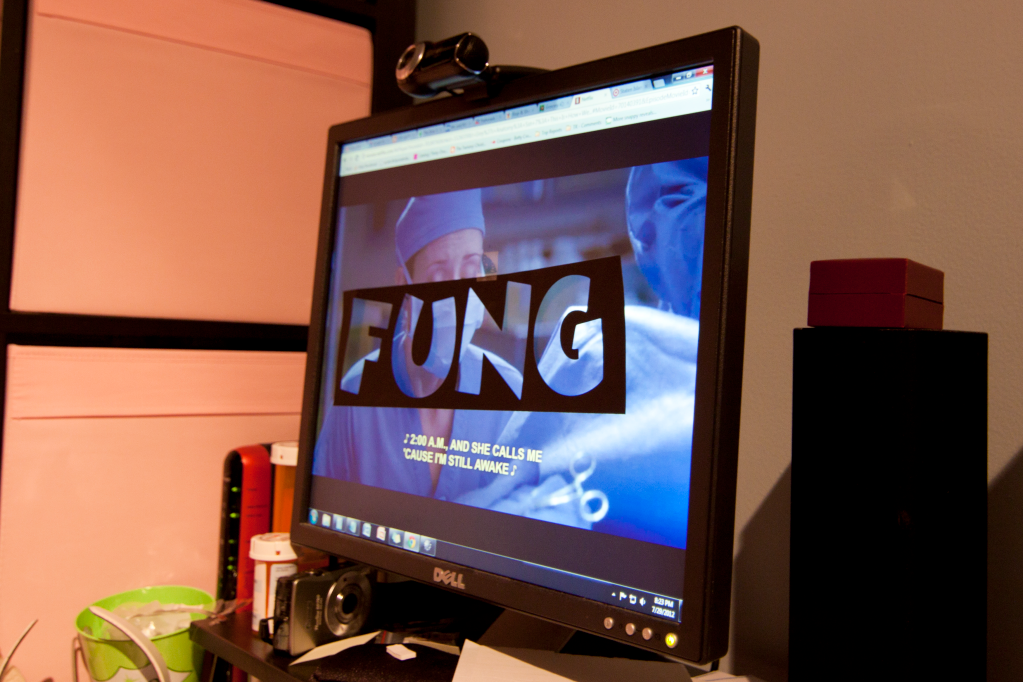 Was the mess worth it? Definitely! It got me into crafting mode! I hope I take advantage of the rest of the summer break! I mean, other than my wedding thank you cards (bridal shower thank you cards are almost done!), I have to get working on cards for the bake sale. Pretty soon it'll be November!!!