It's been a while since I really crafted, so it's been fun getting back into it. I still have everything out since this past Saturday's Pink by Design marathon of challenges! Howard and I did take pictures of the mess that was made, so I'll post those up soon. I just wanted to show off some really simple mini cards that I made yesterday.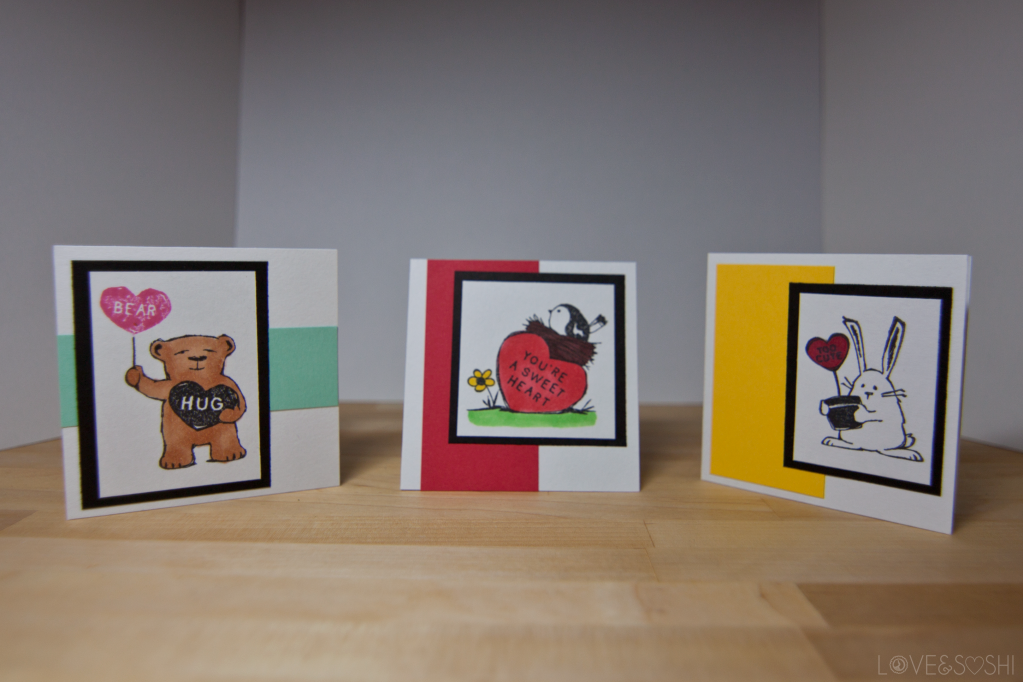 I know they're small, but the 3x3 cards are cute, in my opinion. They're perfect for slipping into a bag or coat pocket as a surprise. Plus, those strips are from the scraps that I accumulated when making the cards for my wedding favors. I had accidentally purchased A1 envelopes last year, so I had to trim down the 8.5x11 cardstock. I actually like the clean look of them. I usually don't mat with black, but I think I'm going to have to do that more often! The simplicity made it very easy since all I did was use 3 stamps from an Inkadinkado set called "Animal Hearts."
I was also hoping to make a bunch of mini cards to leave encouraging notes for my students, but I don't know that I'll have the time to do that. I put this set (I have 5 sets in total) up in my Facebook store just for $2 with all proceeds going towards the chickens I have yet to get via World Vision! Determined to get the money sent before the new school year begins.
By the way, did you see my first ever watermark on the bottom right hand corner of the picture? Howard designed it! He was playing around with my logo for the past few days. He split apart the logo he made for me into the roll and the heart. I love it!