... at girls who wear glasses. Or do they? Hehe, of COURSE they do, otherwise I wouldn't be engaged right now! Although ... Howard did date me when I had contacts ... just kidding! On the Saturdays that he just comes over to hang out at my house, I usually don't bother with contacts. Too bad I don't look as cute as Leslie does with her glasses! That's why when I won the Karber Challenge #35 (woohoo!), I asked for "Thinker Leslie" as my digi prize!
The first thing I did when I was ready to start coloring her in was to color her glasses pink! The reason for that is because when I was in elementary school, I got my first pair of glasses that were P-I-N-K! Yeah, I'm not quite sure what I was thinking, haha. Leslie can surely pull it off though!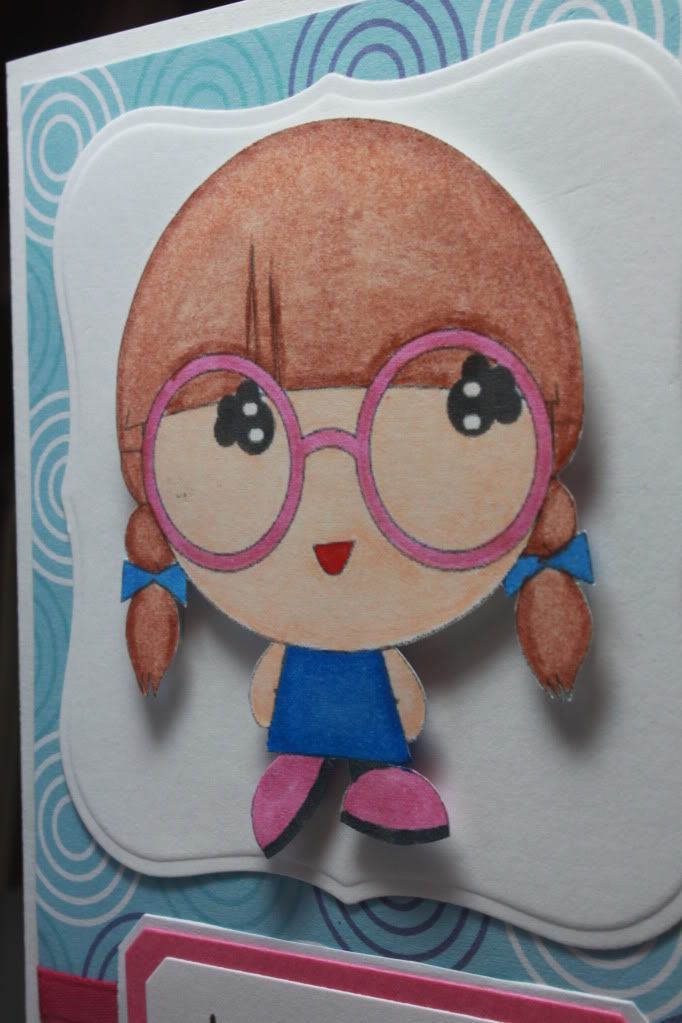 I had a bit of a harder time coloring in Leslie as opposed to Millie since Leslie's lines are thinner. That's why it's not blended as well. I do wish after the fact that I made Leslie's hair darker too. [edit: I emailed Berenice at Karber about the lines, and she emailed me back right away and told me that a lot of crafters actually prefer the thing lines to showcase the coloring. Now that I hear that, I do see that there's a different look to Leslie because the lines are thinner. Of course, I'm still in preschool when it comes to coloring, so that's why it was harder! Berenice was kind enough to send me a Leslie in a thicker version! YAY! Now it'll be easier to stay within the lines, hehe. Can't say it enough how much I <3 KARBER!]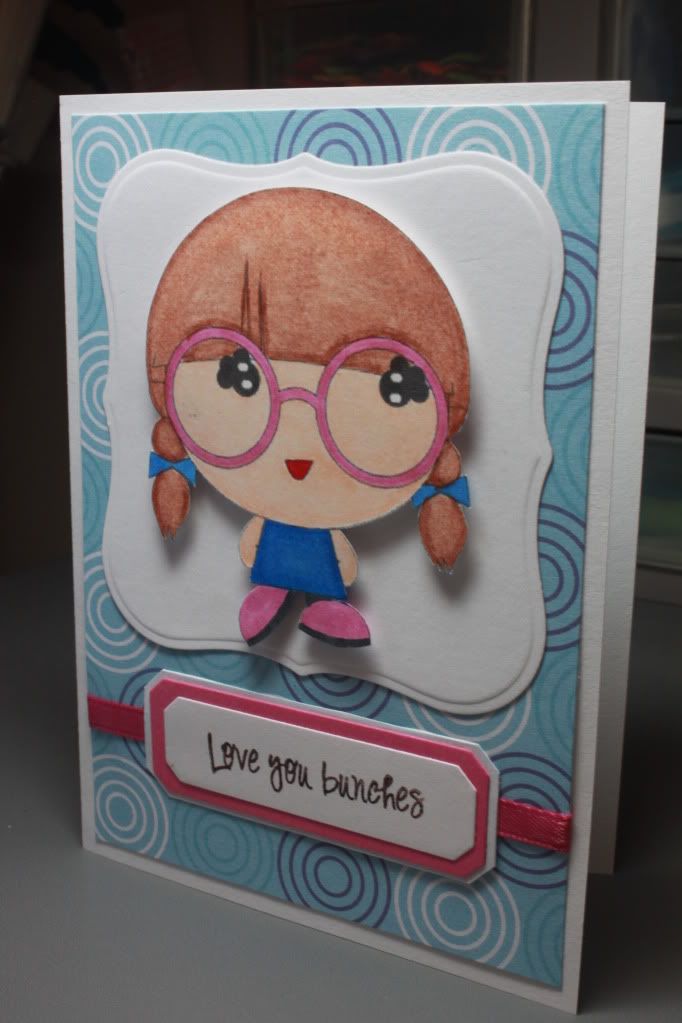 I used Nestabilities Labels One to cut out the white cardstock, and this was the first time that I embossed it too! I've seen videos on it, but I never tried it myself because I didn't want to bother figuring out the sandwich. I had a mat (not the tan mat, but the Sizzix black mat) and used that along with 2 pieces of a cut up cereal box. Those things added to the embossing B plates worked really well! It adds something extra to it, I think!
I used a Papertrey Ink die for the pink label, and I hand cut the white one behind it. I initially had a different sentiment on it, but I didn't stamp it that well so to fix it, I actually stamped the "Love you bunches" (from Pink by Design's "Our Kids") on a white die cut and adhered it right on top of the first sentiment! I actually like how it looks a lot more than the original! It's the first time I had 3 layers for the sentiment! It's all about learning and experimenting, right?
Here are the challenges that I'm entering: