The card I'm posting right now is actually one that I'm VERY happy about because of how it looks and because I "allowed" myself to keep it simple. I see so many cards and think that I have to have fantastic layers with different patterns, and although I do like those a LOT, I still like the simple and clean designs as well.
There were challenges that wanted a cool, sweet treat, and I immediately thought of popsicles because of the fact that they can be done in so many different colors! It was easier for me to do this than ice cream cones or other treats. Originally, I cut out 4 popsicles that had bites taken out of them from the Simply Charmed cartridge. Then I realized that it would be cuter to have 3 full ones and only 1 with a bite taken out of it! So I turned my Gypsy back on and cut them out again. Boy, I just gotta say that I love my Gypsy because I'm using the tiniest scraps of paper for these cuts! They were only cut at 1.75 inches!
Once I glued them to the sticks (and I finally opened a new Zig 2-Way glue pen ... man, I've missed having a lot of glue come out freely!), I knew it needed something more, so I pulled out my Martha Stewart glitter. Since the pieces were so small, I didn't have to use my Mod Podge. I just used Zig!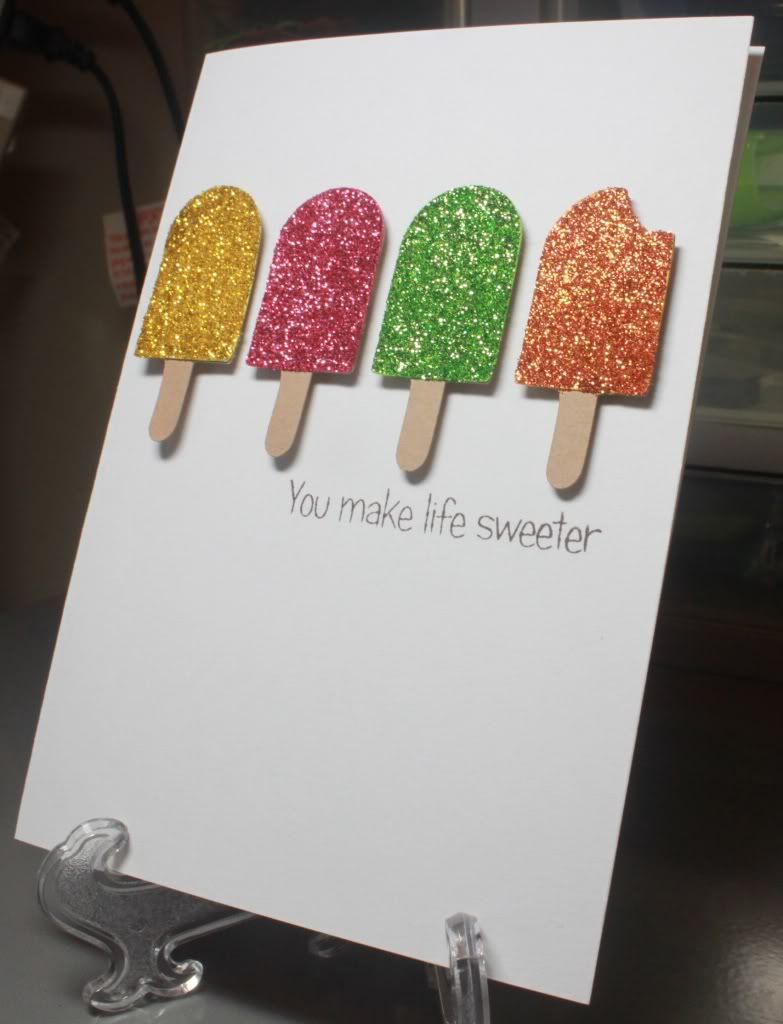 I love the added glitz of the glitter! I actually had to take a ton of photos of this card because I wanted to make sure I was able to showcase the detail as well as get the glitter to shine! I know I'm not the greatest photographer, but I think you can see it better in the above picture. I added a sentiment from Pink by Design's "Love Always" set. Anyway, I'm loving the simplicity of this card. What do you think?
Here are the challenges that I'm entering: