Back in the middle of June, I tried my second scrapbook page. The first layout I did was for an old visit to Liberty Science Center. I had fun doing that one, so I thought, "It won't be that difficult to do another one." Instead of attempting a trip (I have 2 Disney trips I'd like to eventually scrap!), I figured I'd scrap whatever pictures I liked. I immediately thought about the first picture that Howard and I took after we got back together in 2008. This was after our church's encore performance of the coffeehouse.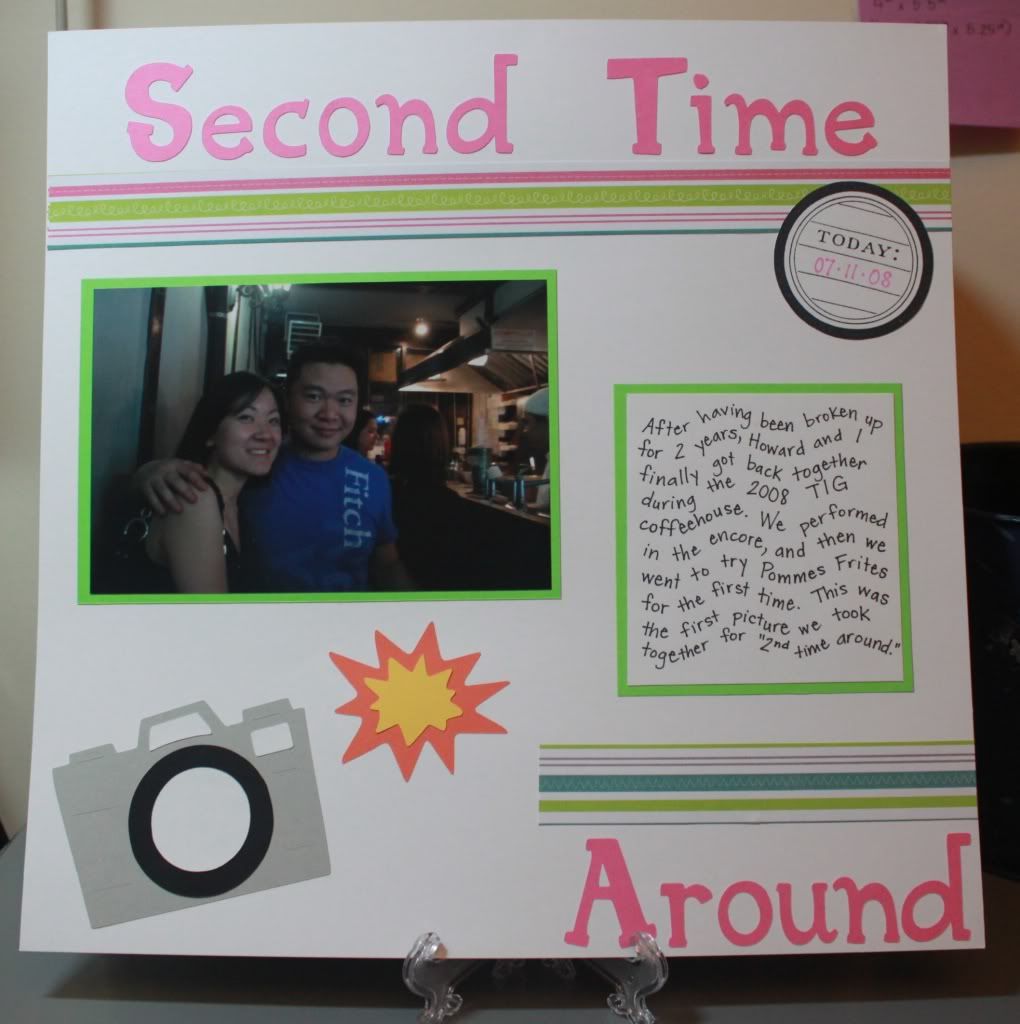 Well, it looked a lot better in my head than it did when I was done with it. I initially thought that I didn't have to use many papers and that I could just use plain white 12x12 cardstock as the base. Um, I think I see why people use colors and patterned papers now! It looks boring with out it! Despite how plain it looks, I am happy that I attempted another layout because I need to practice before tackling any bigger projects.
I'm very glad that I now have a Gypsy because I'm going to be welding letters like there's no tomorrow! It'll make dealing with scrapbook page titles easier. Plus, I don't know much about sizes, so at least I can what it'll look like on the Gypsy!
Just like I use sketches to make cards that differ from my typical same ol' same ol' cards, I think I need to use some sketches for scrapbook pages too. The only thing is that I want to have more room for journaling than what most people do. I used a journal template for what I wrote because I wouldn't want to write it freely because it'd be too messy. I also want to fit more pictures on a page if necessary. I'm not an embellishment kind of girl because these will be going into page protectors.
I guess it's all about learning and practicing, right? Anyway, as weird as it seems, this plain page actually makes me happy because I think about how it'll look years from now after I HOPEFULLY get better at it! Any suggestions? Any scrapbookers out there?