I love being able to switch from cards made with the Cricut to cards made with digis! It always takes me a while to get into it though. It's probably because I haven't yet cleaned up the mess I made from my previous project, haha. Well, after I tidied up my desk and my floor that was covered in scraps (I cut them down to usable pieces), I worked on this card using a Pixie Dust Studio freebie called "Pixie Pie is catching hearts."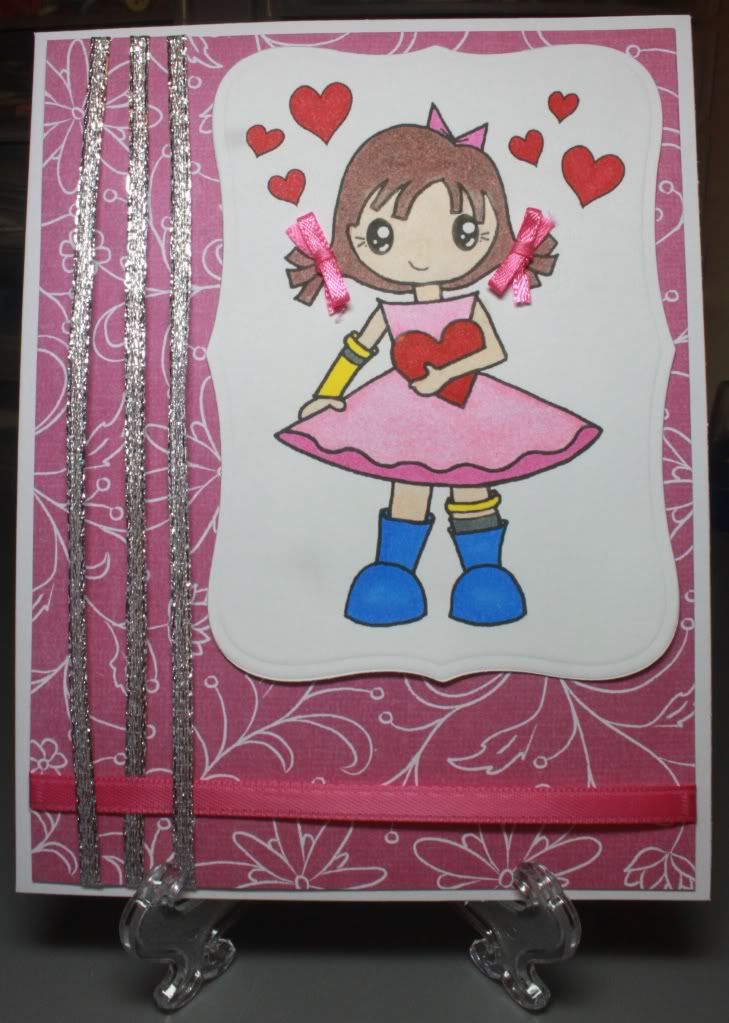 I used the sketch at Tuesday Morning Sketches to plan out the layout of my card. It was a pretty easy sketch to use mainly because it was a rectangular card! Those of you who have been following me for a while know that circle and shape cards are difficult for me!
The first thing I did was cut out Pixie using my Nestabilities. I also embossed it. I love that these dies can do that as well! It really gives it a little extra something. Then I colored Pixie in using the Crayola + baby oil technique (hair, skin, and light pink part of her dress) as well as Bic Mark-It makers. I recently remembered that I had like more compact "Q-tips" that I had never used for makeup from my aunt's wedding years ago. They don't fuzz up like Q-tips do, and they have a point on one end. I'll have to go to the drug store to get more of these! I'm loving how easy they are to work with! Plus, I'm sure they're much cheaper than whatever products are sold at the craft stores! Don't get me wrong; I love Michaels and AC Moore. I just would rather spend my money on other things if I can get inexpensive tools at CVS or Rite Aid!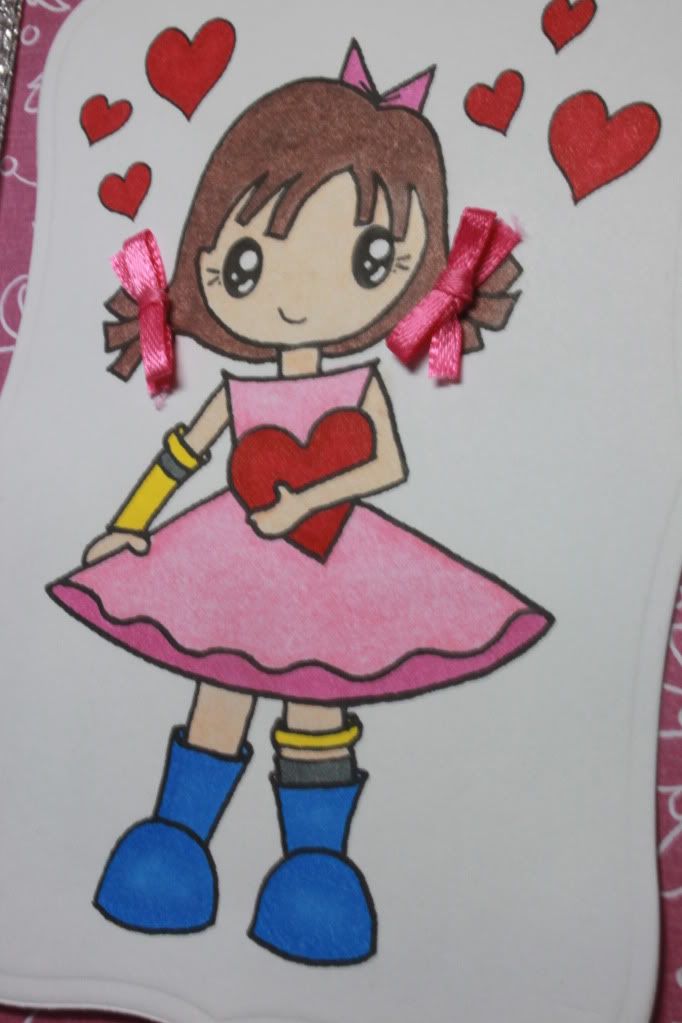 Though the above image isn't a clear picture, I wanted to post a close-up picture of Pixie's boots. Using just one color of my Bic Mark-It markers, I tried to achieve a shadow-type or blended look. Can you see that the center is lighter than the rest of the boot? Haha, maybe I'm just getting excited over something so minuscule and silly.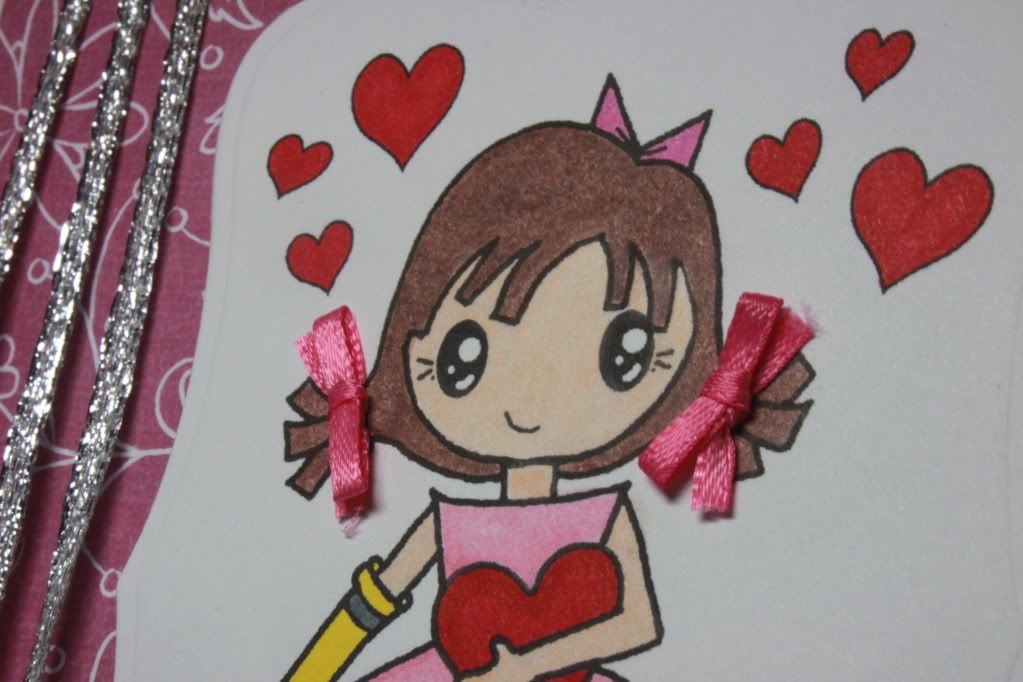 I did want to post and showcase the picture above because of those teeny-tiny bows! Aren't they just awesome? I was able to do them using a comb I had in my room. I watched those YouTube videos on making small bows with a fork, and I was able to do it myself even though it took a while to get used to handling such thin ribbon. In this close-up, you can also see that I should probably get a new pair of Cutterbee scissors to use JUST with ribbon as many suggest as my scissors aren't sharp enough to cut without leaving those little fraying edges.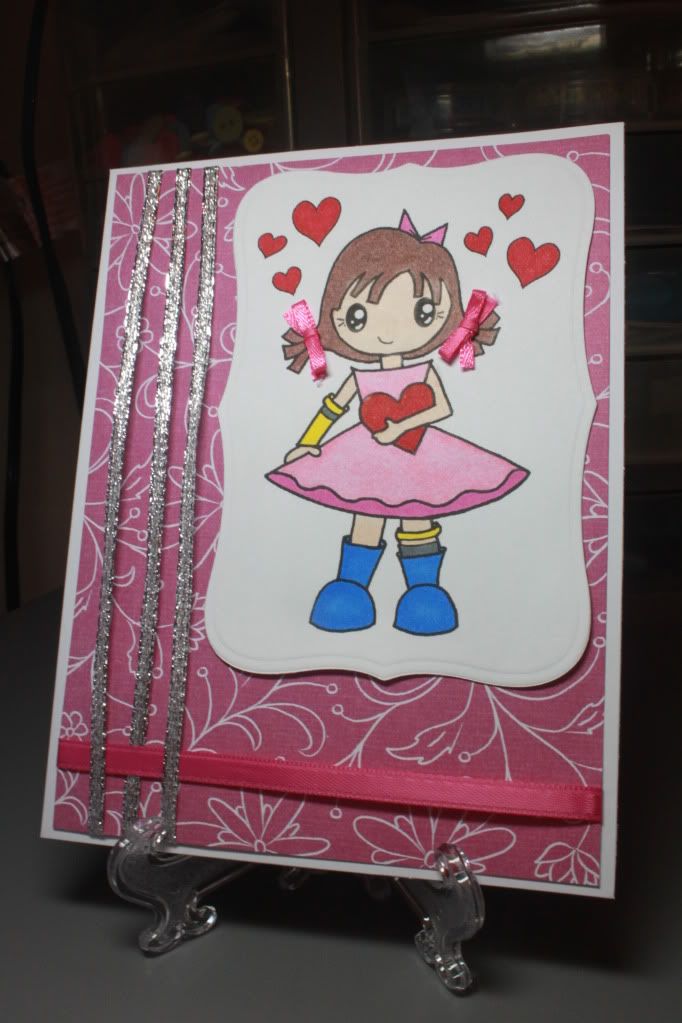 Well, that's my card! What do you think? Even if it's not the best of the best, I think it's still an improvement from my first Pixie card (you can see the card I made with this same image
here
)!
Here are the challenges that I'm entering: