What a busy few weeks it has been! My church had its annual coffeehouse on August 13th, so I was busy heading out to the city for rehearsals. Even though it's been a while since the performance and the encore, I wasn't able to do much crafting because I was doing a lot of sleeping! Here's a picture of one of the scenes from the musical that my cousin wrote.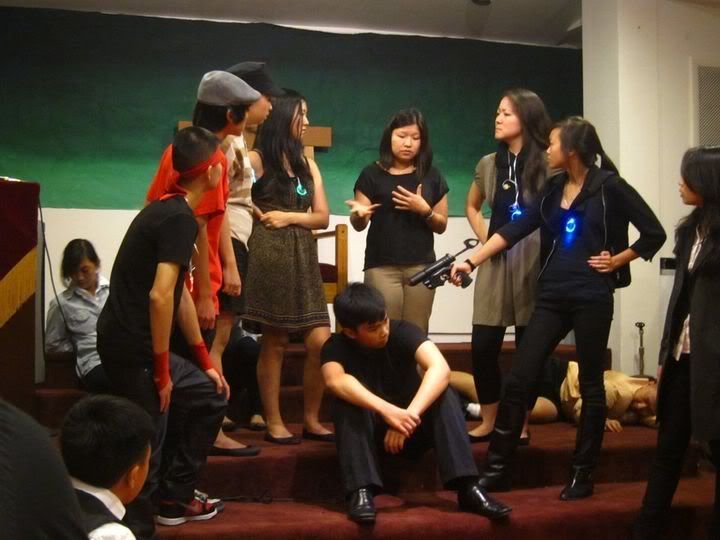 I'm the one to the right of the girl speaking. I'm wearing the dress with leggings and the scarf. Basically, the musical was about "Peacekeepers" that have super powers to keep a city safe, but things were going downhill as talent stones (what we were wearing around our necks) were being stolen. In this scene, we had just defeated a bunch of the "bad guys" and were questioning them. My character was "Chief," so I was the leader of the group. It was so much fun being able to serve with all of these people at my church even though I was pretty much one of the oldest! Most of the those that were involved are in high school or just graduated high school. I loved being able to get to know them.
By the way, our shirts were awesome. They were designed by my fiance! He's the one kneeling on the left side of this picture. He's not actually wearing the shirt now because he was taking care of the sound board throughout the musical, and he didn't sing with us during the finale ("When You Believe" from Prince of Egypt).
Anyway, because of coffeehouse, I hadn't crafted in a while, but I was able to get back to it this week! Yay! And I got back into it with full force because I made multiples. And by multiples, I mean MULTIPLES!
I made this mini card set using Sandylion stamps along with Pink by Design's set "Scripted Year." I kept the sentiments fairly simple so that they could be used for any occasion. Each card is 3x3'' so it's a nice square size. The white cardstock is cut at 2.75''. Since some of the animals were smaller, I used a border punch to add something extra.
The puppy one is, I think, my mom's favorite even though she doesn't like dogs, haha. It is really cute though! Initially, I had this puppy all white, and I only colored in the spots. However, I tried one out with a lighter brown, and I liked it more as a whole especially as compared to the other cards.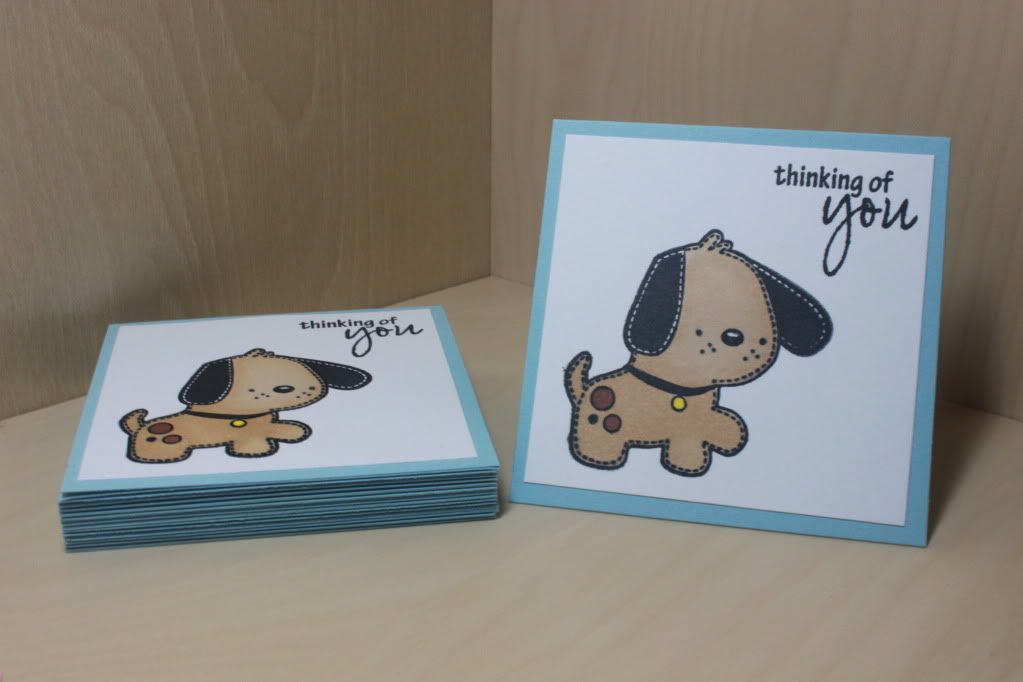 For this sheep, I actually have 2 of them that are different shades of pink because I was testing colors. I forgot to stamp the sheep in Memento and instead used StazOn. I had to be very careful not to get everything to bleed.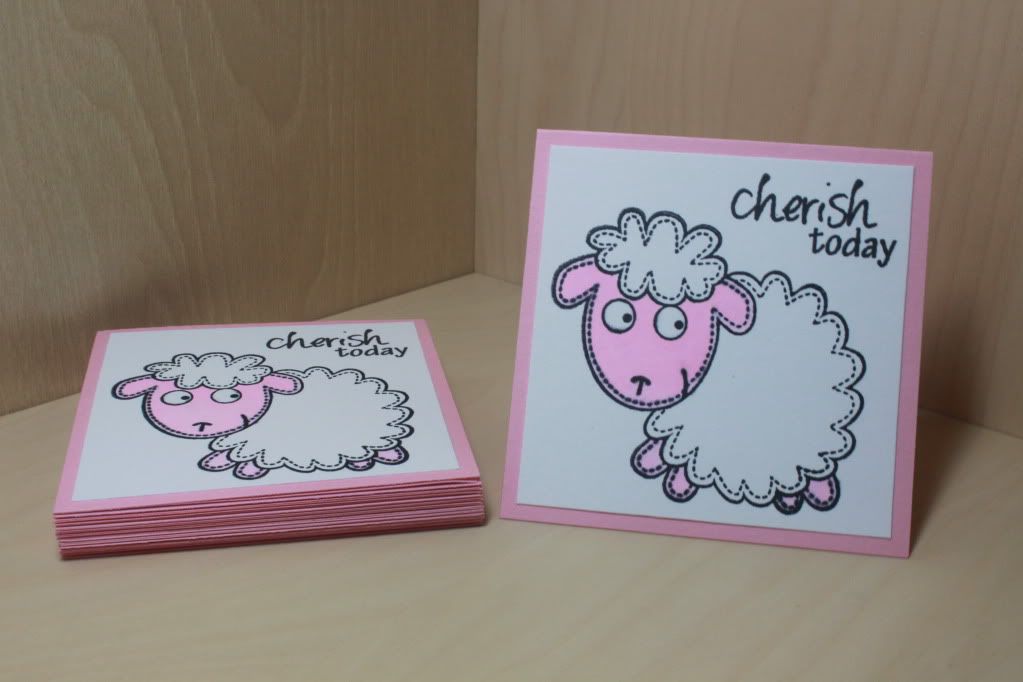 This mouse one might be my favorite but that could be because I really like the purple as the cardstock color. I was going to add a piece of cheese in its hand, but I don't know that it would've gone with the sentiment, haha.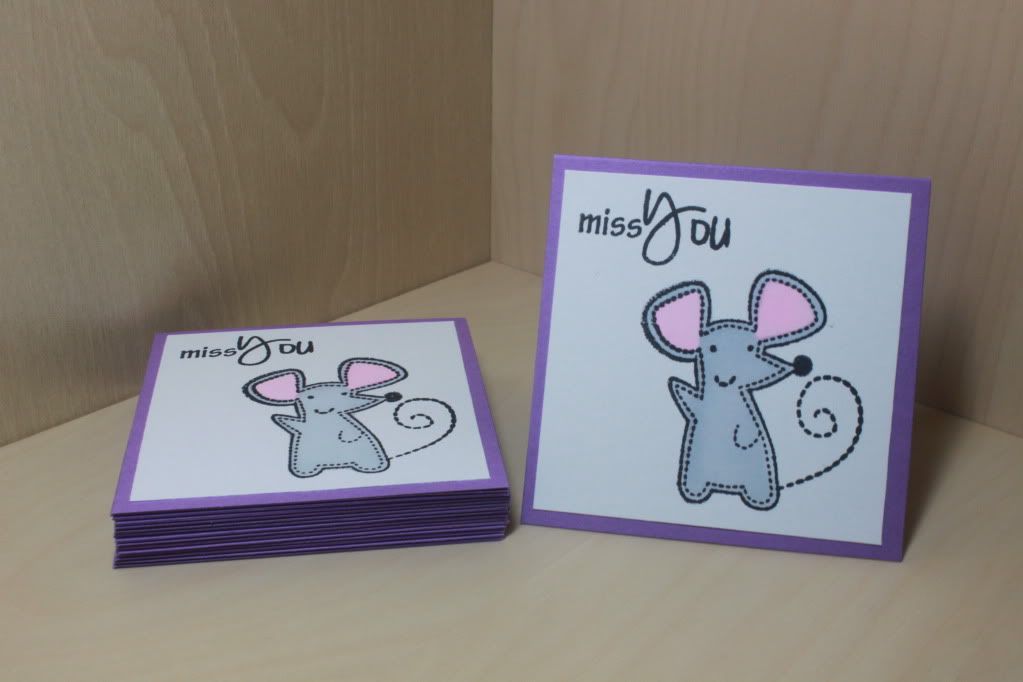 This monkey reminded me why I'm so glad I bought a bunch of different shades of brown when I purchased a few Copics. I remember the days when all I had was the brown in the Crayola marker set! It helps to have different shades!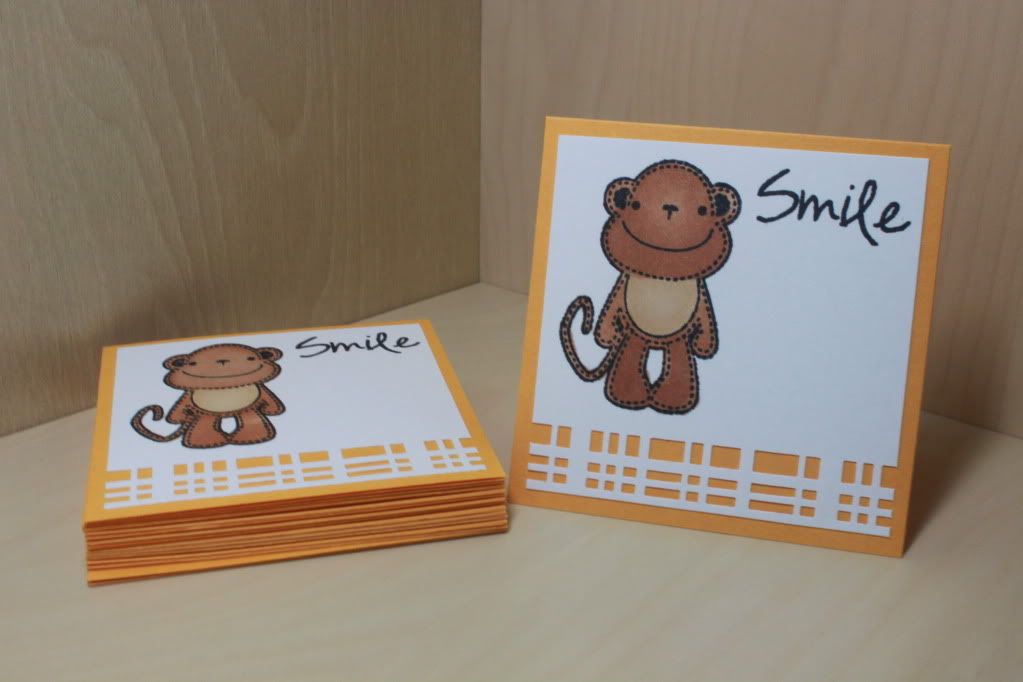 The last one that I did was this little bird. Thankfully, at this point, I used Memento to stamp, so I had no problems coloring this little guy!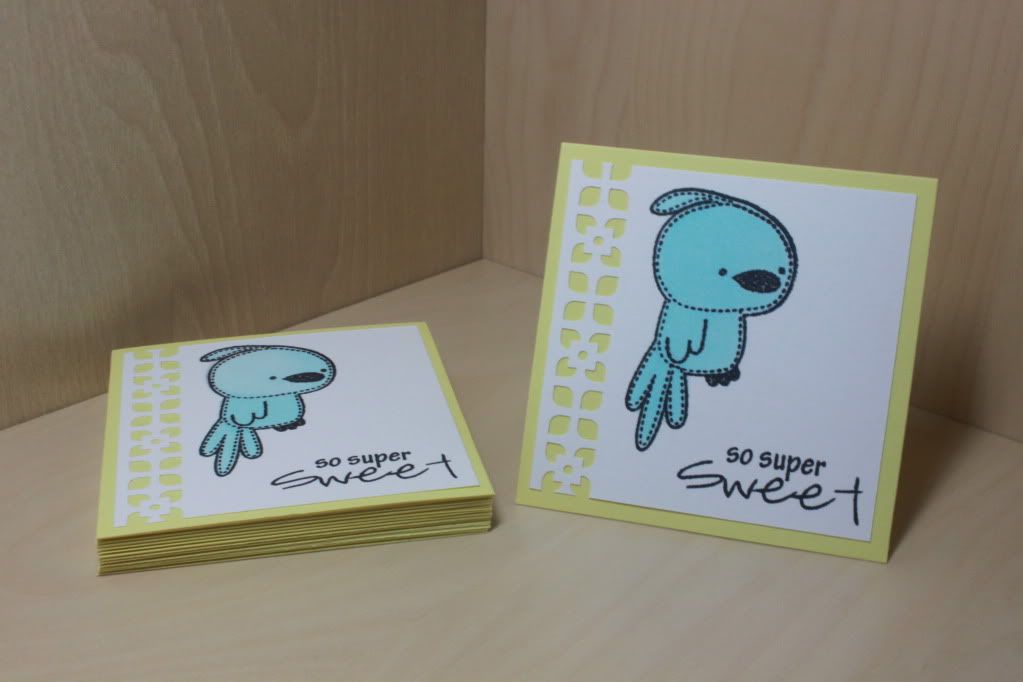 I made 15 of each card and will be selling them as a set of 5. That means I have 15 sets to sell! I posted 10 in the store (I don't think all will sell, but I did already sell 2 sets!), and I think I'll be saving the other 5 for my church's bake sale in November. All proceeds go to the mission fund, and by then, I think I'll have a lot more mini card sets to sell! I'm so glad to be back into crafting mode! If only I had a clean room to work in ... maybe I should tidy up today considering the rain that's on its way! I
was
going to go to Michaels to pick up Copics with the 45% off coupon as well as some more Recollections paper, but I'd rather not go out in the rain. Rainy days just seem perfect for staying inside and crafting!