Over the past few days, I've realized that crafting depending on my mood is way more fun than crafting solely for challenges. Though challenges are great when I've lost my "mojo" and don't quite know where to start, I've gotten to the point where I think I know my own personal style and don't care that much to change it (of course, that doesn't mean I don't want to experiment with new techniques!). However, sometimes it just happens to be that what I want to do matches a challenge, and that's what happened today! I was in the mood to work with the Happy Millie digi from Karber.
Since the challenge was to show a hobby or leisure activity, I wanted Millie to hold a watering can to show gardening. I created a little scene on the card by inking the bottom of the card green, and then using that same cloud technique I used on the "Summer Lovin" Grease-esque card, I made the sky. In this picture, you can see how I'm kind of spread all over the place as I'm sure most crafters are! That jar of spongy material is actually from when I crafted YEARS ago. I still had it, and I actually like how it works better than the Inkssentials stuff! Of course, it's probably because I'm not using the tool properly.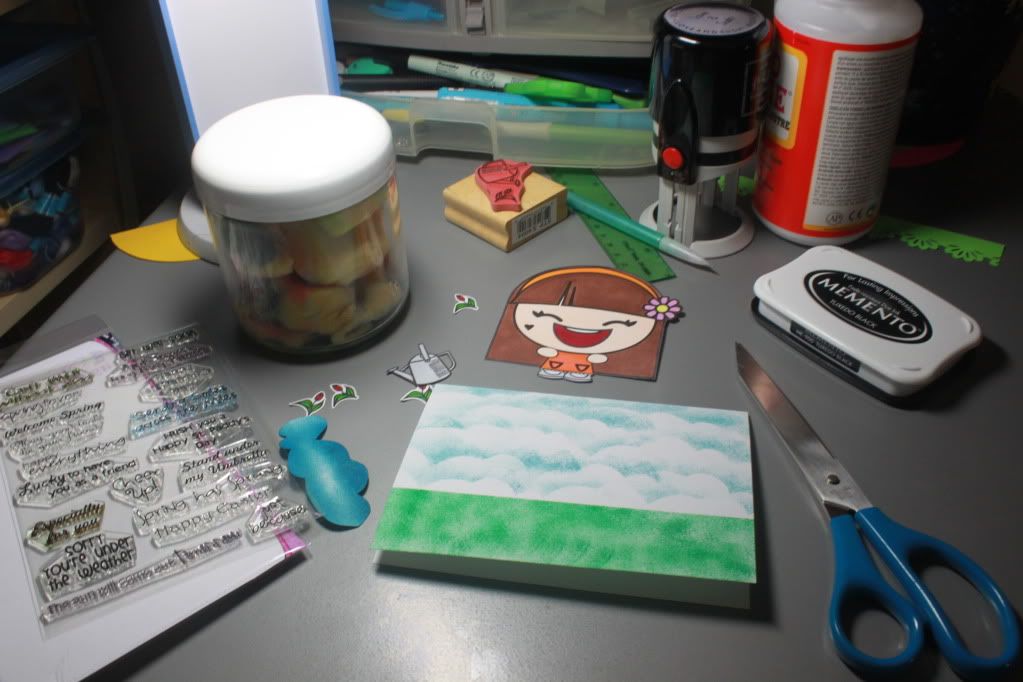 You can see everything ready to be assembled though. All the pieces were cut, and I had the Pink by Design "Spring Has Sprung" set out and ready to use. Oh, and I also switched to Memento! Previously I was using StazOn, but since I bought Copics, I had to get new ink. Let me say that this stuff is amazing. It's so much easier to ink; it really is a "juicy" ink pad! I had read other crafters use that word, and I just didn't get it until now. Before I finish this digression, you can also see my new PSA Essentials stamp that I won from my popsicles card over at CAS-ual Fridays! Woohoo! And the Mod Podge is out from the He"ART" Journal pages I did last night for The Greeting Farm.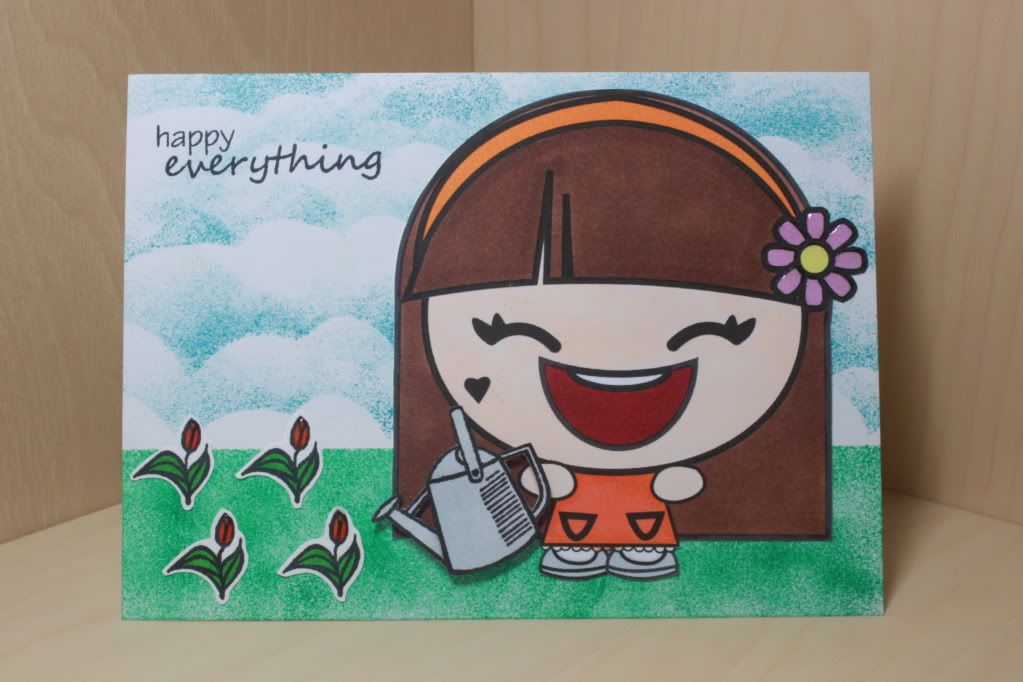 Okay, so that's the finished card! I like how it turned out because I think it's my first "scene" card. Millie looks happy doing just about anything! I was going to use a spring-time sentiment, but since I put this in my Facebook store, I kept it a bit more general. Oh, I also added Glossy Accents to Millie's flower in her hair as well as the red parts of the tulips. And of course, how could I not pop something up on a card? Haha, it's pretty much a given!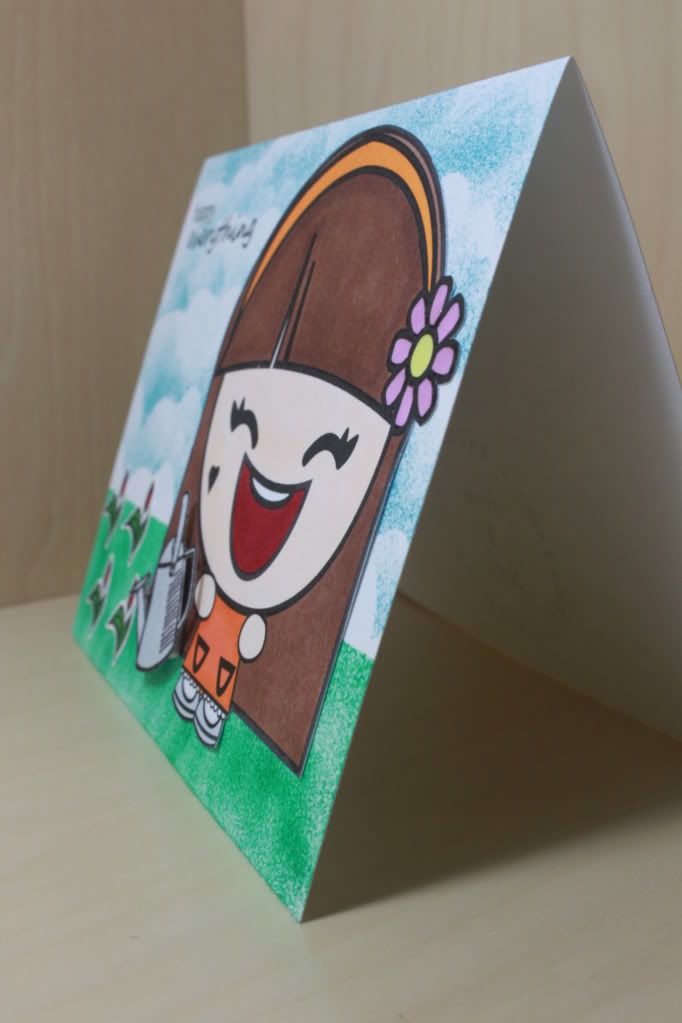 The last picture is just to show you how I've been taking my photos now. Howard really doesn't like the clutter in the back of my previous pictures, and I didn't like how things were still dark even though I was using my Ott-Lite. I tried the bookshelf on the other side of my room that got my direct sunlight, but it's a dark mahogany and wasn't bright enough. Then I realized I could use the bookshelf next to my crafting table. I just have to remove my big card box and eyelet box as well as 2 magazine holders filled with supplies from the shelf, and then I have enough room. What do you think? Haha, it's a lot easier than having a light box that would have to be set up and then taken down each time!
Here is the challenge that I'm entering: