Recently, I decided to dig out my old red rubber stamps to see what fun things I had in there. I haven't used many of them in the longest time, and I knew that there was probably a ton of potential in the many photo boxes I have filled with wooden block stamps. I found this sheep (Inkadinkado) that I have always loved and knew that I could make a clean and simple card with it. I stamped it on cardstock and colored it with Copics. I don't know if you can see it in this picture, but I tried blending. The front of the sheep's head is a bit darker than the rest. Because I don't have the special Paper Trey Ink or Neenah paper that works well with Copics, the colors were bleeding and spreading, so that's why I layered on the edges so it would bleed out instead of in towards the rest of the image. I didn't worry because I was going to "fussy cut" them anyway.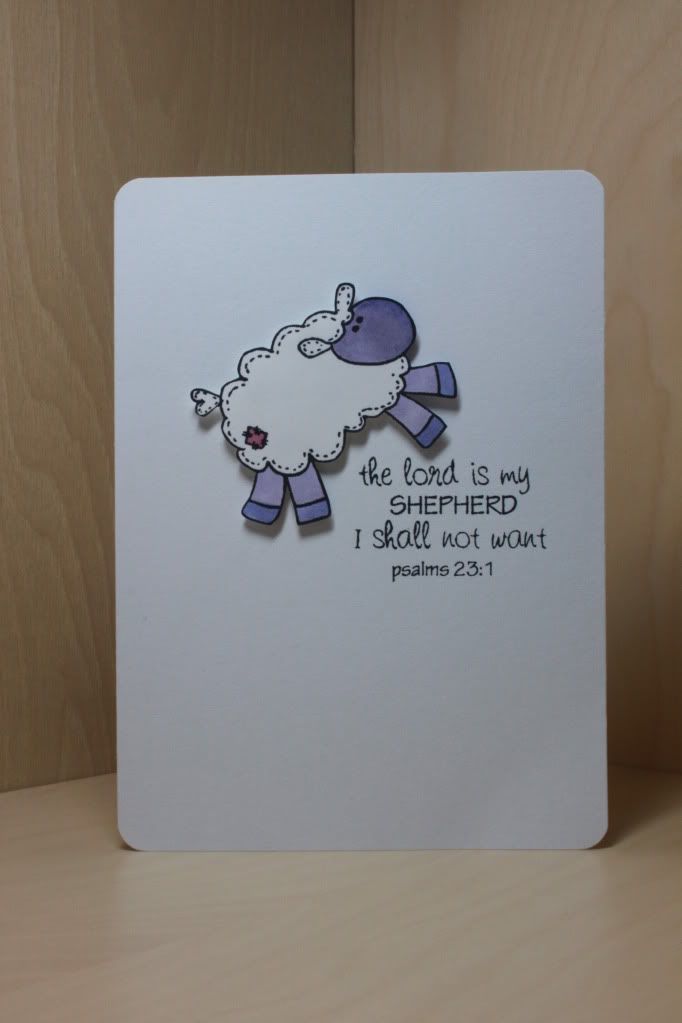 The funny thing is that it took me a very long time to figure out what sentiment to use. I looked at all my sheep sentiments (ex. "It's all about EWE") and tried to figure out if it was a birthday card or what. I then took out the Pink by Design "Faith" set, and tried to see if any of them would fit. Then all of a sudden, I realized that there was the sentiment for Psalm 23:1! I can't believe that I hadn't noticed it before! Haha, how silly of me! It just worked PERFECTLY for this card. I rounded the corners to create a softer look, and I also added a dab of Glossy Accents to the patch on the sheep's wool.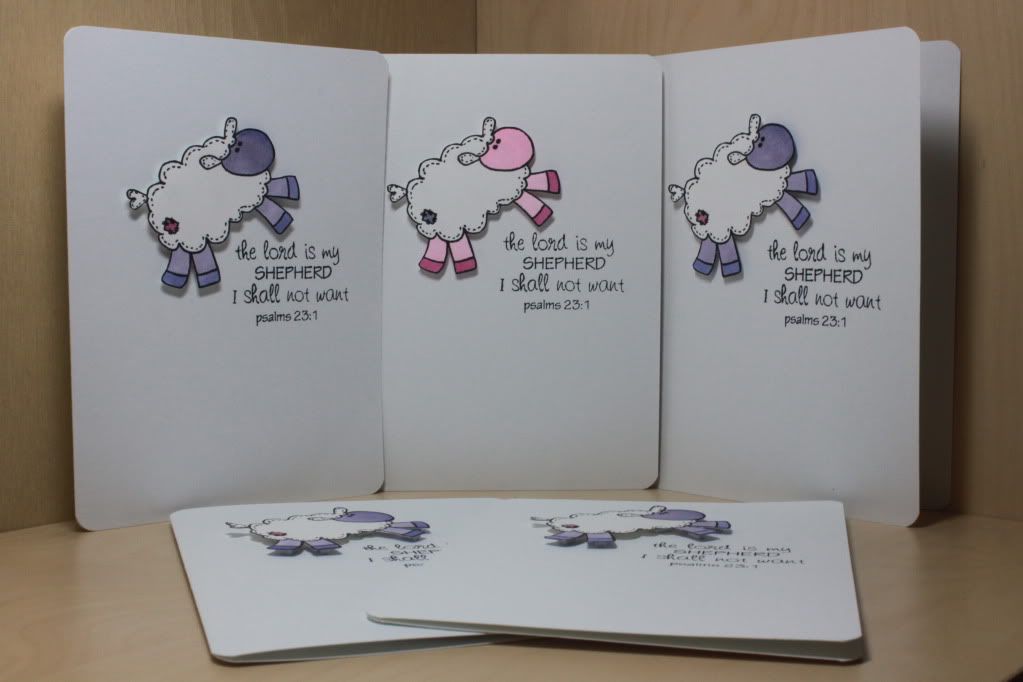 I mass produced this card (and one of them is pink!) so that I could start selling cards! I finally started a Facebook page today for "Love and Sushi" and hope to sell a few here and there to my family and church friends. This one is $2. Do you think that's a good price? I'm very excited about this card! It'd be a very good encouragement card!
By the way, what do you think of my new picture taking area? It's actually one of the shelves of my Billy bookcase from IKEA. I like the cleaner look of it (as does Howard because he doesn't like clutter in the background at all). It was still bright out when I took it, but there was no direct sunlight on it, so I used my Ott-Lite also. Hopefully, it's better than my previous pictures! Always room for improvement, right?
Here is the challenge that I'm entering: