Although I've made a card or two using a digital stamp before, this is the first time that I'm using a digi stamp that I actually chose and paid for!
Karber Digital
has the cutest images! I remember when I first showed Howard; he even thought they were so cute! Well, when this challenge came up, the first thing I had to do was actually choose a digi to buy. Initially, I was going to go with one of the Leslie images because she has pigtails and glasses, hehe. However, I ended up choosing Happy Millie because of how versatile she is! Her huge, cheery grin can be used for many occasions and put on a card with many different sentiments!
I used two different mediums to color her in (look at me being all fancy ... and possibly wrong, haha ... by using the word mediums). The hair and the skin were done using Crayola colored pencils. I blended it using a Q-tip and baby oil. You can see in this picture how different it looks when it's blended and not. Isn't it crazy that baby oil can make it look that much better? Insane1
Everything else was colored in using Bic Mark-It Markers because I wanted those bright, vibrant colors! I also decided to choose blue instead of any of the "girly" colors because I had just watched a bunch of episodes of Gilmore Girls today (I put on DVDs in the background as I craft), and in one episode in season 1, Lorelai is wearing a blue sweater with a blue headband. That stuck in my mind, so I wanted Millie to also have blue!
I chose a patterned paper (Oriental Trading) and a colored cardstock. I initially started off with white, but because there was a lot of white in the patterned paper, it wasn't showing much of a contrast. I then used a scalloped circle from my newly purchased Nestabilities dies. I chose yellow because I wanted it to be a bright card, and there was also yellow in the flower on Millie's headband.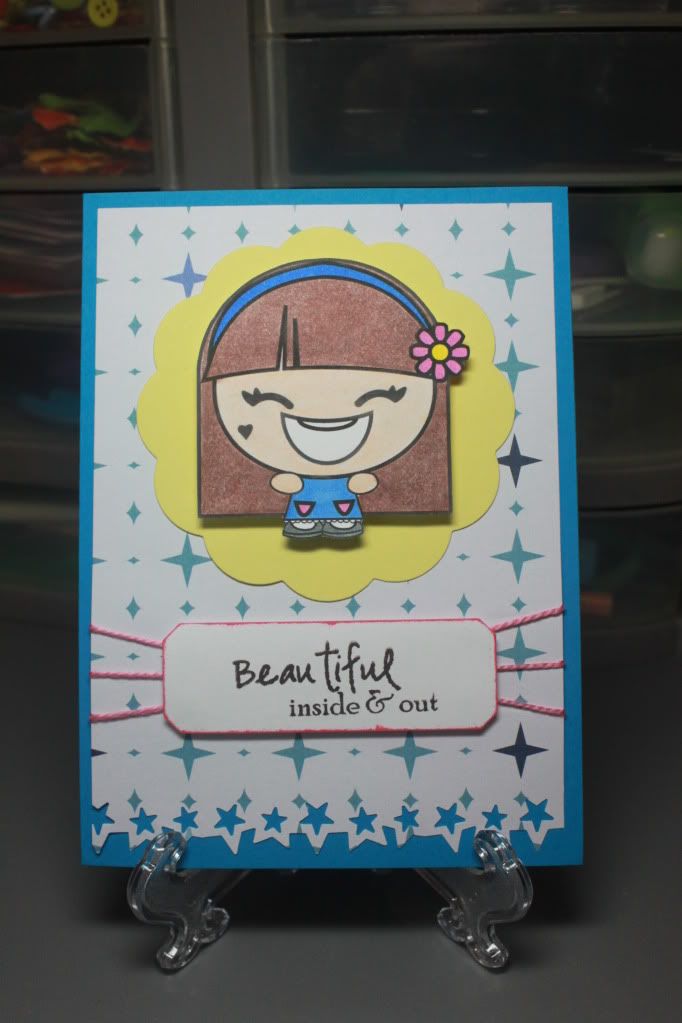 The sentiment shape is from a Papertrek Ink labels die. I stamped the sentiment from Pink by Design's "All Girl" set with Stazon Timber Brown (gives it a softer quality instead of being so dark and harsh with black). I added the craft thread and wrapped it around the back. When I did that, I didn't realize it was so high up, so that's when I decided to punch out some stars at the bottom using a Martha Stewart border punch. Before I adhered the sentiment though, I figured it could use something more, so I just used a Tim Holtz Distress Ink Pad in Worn Lipstick to get the edges to stand out.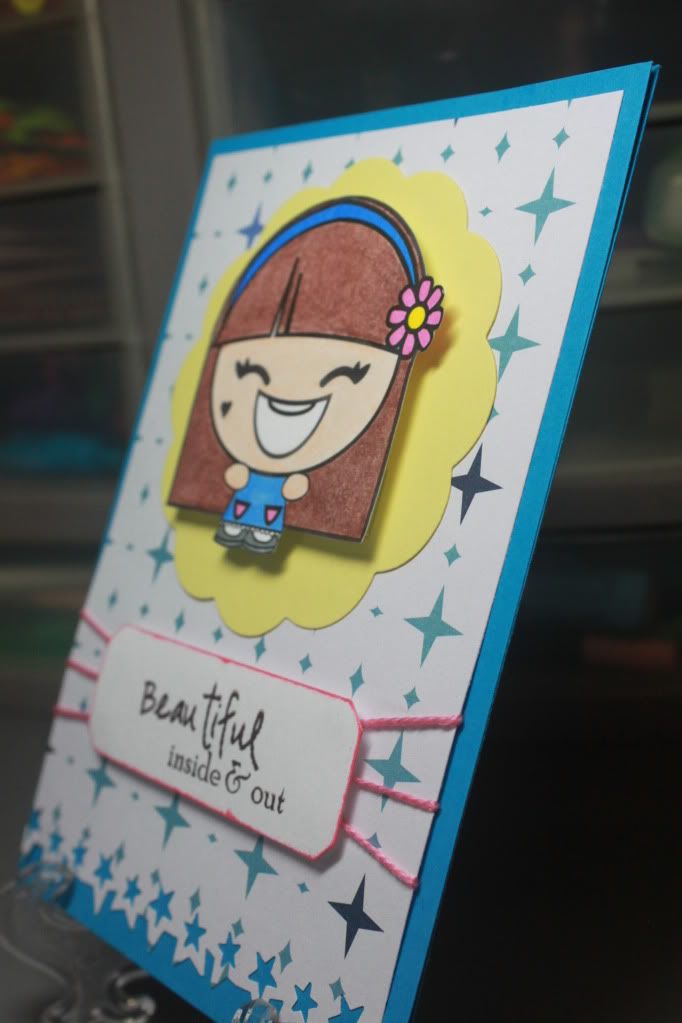 As you can see, Millie as well as the sentiment are on foam adhesive squares to give the card some dimension. I love how that can make all the difference in a card sometimes! Well, what do you think? How did I do with my first purchased digi stamp? Either way, I definitely had fun using it! Plus, looking at her huge grin put me in a good mood too! Hope it put you in a good mood as well!
(
Click here to be taken to the actual blog post for this particular challenge! I'm linked as #9!
)