Crafting can really become an expensive hobby because when you have a certain idea in mind, you may not have all the supplies for it! If you look on YouTube and search for tours of craft rooms, you see that people have a TON of supplies. One of the things that takes up a lot of room is PAPER! I never thought I'd be so into paper before because I figured plain cardstock with a few patterned pieces was all I needed. Now I see that patterned paper REALLY makes a difference. That's why I decided that maybe it'd be more cost effective to make my own at times!
Here's a video I recorded showcasing the method I used. I'll show the pictures and write it out below as well.
I started off with a plain piece of cardstock. I chose this lovely shade of green because it coordinated with the card I was making AND because it was a piece I had in my scrap box, haha.
I stamped the flower image all over the paper with scrap underneath so I could make it go off the page as well.
This is the finished product.
The one I had tried earlier was already put on a card. I'm actually holding it that way because I'm covering a mistake, haha. I didn't stamp one of the flowers on all the way, so I tried stamping over it again (since they're clear, it's possible to do this). Of course, I made a mistake, and it didn't line up correctly. Oh well! And yes, as I said in the video, I do know that I stamped the "somebunny special" on crooked! Whoops!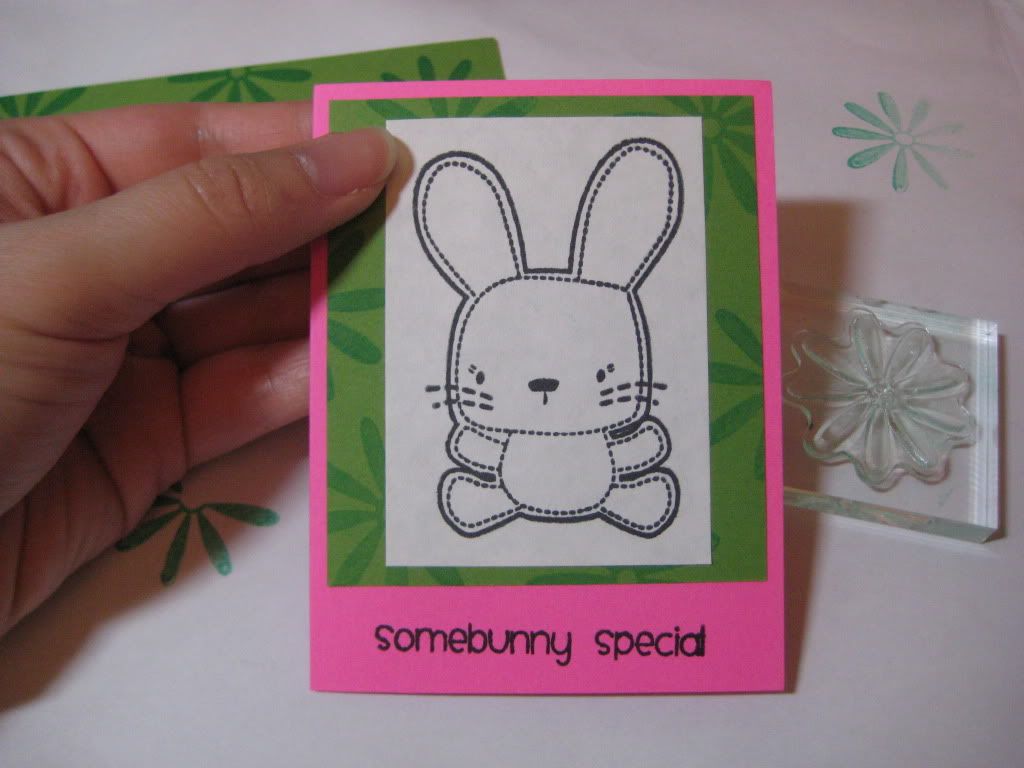 I'm really excited about this especially because I'll eventually be making my cousin Danielle's scrapbook for her latest vacation to Japan. I did find an 8x8 stack of the DCWV Far East print at Marshalls for just a few bucks, but I knew the entire scrapbook would need more paper. I bought an Inkadinkado stamp set for $5 using a 50% coupon that's Asian-inspired, so I can use that to make patterned paper! Yay!