Last Friday was my last official day of work as it was the day of the 8th grade graduation as well as the luncheon. Once the actual ceremony was over, I felt fine. I had to present the subject award for ELA as always, but I also had to do a few new things this year. I presented 2 other awards (one was just given to me to present, and the other required another prepared explanation), and then I also had to help give out the diplomas (I handed them to the principal). What got me through the day was that I knew I'd head on over to Staples afterwards to pick up my new toy!
I purchased the Bic Mark-It Permanent Markers in Fine and Ultra-Fine. As I said in the video, they were actually the full price of $19.99, but I asked someone for help and got someone to print out the online prices for me to price match. Yay! I got BOTH sets for the price of just ONE set!
The dinosaur freebie from
Dustin Pike
was the first thing I colored. I tried to blend, but I didn't really do it that well. However, I like that I tried! These were the two colors I used, Key Lime and For-Ever Green. I used scrap paper underneath to test out the colors. I also realized I needed it because when I first started coloring without it, it bled through with all the saturation and stained my computer table! Thank goodness I was able to take it off! Oh, you can also see that the scrap paper is the back of a paper that had a Christmas tree on it. I'm using the copies of the literacy projects I had made during the school year. These were the extras. Glad I lugged them home! I'll use 'em and THEN recycle them instead of recycling right away.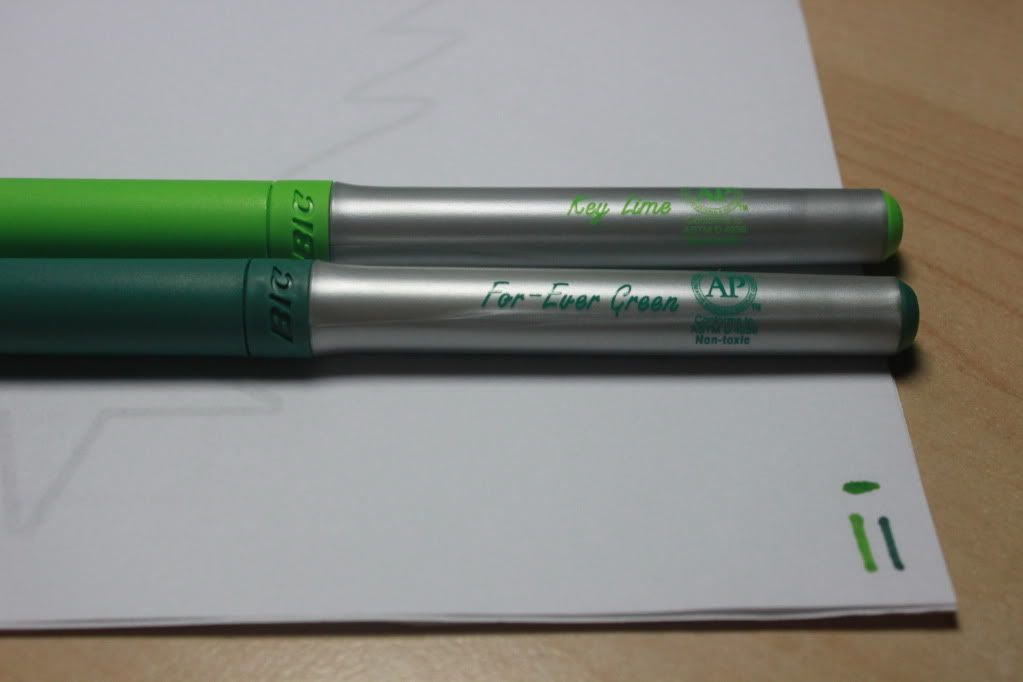 I colored the dinosaur and was doing fairly well and then BAM, I colored outside of the lines! Haha. I couldn't believe it was like, all the way at the end when I was almost done! Oh well. I still used it anyway! You can see it to the side of the dinosaur's mouth.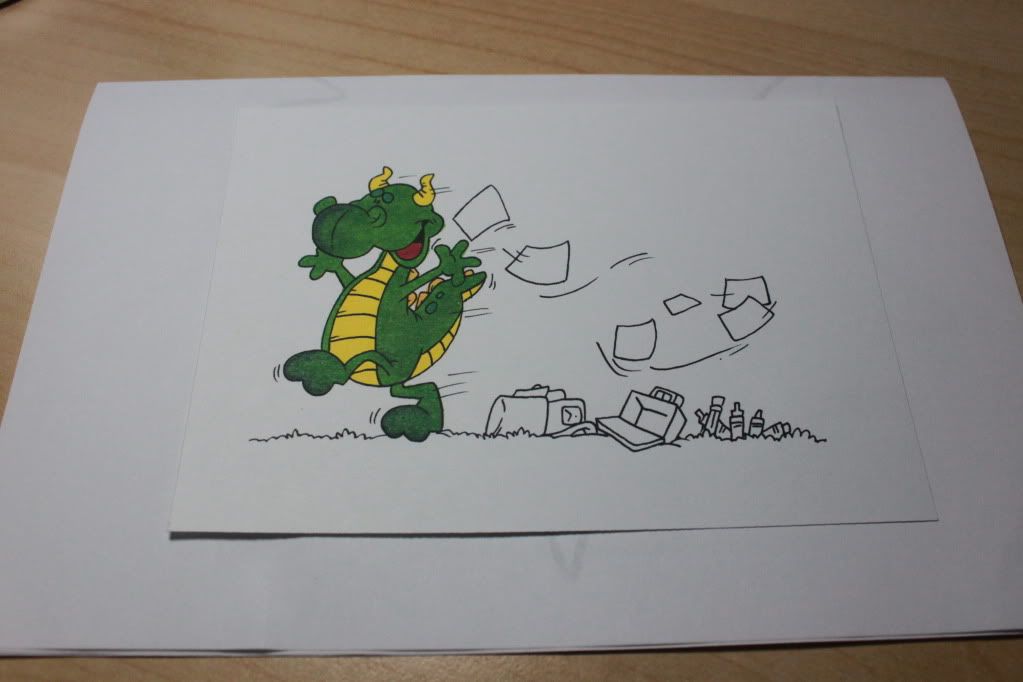 I didn't shade for the rest of the card because the things were too small, and I didn't want to ruin it even more. I love the options for colors though. Can you imagine how different this would have been had I only had my 8 Crayola markers? I wouldn't even had a different shade of green for the grass.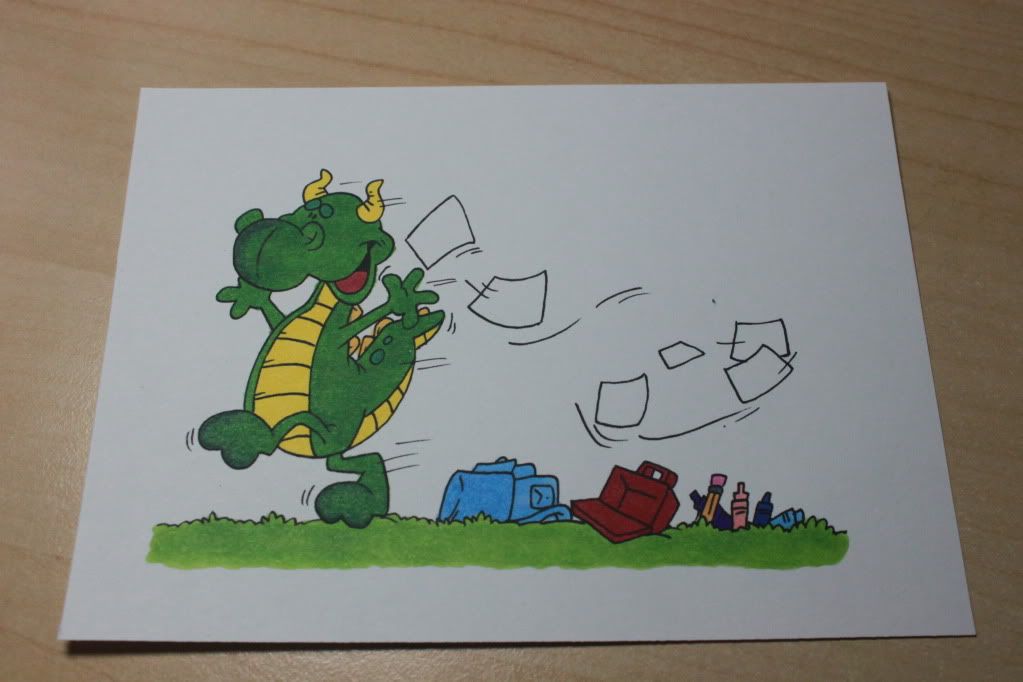 I was pretty happy with my first colored image! And of course, it's very appropriate now that school is finally over for the year! It went by pretty quickly, but it was probably one of the most frustrating years of teaching (other than my first, of course, but that's frustrating for ALL teachers). I took this pic just so you could see how saturated the cardstock was. I don't know why it won't rotate. It is rotated in Photobucket though. I hoping it'll be corrected.
Attaching it to cardstock and layering it really made it look even better. I chose the yellow cardstock to bring out the dinosaur's tummer (aka stomach). Plus, for such a happy image, I think it deserved cheerful cardstock! The sentiment is from Pink by Design's "Our Kids" set. It has a lot of encouragement stamps for kids in school, but they can be used for anything, which is why it's probably going to end up being one of my favorites.
I'll post a picture of the other card in the video as well as others I've made some other time. As promised in the video, here are pictures of the markers themselves. It's pretty cool that they decided to make the Fine markers with the fully colored cap and the Ultra-Fine with the silver cap. That way you don't have to look at it closely to see which one you need in case they get mixed up or in case you store markers by color or just in a big tub. I wouldn't have thought of that, but that simple design decision will definitely be useful!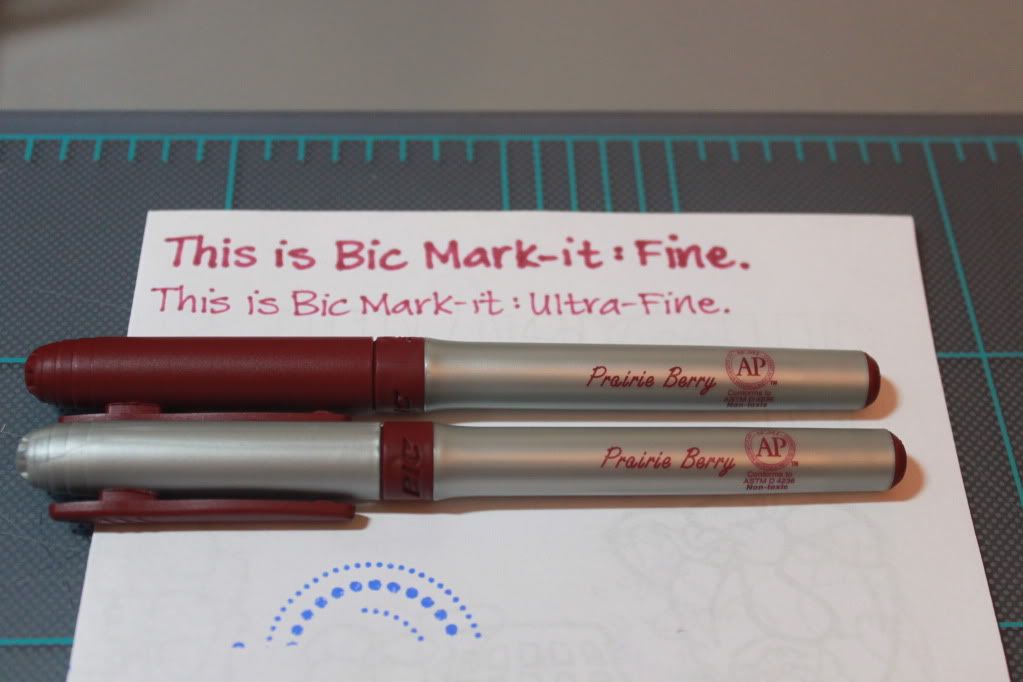 Lastly, this is the kind of pictures I was looking for when I was doing my research on these markers. I wanted to see the actual difference between the Fine and the Ultra-Fine. You can see that you could still write with the Fine, but for scrapbooking, the Ultra-Fine would be much easier. Plus, the latter would also be good for coloring in small, detailed parts.
I'll definitely be making more projects with my new toys! All 72 of them!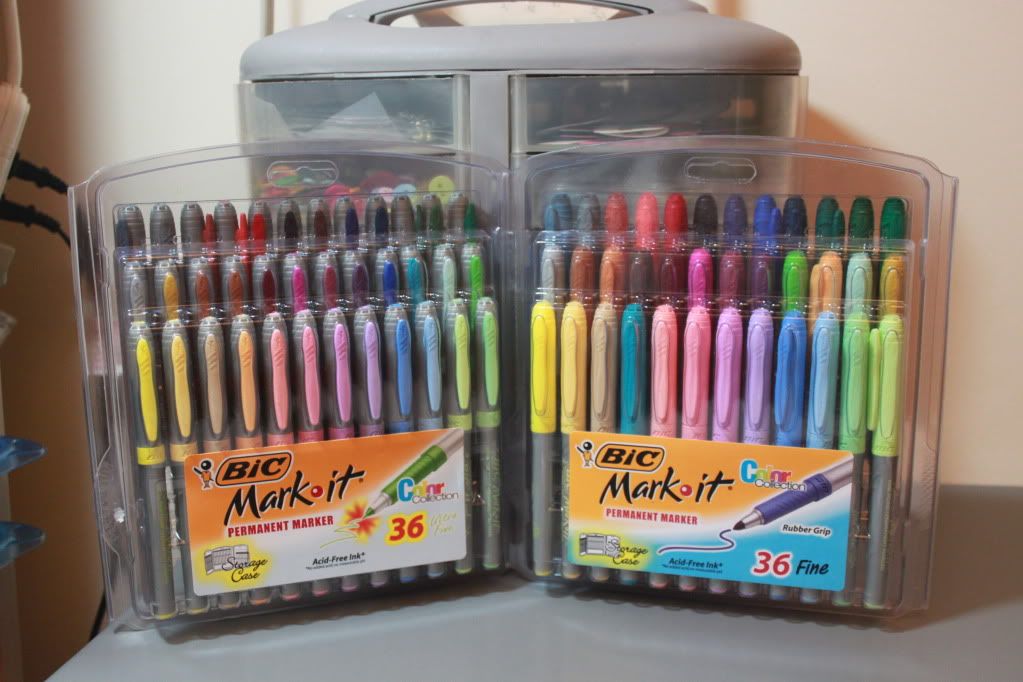 That's it for now! I made and submitted this card in a Pink by Design challenge to make a project without the Cricut or other die-cutter. You can find that thread on the message board here:
Cricut-less Challenge
. I'm happy that I can actually participate in challenges because of the SUMMER!