It was only a few days ago that I discovered the world of digital stamps. At first I was thinking, "Aren't they just pictures online that you can color? Why not get actual stamps?" However, my mindset has completely changed. It makes sense to have digital stamps! The few reasons that I came up with in terms of the advantages of digital stamps are as follows:
They're cheaper than individual wooden stamps.

At the craft stores, it's difficult to get very cute wooden stamps cheaply because it would require constant visits with those lovely 50% coupons (I don't bother using 40% coupons anymore since Michaels, AC Moore, and Joann all accept competitor coupons and there's usually one of them with a 50% for the week). As I went through my wooden stamps, I realized that the majority of them were from the $1 bin because I couldn't afford to buy all the expensive ones!

They require less storage space than actual stamps.

Of course, being that they're digital stamps, they just get stored on the computer. No need to make room for it in the craft room! Or for me, it'd be more like, my craft corner! As I begin accumulating more supplies, I realize why so many people have huge craft rooms (just search "craft room tour" on YouTube!). I'll never get to have THAT much because I don't see how it's possible to keep track of everything, but I am outgrowing the corner of my room.

They can be resized.

Obviously with traditional rubber or clear stamps, you can only use the image size of the actual stamp. With digi stamps, I can make it smaller or larger depending on the need. I didn't realize that that was a huge deal too until I was resizing some freebies depending on the card size I was using!
All in all, I have gotten to really enjoy digital stamps and already have a good collection of freebies. However, the amount of freebies out there is pretty limited, of course. Everyone is trying to make a buck whether it's it's just a career or it's a side hobby. Well, I admit, I'm also out here trying to make a buck as well! That's why I've decided to start selling my cards! I will eventually get into selling my cards made from the Cricut as well, but I'm hoping that Cricut Craft Room will be released first so it'll be easier to make my cuts by hiding certain contours and checking out sizes as well as welding letters together.
HERE'S THE DEAL
: You pay me for the price of the digital stamp you want used in your card. You can even tell me what colors you would like to be used in terms of the coloring. Most of the digi stamps are only $3. In return, you get a card for every dollar spent. So if you give me $3 for the digital stamp, you get 3 cards in return! The reason why this is deal for you is because you get a handmade card (again, with whatever colors and whatever sentiments you'd like) for only $1 whereas I get to increase my digi stamp collection!
Here are the digital stamp sites that have really cute images! Just click on the name to be taken to the site.
I already posted a picture of the first card I made using a digi stamp in the previous post about the Bic Mark-It markers. Here are a few more!
This is the Scaredy Monster digi stamp from Dustin Pike. It was a freebie that I saved as I went through his site. I love that the monster is the one under the bed!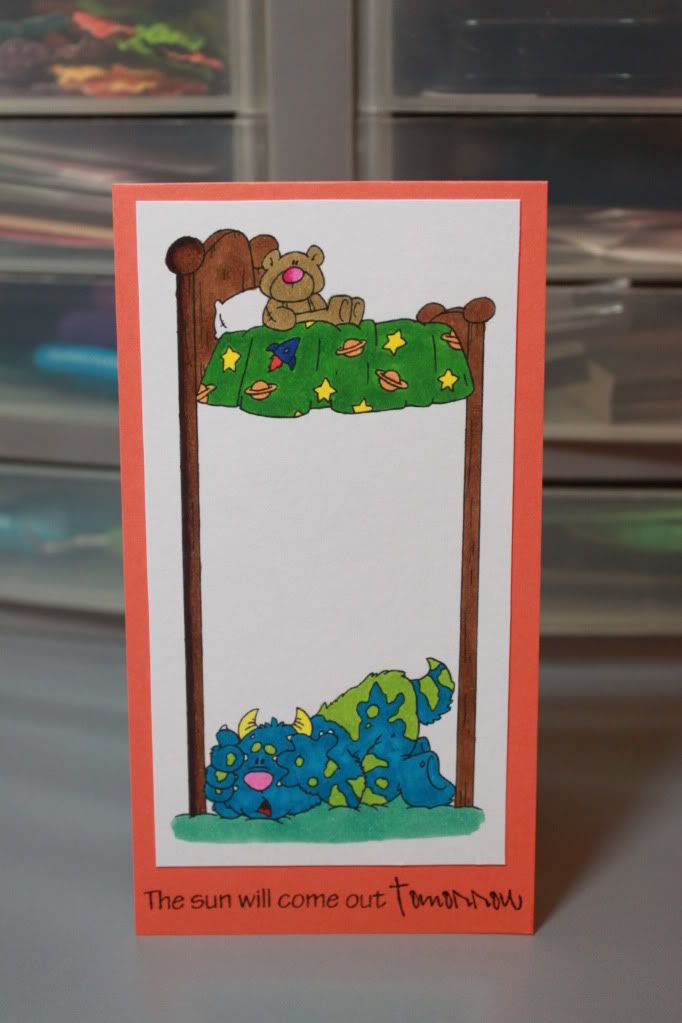 The sentiment is from Pink by Design. I was looking for something that would fit, and that sentiment was just perfect! Don't worry, little monster!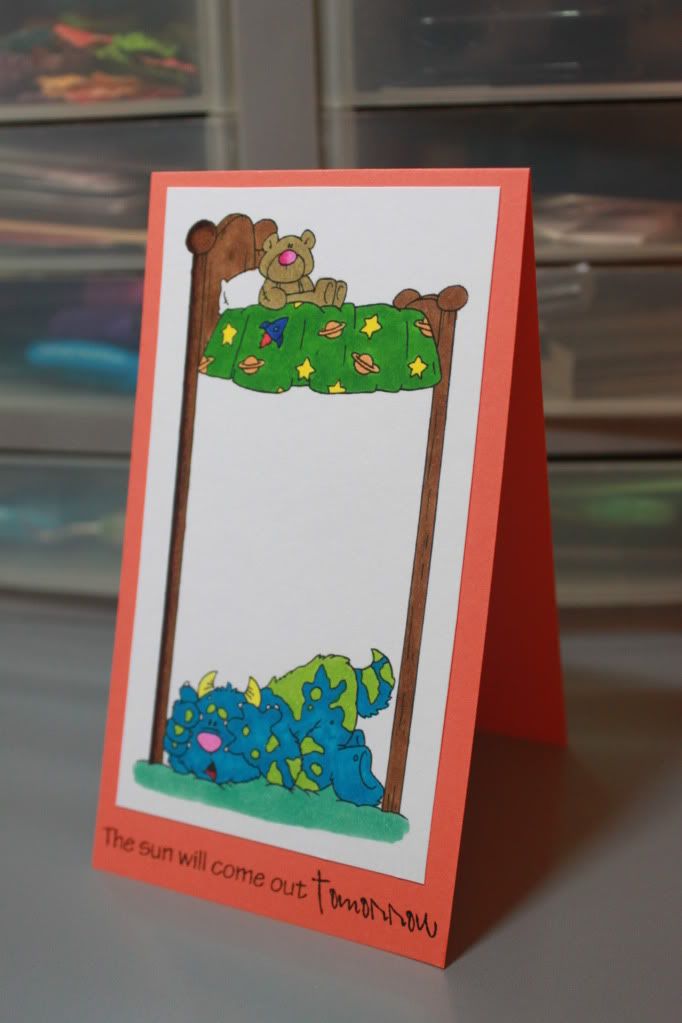 A random picture that I wanted to include was the back of the cardstock after I used my Bic Mark-It markers to color it! Look how saturated it gets! Love the color! For your cards, I'll be using either Bic Mark-Its or colored pencils. Colored pencils, you say? How good could that look? Oh, with a bit of baby oil and a blending stump? You'll see! That's the next process I'll be showing on my blog so stay tuned!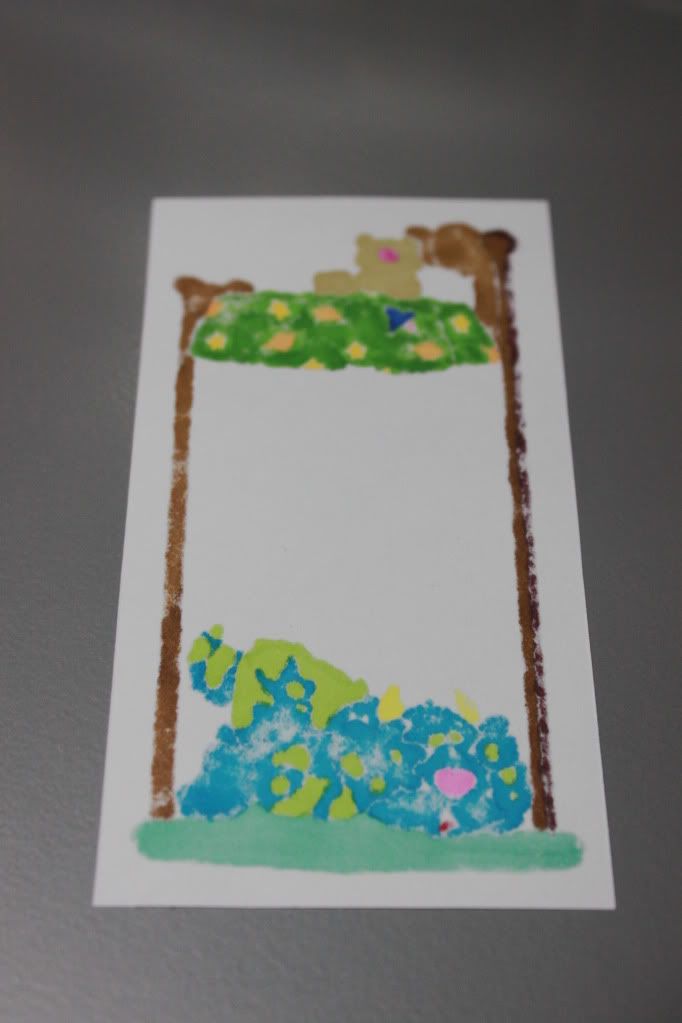 This next freebie was from Bodil's scrappeverden, which is actually a blog on blogspot that's in Norwegian! Oh Google translate, how I love you! You can also see that I made the background on the cardstock by just stamping on the regular white cardstock. I purposely have a few stamp sets that are patterns and decorative so I can make it a bit more interesting to look at!
The sentiment is from Pink by Design again. Most of my sentiments will be from those sets. Hmm, I should probably list the sets that I have if someone decides to take me up on this "digi stamp for a card" offer. Anyway, I focused in on the balloons so you could see how I'm getting a hand on this blending thing! Each balloon is colored with 2 different markers. When I showed this to Howard, he said that it was the best one in terms of technique! I love learning new things!
What do you think? Good deal? Well, if you do think this is a good deal, comment below (take a look at those sites and let me know if anything interests you, and I'll let you know if it's doable)! Right now this deal is going to be for those I know personally because it'll be easier to deal with the money and card exchange. I hope someone out there is interested!