Yup, still moving along with these challenges! The seventh challenge was to make anything with a tag. I decided to make a card with a little pocket on the front for a tag. So far I don't
think
I've used a stamp set twice, so I was looking through the collection I have to find one I hadn't used yet, so I chose my coffee sets that I won from
Tana
, a fellow PBD crafter! Although I myself don't drink coffee, pretty much EVERYONE in my life does, so I was ecstatic to get these sets. They're called "Perk Up" and "Make It a Venti."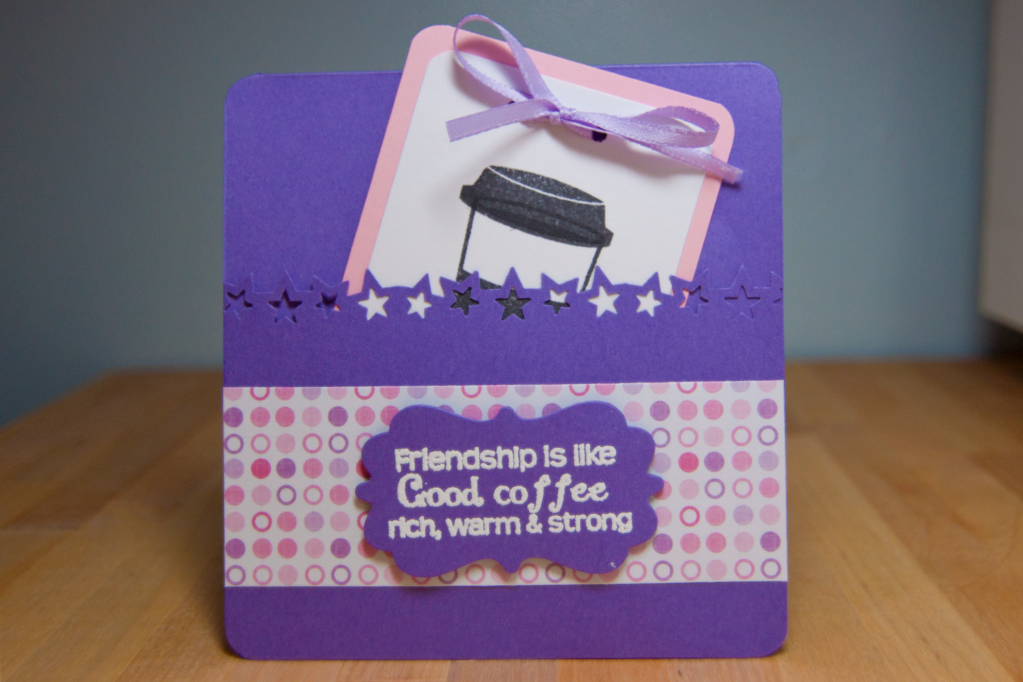 I used a Martha Stewart punch called "Stars" to give the pocket a little extra something. If you noticed, I used the same purple cardstock and same patterned paper as my last project because I had it out on my small portable table behind me. I am totally making a mess of the apartment! Thankfully, Howard has been nothing but supportive, even making breakfast and lunch for me!
You can also see that I'm getting pretty attached to embossing with white powder. I just think it looks great to put a sentiment on colored cardstock. These coffee stamps with the mugs and cups on it really are so much fun. I remember making a mini album type deal for my cousin when we thanked her for leading our church group in our annual coffeehouse. I can't wait to find more occasions for these 2 sets.