Challenge 10 was to make a project with an animal or animal print. The Recollections animal print paper pad was one that I didn't get at Michaels just because I'm not that big of a fan of animal print. I do have a bunch already in other variety pads, but I wasn't brave enough to work with them just yet! I kept it simple by sticking with the animals!
This card reminds me of the kid my mom paras. He is a HUGE fan of horses, so ever since the last school year, we kind of look at everything horse and think about him! It's also funny that Howard is also a fan of horses, haha. He used to watch this show as a kid called Luno. He still sometimes refers to it, and just now as I asked him what the name of the show was, he had to sing part of it. Silly.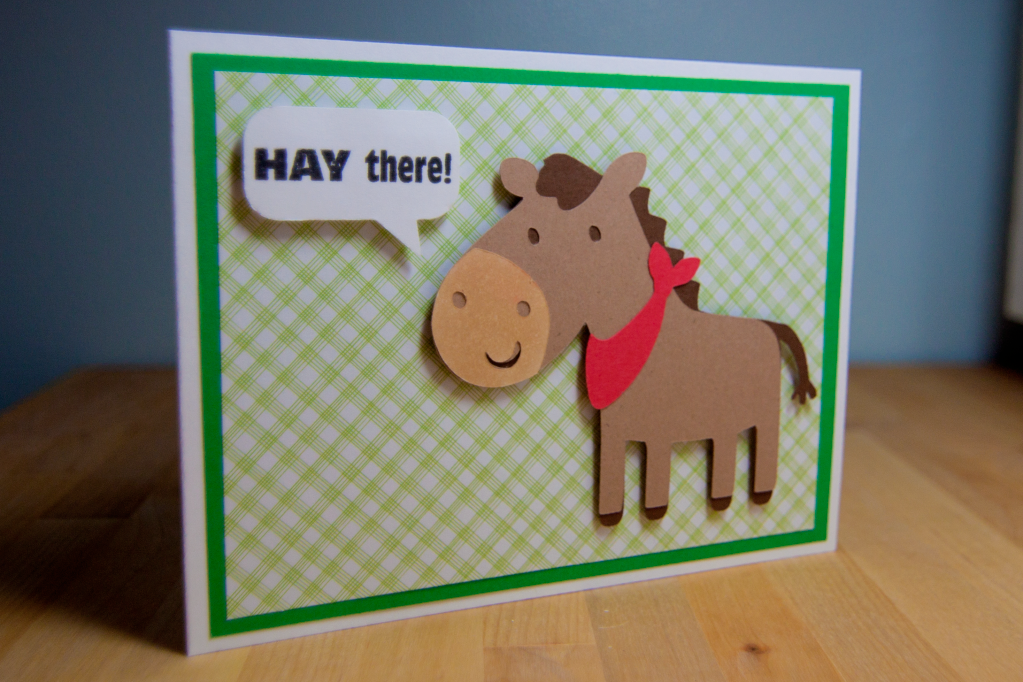 The horse is cut from Create a Critter. I didn't have the right color for its ... snout (um, is that what it's called?) so I just cut it out in white and used Copics to find the right shade. I thought it'd be funny to have the horse say "Hay there," which is a sentiment from Pink by Design's "Country Living." I used an EK Success punch to get the speech bubble. Silly me had to ask Howard, "Just checking; horses eat hay, right?" Haha, I just got thrown off for a second because of an episode of Gilmore Girls with Kirk's skincare line called "Hay There."