We continued on our tour of Kitchen Kettle Village with a stop at
Yummie's Toy Box
. I remembered this store from our family trips. I specifically remembered the moving or talking cow in the corner as well as the creepy doll on a shelf.
You'd think toy stores are the least threatening places, but for me, I say that some of them can be rather intimidating! I cautiously stepped through the door and carefully turned my head to the left to check for the cow, but it was no longer there. Phew! But when I looked to my right, there were a TON of dolls! Haha, that was rather scary. I did, however, share the love by taking this picture and posting it on Instagram/Facebook and tagging my cousin because we had initially joked about the original lone baby on the shelf.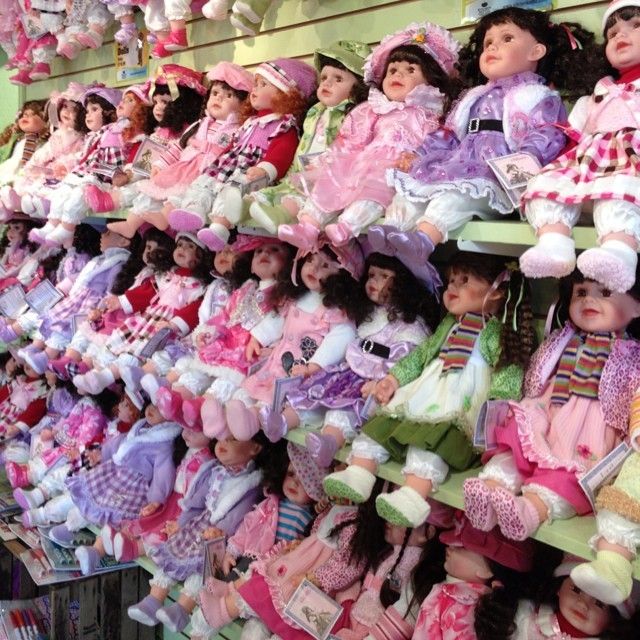 Other than the dolls, there were definitely other cuter toys in the store. Of course, once we saw the horse and elephant, we all thought the same thing. My mom was a para for 3 years for a little boy who just adored horses, and his brother loved elephants! Once we all knew about the horse thing, we would always say, "D. would love this." Even my dad would say stuff like that too!
Being a girl, I drawn to these cupcakes. I didn't even know what they were when I first saw them, but they reminded me of the little cupcakes that you'd play with if you had a dessert food set or something.
Howard took a much better picture of it. The colors are so pretty! In reality, I'm not that big of a fan of cupcakes with colored frosting. I think that frosting should be brown. Just plain ol' chocolate will do!
These cupcakes had little necklaces in them. They were actually rather cute! I did very much like the case though, and both Howard and I immediately thought of
Emma at A Pinch of Pixie Dust
because almost every single cupcake item reminds us of her! It happened again a bit later while we were still at Kitchen Kettle. I think cute containers like this would be super cute for a proposal because it looks like they would just hold play jewelry only.
This was the kind of store that had a ton of personalized items. Even though I don't think I actually own anything that's personalized anymore, I still have a tendency to look for my name. My mom found this and pointed it out to me. Despite always searching for it, I usually don't like my name, haha. I used to say that it reminded me of a larger person the same way the name "Bertha" does. I know it seems silly, but I got so accustomed to growing up being called "Rae" and not "Rachel." There are a few people at work who call me "Rae" and "Rach," which I like. Of course, I love the name itself and what it means, which is little lamb! Plus, I really like the idea that in the Bible, she was so loved that Jacob was willing to work years and years for her.
Though this sign also says my name, it doesn't necessarily make me think of the Bible, haha. I used to have a sign on my door at home for "Rachel Rd." It was an odd feeling when I finally took it down when I moved from the smaller bedroom to the larger one after my older brother moved out.
Like most toy stores and shops, there were a good amount of plushies to purchase. Surprisingly, they weren't that expensive, and I did like the selection of animals that they had. I don't really want to ever buy plushies for our kids or for other people's kids unless the kid was with us at the moment and chose it. Despite the fact that I'm almost 30, I still enjoy the fact that I have stuffed penguin and a teddy bear from Howard, but I technically chose each one!
The store also had an assortment of those old-fashioned prank toys. Howard got a kick out of this one. It's so silly! Haha, I guess it's just a little hand that you put on your finger to make it seem as if your hand shrunk.
The final toy that caught my eye was this one! I just had to take a video of it in action. I imagine it'd be cool to have that because I'd be sending cars down those ramps one after another. Of course, as a mom, I'd probably be annoyed by the constant sound all day long, haha.
Still so many more stores to explore!