Before I get into the assortment of pictures I took today, I just have to give a big congratulations to my sister-in-law and her husband! Sharon and Keith had their baby today. Welcome to the world, baby Tobias! I'm so excited to finally meet this 3rd member of their family. We'll hopefully get to see Toby this Saturday.
Okay, so I decided that I'd snap some random photos from my day because I realized I actually stopped taking and posting pictures on Instagram. Clearly, there is no "need" for social media, but it was a way for me to keep track of the seemingly mundane things of my life. I like going back to the photos I took when I first got my iPhone because it documented a ton of what Howard and I did during our first year of marriage. So even though the following pictures might seem pointless to a reader, it's something I wanted to do for myself!
I had a simple breakfast of plain toasted cinnamon bread. These were on sale for buy one get one free at Stop & Shop as you can see by the sticker. Plus, there was a $1 coupon on two. It's a quick morning bite for both of us. The raisin cinnamon one is for Howard. A lot of the times, I'm not in a mood for raisins, so I got both varieties. These swirl breads remind me of my mom though because it was on the rare occasion that we'd have these because they're, of course, more expensive than regular toasted bread with some peanut butter on it!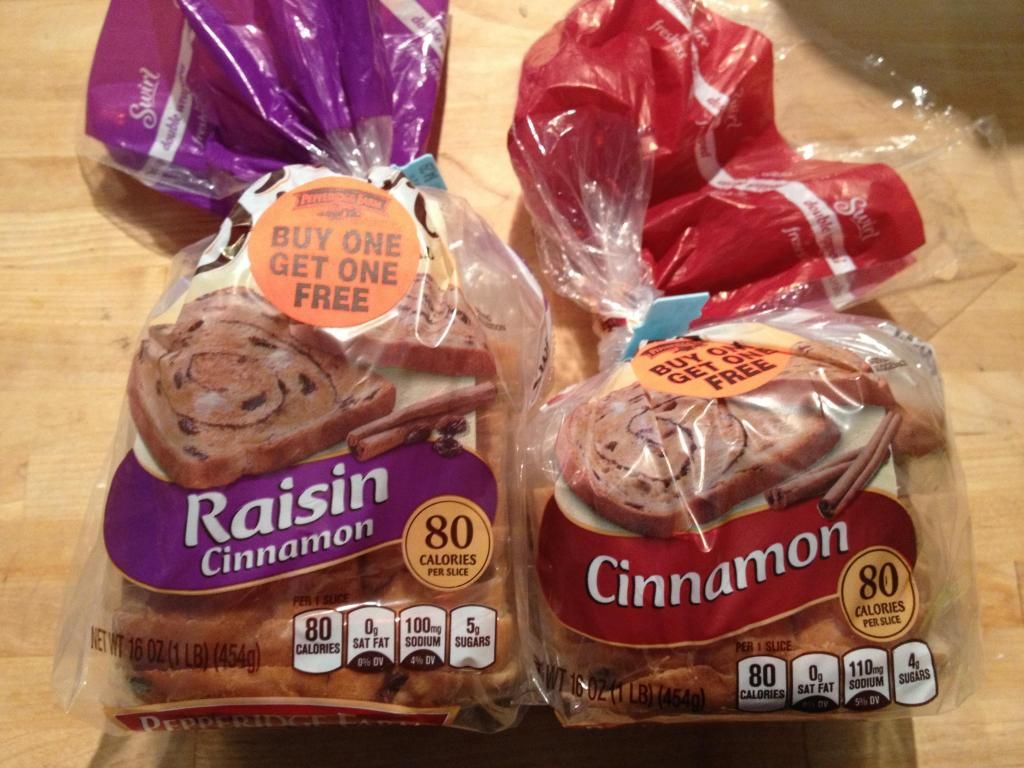 Since we don't have a dishwasher (haha, when I'm at my parents' house where they have a dishwasher, I always have to be all Upton Sinclair-ish and state, "Oh, how the other half lives~"), we have to air dry our dishes. Yes, we could just use a towel, but we'd still need a place to put them all once they're washed. Before we got married, I imagined that one of us would wash dishes and hand it off to the other who would dry them. Um, yeah. I didn't realize just how unrealistic that picture in my head was. Haha, to think that we'd just purposely carve time out of whatever we're doing so that we're both free to do the dishes is kind of entertaining to me right now. Why take the time to do that when the air can do it for us? The dish drying rack is from IKEA. It's expandable, so it can be made smaller or larger based on the size of your dishes. It was probably one of the best purchases we made as simple as it is! We didn't need an entire drying rack that people have that drains next to the sink; we just needed one for plates and bowls. Anyway, I also have a need to line up all the things by size order, which means if we have bowls, they're always in the front. This picture also makes me happy because I remember how Howard and I initially were going to buy patterned Corelle dishes but then switched to plain white because the Amateur Gourmet said it makes food pictures look better, haha!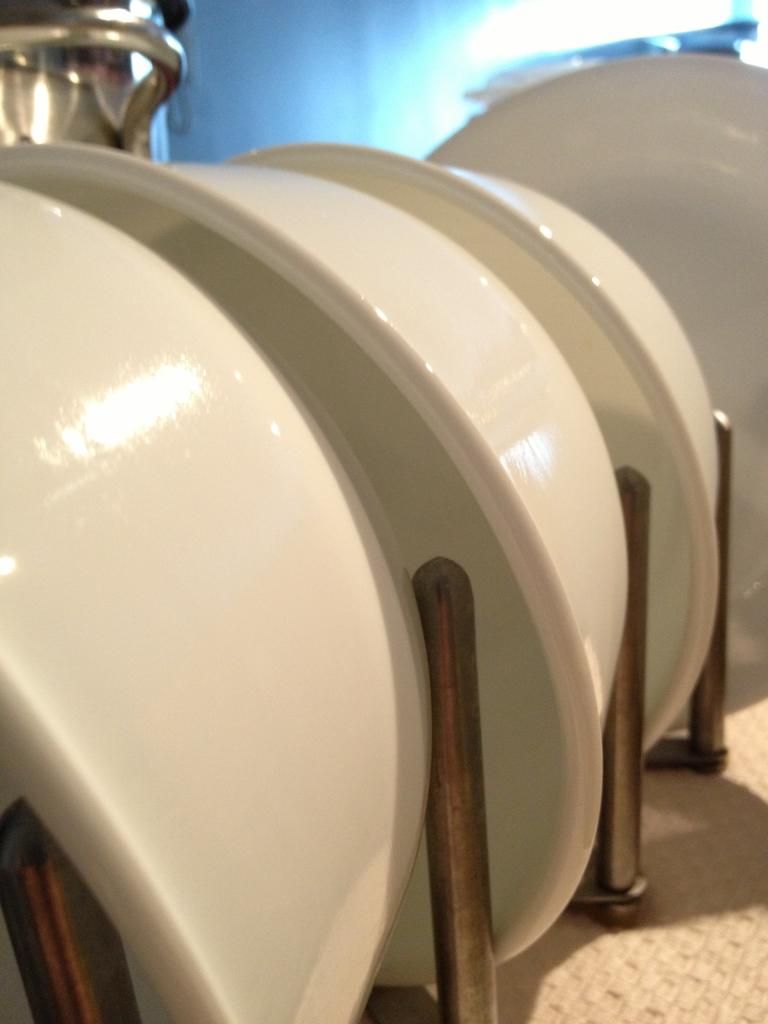 Instead of having my usual cup of tea this morning, I had a Nescafe Memento in Caramel Latte. I first tried Memento via free samples. They hooked me into loving this stuff as an occasional treat! That's why I think it's awesome how companies are so willing to give free samples and there are so many free sample sites and programs. This definitely worked on me because otherwise I never would have tried it. I like it because it gives me something different to enjoy. Thankfully, I'm not affected by any potential caffeine in here. When I have regular Tetley tea, I want to jump out of my skin. Even so, I have it in the morning just in case. I just bought two new boxes from Christmas Tree Shop because they were 2 for $3. I remember when I bought a bunch of boxes at CVS when I did all my couponing hauls there. Haha, that picture is on Instagram from a LONG time ago! The other thing I like about this picture is that it showcases my large Pooh cup! I bought this one for myself and the Eeyore one for my mom when I was still living at home. My mom never drinks that much at once though, so I think my dad actually took over "ownership" of the cup!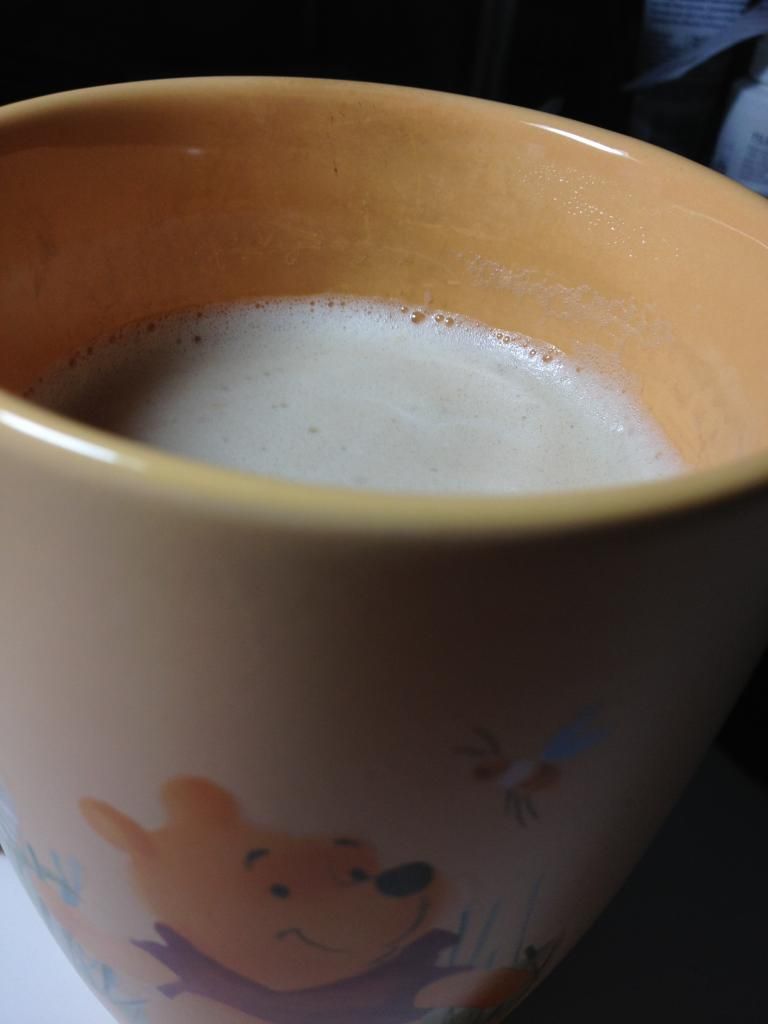 I wasn't as productive with getting things cleaned and organized in the apartment today as I was yesterday. Instead, I was wanting to craft because my stomach was a little off, and I didn't want to move around too much. My Cricut mats weren't as sticky anymore though, so I opened my new tub of baby wipes from Rite Aid. I bought two of them maybe two years or so, and the first box already dried up. Haha, guess people don't buy wipes that far in advance or leave them open for that long! I still use them, but I wet them a bit. I couldn't find the open box today (it's totally under the paper I have stacked on the couch or something), so I opened the new one, which was scented. It made my hands and my mat have that baby powder scent. I was wondering if it would make the cuts smell like it too, haha. With some quick yet vigorous scrubbing, my two mats were sticky once again.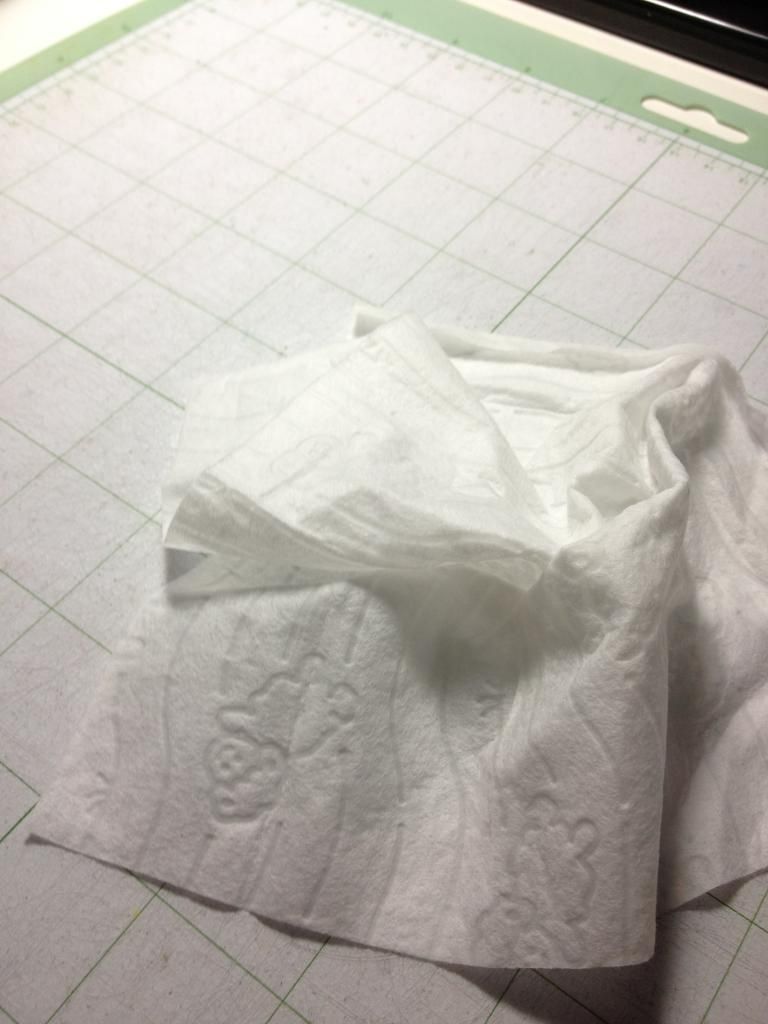 I'm back to using my candles! I stopped for a while because the weather wasn't really the right fit in my mind. But candles really made the apartment seem more inviting even when there aren't any strange odors coming in from the hallway outside. I am so glad I am well stocked on candle scents that are appropriate throughout the year because I have read some more rumors that Bath & Body Works might try raising the sale price to 2 for $25 once again. Today I enjoyed the Mahalo Maui candle, which is light and a tiny bit citrus-y without being too sharp. The throw isn't that strong compared to other candles, but since I usually have it lit right next to me, I enjoy the scent a lot.
For the most part, I've never had problems with the wicks as long as I'm good about trimming the mushrooms before I use it again the next time. I took a few pictures of the wicks, and this was the best one to show what is meant by "mushrooms." You can see it fairly clearly in the wick on the right.
Howard went to the hospital after work to visit his sister and see if he could visit baby Toby and take some family pictures for them. When he got back, I was really hungry because I'm so used to eating early. I had gotten the broccoli ready to roast, and then I started the Bubba burgers on the stove. These things are so yummy! We've had the store brand patties before that clearly had cartilage in them. These don't have that, and they taste good too! I like the sweet onion one. Anyway, my in-laws gave us some tomatoes from their garden this past Sunday, and I sliced one up into thick pieces. I love how the tomato is not that much smaller than the burger patty itself!
Those are all the pictures for today. Hope everyone had a pleasant Tuesday!