I think every time I write a post about the Silhouette, I will feel as if I need to compare it to the Cricut! I think they're in two different classes, but in terms of which machine has more capabilities, that is definitely the Silhouette. One of the most amazing things that it can do is the Print and Cut feature. Basically, you can just print whatever you want from your printer, and then feed it into the Silhouette machine to cut for you! That means there's no more need for fussy cutting digital stamps!!! It would open up even more options if I had a color printer, but this is still enough to wow me!
I watched a random video on YouTube and followed the directions and paused it so I could do each step as well because I had read that some people avoided it because it was difficult. It really wasn't, but I did have to figure some things out for myself. In short, the image is printed out on the paper with registration marks. Then when it is fed into the machine on the mat, it detects the registration marks to know where to cut. CRAZY! There's also the option of having it cut on the outer edge of the image or with an offset, which is what I did.
I chose a Pink Cat Studios gnome digital stamp, but this is what happened on my first attempt.
Whoops! I forgot to change the paper size to 8.5x11, so all the registration marks were missing. I had to click around to figure out what I did wrong. Once I adjusted it, I tried it again but forgot to put in cardstock so it cut out on copy paper. Despite that, it was fine because I just changed the blade settings. It cut so perfectly! I went through a digital stamps phase, but then I stopped using them because I got a little annoyed at having to do all the fussy cutting, which is basically taking the time to cut all the small details by hand.
I decided to try it one more time to make sure I really did get it down and remember all the steps, so I used a different Pink Cat Studio digital stamp. I love this birthday dinosaur, but it's time-consuming having to cut around the candle and the spikes. Now I don't have to! I made this offset a little smaller, so it's closer to the black line, but next time, I think I want to see what happens when I decrease it even more! I think it can cut directly on the line, but I actually prefer the white outline.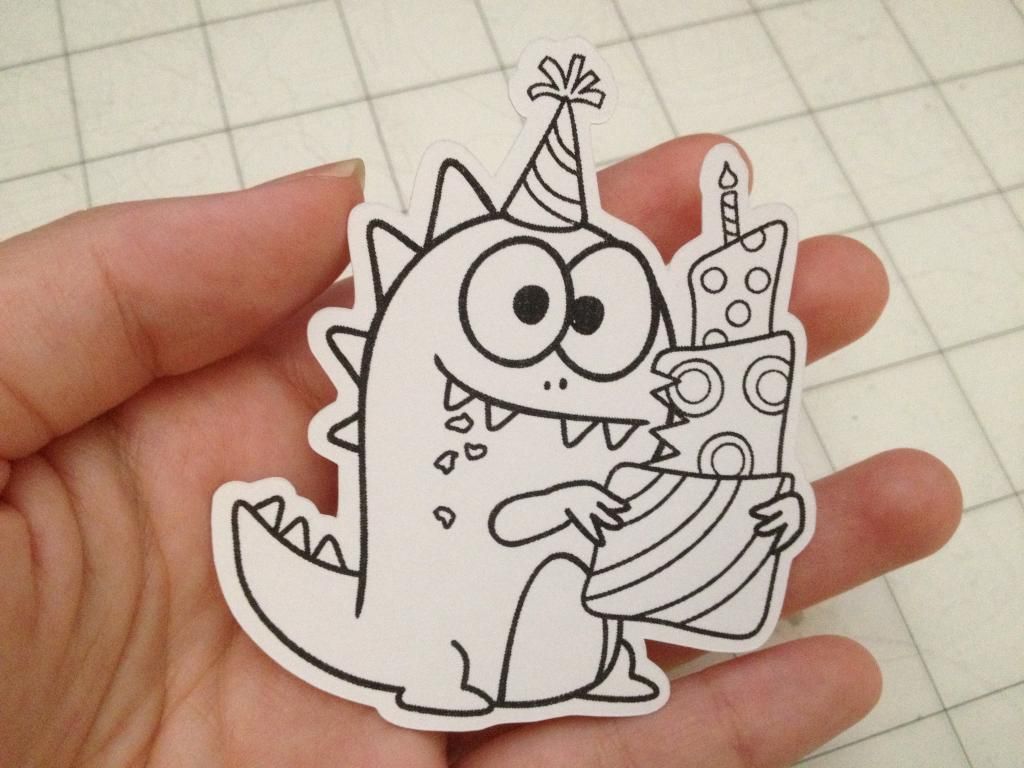 I'm just going to continue to be amazed at all the things this machine can do!