As the end of the summer approaches, the ability to fill custom orders is also coming to a close. It just takes up too much of my time to make cards with specific needs when I just want to craft for fun in my free time instead. In most cases, I actually really like the cards that are made for individuals because they're usually more complex than mass produced cards. This is definitely one of those cards.
The customer mentioned that the recipient of this birthday card really enjoyed photography, so I decided to make a shape card using the camera image from "Create a Critter." I cut it at 4 in so that it would fit inside a standard A2 envelope. I also cut out the white shadow layer twice to use for the actual card base. As always, I scored the back piece of the card and adhered it there as opposed to welding the pieces together before cutting it out on my Cricut. I much prefer doing it this way so that it doesn't mess with the original image being used.
To make it birthday specific, I cut out the cupcake from the "Doodlecharms" cartridge at 1.5 inches as if a cupcake were being photographed. Of course, I might have done that incorrectly in that it should have been glued upside down? Is that how it works with the mirror? Or maybe it's just a mirrorless camera. Haha, I'm sure it's okay upright.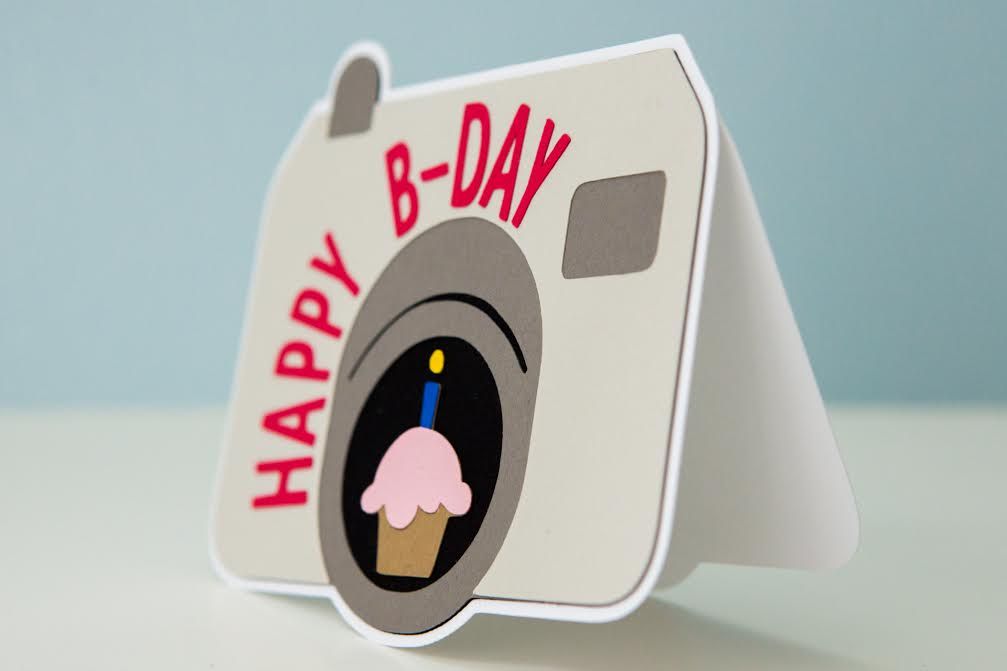 Lastly, I cut out the letters using the font from "Boys Will be Boys." I discovered that font recently since I kind of forget that some image cartridges have fonts as well. I like that it's narrow and basic without the loops and curves that I like for more feminine cards.
Every time I make a shape card, I ask myself why I'm not making more of them considering they're a bit more unique than what can be found in the stores!