As a personal "rule," I don't usually like posting couponing updates in a row on my blog, but considering the deals were from this past week, I figured I'd do it now just in case any readers want to run to CVS or Target tomorrow. So yes, that means this will be on my blog once I'm done writing it AND I will write and schedule the post of my more recent Target haul tomorrow the moment it becomes Saturday!
I headed back to CVS after not going to the stores for so long, but they drew me in because they emailed a survey to me that gave me $5 ExtraBucks. My initial thought was I'd go use it to pay for the majority of another bottle of Tums Ultra Strength 1000 in Peppermint because those things are quite amazing for my reflux. I take it after having something like tomato sauce so that I can prevent feeling sick afterwards. Plus, who wouldn't want some more calcium?
Well, that week I was going to use it, I started seeing this preview deal for Culturelle. This 30-ct box of probiotics is normally $23.99, but it was on sale for $10 with $10 ECB. With a $3 manufacturer's coupon I printed online with the $5 ECB from the survey, I only paid $2 out of pocket to get $10 ECB back! That's a pretty great deal because I knew I'd be able to use the ExtraBucks on things I needed and only have to pay a minimal amount out of pocket. I've been told to take probiotics or eat more yogurt after being sick, so now I have them for those moments.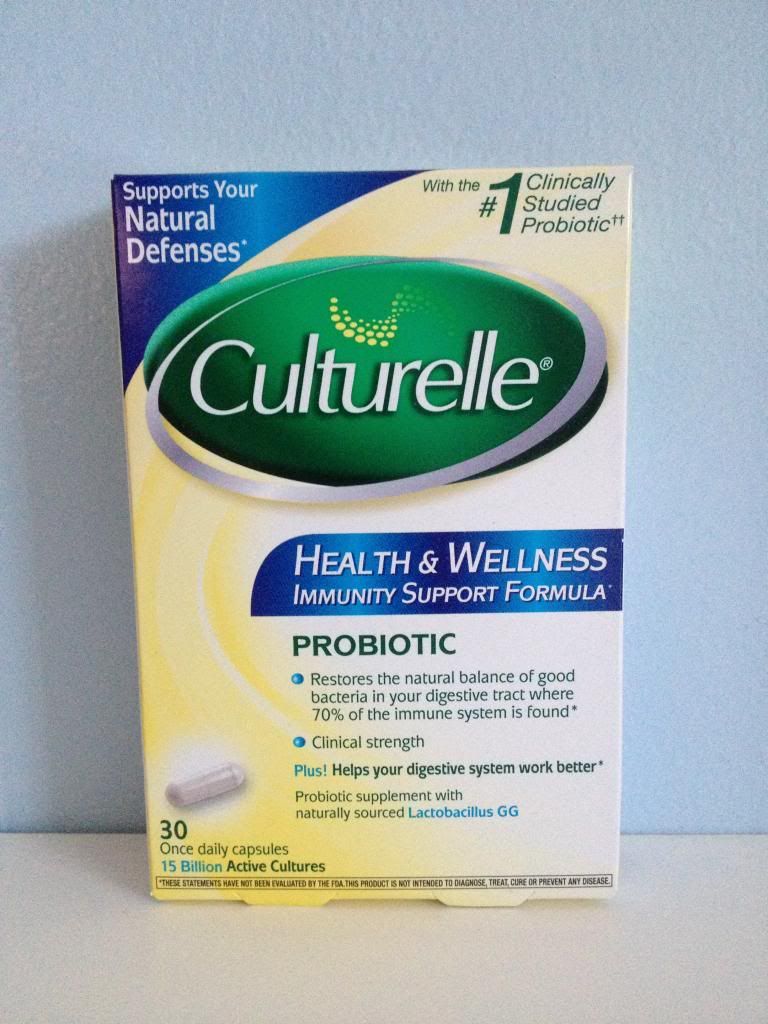 The perfect opportunity to roll those $10 ECB came this week! Even though I said I wouldn't take the time to deal with CVS like I used to, I couldn't just spend it knowing there was a way to get items for free and still have the money to spend on Tums afterwards.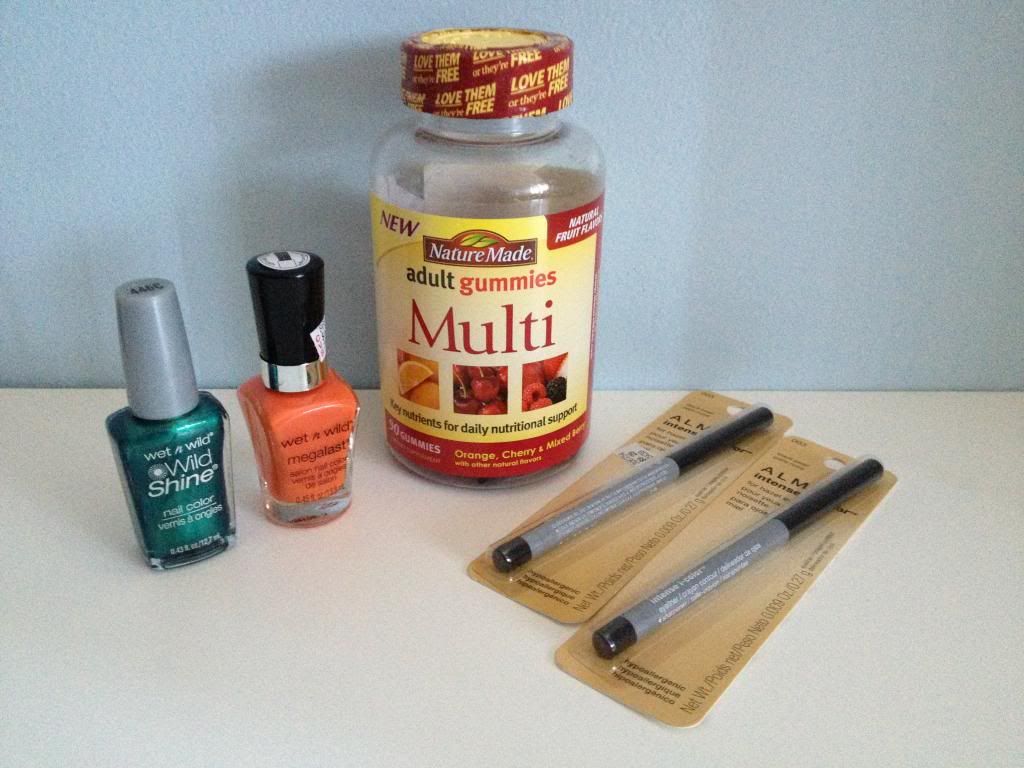 The Nature Made gummies vitamins are originally $15.79 but were on sale for $5.99 with $4 ECB. I had a $2 CVS redbox coupon for vitamins and was able to print a $1 Nature Made manufacturer's coupon from the website. That made it a $1 moneymaker.
The Almay Intense I-Color eyeliner was also a great way to roll ECBs. I can't stand the thought of having to buy eyeliner anywhere near full price, so when I can snag them like this, I don't pass at the chance. The original price of just one is $9.29, which is ridiculous when in reality, women don't NEED to wear makeup at all! The deal was that they were on sale for $5.99 with $6 ECB back when you buy 2. There was a $5 off 2 Almay product coupon on coupons.com that I was able to print out when it was reset because I missed it the first time not thinking I'd need it for anything. That means that it would be paying $6.98 out of pocket to get $6 back making each eyeliner only $0.49! Score!
Since I had the $10 ECB, I needed to spend all of it at once or it'd beep, so I added on two new nail polishes even though I clearly do not need them. The Wet n Wild brand was on sale buy 1 get 1 for 50%, and I had $1 manufacturer coupons. I got the Megalast in Club Havana for $1.99 and the Wild Shine in Caribbean Frost for half off at $0.50, so both polishes only cost $0.50 after the coupons, which is exactly what I needed to use my ECB.
In short, I used my $10 ECB to pay for my haul after coupons and only had to pay $0.52 out of pocket to get another $10 ECB back. The one thing I wanted to get was the vitamins, so I see it as paying $2.52 out of pocket for it if I include the cost of the Culturelle. Definitely worth it for us.
I ended up stopping by the CVS near my mom's house too to check for clearance. The items at my store weren't marked down enough. The redbox was also out of order, so I couldn't scan to check the prices! I had to ask an employee if I could scan at self-checkout to check and then she had to void the order. I was most interested in the cereal because Howard and I go through phases where we eat a lot of cereal. I guess that's what happens when you have a small fridge/freezer and can't stock up on other breakfast items. Cereal will keep for quite some time! Plus, it's cheaper to be paying less than $2 for a box of cereal that will be many meals or snacks for the two of us. But alas, my CVS was still only 50% off. Can you believe that in NY, the cereal at CVS is close to $6 a box?! WHO WOULD BUY THAT?!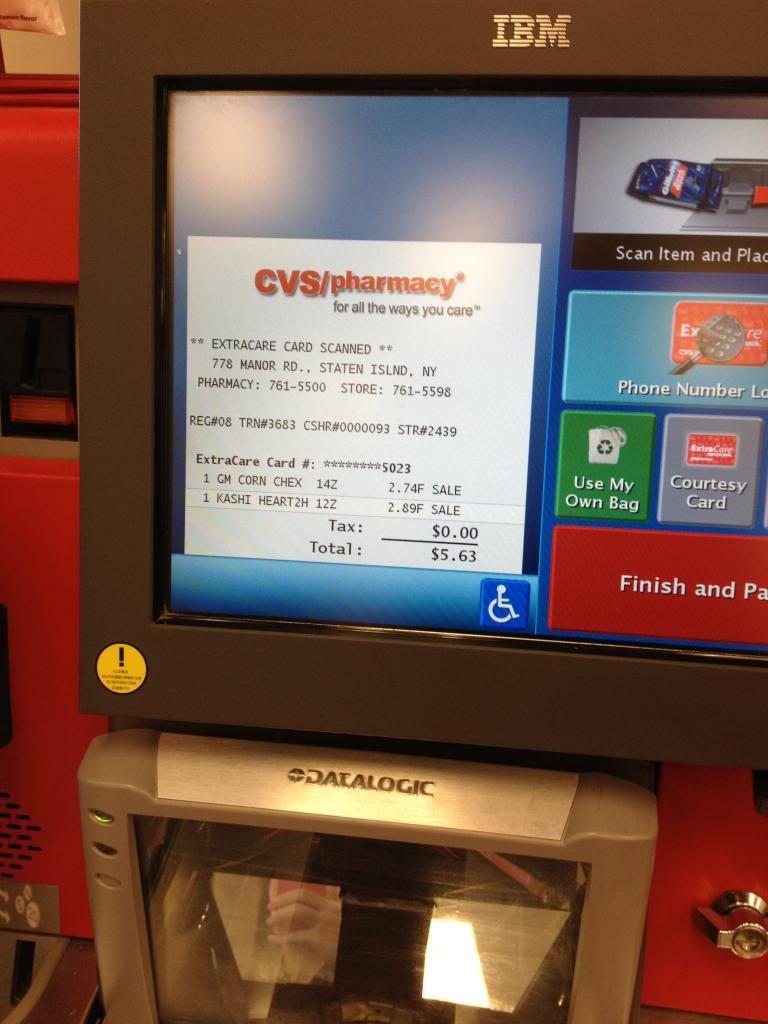 At my mom's CVS, I was successful in finding two boxes of Kashi Heart to Heart cereal for just $1.37. The Corn Chex was $2.64, so I wasn't going to get that. But then I thought about it. If I bought just the Kashi, I'd be paying $2.74 out of pocket. There was definitely a better way to do this especially since I also had the vitamins coupons to use on Howard's card.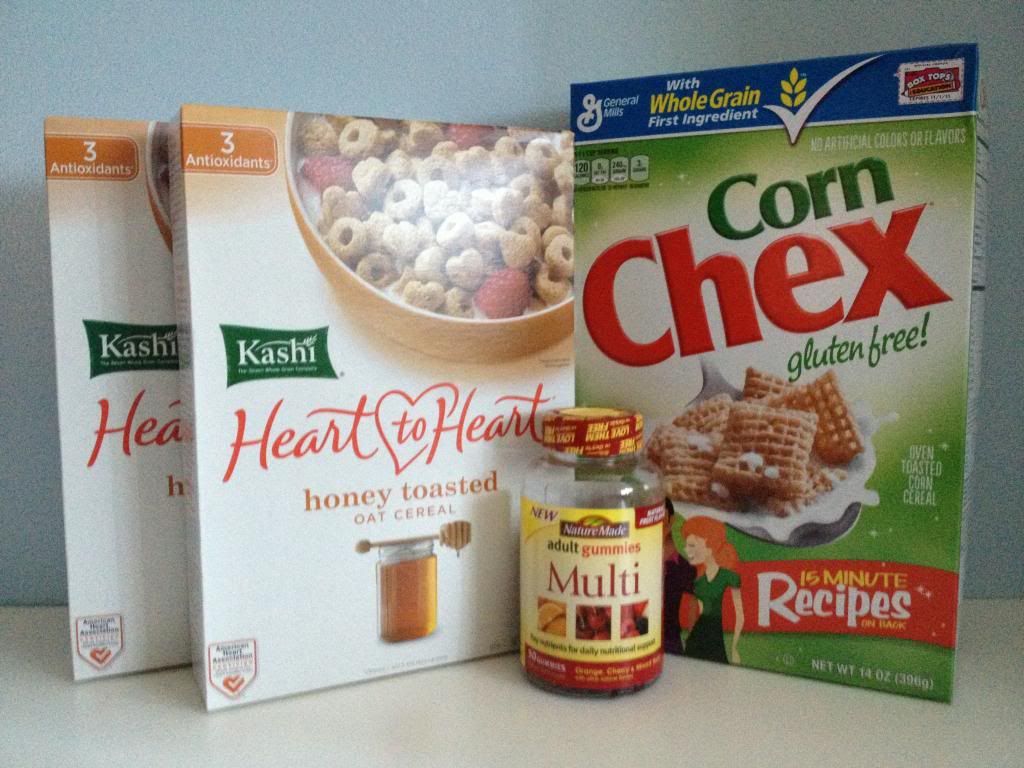 I basically did the same vitamins deal as I did above, paying $2.99 out of pocket. Then I just ripped the $4 ECB from my receipt to use on cereal. I needed to use it all at once, so I did pick up the last box of Chex and a $0.60 manufacturer's coupon. That meant I only had to pay $0.78 for the second transaction. A total of $3.77 for a bottle of vitamins AND 3 boxes of cereal? Um, yes! That's just $1.03 more for the vitamins and Chex compared to just buying the Kashi out of pocket.
And yes, as always, I paid for ALL three transactions with change. I know it's kind of ridiculous standing there feeding tons of pennies into the self-checkout machine, but I'm STILL using the change I had saved from years of years of tossing spare coins in my Keroppi bank and my Pochacco bank. It makes it feel as if I'm not really spending money at all because that money has been sitting in those banks for so long. If there's no one waiting on line for me to finish paying, I don't worry much even though I know the employees watch me, haha.
I'm doing a pretty decent job with my more "casual" couponing for food and necessities these days, don't you think?