There's no way I'll be able to write a full blog post today after having subbed in a lower elementary school class today. Nothing went horribly wrong, but I'm just so out of my element because I feel as if God made me to be a teacher of middle school kids and not little ones! It took a lot out of me physically and mentally, and I have a pretty bad headache. It's the kind of headache that makes my head feel hot even to the hubs, so it's definitely cause for an early night.
There were definitely some highlights of the day though!
(1) I got to see my mom and go to work with her. We definitely got used to seeing each other 5 days a week (not including church) even after I got married because I'd drive to my parents' house and then we'd carpool to school. It didn't make sense for us to have 2 cars there when it's kind of in the middle of nowhere.
(2) I got to see my former colleagues! I really miss them, and I appreciate just how welcoming they are when I return to sub. There's a reason why it was so important for me to have a table of my closest colleagues at our wedding reception!
(3) I enter a bunch of contests each day as I have the links bookmarked and saved in a folder. You know how I feel about free things! Well, I finally won a sponge from The Libman Company! It probably sounds silly that I can get so excited about that considering I also enter the contests like the Bed Bath & Beyond/Yankee Candle island vacation, but I'm a housewife now and like useful free items.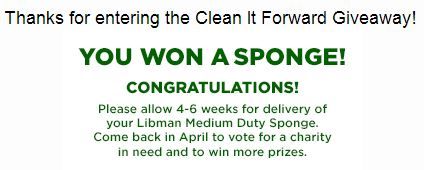 (4) Mom and I stopped by Target really quickly just so I could check for a few clearance items. Neither of us really had the patience or energy to look after an exhausting day, so I just browsed super quickly in the kitchen appliance area. There was nothing there, but I did check my phone to see if I saved any of the recent Target deals because I usually screenshot anything on Instagram that interests me. I checked for the Special K Moments and bought two boxes using the 50% Cartwheel (can only be used on 2) and the $0.75 off 2 peelie that's on the box. I chose the caramel pretzel ones because I'm not a fan of coconut and ate one in the car on the way home since I was low on energy. Pretty gosh darn tasty! Definitely a fan and would highly recommend it considering two boxes end up being $1.75. It's the perfect thing to just keep in your bag for those hunger pangs.
Oh, let's not forget that despite the long day, I will get paid for it, haha. That's always a plus. And that is all because it's 9:30pm and it's definitely time for bed. Good night all!