Back in January, I
posted
about getting Kraft Recipe Makers for free because there was a $1 coupon and the product was available at the Dollar Tree. I tried the Asian Fish Tacos today since I finally had the corn tortillas (we always have flour tortillas in the freezer, but I had to specifically go buy corn) and coleslaw. Howard and I also bought tilapia from Target recently too. I was happy to see that they had frozen fish individually sealed because it works well when there's only two of us. All we have to do is pull out the packages we need to defrost in water.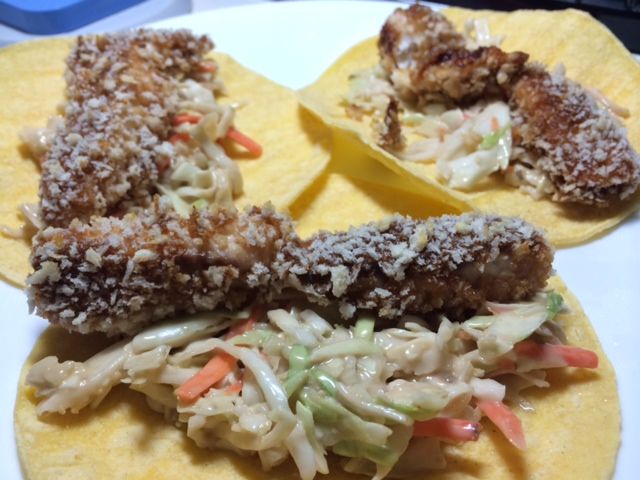 With all the ingredients, it was time to try out these flavors! I defrosted the fish and then cut them into 1-inch strip pieces. I dipped it in the baking sauce and then into some panko. They went in the oven for less than 20 minutes. The box also comes with a finishing sauce to toss with the coleslaw, which was just the Dole blend that I got a few days ago on sale for $1. Presto! Dinner was done!
It was pretty decent. I still think the Verde Chicken Enchiladas is the best though. Howard likes the Three Cheese Chicken Florentine the most. I'm just happy to have these easy dinner helpers in the pantry that we can try out for free! I personally think it would have tasted better with a different fish. Maybe next time I'm at Target, I'll pick up the cod since there's $1.50 mobile coupon out now with the Cartwheel offer for Simply Balanced Seafood.
After dinner, I was still feeling a little hungry and was actually in the mood for something sweet, which is a rarity. Normally, I would specifically want a piece of chocolate or something, but I knew fruit would suffice. I cut up the strawberries we bought yesterday, and Howard cut up a mango. They were both a little tart, so I did add a little bit of sugar to it and mixed. We ate some before, but I'm looking forward to how it'll be tomorrow after it sits in the fridge overnight.
Maybe I'll even bring some for lunch tomorrow because I'm subbing for elementary school again. I pray the day goes well because God definitely made me a middle school teacher, but hopefully the kids will be good since I got to know most of them when they were in Pre-K. Crossing my fingers!