I don't watch many YouTubers, but the one channel I absolutely love is
itsJudysLife
. Judy and Benji do a daily vlog, and it's so fun having been able to watch their daughter Julianna's first year of life and also see the recent addition of their new twin girls, Miya and Keira. Benji is a food fanatic, and he loves trying out new recipes and perfecting them to their liking. Once he makes a new dish, he often asks the person tasting it, "How much would you pay for this?"
Every time I take a picture of a haul and post it on my blog, I'm so tempted to just start off the update by asking, "How much do you think I paid for this?" Cuz seriously, I get so super happy about not having to pay much for FRESH FOOD!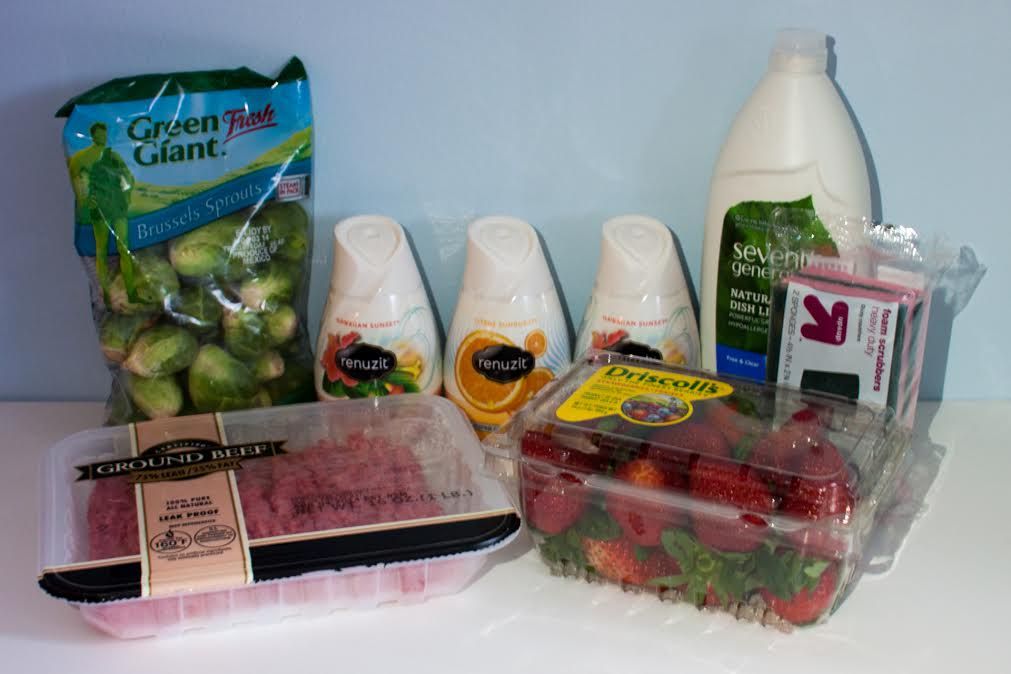 Well, the total of today's Target run was $4.96, which included tax! I was rather thrilled because that included, as you can see, a pound of ground beef, a bag of Brussels sprouts, and a box of Driscoll's strawberries! Here's the breakdown and the deals that helped me get all of this for a few dollars:
The ground beef is on sale for 15% off this week. The package is supposed to be $3.99, which is actually a LOT for just a pound of meat, but there was also a 5% Cartwheel offer and a mobile coupon for $1 off $1 or more of fresh meat. It made sense to pick it up for $2.22 especially since I probably will be too tired to do the homework and the errands next week when I'm going to work for four of the five days.
This week the Driscoll's strawberries originally $3.47 were on sale for $1.79. There was a 5% Cartwheel offer on fresh berries plus a mobile coupon $1 off $1 or more fresh fruit purchase. That made the whole box just $0.79! That's even cheaper than what we got this past Sunday in Chinatown! The ones from Target are also a lot bigger and redder, so hopefully they're sweet since we did have to add sugar to our strawberry and mango mix.
The bag of Brussels sprouts were $2.79, but I used the mobile coupon for $1 off $1 or more fresh vegetable purchase. Seriously, I am so in love with these mobile coupons that can be used on fresh food items! It's so rare to get coupons for these things, so it's a good play on Target's part because I often look there instead of just at the supermarkets.
We already have plenty of dish detergent even after giving some bottles to my family. I just kept picking up Dawn bottles at CVS when there was a sale and coupon because I usually needed some items to soak up the overage of my manufacturer's coupons, redbox coupons, and ExtraBucks. But you know how I am about leaving free things in the store! The Seventh Generation dish detergent is a HUGE bottle on sale for $3.19. I used a 10% Cartwheel offer, a $1 manufacturer's coupon, and a $1 Target printable coupon to get it down to $0.97. That price would have been good enough for me to try out a new eco-friendly product, but there's also a $1.00 offer via ibotta (click
here
to sign up through my referral link), so it was kind of free since I already submitted my receipt. I don't consider these things
completely
free because I still had to pay $0.97 out of pocket right now. The extra apps that I use are more for bonuses.
The Up & Up foam scrubbers are just $1.19 regular price, but I used the $1 off Up & Up household cleaning item mobile coupon to get it for $0.19. It's always nice having sponges like these for cleaning.
Okay, so I saved the best for last. If you've been reading my blog for a while, you might remember that a while ago I picked up Renuzit cones from CVS. I put them on the shelf in the bathroom for a simple, clean scent. They were on sale for $1.02 each, but I had seen on Instagram that the "Buy 2 Get 1 Free" coupon was autodeducting the full amount! That meant that instead of paying $2.02 for all 3 cones, I got them for free with $1.11 in overage since the coupon deducted $4.17! Ahh, autodeducting is the greatest.
I think that I was pretty successful in stretching that $5.00 today!