Before I jump into a recap about my latest solo adventure, I just wanted to let you readers know (you know, like the 5 of you, haha) that I added the "Follow by Email" option on the left side. I thought it was there all along, but I guess it wasn't. If you're addicted to my senseless rambling about coupons and crafting, you can follow me that way. As you can see, I've been good with posting EVERY SINGLE DAY so far in 2014 because I know the world wants a bit of Love & Sushi every day.
Last Wednesday, I was finally recovered enough to head out to do the weekly errands. That's the day I did the CVS and Target hauls that I posted about these previous two days. I got a bunch of kicks by walking in JCPenney, Macy's, aerie, and American Eagle. After 3 visits, Howard and I finally found the spot where the signal can be easily detected in AE. It's a little awkward because I feel bad just walking in, pretending to look, and walking out especially since they have a guard. I texted that to Howard and he said, "Loss prevention never stops." Haha. I was so close when I walked into the mall at first, so it was totally worth the extra steps to get 1250 kicks because that's the gift card I used on the Target haul that I posted yesterday.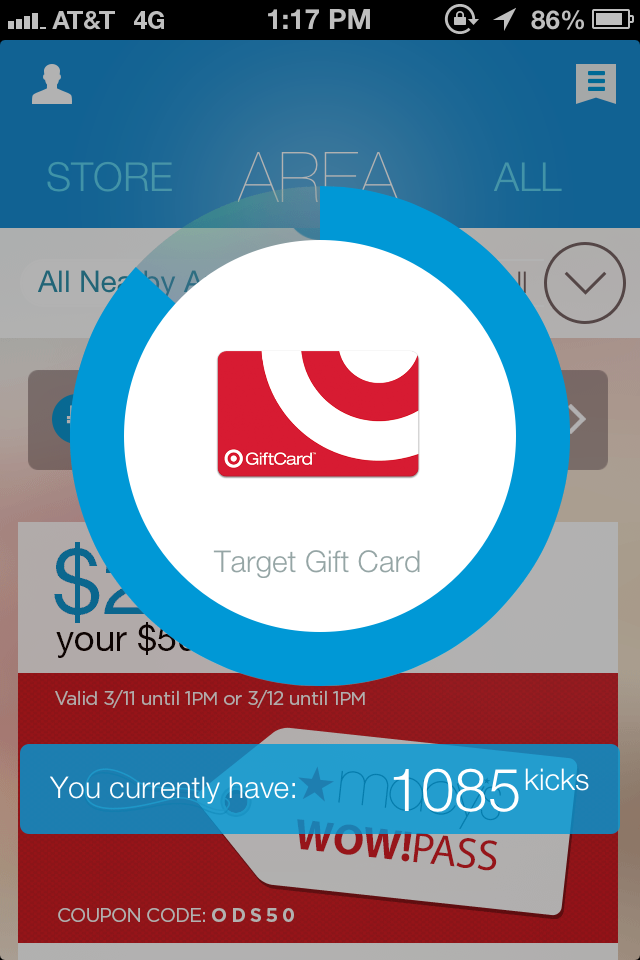 No Vinylmation trades at the Disney Store that day. The guy was nice and showed all of them to me, but nothing was of interest. Plus, one of our vampire Goofy and one of our werewolf Pluto Vinylmation were in there. They still had the cute tumblers for $4.99, but I couldn't justify getting it even though I still have merchandise credit with them. Tumblers make me drink a lot more water. I think it's the straw, but I'd totally knock down glasses if they didn't have lids on 'em!
I stopped by Bath & Body Works even though I knew I would NOT be buying anything. I checked out the new Hawaii candles, and I actually didn't like any of them. I sniffed them really quickly, and nothing beats the citrus ones I already have. I just was so curious to see how they were considering there are many fans of the scents. The candles do have pretty colored wax though.
The reason I stopped by in the store was to use my free travel-sized item coupon that I got in the mail. I chose the new Hawaii body wash because I have plenty of lotion. I have another coupon so I'll pick up another item soon.
The next stop was Target, and I briefly strolled through the Dollar Spot just so my phone could pick up the kicks near the entrance. Star Wars notebooks!
I also strolled through the accessories section pretty quickly and saw this super cute necklace for 70% off at $5.08. I actually contemplated getting it and using my free gift card on it, but knowing I could use it on a whole slew of things instead just didn't make sense. Plus, I very rarely wear jewelry anyway.
I found the Simple face care starter kit for just $2.48 and put it in my cart to think about because I have a $2 manufacturer's coupon. I ended up putting it back since I don't need it. I'm sure it'll be snatched up quickly from that endcap as there was only one.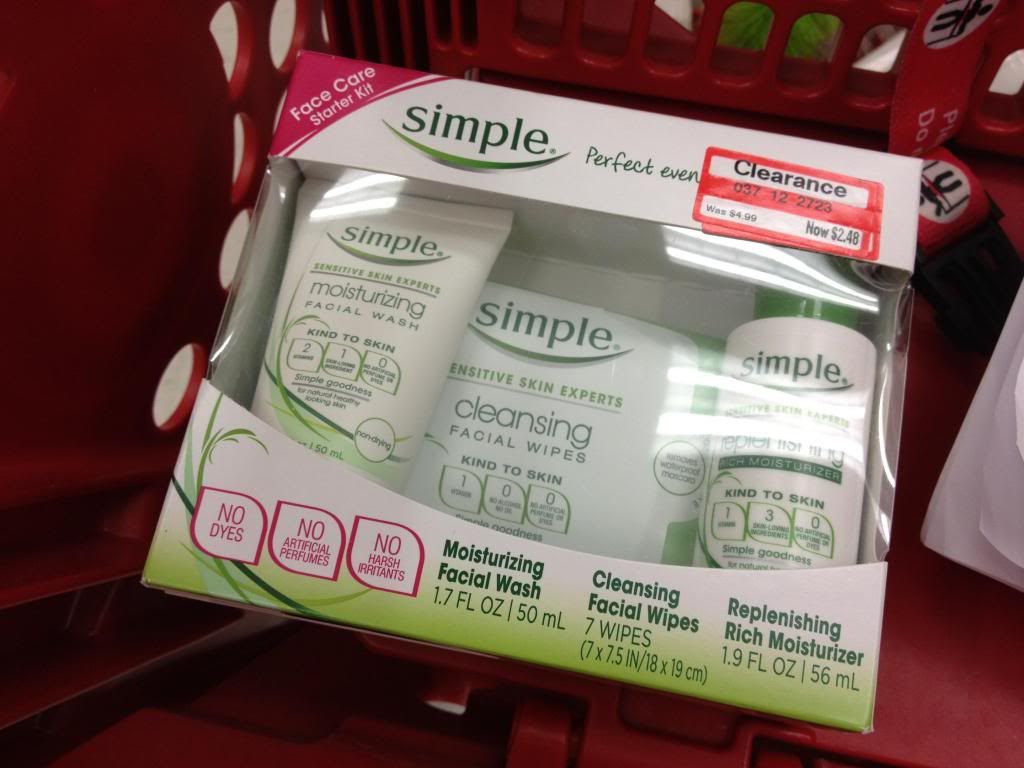 I actually didn't have time to go around scanning items for kicks, but I did look in the pet care section and the laundry/cleaning section for the easy things. Every time I go, I know someone has been there before me to scan for Shopkick because the items that are required are moved so the bar code faces forward or taken down from a different shelf. It's kind of irritating to think that someone can't just put the item back where it belongs! Yes, of course, I put that Gain back on the top shelf after I scanned it myself.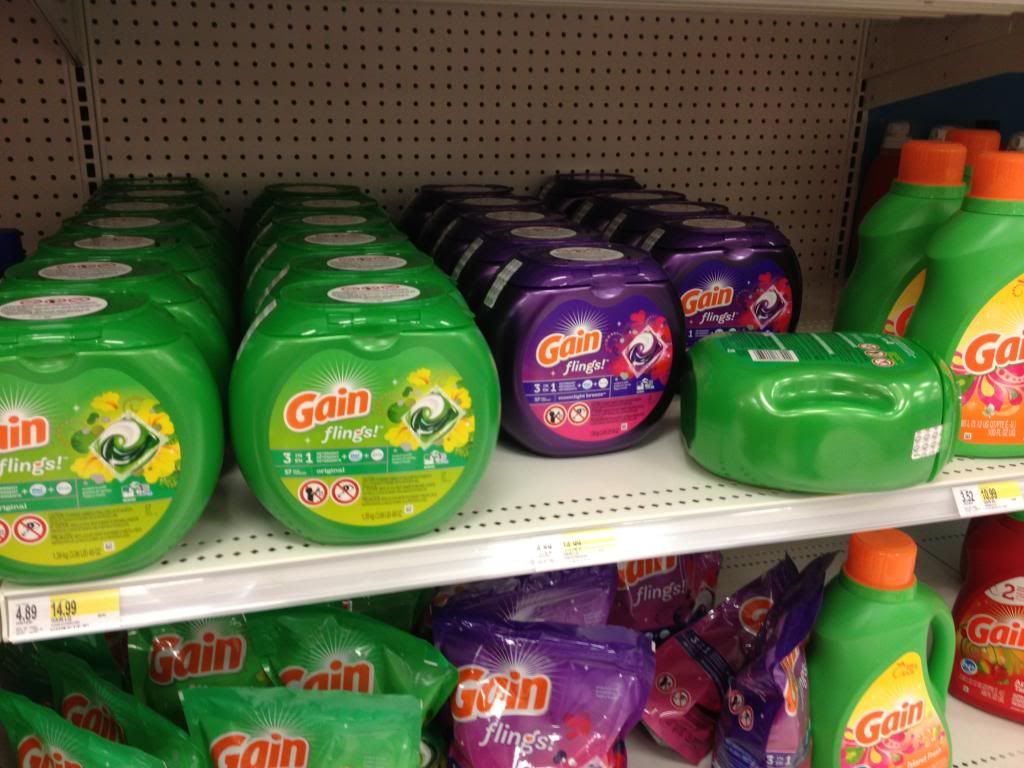 I also had this Giada clearance item in my cart too because I LOVE spatulas. We have one regular one, but sometimes I find that it'd be helpful to have another because they're much better and wiping the side of a pot when cooking or making eggs. But I did the math and discovered that it wouldn't make sense to pay $3.98 (originally $7.99) for this one item when I knew my entire cart of items would cost $4 something. There was only one left, so if it's still there and marked down to 70% off the next time I go, it might come home with me. Maybe I'll cash in some Swagbucks for a Target gift card.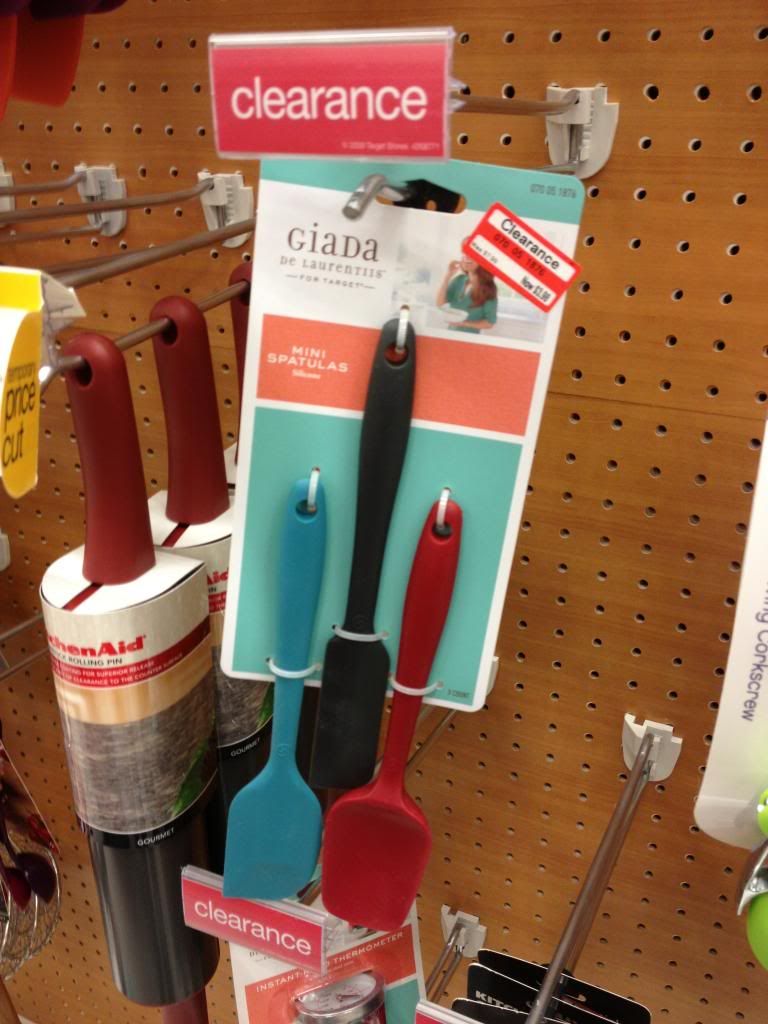 The supermarkets were last because it was a warm day (warm as in, I was doing the shopping without a jacket), and I didn't want to leave anything cold in the car. Pathmark was first. The main thing I had to get was 12 jars of Francesco Rinaldi tomato sauce. Yup, 12. They were having the dozen sale where each thing would be $0.78. Nothing else that was an option made sense, so we decided to do 12 jars of sauce instead. I knew Howard would be home by the time I got home, so I wouldn't have issues transporting it upstairs. In actuality, they're still in the car because it was pouring when I got home that day and figured there'd be no use taking the time to move them. We have NO room in our little pantry, but I will find a way to store them in our spare under the bed storage or something!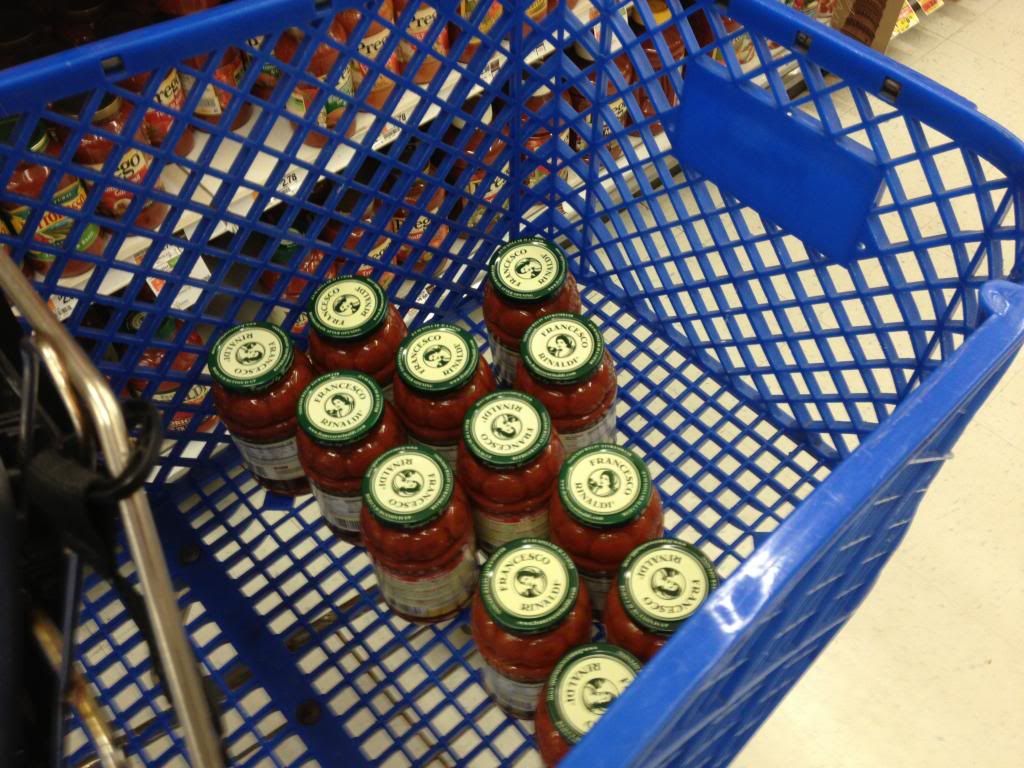 When I went to pay, I immediately noticed the gum and realized I was drawn to it because of the fact that it's now lit! Did they really spend money just to light this area? But I guess it makes sense because I never look at it, and that day not only did I look at it, I also took a picture of it, haha.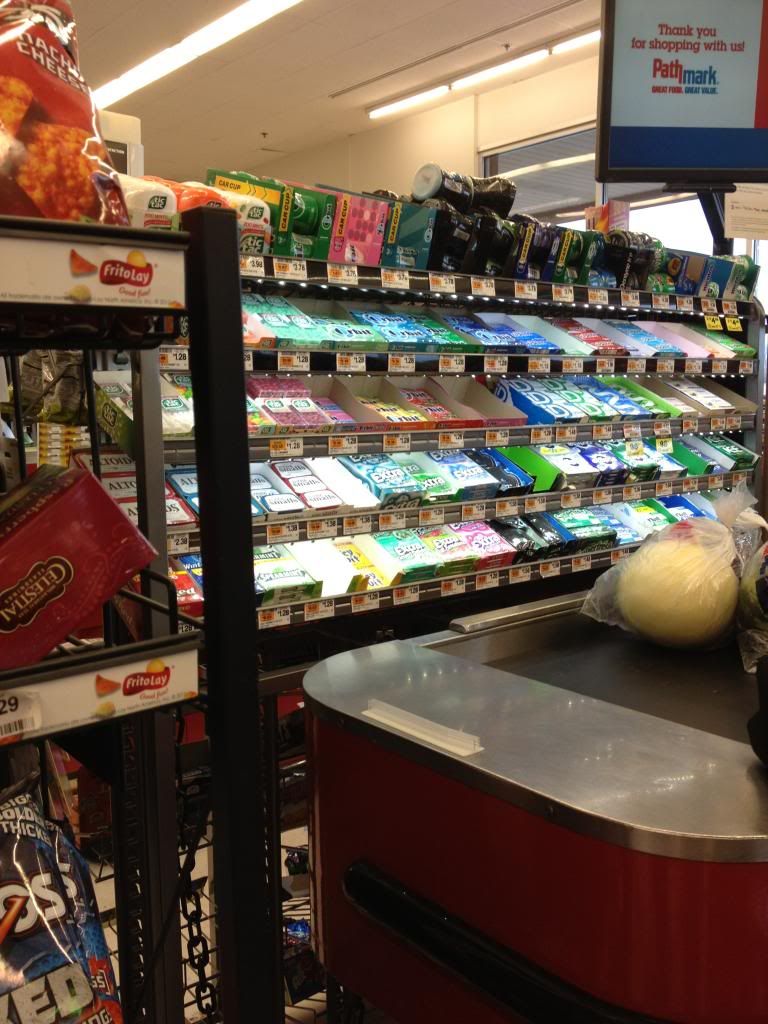 The second to last stop was Stop & Shop. I went and picked up everything on my list before heading to the freezer section. I saw that Luigi's now has orange ice! I can't wait to get that in the summer. Since neither of us eat ice cream, once in a while we like getting Italian ice to have as a cool treat on the hot days.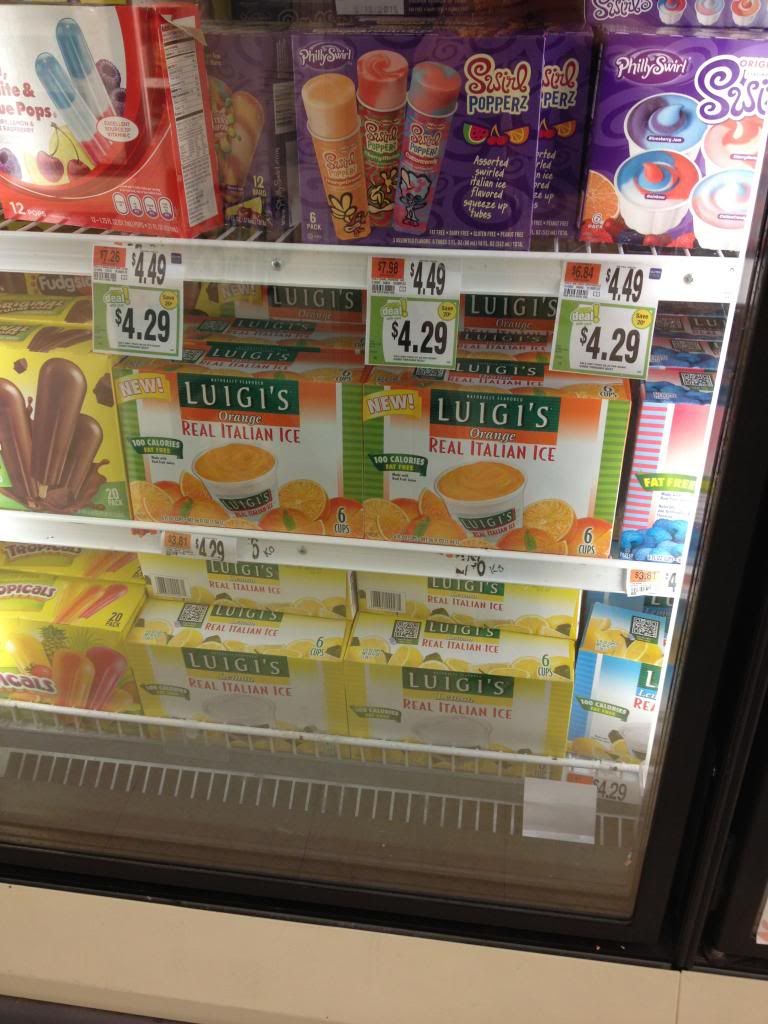 The bulk of my time was actually spent in the freezer section because they were having a deal where you buy $25 worth of participating items and save $15 instantly. In my mind, this means paying $10 for items you NEED and getting $15 worth of items for free. So when I did the homework ahead of time, I just made sure that it was worth my spending $10, and it was!
My original plan didn't work out because they didn't have everything I had intended to get for my mom and for me, so I decided not to do it. That meant I couldn't use the $3 off $60 S&S coupon I received in the mail either since I wasn't getting a bunch of frozen items. When I got on one of the long lines, I started doing the quick computations from my list and realized I was so close to $60, so I got off the line to do the math carefully. I went back to grab some frozen things and got back in another long line. Then I did the math AGAIN and realized that I had $11 worth of frozen items in my cart. Leaving with that just wouldn't make sense because it was as if I were leaving without my free items! So I got off the line for the second time and picked up more items! Back in line for the third time! Then I realized that ... no, I'm just kidding. Haha, the third time was definitely correct after I used the calculator on my phone for exact numbers and my trusty pen.
Hehe, I was just explaining it to Howard and showing him how I wrote all over my printed list, and he said, "You must be so cute to watch when you're in the store." I've become a couponer! It's just part of the game, but if my hubs thinks I'm cute, I'm good with that.
Anyway, my cart filled with groceries was $130.82, and even though it's not as high as those on TLC's Extreme Couponing, I also get a little nervous! With all the savings, it came out to $54.76, which means I saved 58% on groceries! That cost also included 3 items for my parents, meat, and a few "luxuries" like hummus and Whole Fruit sorbet with Greek yogurt, but I'm absolutely okay with that. Hooray!
After I loaded everything into the car, I drove by my parents' house and dropped off a few groceries that I got for them and then made my way home. I was grateful that it wasn't raining by the supermarkets because I would've had to handle it all alone. Howard was waiting for me when I pulled up to the door, so we were able to unload fairly quickly despite the rain. Phew! Another solo adventure for the books!