As I mentioned in yesterday's update, I don't like posting about couponing so many days in a row, but i just feel that it needs to be done in case anyone is stopping by CVS or Target today before the deals are up. This is my latest Target purchase for only $4.79 out of pocket!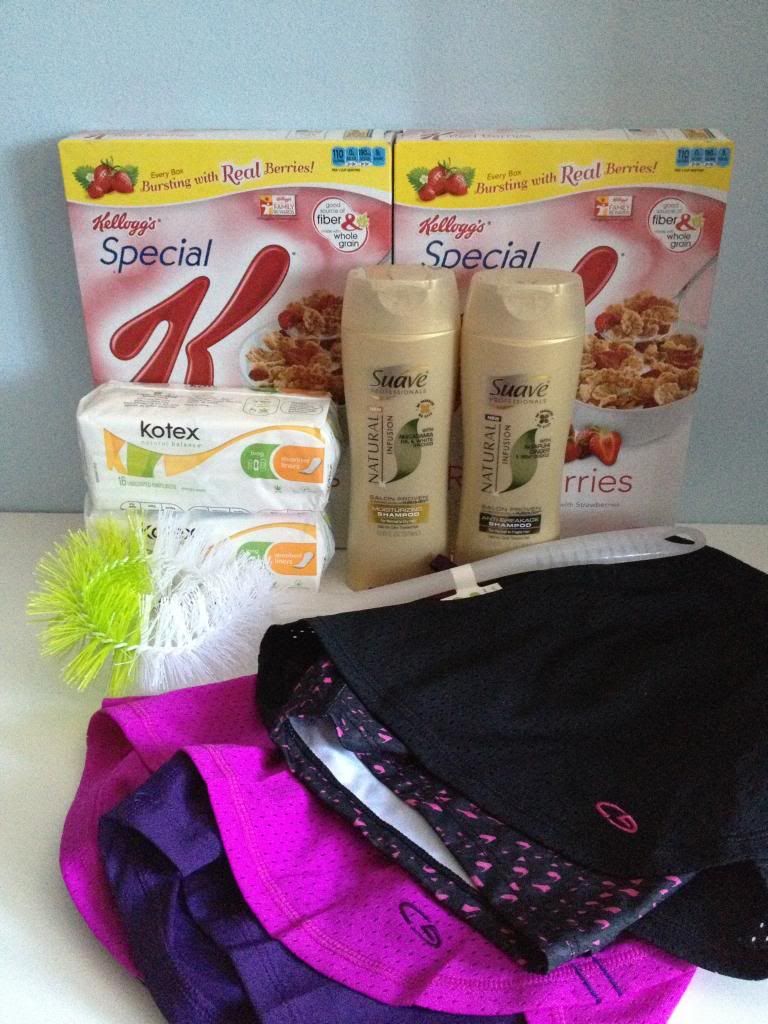 The Kotex pantyliners is a deal I've done before. This is actually the third time so it's nothing too complicated. The Target coupon is just $1.50 off 2 Kotex products, so getting the 16 pack of pantyliners at $1.09 each means that it only costs $0.34 per pack.
The Suave shampoo was free with overage. Each bottle was just $2.74, and there happened to be a $1.50 manufacturer's coupon and a $1.50 Target printable coupon. We don't need shampoo, but it was free! Plus, we change out shampoos once we finish a bottle. I didn't check out the scents in the store, but at home, I took a whiff. I like the Awapuhi Ginger and Honeysuckle one over the Macadamia Oil and White Orchid.
I had to grab some super inexpensive cereal too! The boxes of Special K were cheap because there was a 50% Cartwheel offer that could be used on only 2 boxes. Each box was originally $2.99, and I had a $0.50 coupon on the Red Berries variety. That meant it was only $1 for each.
The Up & Up toilet brush was normally $1.19, and I used a $0.75 off Target printable. It'll soon become a $0.44 germ holder that will have to be eventually thrown away.
Lastly, my favorite part of the haul was the shorts! I've read over and over again that having cute workout clothes makes you more willing to go workout. I found these C9 shorts in the clearance section for just $5.08 each. I snagged them because they were originally $16.99 and now 70% off. I love that there's a layer underneath that's more like bike shorts but still has the swishy material on top. I hate having to worry about wearing loose shorts when using the weight machines, but I also don't want to wear tighter shorts because of the underwear line, haha. This gives me the benefit of both! They only had one medium left for both, so it was a great deal for me. I also used the $3 off 2 women's apparel coupon.
The subtotal after coupons and Cartwheel was $9.74, but I was able to snag another $5 Target gift card through Shopkick before I even showed up at the store, so that covered half of it! Thus, all this stuff for just $4.79 including tax. Score! Now here's to putting the shorts to good use and getting back on track with exercise ... um, starting Monday?