Yesterday was my dad's birthday, so this past Saturday, the family gathered together to eat dinner in celebration. Since Howard and I were going to my parents' house to carpool with them, we left a little earlier to run a few errands since everything is in that area. That included stopping by the mall and getting some kicks for Shopkick. So far I've gotten and used $10 in Target gift cards, and Howard has used $5. After one more day out, I should have enough for another $5 gift card. Pretty awesome deal considering it's mainly from walk-ins. Well, when it comes to aerie and Macy's, it's more like, walk-near, haha. I took a picture of the bench outside of aerie because that's as close as you need to get for the phone to pick up the signal.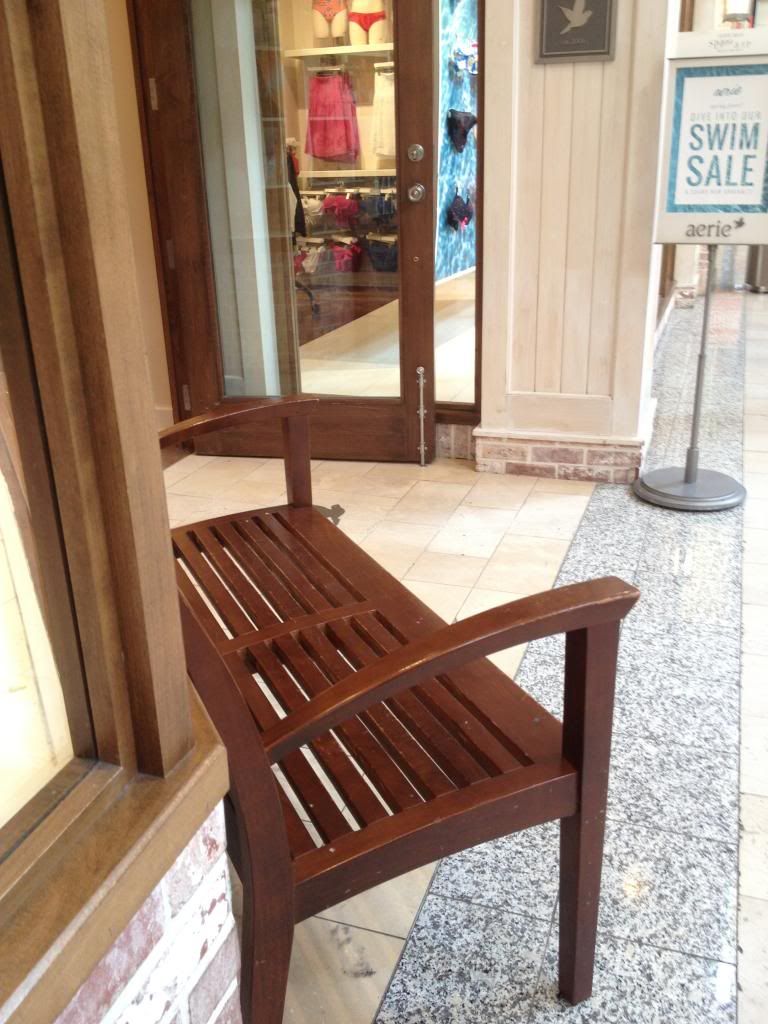 Oh, and I figured I'd throw this photo in too. When on vacation, I have a tendency to take random photos because I usually keep my digital camera in my hand and absentmindedly click. I guess I sometimes do it with my phone too because I got this shot of Howard and the mall floor!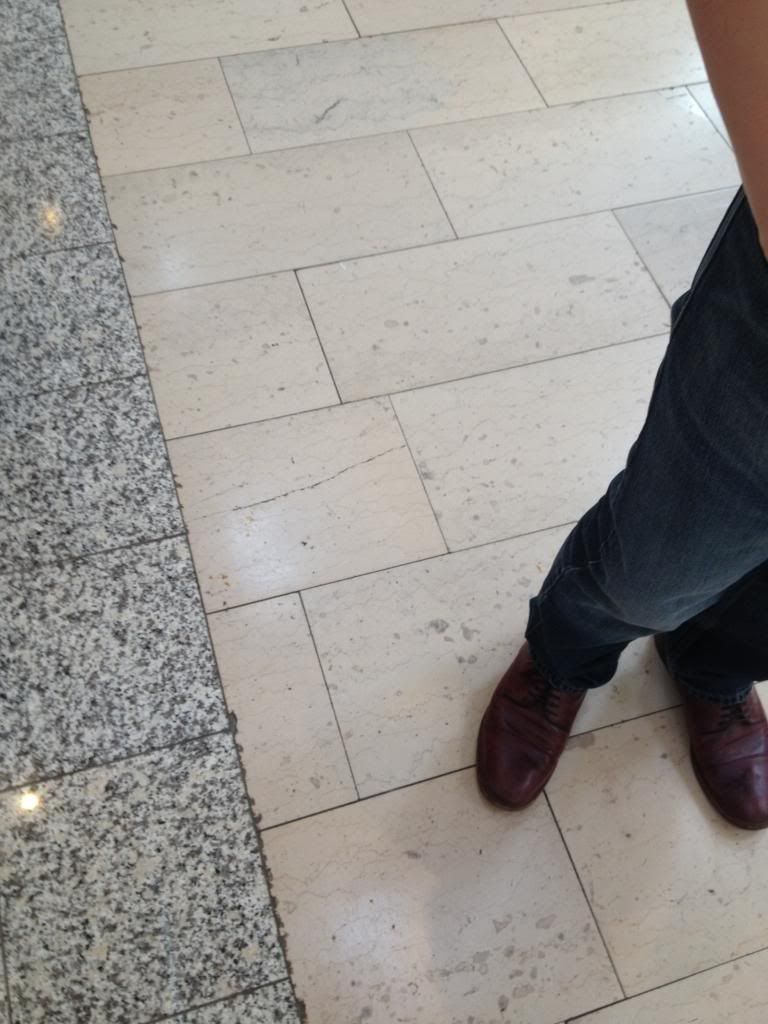 We made a very quick run to Target to grab some awesome deals since it was the last day of the sale week. I'll probably post a rundown of those things in another update later this week. Before we headed to my parents' house, we stopped by Mother Mousse so I could pick up a birthday cake. I knew that I'd get the Triple Decker mousse cake like we usually do, so I didn't take the time to look at everything in the case. Besides, it was actually rather busy, and I also knew there was no need for temptation!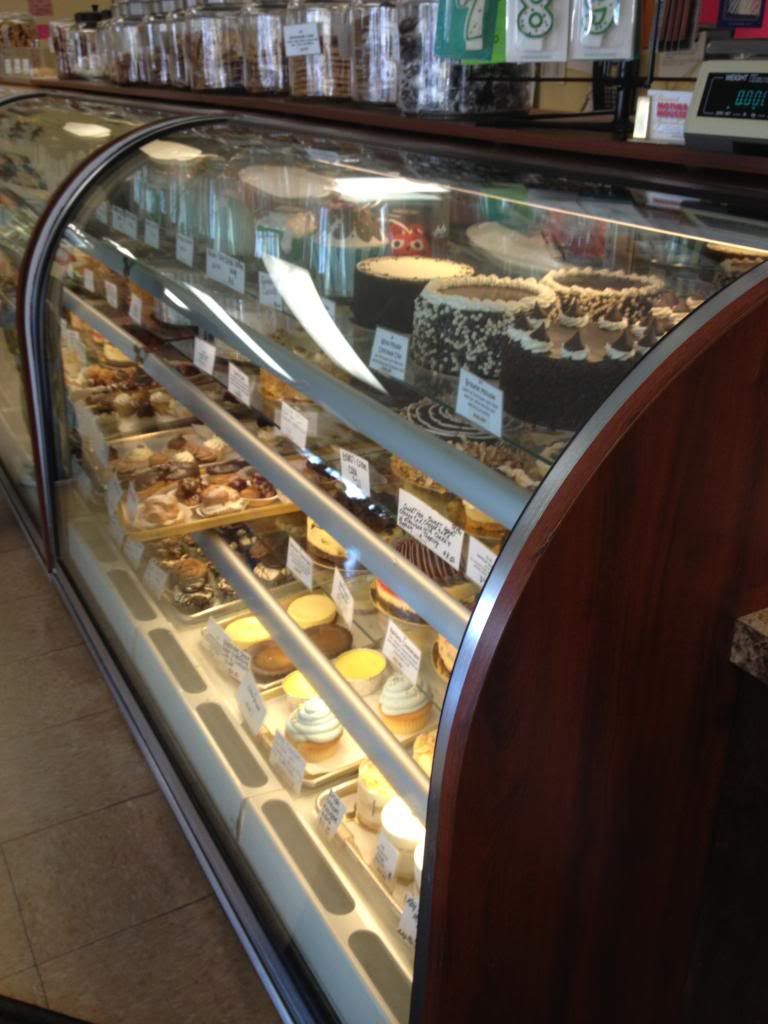 For dinner, my dad chose to eat at Don Pepe in NJ. I fell asleep in the car on the way there because this weekend was just full of fatigue for me. Thankfully, I'm starting to regain my energy. I was feeling okay on Saturday though, so I was able to enjoy dinner with my parents, my older brother Jonathan, my sister-in-law Theresa, my younger brother Matt, and my hubs, of course. It's strange because as a kid, I couldn't stand the restaurant because I wasn't a fan of Spanish food. I'm still not a fan, but good company makes the food taste better to me!
Though we were given bread to start, we didn't really dig into it because we wanted to save it to dip in the green sauce of our appetizer.
The first appetizer we had was clams in green sauce. I don't like clams, but I don't mind when they order this because I put some sauce on my plate and soak it up with the bread that's crusty on the outside but soft on the inside.
The second appetizer was fried calamari, which I actually ate! Back when I started my first (and only) year of seminary, I ended up in the hospital because of a severe gallbladder attack. We didn't know what it was at the time, but I had a high fever and intense pain making it difficult to move or even breathe. My parents took me to the ER after calling my GI doctor who said that it was possible I had fluid in my lungs. I was sent home the next morning with no answers despite a chest x-ray and a CT scan. However, after getting a HIDA scan days later, it was discovered that my gallbladder was barely functioning. That meant that the pizza and fried calamari I had eaten from Denino's that night triggered the attack because it was high in fat! After that point, I refused to eat Denino's pizza again and fried calamari from anywhere because the thought of it just made me feel sick. I couldn't even smell it without feeling sick. About 6 years later, I finally got over my disgust for calamari, haha. I don't how or why, but one day I just wanted it again! That means on special occasions such as this one, I can enjoy a little bit of fried goodness.
For the entrees, my parents and sis-in-law ordered the Chilean sea bass special. I took a picture of my mom's plate, which was the least attractive one. It looks like the piece fell apart when someone transferred it to the plate to serve. The other two were larger and more presentable.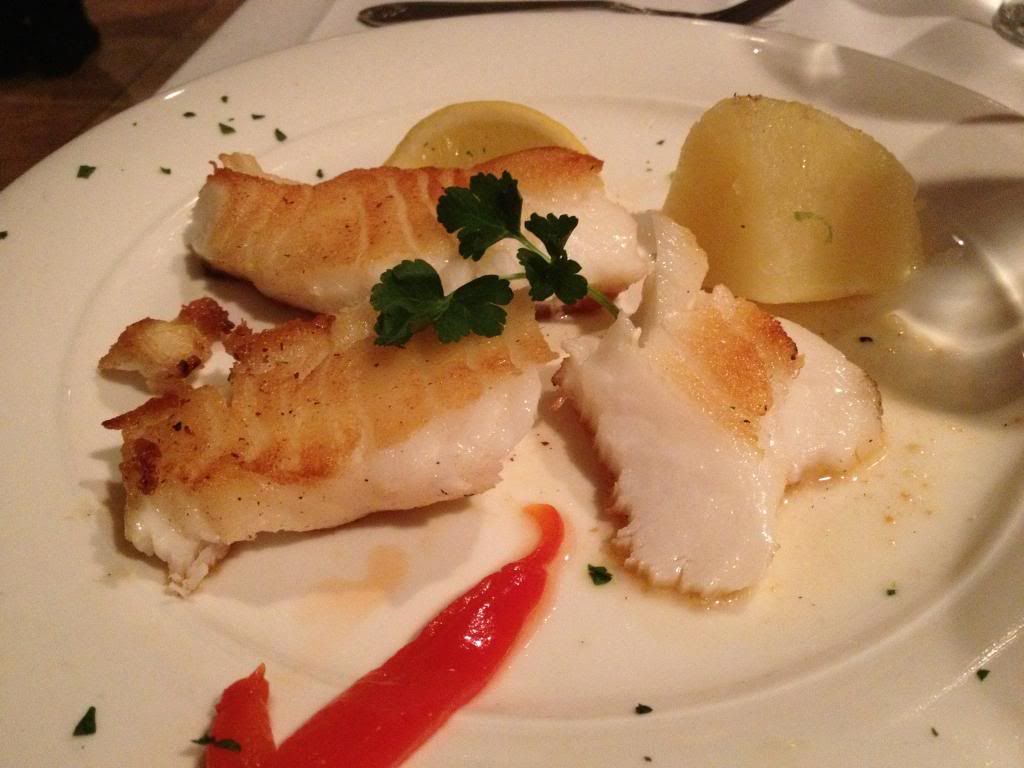 Howard ordered the roast suckling pig (boy, was that delicious!) special, my older brother had the same veal that he used to get when he was a kid, and my younger brother had shrimp in green sauce. I ordered the rigatoni special which had shrimp and lobster in tomato cream sauce. When this is offered, I always get it or some variation of it. I've had it with shrimp and scallops before too, but this time it was tastier because of the lobster! I had seen someone's blog just two days earlier where the two friends went to eat lobster rolls, so I had lobster on the mind! I was happy to see really big chunks of it in the pasta instead of small bits. Plus, there were a ton of shrimp included as well although it was a tad bit overcooked. Since having shrimp from Sanaa at Animal Kingdom Lodge in Disney World, I've gotten spoiled with perfectly cooked shrimp!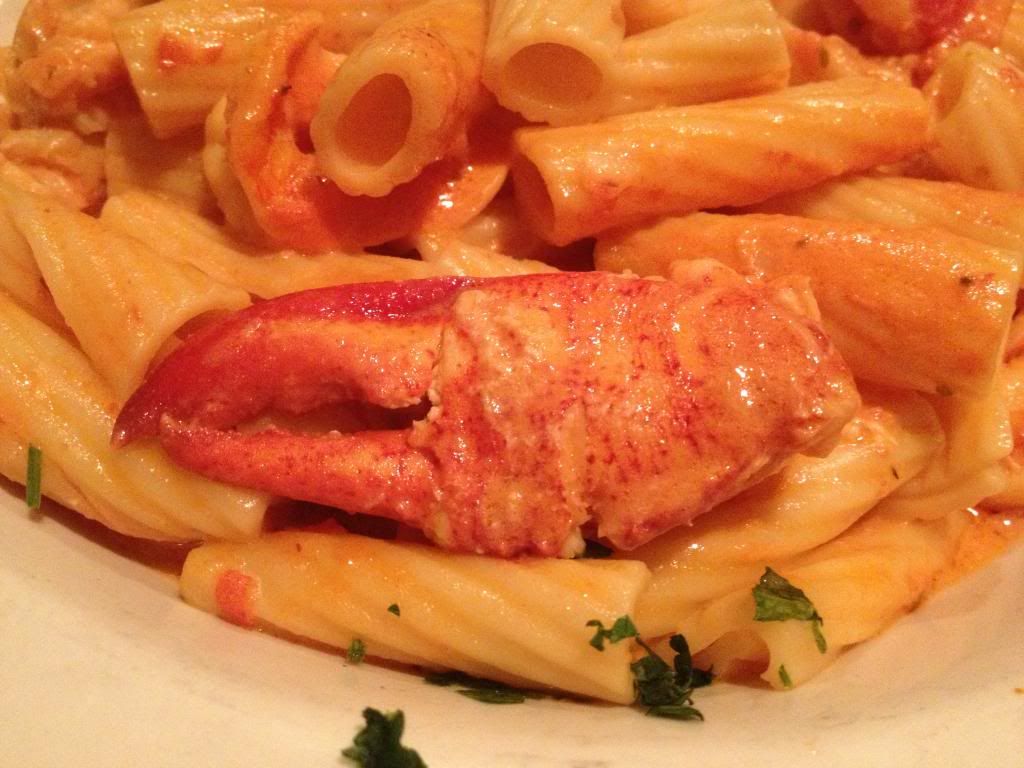 They brought some sides to the table to share. One plate was a vegetable mix that included green beans, zucchini, and carrots. As I write this right now, I've had the opportunity of roasting all of these, and I have to say, roasting really is the way to go! It brings out so much more of the natural flavors like the sweetness of the carrots and the green bean-ness of the green beans.
There was also a plate of yellow rice too, but everyone dug into that before I was able to snap a picture. My favorite was the potato slices/chips. I think they are so much better than how they used to be served. In the past, they were thicker, and some were a bit more potato-y, but they were also greasy. This time they were less greasy, and the majority of them were crisp. Yum!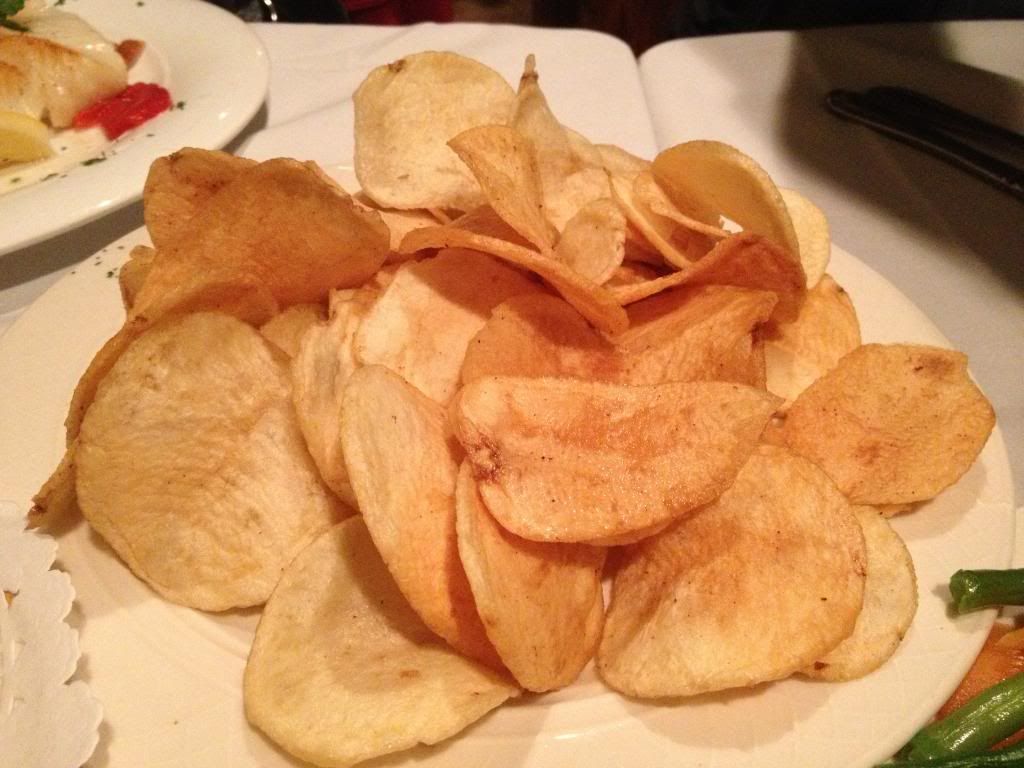 Dinner was really good, and it's always nice to get the 7 of us together to have a meal since we don't see each other that often. After we finished, we went back to my parents' house for some cake! I sang a quick "happy birthday" to my dad since no one else was really interested in singing it, haha. We're not really a family who makes big deals about birthdays other than going out to eat.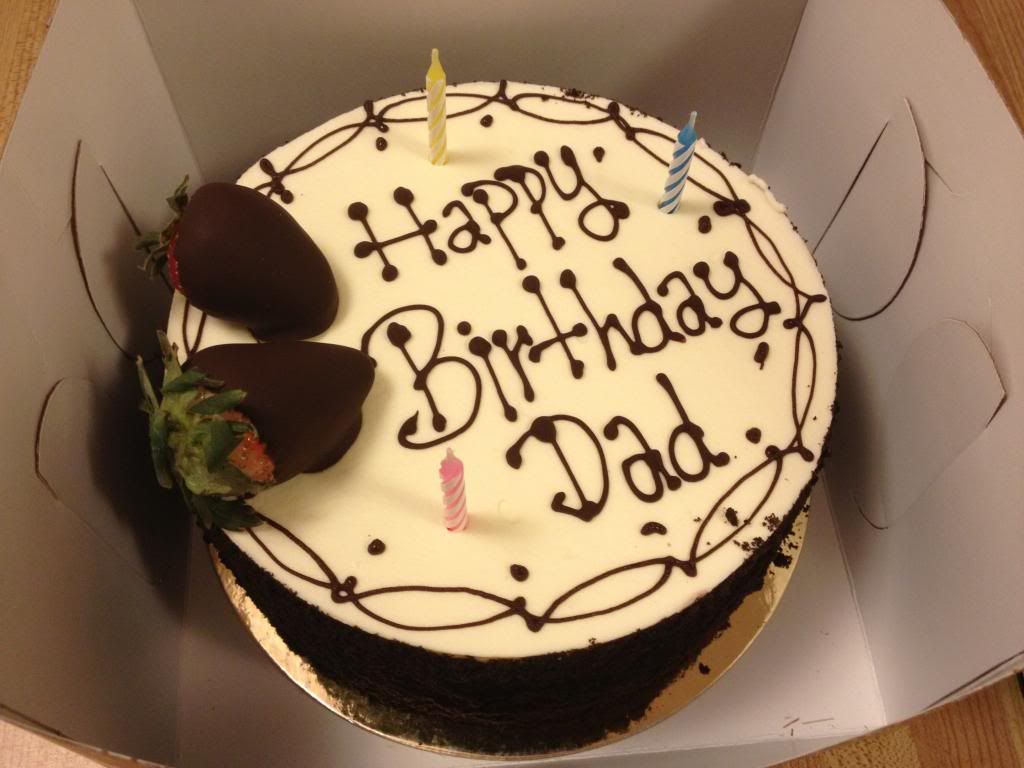 We also snapped some pictures, but I forgot to ask Howard for them since they're on his phone. I really enjoyed being able to sit around the kitchen table (even though the kids with their spouses had to share seats) and think about how our family has grown over the past two years. In the future, it might grow even more, but right now, I think 7 is a great number.