The day Howard and I went to Joann, my main reason for going out was to grab some FREE items! The Dollar Tree and Joann are in the same shopping center, and I had one thing in mind when going to the Dollar Tree. It wasn't really cute boxes of tissues because who wants to pay $1 for tissues when you can get them for much less (even if they do have Disney designs on them)!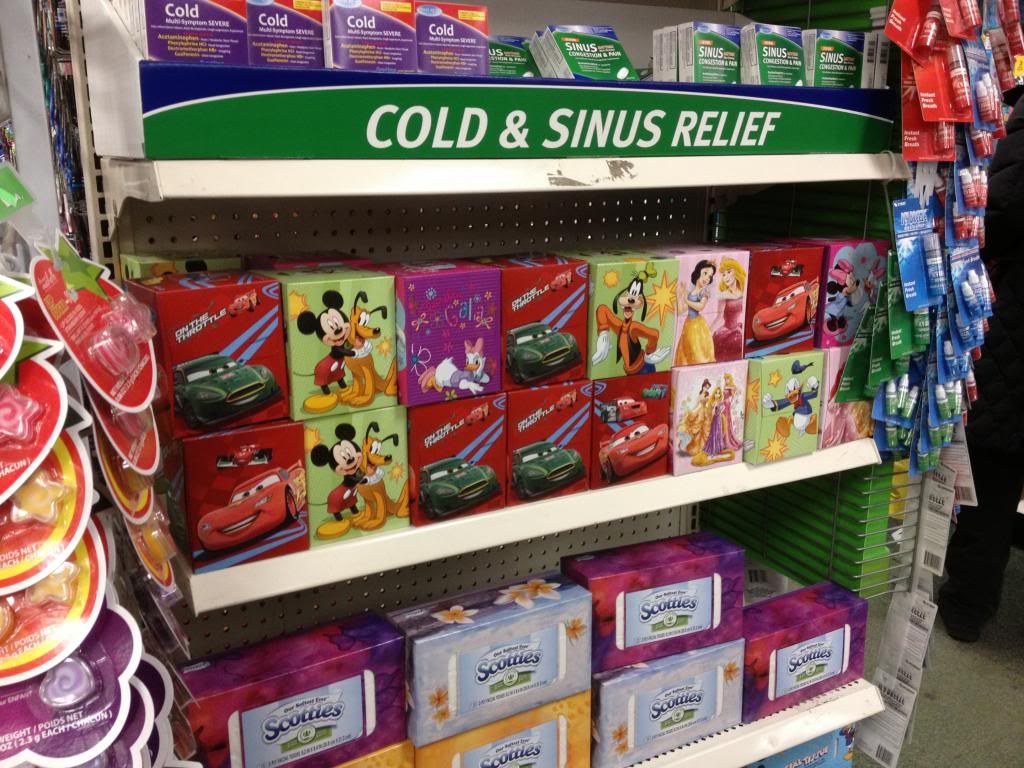 Instead, it was boxes of Kraft Recipe Makers! I had seen on Instagram that they were available at Dollar Tree, and I had my fingers crossed that ours would considering the store doesn't often have what I see everyone else purchase with coupons. I was very happy to see them because every time the $1 coupon reset on coupons.com (though I print from Swagbucks even though I haven't yet seen an increase in SB because of using coupons!), I printed them out again. Howard and I tried the Verde Chicken Enchilada one and LOVED it. Target had had them for $2.99, so I used the $1 internet printable and the $1 Target printable to make them $0.99, but FREE is a more beautiful word, isn't it? I went in with 8 coupons because of my printing them out each time and because I printed a set of 2 from Howard's computer as well.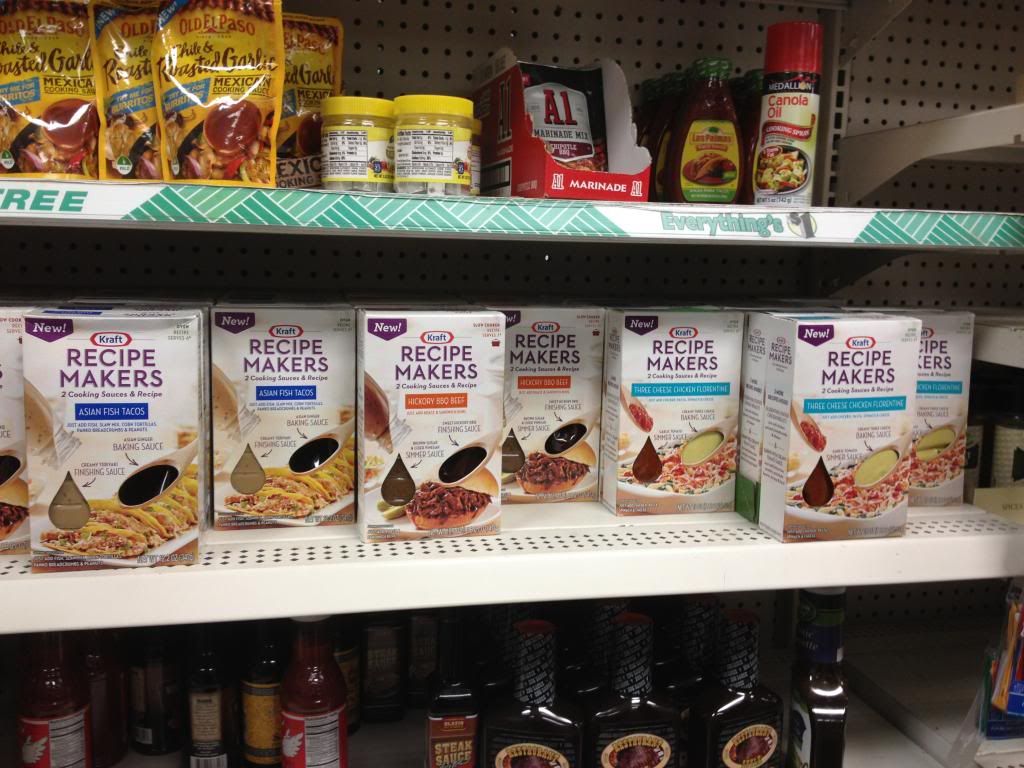 The Dollar Tree coupon policy states that you can only use 4 like coupons at a time, so Howard and I split it into transactions. I think it's amazing that you can use coupons there and walk out with FREE products! Sadly, there were only two boxes of the Verde Chicken Enchilada, but it's definitely better than none at all! I also picked up a pack of plastic hangers because we use them to hang up shirts and such when drying (the dryer function of our combined washer/dryer doesn't work anymore). Howard also likes having his work shirts on the plastic hangers instead of the velvet hangers that I purchased from Costco when we first moved in because it's easier to pull off in the morning. All my clothes slip off hangers very easily, so I prefer the velvet ones.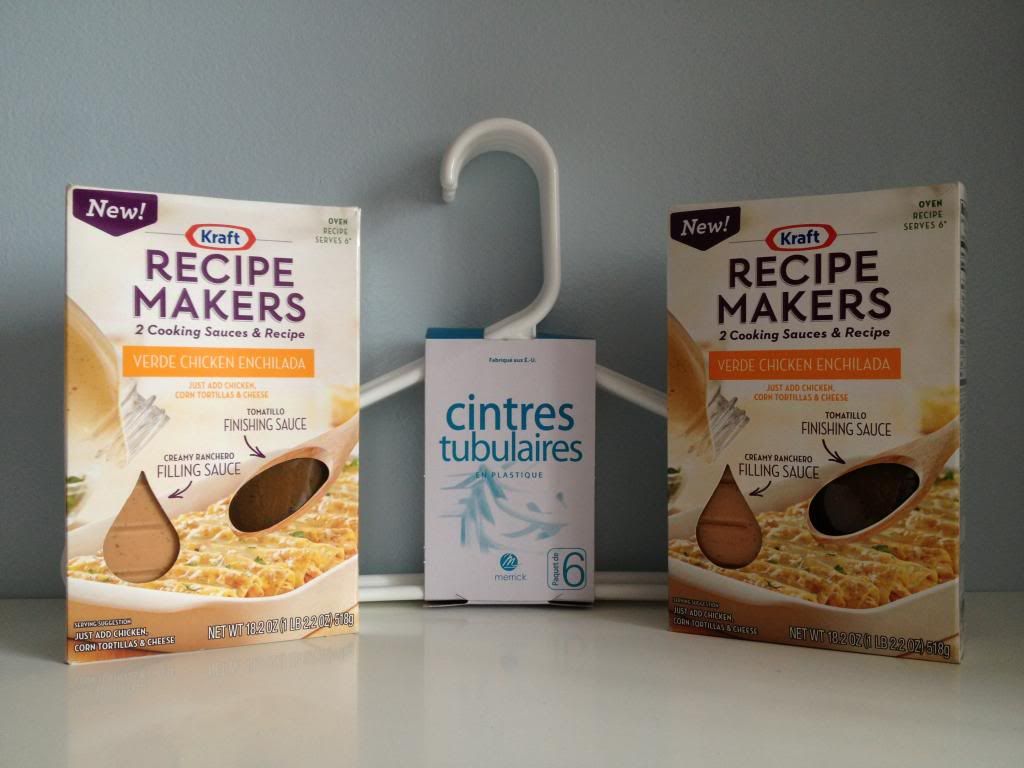 Considering they were FREE, we decided to pick up two more kinds. Sorry for the blurry photo, but it just wasn't important enough for me to retake it especially after I put the boxes away in the pantry! We chose Asian Fish Tacos, so we'll have to buy some nice fillets or something to try it and also Three Cheese Chicken Florentine, which means we are definitely going to have to recreate the commercial with Rocco DiSpirito and Carla Hall because we already repeat all the lines when it pops up during our Top Chef episodes! "Mmm, getting some parmesan notes." These are the perfect things to keep in your pantry for the nights when you don't want to spend too much time cooking.
After a wonderful splurge at Joann and then spending $1.07 each for the separate transactions above, we were on a roll for getting good deals and FREE things! I wanted to head to the mall next to pick up the FREE lotion from Bath & Body Works as both Howard and I claimed the offer on Facebook. Sadly, they were completely out by Saturday afternoon. I was a little disappointed, but the employees of my BBW have been nothing but nice, so it doesn't bother me as much. The ones I spoke to said that they were out and apologized, and it was if they were sad for me. I'm glad I've always had great experiences in that store.
By the way, can I just say that I think it's so sad that they now raised their candle prices so that their sale is 2 for $25 instead of $2 for $22? Part of me hopes that customers don't purchase as many across the US so that they might think about lowering it back again. Of course, their candles smell and burn wonderfully. London Calling (Tea and Lemon)? Delish! But I digress.
Of course, you know by now that a stop at the mall means heading to the Disney Store. We browse the cute merchandise (and take pictures) and then we trade.
We definitely don't need mugs, but I thought they were super cute so I snapped pictures of each one.
We didn't purchase anything, but we did wait in line to trade. The CM we see often came over and said hi to us and said that they moved the location of the Vinylmation boxes, but I said, "Thanks! But we only buy them on sale," and she said, "I don't blame you!" There was nothing in the upper portion that we liked, so we asked for the mystery spots and out came a Dot. We already have Dot, but we traded for her anyway since she's from the Pixar series and may have higher trading power. Not exactly a purchase, but somewhat FREE, don't you think?
After the mall, we did go to Bed Bath & Beyond because we needed a new pan and spatula set. I didn't snap a picture of them, but I use two of the 20% coupons and gift cards that I got from students, so those things were technically FREE as well since there was nothing we had to pay out of pocket.
Our final stop was Target. I checked the endcaps for clearance items because you can find such goodies there. We also strolled the toy aisles because I saw they had their 70% clearance sale going on. The one thing I found that I held on to for a while was these Little Mermaid Squinkies. They were originally $9.99, and the price on the sticker was $4.98. I scanned it and saw that it was actually $2.98.
I hemmed and hawed for a while when Howard asked if I wanted it, and he even offered to get it for me. I just have such a love for the new Little Mermaid ride in New Fantasyland, and we watched the show in DHS last year, so seeing this brings back Disney World memories. I was very good though and decided against it. I said, "I have to be an adult."
On the way out of the toy section, I saw this food set for $3.60 and thought it was really cute. The quality doesn't look as good as my Fisher Price food sets from when I was kid. They're at my parents' house, and I can't wait for my kids to play with them whether it's at our house or when they visit the grandparents! I joked that the kids would see this one and go, "We eat that all the time!" Haha, we don't really eat it that often. We maybe have tacos once a month, but we do purchase Old El Paso because they're the ones who put Box Tops on their products!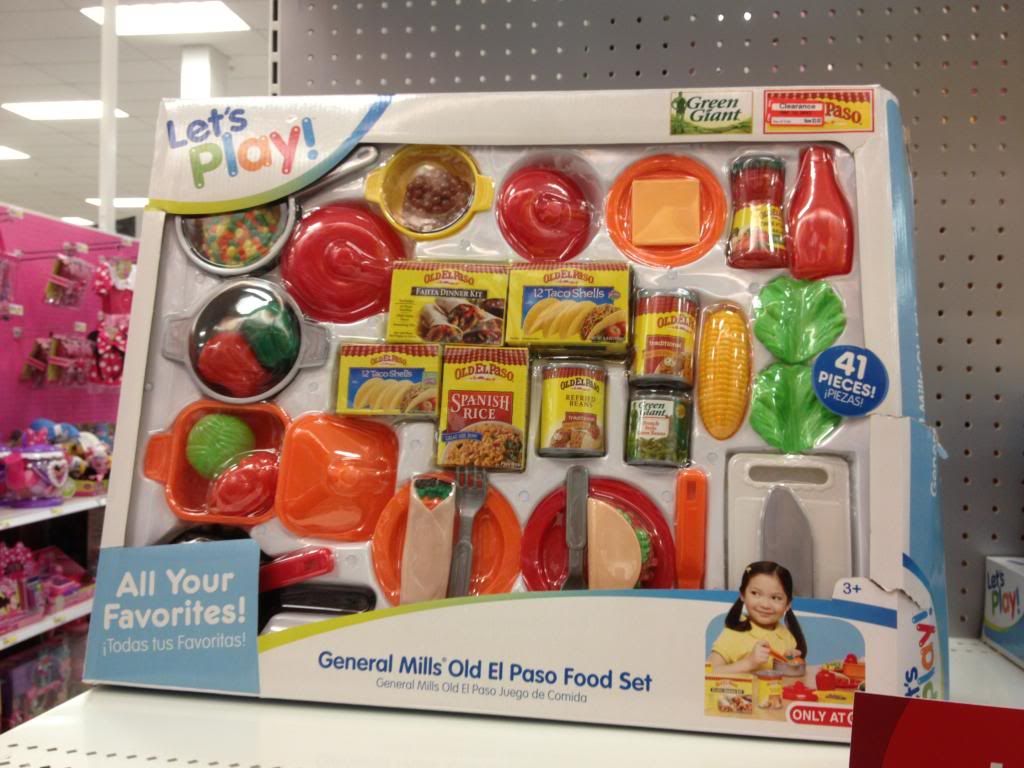 Okay, our intention of going to Target was to get FREE vitamins, but when we went to check out, the cashier said that she was specifically called out by the manager that she couldn't allow multiples of the same coupon. I pointed out that the coupon policy states that we're allowed to use 4 like coupons, but she said she just got in trouble for that. We asked if we could at least get one more bottle of vitamins if Howard checked out separately, but she said she was told to watch out for that too. Personally, it was really ridiculous to hear that because what if Howard and I were just friends and not married? We can't buy the same items? It wouldn't have made a difference if we checked out in different aisles with separate cashiers. It just really bummed me out. The cashier was extremely nice about it though and kept apologizing, and I told her I didn't want her to get in trouble. I asked if it was the manager who said it because otherwise I would have asked to speak to one. It was late, so I didn't go to the customer service desk either because I know you can request that they show you the "rule" in the coupon policy, and it wouldn't be there. I haven't yet contacted corporate because I happened to see on Instagram that one of the couponers I follow said that Target is about to get stricter with their policy. The people who commit fraud are just so irritating as they ruin it for the rest of us.
Anyway, this was our Target haul. The Nature Made fish oil gummies were on sale for $5, so I used a Target coupon for $2 and a manufacturer's coupon for $3 to get it for FREE. I did get 2 of them earlier in the week, so we have a total of 3 free containers. Too bad I couldn't get the 4 that I should have been allowed to get based on the policy. Oh well. The small bags of Green Giant Brussels sprouts were $2.79, and I used 2 Target mobile coupons for $1 off $1 or more fresh veggies. Lastly, the Colgate toothbrushes were $1.04, and I used 3 Target mobile coupons for $1 off Colgate oral care/toothbrush/toothpaste items, so they were almost FREE. That meant that my entire purchase was only $3.70. Isn't that awesome? That's why it didn't make sense to get the Little Mermaid squinkies for about $3 when it was just a toy. Priorities!
Howard laughed at me a few weeks ago when I said, "It's FREE ... I can't leave it in the store!" If we can't use it, someone else can and whether we save from paying full price or help someone else from paying full price, it's worth it at the price of FREE.